Localization of fat depots and cardiovascular risk
Abstract
Despite the existing preventative and therapeutic measures, cardiovascular diseases remain the main cause of temporary disability, long-term disability, and mortality. Obesity is a major risk factor for cardiovascular diseases and their complications. However, not all fat depots have the same inflammatory, paracrine, and metabolic activities. In addition, recent studies have indicated that the accumulation of visceral fat, rather than subcutaneous fat, is associated with increased cardiometabolic risk. However, there is also evidence that increasing the area of visceral fat can help protect against lipotoxicity. This review aims to discuss the contemporary literature regarding the characteristics of the visceral, epicardial, and perivascular fat depots, as well as their associations with cardiovascular disease.
Keywords
Visceral obesity 
Epicardial adipose tissue 
Perivascular adipose tissue 
Non-alcoholic fatty liver disease 
Cardiovascular disease 
Abbreviations
BMI

Body mass index

CAD

Coronary artery disease

CT

Computed tomography

CVD

Cardiovascular diseases

EAT

Epicardial adipose tissue

FFA

Free fatty acids

IR

Insulin resistance

MS

Metabolic syndrome

NAFLD

Non-alcoholic fatty liver disease

NASH

Alcoholic steatohepatitis

PVAT

Perivascular adipose tissue

SAT

Subcutaneous adipose tissue

VAT

Visceral adipose tissue

VO

Visceral obesity
Background
Despite the existing preventative and therapeutic measures, cardiovascular diseases (CVD) remain the main cause of temporary disability and mortality [1]. Furthermore, CVD caused 17.3 million deaths in 2013, which is 40.8% higher than the figure from 1990 [2]. This increase is partially related to population growth and aging, although cardiovascular risk factors continue to play a non-neglible role. Many epidemiological and clinical studies have significantly expanded our understanding of unmodifiable and modifiable risk factors [3, 4], with the development of CVD and related mortality being associated with a high body mass index (BMI), arterial hypertension, and increasing concentrations of glucose and cholesterol [5]. During the last 50 years, measures that reduced the prevalence of smoking, hypertension, and hypercholesterolemia have reduced the coronary artery disease (CAD) mortality rate by approximately 2-fold in economically developed countries [6]. Nevertheless, the current consumption of high-calorie foods and decreasing activity have made obesity and type 2 diabetes mellitus the leading risk factors for CAD progression and mortality [7]. Moreover, the large Framingham and the Nurses' Health Studies have demonstrated that obese patients have a 2-fold higher risk of heart failure and a 4.1-fold higher risk of CVD progression relative to patients with normal weight [8, 9]. Therefore, this review aims to discuss the contemporary literature regarding the characteristics of various fat depots and their associations with cardiovascular disease.
Conclusion
It is known that each local fat depot can be considered an independent endocrine organ that actively produces biologically active molecules, such as pro- and anti-inflammatory cytokines and adipokines. However, the effects of each depot vary greatly, with SAT adipocytes predominantly producing adiponectin and VAT adipocytes more actively synthesizing leptin. Epicardial adipocytes have a high pro-inflammatory activity, whereas most perivascular adipocytes do not synthesize TNF-alpha. These mechanistic differences may be attributed to the phenotype of each adipose tissue depot. For example, the properties of PVAT may be attributed to brown adipose tissue, including its cellular morphology and the expression of characteristic thermogenic genes. However, the phenotype of PVAT near other vessels is relatively heterogeneous, which may be attributed to the phylogenetic origins of PVAT and other adipose tissues. Thus, it remains unclear whether PVAT is a classic brown, beige, or white adipose tissue with changing characteristics, and similar phenotypic properties are manifested by paranephric fatty tissue. Accumulating evidence suggests that the regional distribution of adipose tissue plays an important role in the development of MS and CVD (Fig. 
1
). Although most ectopic fat depots are interrelated, future cardiology studies would help increase our understanding of their involvement in the pathophysiological mechanisms of CVD development, such as stenocardia, myocardial infarction, atrial fibrillation, heart failure, stroke, and aortic stenosis.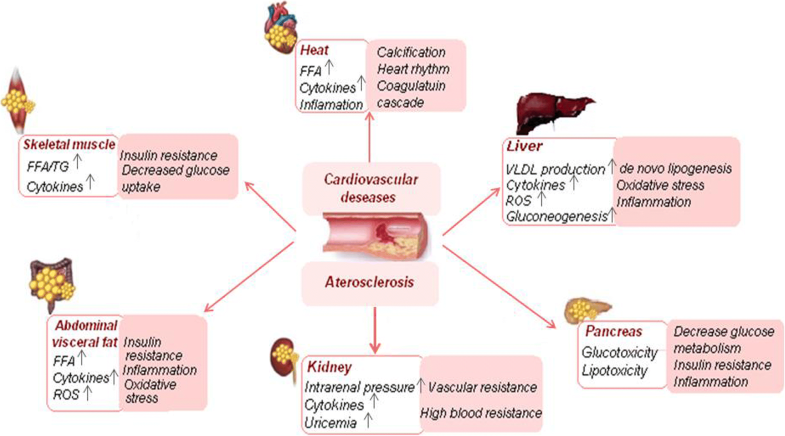 Notes
Funding
The study was supported by the Russian Science Foundation (17–75-20026).
Availability of data and materials
The datasets used and/or analysed during the current study are available from the corresponding author on reasonable request.
Authors' contributions
OG and OB wrote and revised the manuscript, DB and YD collected and reviewed the literature. All authors read and approved the final manuscript.
Ethics approval and consent to participate
The Ethics Committee of the Federal State Budgetary Institution, Research Institute for Complex Issues of Cardiovascular Diseases approved this study (protocol No. 22 from 15.08.2017).
Consent for publication
Not applicable.
Competing interests
The authors declare that they have no competing interests.
Publisher's Note
Springer Nature remains neutral with regard to jurisdictional claims in published maps and institutional affiliations.
Copyright information
© The Author(s). 2018
Open Access This article is distributed under the terms of the Creative Commons Attribution 4.0 International License (http://creativecommons.org/licenses/by/4.0/), which permits unrestricted use, distribution, and reproduction in any medium, provided you give appropriate credit to the original author(s) and the source, provide a link to the Creative Commons license, and indicate if changes were made. The Creative Commons Public Domain Dedication waiver (http://creativecommons.org/publicdomain/zero/1.0/) applies to the data made available in this article, unless otherwise stated.