Determinants of uptake of intermittent preventive treatment during pregnancy: a review
Abstract
Malaria in pregnancy (MiP) contributes to devastating maternal and neonatal outcomes. Coverage of intermittent preventive treatment during pregnancy (IPTp) remains alarmingly low. Data was compiled from MiP programme reviews and performed a literature search on access to and determinants of IPTp. National malaria control and reproductive health (RH) policies may be discordant. Integration may improve coverage. Medication stock-outs are a persistent problem. Quality improvement programmes are often not standardized. Capacity building varies across countries. Community engagement efforts primarily focus on promotion of services. The majority of challenges can be addressed at country level to improve IPTp coverage.
Keywords
Malaria 
Pregnancy 
Intermittent preventive treatment 
Sulfadoxine–pyrimethamine 
Abbreviations
ANC

antenatal care

DHS

Demographic in Health Survey

HMIS

Health Management Information System

IPTp

intermittent preventive treatment in pregnancy

ITN

insecticide-treated net

M & E

monitoring and evaluation

MICS

Multiple Indicator Cluster Survey

MiP

malaria in pregnancy

MIS

Malaria Indicator Survey

NMCP

National Malaria Control Programme

RCHD

Reproductive Child Health Department

RH

reproductive health

SP

sulfadoxine–pyrimethamine

SSA

sub Saharan Africa

WHO

World Health Organization
Background
Annually, approximately 125 million pregnancies occur globally in areas with Plasmodium falciparum and/or Plasmodium vivax transmission [1].
Malaria in pregnancy (MiP) contributes to devastating maternal and neonatal outcomes, including maternal anaemia, maternal death, stillbirth, spontaneous abortion, and low birth weight, with an estimated 10,000 women and 100,000 infants dying as a result of MiP [2, 3, 4, 5]. In sub-Saharan Africa (SSA), MiP contributes to an estimated 20% of all stillbirths and 11% of all newborn deaths [6].
In order to mitigate the consequences of MiP in moderate to high malaria transmission areas, the World Health Organization (WHO) recommends that pregnant women receive intermittent preventive treatment during pregnancy (IPTp) with sulfadoxine–pyrimethamine (SP) [7]. IPTp decreases the incidence of low birth weight by 29%, severe maternal anaemia by 38%, and neonatal mortality by 31% [8, 9]. IPTp is also one of very few health interventions with peer-reviewed evidence demonstrating its impact on reducing neonatal mortality, thereby providing a substantive public health impact in reducing malaria-related mortality [10]. Further, although there is increasing parasite resistance to SP in some areas, IPTp remains a highly cost-effective, lifesaving strategy to prevent the adverse effects of MiP in the vast majority of pregnant women in SSA [11, 12].
In 2012, in response to stagnant coverage rates of IPTp, and in light of new data supporting the use of three or more doses of IPTp, the WHO updated its policy on IPTp [13]. The policy currently promotes the initiation of IPTp-SP in areas of moderate to high malaria transmission, beginning as early as possible in the second trimester, at each scheduled antenatal care (ANC) contact thereafter, at least 1 month apart, until delivery [7]. Use of insecticide-treated bed nets (ITNs) and effective case management continue to be recommended in all areas where pregnant women are at risk for malaria. Achieving high coverage of at least three doses of IPTp (IPTp3) will require delivery of high-quality ANC, as recommended in the updated WHO guidance on ANC, which now promotes a minimum of eight contacts between pregnant women and the health system, as compared to the previously recommended four ANC visits, presenting new opportunities for scaling-up IPTp [14].
As of 2016, 36 African countries had adopted a policy of providing IPTp3 to pregnant women [
15
]. However, many countries are still far from achieving their targets for IPTp uptake, generally 80% [
16
]. In 2016, the WHO estimated that coverage of IPTp1, 2, and 3 were 56%, 43%, and 19%, respectively [
15
]. The gap between high ANC attendance and the low proportion of eligible pregnant women receiving IPTp3 largely reflects a failure of the health system to provide IPTp-SP at ANC facilities (Fig. 
1
) [
17
,
18
,
19
]. Drops in coverage between IPTp1 and subsequent doses are particularly concerning [
20
,
21
,
22
,
23
,
24
,
25
,
26
,
27
,
28
,
29
,
30
].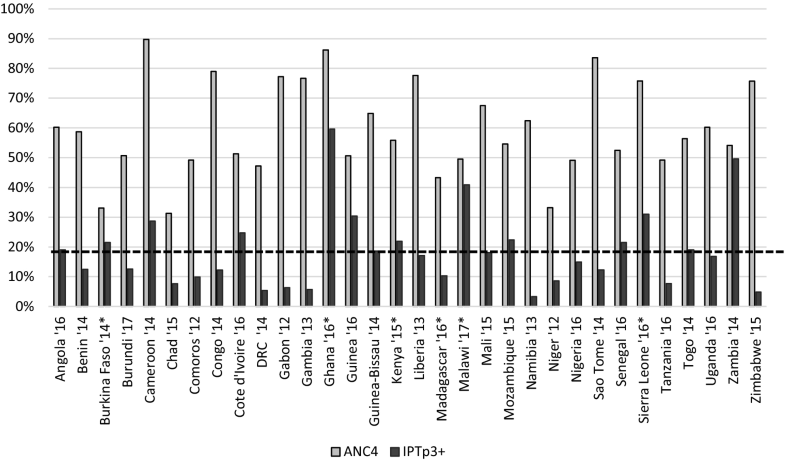 With the aim to revitalize a critical evidence-based discussion on strategies to scale-up MiP prevention, published and programmatic literature were searched to assess the continued barriers to IPTp uptake and identify interventions that have been shown to improve IPTp coverage.
Methods
Search strategy
Data from country MiP programme reviews, including programme reports, case studies, planning documents, conference presentations, were compiled to better understand what makes MiP programming successful, including what has increased coverage of IPTp, remaining bottlenecks, and opportunities to improve existing efforts. These reviews, examining IPTp uptake in 18 countries from 2009 to 2017, were identified in consultation with key stakeholders supporting MiP programme implementation, including the President's Malaria Initiative and the Global Fund to Fight AIDS, Tuberculosis and Malaria.
A systematic literature search was performed according to PRISMA guidelines on May 4, 2018 for studies on access and determinants of IPTp use published since May 31, 2016, to provide an update from the most recently published systematic review on this topic [31, 32]. Pubmed and the malaria in pregnancy library (http://library.mip-consortium.org/), a comprehensive database of published and unpublished literature on MiP, were searched for all English language studies looking at access, coverage, feasibility, or acceptability of IPTp-SP among pregnant women in SSA. In addition, the database of the Health Care Provider Performance Review was searched for studies among pregnant women in SSA assessing methods of improving health worker performance and care seeking [33].
Data analysis
The programme reviews and existing literature were summarized, and key findings synthesized by focusing on seven of the eight key areas necessary for effective MiP programming: (1) policy; (2) integration; (3) commodities; (4) quality improvement; (5) capacity-building; (6) community engagement; and (7) monitoring and evaluation (M&E) [34]. Further, while each core component contributes individually to strengthening MiP programming, there is an integral link between all core components. When one area is weak, it can negatively affect another area, and when an area is strong it can bolster other components [34]. For this review, policy and integration were combined for analysis. The eighth key area, financing, was not addressed.
Results
Following de-duplication, a total of 973 records were identified; after title screening, 93 abstracts and 50 full text articles were reviewed (Fig. 
2
). Ultimately, 42 unique studies were eligible. Twenty programme reviews were also included.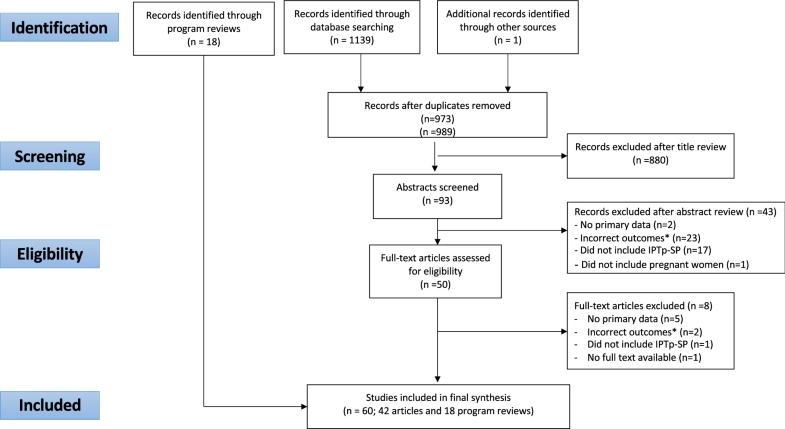 Discussion
Despite lower than desired coverage of MiP interventions overall, countries are taking steps to improve coverage and address bottlenecks.
Limitations
This review has several limitations to note. First, there is paucity of data on the impact of MiP integration, quality improvement, and M&E limiting the ability to draw robust conclusions for these areas. Second, the most detailed available programme reviews were conducted over 5 years ago and perhaps some of the details of programmatic evidence is now outdated. Furthermore, programme reviews, in general, are somewhat subjective and only reveal findings based on country reports and/or the persons interviewed. Finally, this review focused on the public sector, given that so little has been documented about MiP programming in the private sector. Still, this review identified barriers to IPTp coverage and identified some interventions that may help to improve IPTp coverage in SSA.
Conclusions
Although there is a need for continued progress with prevention efforts, the successes of MiP programming across certain countries present an opportunity to identify intervention that can improve IPTp coverage. Strengthening existing RH platforms to deliver services, including IPTp, to eligible pregnant women is essential to maximize opportunities for these women to receive at least three doses of IPTp.
As a maternal and newborn health issue, MiP programming will not succeed without RH leadership. All countries have health system challenges to varying degrees. Addressing these, and tackling IPTp uptake through a health system lens, will lead to better outcomes across countries. This requires tackling all key areas for MiP (policy, integration, commodities, quality improvement, capacity-building, community engagement, and M&E)—these are interdependent, thus, when one is not functioning or is weak, it will negatively affect the entire system and the ability for countries to achieve their results.
Notes
Acknowledgements
We would like to thank Dr. Alexander Rowe and Dr. Samantha Rowe for providing us with data from the Health Care Provider Performance Review. We would like to thank Dr. Koki Agarwal for and Dr. Viviana Mangiaterra for their input and contributions during the development of the manuscript. We are grateful to the President's Malaria Initiative for providing support for some of the author's time to write the manuscript.
Disclaimer
The findings and conclusions in this paper are those of the authors and do not necessarily represent the views of the U.S. Centers for Disease Control and Prevention or the US Agency for International Development.
Authors' contributions
ER and JRG developed the search terms. MH and KA reviewed all abstracts and abstracted data; JRG served as the tiebreaker. ER and JRG drafted the manuscript. KA, EF, KW, LF, and SY reviewed and edited the manuscript. All authors read and approved the final manuscript.
Funding
Support for USAID and CDC authors contributions to this publication is made possible by the generous support of the American people through the United States Agency for International Development (USAID) and the US President's Malaria Initiative (PMI).
Ethics approval and consent to participate
Not applicable.
Consent for publication
Not applicable.
Competing interests
The authors declare that they have no competing interests.
Copyright information
© The Author(s) 2019
Open AccessThis article is distributed under the terms of the Creative Commons Attribution 4.0 International License (http://creativecommons.org/licenses/by/4.0/), which permits unrestricted use, distribution, and reproduction in any medium, provided you give appropriate credit to the original author(s) and the source, provide a link to the Creative Commons license, and indicate if changes were made. The Creative Commons Public Domain Dedication waiver (http://creativecommons.org/publicdomain/zero/1.0/) applies to the data made available in this article, unless otherwise stated.