Are we there yet? The long walk towards the development of efficient symbiotic associations between nitrogen-fixing bacteria and non-leguminous crops
Part of the following topical collections:
Abstract
Nitrogen is an essential element of life, and nitrogen availability often limits crop yields. Since the Green Revolution, massive amounts of synthetic nitrogen fertilizers have been produced from atmospheric nitrogen and natural gas, threatening the sustainability of global food production and degrading the environment. There is a need for alternative means of bringing nitrogen to crops, and taking greater advantage of biological nitrogen fixation seems a logical option. Legumes are used in most cropping systems around the world because of the nitrogen-fixing symbiosis with rhizobia. However, the world's three major cereal crops—rice, wheat, and maize—do not associate with rhizobia. In this review, we will survey how genetic approaches in rhizobia and their legume hosts allowed tremendous progress in understanding the molecular mechanisms controlling root nodule symbioses, and how this knowledge paves the way for engineering such associations in non-legume crops. We will also discuss challenges in bringing these systems into the field and how they can be surmounted by interdisciplinary collaborations between synthetic biologists, microbiologists, plant biologists, breeders, agronomists, and policymakers.
Introduction
Nitrogen is an essential component of life, required for building proteins and DNA, and despite being abundant in the atmosphere, only limited reserves of soil inorganic nitrogen are accessible to plants, primarily in the form of nitrate and ammonium. Thus, agricultural yields are often limited by nitrogen availability [1]. This limitation was battled for centuries by crop rotation or co-culture with legumes and the use of fertilizers in the form of animal waste, wood ash, or seaweed. At the beginning of the 20th century, two German chemists, Fritz Haber and Carl Bosch, invented a process allowing nitrogen fixation, the conversion of dinitrogen into ammonium, on an industrial scale [1, 2]. The use of synthetic fertilizers was the main factor for drastically increase crop production during the Green Revolution, especially in developing countries, and the subsistence of nearly half of the world population is currently dependent on the use of such fertilizers [3]. Breaking the triple bonds of dinitrogen requires vast amounts of energy (1–2% of the global energy supply) and about one ton of natural gas is dedicated to the production of one ton of synthetic nitrogen fertilizers [4, 5]. Not surprisingly, the cost of fertilizers is highly dependent on the price of natural gas, which is currently low due to the practice of hydraulic fracturing or fracking [6]. However, the dependence of so much food production on natural gas, a finite resource, is concerning. Ironically, even biofuel production (e.g., corn ethanol) depends on the use of synthetic fertilizers and therefore fossil fuel, which defeats the very purpose of biofuels. All these examples reveal that nitrogen availability for crops is a threat to the sustainability of our agricultural systems, economy, and food supply.
Besides these global sustainability considerations, the intensive use of fertilizers also creates specific issues in developed and developing countries. Addition of Haber-Bosch derived nitrogen, sometimes more than 200 kg N ha−1yr−1, has increased yields but also led to the contamination of groundwater and eutrophication of rivers, causing massive community shifts for inland and coastal aquatic microbiota and impacting human health [7, 8, 9]. In contrast, subsistence farmers are unable to access fertilizers at an affordable price. Lack of local production and poor transportation infrastructure also contributes to low yields and, thus, cycles of food insecurity and poverty [10].
Bacteria and Archaea have been fixing atmospheric nitrogen for hundreds of millions of years [11]. This biological nitrogen fixation accounts for much of the nitrogen input of natural systems, considerably more so than rock weathering or lightning [12]. Biological fixation in prokaryotes is performed by the nitrogenase complex, a metalloenzyme complex composed of the catalytic protein dinitrogenase, and an ATP-dependent electron-donating iron protein, the dinitrogenase reductase. The catalytic domain of dinitrogenases commonly contains a molybdenum-iron cofactor, but some species use two other classes of dinitrogenases, defined by the presence of vanadium-iron or iron-only cofactors [13]. The nitrogen fixation genes (commonly referred to as nif genes) encode the components of nitrogenase and other regulatory proteins. The nifHDK operon encodes the dinitrogenase and the dinitrogenase reductase, but additional proteins are required to produce a fully functional holoenzyme. About 20 nif genes have been found in nature across the three classes of nitrogenases [13, 14, 15].
Nitrogen-fixing prokaryotes, also called diazotrophs, can be free-living or exist in symbiotic associations with Eukaryotes, with examples including fungi (
Geosiphon
), sponges (
Dysidea
), termites, and plants [
16
]. A successful symbiosis requires an appropriate host and diazotrophic partner, combined with environmental conditions to allow nitrogen fixation. Diazotrophic bacteria are highly diverse and are found in various ecological niches (free-living or in association with different organisms; Fig.
1
) and have a wide range of metabolic characteristics [
27
,
28
,
29
]. In plant–bacteria interactions, the energy-intensive nitrogen fixation is powered by photosynthates from the plant, in exchange for a portion of the fixed nitrogen. Most of the time, "symbiotic nitrogen fixation" has referred only to symbioses leading to the development of root nodules. By definition, however, symbiosis is a long-term association between two different organisms that is beneficial for at least one of them [
30
]. Associative nitrogen fixation obviously meets this definition, as the plant benefits from growth promotion (both via increased nitrogen nutrition and several other benefits) and the bacteria gains carbon from plant photosynthesis. Thus, in this review, we will refer to both root nodule symbioses and associative nitrogen fixation as "symbiotic nitrogen fixation" (Fig.
1
). Some publications already employ these terms similarly [
31
], but we believe that the community should also adopt this terminology more widely.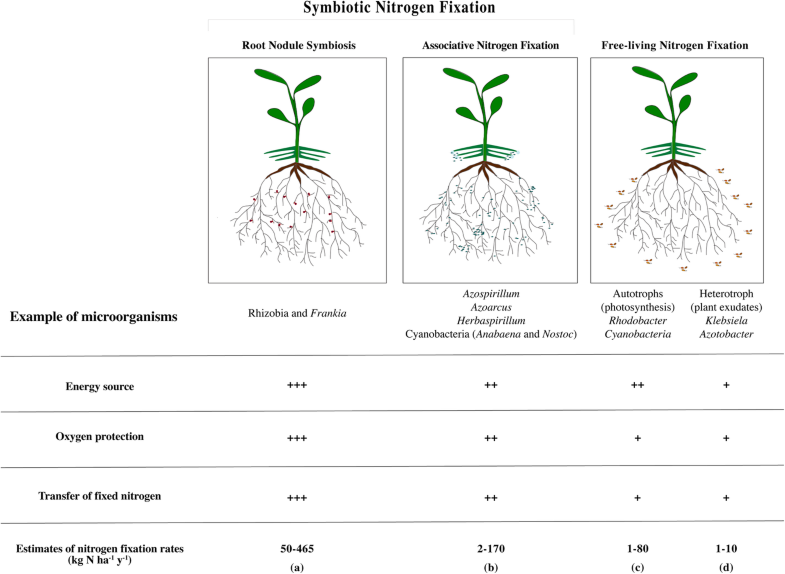 Notes
Acknowledgments
We gratefully thank Bailey Kleven and Valentina Infante for technical support during the preparation of this manuscript
Author's contributions
Designed the structure: JMA, VCSP, TBI, LGSM; Wrote the review: JMA, VCSP, TBI, LGSM; Made the figures: VCSP, TBI. All authors commented on and approved the final manuscript.
Funding
This work was supported by grants from the US Department of Energy # DE-SC0018247 and DE-SC0014377 to JMA.
Ethics approval and consent to participate
Not applicable.
Consent for publication
Not applicable.
Competing interests
JMA provides consulting services to Pivot Bio and Valent BioSciences.
Copyright information
© The Author(s). 2019
Open AccessThis article is distributed under the terms of the Creative Commons Attribution 4.0 International License (http://creativecommons.org/licenses/by/4.0/), which permits unrestricted use, distribution, and reproduction in any medium, provided you give appropriate credit to the original author(s) and the source, provide a link to the Creative Commons license, and indicate if changes were made. The Creative Commons Public Domain Dedication waiver (http://creativecommons.org/publicdomain/zero/1.0/) applies to the data made available in this article, unless otherwise stated.