Effects of exergame training combined with omega-3 fatty acids on the elderly brain: a randomized double-blind placebo-controlled trial
Part of the following topical collections:
Abstract
Background
Older adults often suffer from age- and behavior-related brain changes affecting neuronal functioning and, therefore, cognitive and motor functions. The improvement of these functions might decrease falls and improve mobility. Previous studies indicate that video game-based physical exercise, so-called exergames, or omega-3 fatty acids (FAs) improve motor and cognitive functioning through brain adaptations. The aim of this study was to assess the effects of exergame training combined with fish oil supplementation on neuronal system levels in the brain and behavioral measurements in older adults. We hypothesized that the combination would differently affect these factors compared to the sole administration of exergame.
Methods
Fifty-eight participants were randomly assigned to one of two groups (N = 29 each group) in a parallel, double-blind, randomized controlled trial lasting 26 weeks. The experimental group received daily fish oil, whereas the control group received daily olive oil. After 16 weeks, both groups started with an exergame training. Measurements were performed pre, during, and post intervention. Primary outcomes were recruitment curves using transcranial magnetic stimulation and response-locked potentials using electroencephalography. Secondary outcomes included executive functions and gait parameters. Blood samples were taken to control for FAs.
Results
Forty-three individuals (mean age 69.4 ± 4.6 years) completed the study (Nexperimental = 22, Ncontrol = 21). The results showed no significant time × group interaction effects for any parameters. Blood samples demonstrated significant time × group interaction effects. Post-hoc tests showed a significant increase of omega-3 FAs (p < .001) and a significant decrease of omega-6 FAs (p < .001) for the experimental group.
Conclusion
The combination of exergame training and fish oil did not lead to additional beneficial effects. To trigger possible effects, future studies should carefully consider study design aspects; e.g. study duration, individual nutritional supplementation dose, omega-3 FAs supplementation composition, and placebo. Furthermore, studies should consider neuroimaging methods as these might be more sensitive to assess early brain adaptations. Thus, future studies should be aware of several aspects running a combinatory study that includes omega-3 FAs according to their expected effects.
Keywords
Nutritional supplementation 
Omega-3 fatty acids 
Physical exercise 
Exergame 
Brain function 
Brain structure 
Older adults 
Aging 
Abbreviations
DHA

Docosahexaenoic acid

DTC

Dual-task cost

EDTA

Ethylenediaminetetraacetic acid

EEG

Electroencephalography

EF

Executive function

EPA

Eicosapentaenoic acid

FAs

Fatty acids

FES-I

Falls efficacy scale international

FITT

Frequency, intensity, type, and time

GDS

Geriatric depression scale

LCPUFA

Long chain polyunsaturated fatty acid

MEP

Motor evoked potential

MMSE

Mini mental state examination

MRI

Magnetic resonance imaging

NS

Nutritional supplementation

PE

Physical exercise

PET

Positron emission tomography

PFC

Prefrontal cortex

RBC

Red blood cells

RC

Recruitment curve

RLP

Response-locked potential

RMT

Resting motor threshold

TA

Tibialis anterior

TAP

Test for attentional performance

TMS

Transcranial magnetic stimulation

VG

Video game
Background
Age- and behavior-related changes in the human brain involve structural, functional, and metabolic levels. Age- and behavior-associated alterations in white matter integrity, grey matter volume [1, 2, 3], and neurotransmitter (e.g. dopamine, serotonin, and acetylcholine) synthesis and binding [4, 5, 6, 7, 8] go along with deteriorations of cognitive functions, e.g. executive functions (EFs). EFs are higher-level cognitive functions that control and guide lower-level cognitive functions and goal-directed actions [9], such as walking in challenging environments. Gait performance is partially controlled by different EF components, e.g. "working memory" [10], "inhibition" [11], and "divided attention" [12]. Especially divided attention is associated with temporal and spatial dual-task gait parameters [13]. Gait disturbances and falls seem to be related to the quality of EFs [14, 15].
The prefrontal cortex (PFC), especially the dorsolateral prefrontal cortex and connected brain structures, has been linked with EFs [16, 17]. Better EFs are associated with a greater PFC thickness and a larger PFC volume [18]. During life, the (pre)frontal structure undergoes transformation processes; however, no agreement exists on the specific pattern of EFs adaptations [1, 17, 19, 20]. One presumption is that a decrease in frontal grey matter volume and white matter integrity might be related to a decline of EFs. Rosano et al. (2012) illustrated that a smaller PFC volume might contribute to slower gait performance due to decreased information processing capacity [21]. Furthermore, disrupted communication of cortico-cortical and cortico-subcortical networks, e.g. connection of frontal parts with parietal lobe and basal ganglia, respectively, are common causes of higher-level gait disorders [15, 22]. Consequently, strengthening of EFs might improve gait performance [23] and concomitantly might reduce falls as the risk of future falls can be predicted by EFs performance in older adults [24].
Up to now, training of specific cognitive functions (e.g. EFs) may represent a central method to support specific brain functions and also preserve mobility in older adults [21, 25, 26, 27]. Nonetheless, recent reviews examining the interaction of cognitive and physical functions concluded that a combined motor-cognitive training seems to be important for clinical practice to achieve safe movements in daily environment [27, 28, 29, 30]. On neuronal level, physical training triggers brain plasticity by cell proliferation and synaptic plasticity, while cognitive training seems to support the survival of newborn neurons and their integration in pre-existing networks [28, 31, 32]. Especially, computerized training interventions seem effective [27, 28, 33] when providing training principles that support (motor) learning [33]. Video game-based physical exercises, or so-called exergames, allow concurrent training of motor and cognitive abilities. Incorporated video games are promising to train various cognitive functions [34, 35]. Physical exercise (PE) interventions with decision-making opportunities are potentially able to improve both motor performance and cognition [36]. Recent studies showed positive effects of exergame training on EFs and gait performance under dual-task condition in older adults [37, 38] and a meta-analysis revealed that both healthy older adults and clinical populations with conditions associated with neurocognitive impairments benefit from physical-active video games [39].
In various review articles, it is hypothesised that the impact of PE on the brain can be supported by concurrent intake of specific nutrients [40, 41, 42, 43, 44]. This would mean, as a way of example, that a combination of PE with a nutritional supplement (NS) might further intensify the effects of PE on brain structure and function in older adults. The possible interplay between PE and nutrition involves common cellular processes essential for synaptic plasticity, neurogenesis, cell survival, and vascular function [40, 41, 42, 43, 44].
Nonetheless, a recent systematic review concluded that former studies executing a combined approach of PE and NS to evoke neuronal adaptations were not particularly successful due to the misfit between the combinations; the elements were not chosen based on sharing of similar neuronal mechnism [45]. The review argues, however, that especially omega-3 fatty acids (FAs), present in fish oil, might be an efficient NS promoting the beneficial effects of PE. Omega-3 FAs are essential for energy metabolism, for the function and integrity of the neuronal plasma membranes (with docosahexaenoic acid (DHA), arachidonic acid, and eicosapentaenoic acid (EPA) as their main components), and for blood perfusion in the brain [46, 47]. Particularly, older adults may profit from FA supplementation, as in the aging brain the concentration of long chain polyunsaturated FAs (LCPUFAs) concentration decreases [46]. LCPUFAs intake improves cognition, decreases (neuro)inflammation, and reduces vascular risk factors in older adults [46]. On brain level, LCPUFAs may have positive effects on neuronal structure, function, and cerebral blood flow [48]. For example, DHA acts as a neurotrophic factor by increasing the level of the brain-derived neurotrophic factor [49]. Previous randomized-controlled studies showed that fish oil enhanced brain structure and function in healthy older adults, and participants improved working memory, EFs, white matter microstructure integrity, grey matter volume, and vascular parameters [50, 51].
So far, studies could show that DHA supplementation enhanced the effects of exercise on axonal growth, brain derived neurotrophic factor-related synaptic plasticity, and cognition in rats [49, 52]. However, no study exists that examined the combined effect of exergame training and omega-3 FAs on the brain in healthy older adults. This study, therefore, aims to investigate whether the positive effects of exergame training can be enhanced through adding omega-3 FA supplementation. The following research question guided the research process: "Does the combination of exergame training and fish oil differently affect neuronal system levels in the elderly brain compared to exergame training alone?" The main objectives of this study were to determine the effects of the intervention on corticospinal excitability and neuronal activity. We hypothesized that the combination would differently affect these parameters.
Results
A total of 58 participants were randomly assigned to one of the two groups: (1) fish oil and exergame training or (2) olive oil and exergame training. Forty-three participants completed the whole study procedure. One participant was excluded from analysis because the supplementation intake was 39%. The study flow chart is presented in Fig. 
1
. The analysis does not consider intention-to-treat analysis because of a clear description of the reason(s) for drop-out (CONSORT 2010 guidelines [
84
]). Table 
1
summarizes demographic characteristics, screening values, and intervention details of the participants. The significant difference for the GDS value was not considered for the analysis, since all the values were in the normal range indicating no signs of depression. No differences were found for the baseline characteristics between the 58 included participants and the 42 analyzed participants. All the participants reached a minimal amount of 70% (21 training sessions) training participation.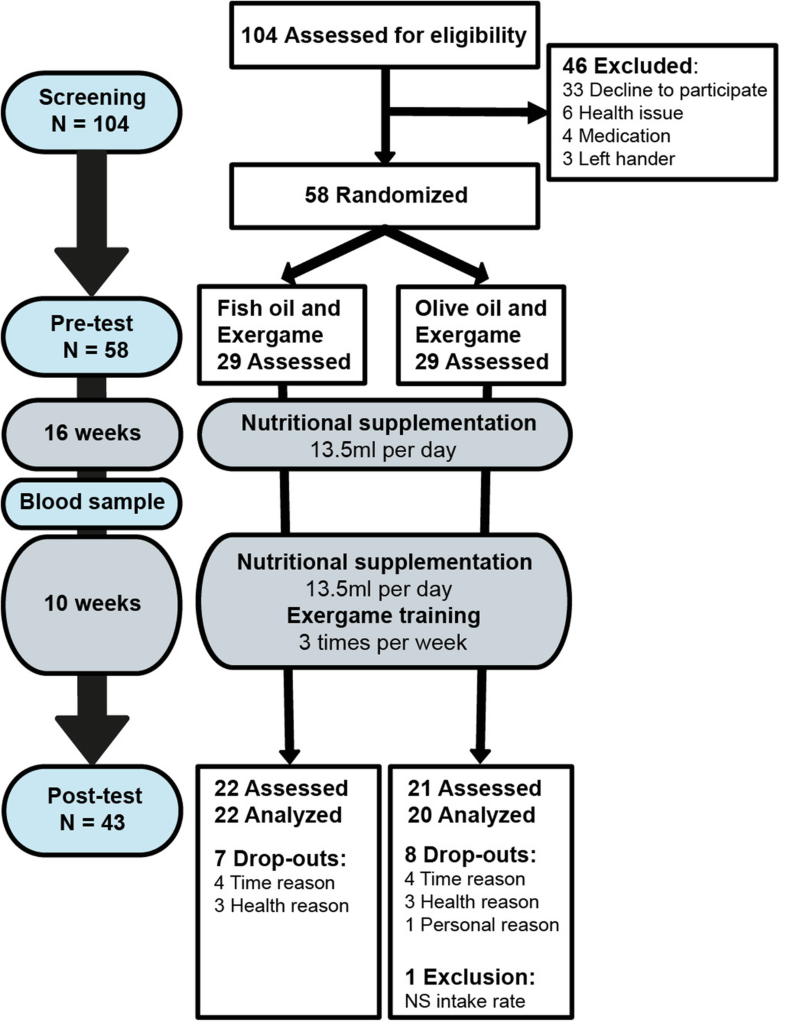 Table 1
Demographic characteristics, screening values, and intervention details
 

Fish oil and Exergame (N = 22)

Olive oil and Exergame (N = 20)

z

p

r

Baseline

 Gender [F/M]

[10/ 12]

[13/ 7]

 
 
 

 Age [years]

67 (65.75; 72.50)

67.50 (65.25; 75.75)

−0.537

.592

0.08

 Weight [kg]

76.5 (62.5; 85.25)

74.50 (61.75; 81.50)

−0.554

.579

0.09

 Height [m]

1.70 (1.62; 1.80)

1.69 (1.60; 1.76)

−1.148

.251

0.18

 Body Mass Index

25.66 (22.80; 27.32)

25.49 (23.47; 27.93)

−0.302

.762

0.05

 Mini Mental Status

28.5 (27.75; 29.25)

28 (28; 29)

−0.495

.620

0.08

 Geriatric Depression Scale

1 (0; 3)

0 (0; 1)

−2.209

.027*

0.34

 Short-FES-I

8 (7; 9.25)

7 (7; 8.75)

−1.203

.229

0.19

 Resting motor threshold

42 (40; 45)

43.5 (38.5; 50)

−0.540

.589

0.13

Intervention

 Absolved trainings (100% = 30 sessions)

27 (23; 29)

26 (22.25; 27)

−0.881

.378

0.14

 Supplementation intake [%]

98.2 (94.5; 100)

96.4 (91.8; 99.5)

−0.840

.401

0.13
Discussion
The aim of this study was to investigate whether the known positive effects of exergame training can be enhanced by adding omega-3 FA supplementation. We hypothesized that the combination of exergame training and omega-3 FAs would differently affect neuronal system levels in the elderly brain compared to exergame training alone. Based on previous studies, we assumed that exergame training has positive effects on the elderly brain [37, 38]. Furthermore, previous studies showed that omega-3 FAs have positive effects on the elderly brain [85]. Although our results confirmed previous findings [27, 37, 38, 39] by showing overall improvements in some of the outcomes (time main effects), the results showed no significant time × group interaction effects in any of the primary and secondary parameters. For the blood values, significant time × group interaction effects were measured. The fish oil intake group showed a significant increase of the omega-3 FAs. This increase indicates that the participants adhered to their intake schedule which led to the increased omega-3 FA levels within the first 16 weeks. However, this increase did not lead to any additional benefits in chosen outcomes due to adding fish oil to the exergame intervention. One reason might be that the exergame training acted as the main factor evoking effects while omega-3 FAs played a subordinate role. This assumption would be in line with a recently published pilot study where the combined approach of aerobic exercise and cognitive stimulation with omega-3 FAs showed an effect on gray matter volume and sole omega-3 FAs intake in combination with placebo exercise in form of stretching and toning did not induce effects [86]. Another reason might be that an interplay exists but that our intervention study was not able to evoke and capture the effects. Several reasons may be given for this explanation. The following sections discuss possible shortcomings of our intervention design and measurement methods that might have influenced the study outcomes.
Aspects of the study design that may explain the lack of a noticeable interplay between exergame training and omega-3 FAs relate to the study population and to their intake dose and period. The selected older adults were quite fit and healthy elderly who had to be able to come to the study location by themselves. As all the participants showed a rather low level of omega-3 FAs at baseline, a huge potential existed to increase omega-3 FAs levels. The fish oil intake group showed a significant increase of the omega-3 FAs including DHA and EPA comparing pre vs post blood sample values. For fish oil supplementation, the intake duration of 16 weeks was long enough to reach a steady state condition [88, 89, 90] and the intake amount was high enough to trigger a significant increase of the omega-3 FAs values in the blood. For the omega-3 index, all the participants within the fish oil group adapted from a undesirable level of less than 4% or an intermediate-risk zone of 4–8% to a cardio protective level of 8% or higher [91] after 16 weeks. We concluded that all the participants responded well to the fish oil supplementation. From week 17 to 26, we noticed a steady state of the values while four participants showed a slight decrease of the omega-3 index to an intermediate risk zone (ranging from 5.15 to 7.81%). Even though the intake amount of 2.9 g omega-3 FAs per day seems to be an appropriate level, an individual adapted intake level might be even more promising because of genetic heterogeneity [92]. The expectation was that these increased blood levels would enhance the effects of exergame training. However, we cannot directly link the blood value course to the integration and implementation of omega-3 FAs into the neuronal system as the efficacy is limited to use blood fatty acid levels as a surrogate biomarker for central nervous system levels [93]. Therefore, the supplementation period of 16 weeks was long enough to reach a steady state level in the red blood cells of our study population, but we don't know if the time period was also long enough to trigger an implementation effect into the brain cells and metabolism.
Another factor that might have influenced the interplay is the composition of the fish oil. The used fish oil contained DHA and EPA. However, the amount of EPA was higher than DHA. The brain contains high levels of DHA, but low levels of EPA [94]. DHA is the component that is quantitatively the most important omega-3 FAs in the brain, having unique and indispensable functions in the neuronal membrane, and in turn has positive effects on the brain [85, 93]. EPA has independent effects, particularly in regards to the respective anti-inflammatory mediators [93]. In rats, EPA and DHA increased neurite outgrowth in the development stages, nonetheless only DHA triggered positive effects in the tissue of aged rats [93]. Finally, studies indicated that the greatest benefits may be with DHA supplementation in non-cognitively impaired older people [93]. Considering these potential shortcomings, we propose that future studies should choose the fish oil composition according to their expected effects. In our study, it can be hypothesized that a higher amount of DHA might have evoked stronger effects. It seems fair to state that a better understanding of the roles of DHA and EPA to support brain health and protection is needed [93].
A further effect limiting factor could be related to the selected placebo, olive oil. We cannot exclude that the participants could profit from the olive oil as olive oil contains some effective components as well; for example, oleic acid [95]. However, the focus of this study was on the effects of omega-3 FAs and the olive oil group showed no significant increase of the omega-3 FAs during the intervention. Therefore, we concluded that the effects evoked by omega-3 FAs were minimal in the olive oil intake group. For placebo, future studies could use a fish oil supplement with a different amount of DHA and EPA as the active examined supplement depending on the intended effects.
Some methodological aspects of the selected measurements might have also limited the possibilities to capture enhanced effects. To assess omega-3 FAs values, we were bound to blood sample analysis. As mentioned before, the efficacy to use blood fatty acid levels as a surrogate biomarker for central nervous system levels is limited [93]. Moreover, it might be that our assessments, like measuring RLP, executive functions, and spatio-temporal gait parameters, were not sensitive enough to catch any effects at that stage. Neuroimaging methods might have provided more informative results than our more behavioral focused assessments. Furthermore, the used neuroimaging method TMS was probably too focused on the motor cortex only and not able to assess other brain areas. TMS measurement was limited to measure corticospinal excitability from the motor cortex to the right leg muscle (M. tibialis anterior). We recommend, therefore, using brain imaging methods and protocols that are not restricted to a certain brain region. A recent systematic review of Tian and colleagues, that mapped relevant brain areas for gait variability, showed that several brain regions are important for gait performance [96], and should, therefore, be considered in addition to the motor cortex. Brain imaging methods, e.g. magnetic resonance imaging (MRI) and positron emission tomography (PET), have the possibility to measure changes of grey and white matters as well as metabolic processes that might be better indicators for neuroplastic changes. A recent study, that also examined a combined approach including omega-3 FAs, stated that gray matter volume measurement might be more sensitive than behavioral outcomes to detect differences between a combined versus a single intervention [86]. Furthermore, these imaging methods would allow the measurement of several brain areas and would be able reaching deeper-located brain regions, e.g. the hippocampus. Nevertheless, it remains open if our measurement methods were not sensitive enough to catch an effect or whether our study procedure was not designed appropriately enough to trigger an evident result.
Limitations
Some limitations of this study were already mentioned in the discussion section. In this section, we mention additional limitations that are not directly linked to the discussion section. Consideration of baseline fitness level as well as the change of the fitness level after the exergame training might have provided more information that could be used for the result discussion. Moreover, at the end of the intervention, we did not ask the participants about their assumption which nutritional supplementation they took during the intervention. Olive oil as placebo was chosen as it was the most similar to fish oil regarding to outer appearance and consistency. Nevertheless, this step could have substantiated the double-blind design. For the EEG measurements we used, some issues related to our measurement protocol might limit the measurement interpretation. The analysis showed a great range of latencies in the observed peaks. For example, the latencies (mean ± standard deviation) of the negative peak after response onset were for the fish oil and exergame group pre: Fp1 420.40 ms ± 243.13 ms, Fp2 385.60 ms ± 213.71 ms and post: Fp1 464.53 ms ± 219.58 ms, Fp2 501.26 ms ± 238.12 ms and for the olive oil and exergame group pre: Fp1 518.00 ms ± 254.31 ms, Fp2 514.00 ms ± 250.53 ms, post: Fp1 423.76 ms ± 231.23 ms, Fp2 431.13 ms ± 261.72 ms. It cannot be ruled out that differences in EEG cap positioning during the different measurement events are, at least in part, responsible for this observed variability. Nevertheless, the RLP shape was evident for the included participants, while in a few participants the RLP appeared at a later time point. Another reason for the shift in time might be due to a technical problem. Since the EEG activity was recorded using wireless signal transmission, it can be speculated that the signal transmission was slightly delayed in a few participants. Nevertheless, during the experiments other electrical devices were switched off to minimize interference. Furthermore, the randomized study design can be considered most optimal for controlling factors related to measurement issues.
Conclusions
This study did not show that omega-3 FAs could enhance the effects of exergame training neither on aspects of the neuronal system levels in the elderly brain nor on executive functions and gait performance. To trigger possible additional beneficial effects of nutritional supplementations, future studies should bear in mind aspects of study design including study duration, individual nutritional supplementation dose, composition of the omega-3 FAs supplementation (DHA and EPA), and placebo. Furthermore, future studies should consider neuroimaging methods (e.g. MRI and PET) that might be more sensitive to assess brain adaptations at an early stage in the plasticity process. Thus, future studies should be aware of several aspects running a combinatory study that includes omega-3 FA supplementation according to their expected effects.
Notes
Acknowledgments
The authors wish to thank San Omega GmbH for supplying the fish oil (NORSAN Omega-3 Total) and olive oil and Swissmedic Plus for the helpful support. The authors would like to thank Floriana Sonder and Mélanie Röthlisberger for instructing trainings and helping with data acquisition, and Manuela Omlin and Federico Gennaro for their helpful inputs. Furthermore, we would like to thank all participants for their kindness and enthusiasm during the training sessions and measurement period.
Funding
This project was supported by the ETH Foundation through ETH Research Grant ETH-17 13–2. The funder was not involved in the design, methods, participant recruitment, conduct, analysis, and reporting of the study.
Availability of data and materials
All data generated or analysed during this study are included in this published article.
Authors' contributions
AS developed the research question under the lead of EDB, IHA, and VKM. The concept and design part were established by AS, CB, and DM while EDB, IHA, and VKM acted as methodological council. AS, CB, and DM did data acquisition, analysis, and interpretation of the results which was edited and improved by EDB. AS produced an early version of the manuscript. EDB, IHA, and VKM substantially revised the manuscript to bring it to its current version. All authors have read and approved the final manuscript.
Ethics approval and consent to participate
The study procedure has been approved by the local ethics committee (EC Zurich Switzerland, EC number: 2015–0190) and conforms to the Declaration of Helsinki and the guidelines of Good Clinical Practice E6 (R1). No data was recorded before written informed consent was given by the participants. At the time of enrollment into the study, all participants were cognitively able to provide their own consent to participate as an exclusion criteria of this study was less than 22 points in the Mini Mental Status Examination. Study registration: Swiss National Clinical Trials (SNCTP000001623) and ISRCTN (ISRCTN12084831).
Consent for publication
Not applicable.
Competing interests
The authors declare that the research was conducted in the absence of any commercial or financial relationships that could be construed as a potential conflict of interest. EDB was a co-founder of dividat, the spin-off company that developed the video games used in this study, and is associated to the company as an external advisor. No revenue was paid (or promised to be paid) directly to EDB or his institution over the 36 months prior to submission of the work.
Publisher's Note
Springer Nature remains neutral with regard to jurisdictional claims in published maps and institutional affiliations.
Copyright information
© The Author(s). 2019
Open AccessThis article is distributed under the terms of the Creative Commons Attribution 4.0 International License (http://creativecommons.org/licenses/by/4.0/), which permits unrestricted use, distribution, and reproduction in any medium, provided you give appropriate credit to the original author(s) and the source, provide a link to the Creative Commons license, and indicate if changes were made. The Creative Commons Public Domain Dedication waiver (http://creativecommons.org/publicdomain/zero/1.0/) applies to the data made available in this article, unless otherwise stated.