Use of sugammadex in patients with neuromuscular disorders: a systematic review of case reports
Part of the following topical collections:
Abstract
Background
Sugammadex is a modified gamma-cyclodextrin that acts by selectively encapsulating free amino-steroidal neuromuscular relaxants. Several case reports have been published on the use of sugammadex in patients with neuromuscular disorders that include neuromuscular junction diseases, myopathies, neuropathies, and motor neurone disorders. The primary aim of this review is to systematically review the evidence on the use of sugammadex in patients with this heterogeneous group of diseases and provide recommendations for clinical practice.
Methods
A systematic electronic search of Medline, Embase and CINAHL databases was done until June 2019, to identify case reports describing the use of sugammadex in adult surgical patients with neuromuscular disorders.
Results
Of the 578 records identified through database searches, 43 articles were finally included for the systematic review. Of these, 17 reports were on patients with myopathy, 15 reports on myasthenia gravis, 9 reports on motor neuron diseases and 2 reports on neuropathies.
Conclusions
Majority of the articles reviewed report successful use of sugammadex to reverse steroidal muscle relaxants, especially rocuronium, in patients with neuromuscular diseases. However, with sugammadex, unpredictability in response and uncertainty regarding optimum dose still remain issues. Quantitative neuromuscular monitoring to ensure complete reversal and adequate postoperative monitoring is strongly recommended in these patients, despite the use of sugammadex.
Keywords
Sugammadex 
Neuromuscular diseases 
Rocuronium 
Neuromuscular blockade 
Reversal 
Abbreviations
ALS

Amyotrophic lateral sclerosis

APM

Adductor pollicis

CSM

Corrugator supercilii

MeSH

Medical Subject Headings

PM

Progressive muscular atrophy

PRISMA

Preferred reporting items for systematic reviews and meta-analyses

T1

First twitch
Background
Neuromuscular disorders are a large heterogeneous group of diseases that are usually progressive and produce symptoms at widely differing age ranges with varying degrees of severity [
1
]. They can be classified into motor neuron diseases, neuropathies, neuromuscular junction disorders or myopathies depending on which section of neuromuscular system is affected [
1
] (Table
1
). Epidemiological studies report an increase in the prevalence of neuromuscular disorders worldwide [
2
,
3
,
4
]. There have been several publications expressing concerns over the choice of muscle relaxants in patients with neuromuscular disorders presenting for surgery but perhaps, the reversal of the effects of muscle relaxants is a greater concern.
Table 1
Classification of the neuromuscular disorders
1. Neuromuscular transmission disorders: Myasthenia Gravis, Lambert-Eaton syndrome.
2. Myopathies: Muscular dystrophies including myotonias- dystrophic and non-dystrophic myotonias, poly- and dermatomyositis, metabolic and mitochondrial myopathies.
3. Neuropathies: Inflammatory polyneuropathy (Guillain – Barré syndrome), hereditary and toxic polyneuropathy (Charcot-Marie-Tooth disease, Fredreich's ataxia), multiple sclerosis
4. Motor neuron diseases: Amyotrophic lateral sclerosis, spinal muscular atrophy, spinal bulbar muscular atrophy
Sugammadex (Bridion®, Organon/Schering-Plough USA) a modified γ- cyclodextrin, acts by selectively encapsulating free molecules of amino steroidal neuromuscular relaxants such as vecuronium and rocuronium forming 1:1 inclusion complex in the plasma, thereby creating a concentration gradient resulting in the reduction of the relaxant available at the neuromuscular junction [5, 6, 7]. The complex is pharmacologically inert, is not affected by acid-base status or temperature [8] and produces no hemodynamic changes [6]. Thus, sugammadex has been found to have a good safety profile so far, compared with neostigmine [9].
Due to its rapid onset of action, sugammadex has enabled rocuronium to be used in difficult intubation scenarios, where traditionally suxamethonium has been the relaxant of choice [10]. Sugammadex also permits the anesthesiologist to use high dose of rocuronium both for rapid sequence induction and intubation [11] as well as to ensure optimal surgical conditions, by enabling a complete motor recovery and reduced need for postoperative ventilatory support [12]. Moreover, the time taken by sugammadex to adequately reverse moderate to deep block has been found to be shorter than that for neostigmine [10]. Hence, the use of sugammadex is being increasingly reported in patients with neuromuscular disorders. However, synthesis of the evidence from these isolated case reports may provide a more meaningful guidance to the anesthesiologists with their management of such patients and to generate new research hypotheses.
The purpose of the following review is to evaluate the evidence supporting the use of sugammadex as a reversal agent in patients with neuromuscular disorders, in terms of its efficacy and dose requirements and to summarize various aspects that need to be considered during administration of this drug. A detailed review of neuromuscular diseases and their anesthetic considerations is outside the scope of this article.
Methods
A search was done by the reviewers (U.G and L.S) in Medline, Embase and CINAHL using the key Medical Subject Headings (MeSH) terms, "sugammadex", "neuromuscular diseases", "neuromuscular junction disorders", "myopathy", "neuropathy", "hereditary motor sensory neuropathy", "motor neuron disease", "neuromuscular transmission disorders", "Neuromuscular blocking" for studies including case reports on adult humans, and published in peer-reviewed journals, without any restriction on the year of publication. The last search was on 24 June 2019. Adult surgical patients with all variants of neuromuscular diseases who received sugammadex for reversal were eligible for inclusion. Paediatric case reports were excluded. Conference abstracts without full text availability and the articles that were not in English were excluded. Controlled trials on sugammadex, studies that did not use neuromuscular monitoring or did not report train-of-four ratio (TOF ratio) or count (TOF count) were excluded. Authors were not contacted for additional information. Duplicates were removed. Full texts of the articles from the relevant abstracts were reviewed. The reference list of the articles thus obtained was manually searched for any additional relevant article by L.S.
Two reviewers (U.G and S.K) independently screened the title and abstracts of all the articles from the literature search to select articles for full-text review with the inclusion and exclusion criteria. Any discrepancy was resolved by mutual consensus and discussion with the reviewer (L.S). Data were extracted by U. G and S. K into an excel sheet and included author, year, country, patient details, nature of disease, type of surgery, duration of surgery, anesthetic agents, neuromuscular blocking agent and its dose, neuromuscular monitor used, dose of sugammadex and its response and postoperative course. Details of the selection process are given in the Preferred Reporting Items for Systematic Reviews and Meta-Analyses (PRISMA) diagram (Fig.
1
).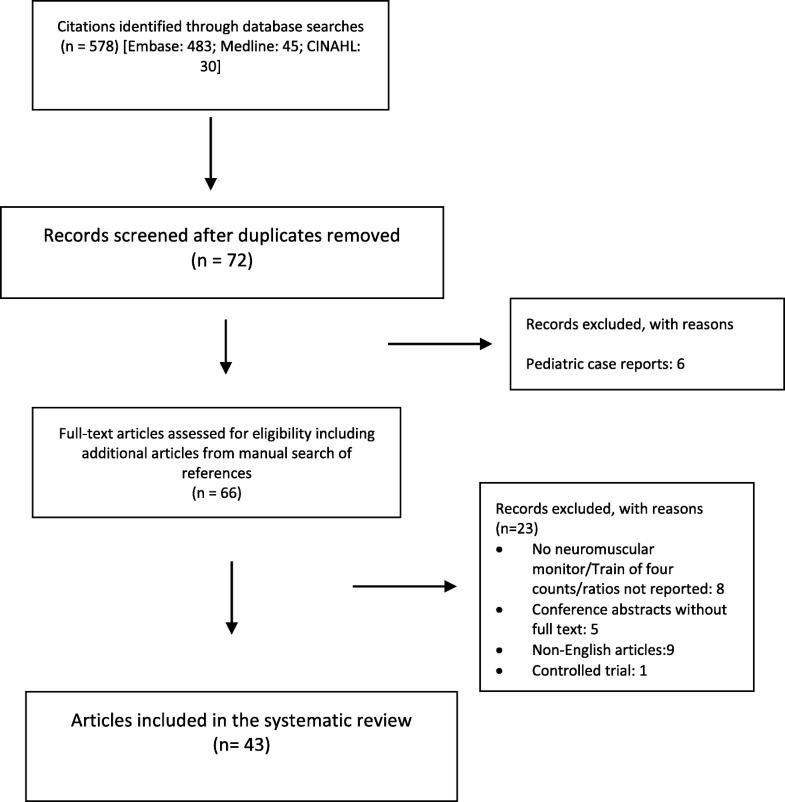 Results
The search identified 578 citations, 72 relevant abstracts were screened, from which 29 articles excluded, leaving 43 articles suitable for review (Fig. 1). There were 22 publications from Europe, 15 publications from Asia and five from Australia. The maximum number of reports (n = 17) concerned patients with myopathies, followed by patients with myasthenia gravis (n = 15). One Australian paper [13] reported two cases, of which one concerned a patient with myotonic dystrophy and the other about a patient with spinal muscular atrophy. For the sake of classification, it was considered as two different reports. Two reports were on patients with neuropathies and nine on motor neuron diseases.
Discussion
Respiratory involvement in neuromuscular disorders can range from a reduction in inspiratory and expiratory muscle strength resulting in alveolar hypoventilation, poor clearance of airway secretions to atelectasis and respiratory failure1. There may be coexisting mild to moderate bulbar dysfunction increasing risk of aspiration and obstructive and central sleep apnea [14]. Hence, muscle relaxants have been cautiously or even sparingly used in patients with neuromuscular disorders in order to avoid the need for postoperative ventilatory support. However, inadequate relaxation due to restricted use of muscle relaxants can compromise the success of some abdominal and gynecological procedures [15, 16]. Use of suxamethonium in patients with neuromuscular disorders may risk them with its undesirable side effects such as myalgia, malignant hyperthermia, decreased heart rate, masseter spasm, anaphylaxis, increased intracranial and intraocular pressure, hyperkalemia and prolongation of neuromuscular block in patients with congenital or acquired variations in plasma cholinesterase activity [17, 18]. The response and duration of action of rocuronium can be variable and unpredictable in these patients [19]. Since patients with neuromuscular disorders may also have other associated conditions such as cardiomyopathy [20], systemic and pulmonary hypertension and arrhythmias, the conventional combination of reversal agents (neostigmine and anticholinergic drugs) may cause cardiac rhythm disturbances. Previous case reports have also described prolonged neuromuscular blockade similar to depolarizing block or a tonic response following the use of neostigmine in patients with neuromuscular disorders [21]. Other drawbacks of anticholinesterases such as neostigmine include relatively slow onset along with questionable reliability and predictability of reversal [22].
A recent Cochrane review concluded that sugammadex is faster, more efficient and safer than neostigmine in reversing moderate and deep paralysis [23]2. Within our literature search, evidence was collected on the use of sugammadex in four main types of neuromuscular disorders:
Conclusion
Anesthetic management of patients with neuromuscular disorders is challenging due to the variability in the type, severity of the disorder and the extent of dysfunction in various muscle groups and their sensitivity to muscle relaxants in each patient.
Multiple case reports have been published describing the successful reversal of rocuronium with sugammadex in patients with neuromuscular disorders, however, there are also reports of adverse reactions and instances of inadequate reversal with administration of sugammadex. Currently, as there is limited knowledge on optimal dosing and timing of administration of sugammadex, a similar unpredictability in response also seem to occur with the use of sugammadex in this cohort of patients. Hence despite the advantages of sugammadex in this high-risk group of patients, it is strongly recommended to use quantitative neuromuscular monitoring to ensure complete recovery from the effects of steroidal muscle relaxants and to exercise extended postoperative supervision in these patients.
Notes
Acknowledgements
We would like to thank Mr. Chris Parker, librarian, The Prince Charles Hospital, Brisbane, Australia for his assistance with the literature search.
Authors' contributions
UG conceived this study. UG and LS performed the initial literature search of the databases. UG and SK screened the title and abstracts of all the articles from the literature search to select articles as well as extracted the data. LS was the third reviewer to resolve any disagreements between UG and SK. LS performed manual search of the reference list of the selected articles for additional articles. All the authors were involved in drafting the manuscript and approved the final version.
Funding
This research did not receive any specific grant from funding agencies in the public, commercial, or not-for-profit sectors.
Ethics approval and consent to participate
Not applicable.
Consent for publication
Not applicable.
Competing interests
U. G, S. K and L. S have been sponsored by Merck, Sharp & Dohme (MSD) to participate in the MSD conferences.
Copyright information
© The Author(s). 2019
Open Access This article is distributed under the terms of the Creative Commons Attribution 4.0 International License (http://creativecommons.org/licenses/by/4.0/), which permits unrestricted use, distribution, and reproduction in any medium, provided you give appropriate credit to the original author(s) and the source, provide a link to the Creative Commons license, and indicate if changes were made. The Creative Commons Public Domain Dedication waiver (http://creativecommons.org/publicdomain/zero/1.0/) applies to the data made available in this article, unless otherwise stated.