SMoLR: visualization and analysis of single-molecule localization microscopy data in R
Part of the following topical collections:
Abstract
Background
Single-molecule localization microscopy is a super-resolution microscopy technique that allows for nanoscale determination of the localization and organization of proteins in biological samples. For biological interpretation of the data it is essential to extract quantitative information from the super-resolution data sets. Due to the complexity and size of these data sets flexible and user-friendly software is required.
Results
We developed SMoLR (Single Molecule Localization in R): a flexible framework that enables exploration and analysis of single-molecule localization data within the R programming environment. SMoLR is a package aimed at extracting, visualizing and analyzing quantitative information from localization data obtained by single-molecule microscopy. SMoLR is a platform not only to visualize nanoscale subcellular structures but additionally provides means to obtain statistical information about the distribution and localization of molecules within them. This can be done for individual images or SMoLR can be used to analyze a large set of super-resolution images at once. Additionally, we describe a method using SMoLR for image feature-based particle averaging, resulting in identification of common features among nanoscale structures.
Conclusions
Embedded in the extensive R programming environment, SMoLR allows scientists to study the nanoscale organization of biomolecules in cells by extracting and visualizing quantitative information and hence provides insight in a wide-variety of different biological processes at the single-molecule level.
Keywords
Single-molecule localization 
Microscopy 
Image quantification 
Image analysis 
Super-resolution 
R 
Abbreviations
DBSCAN

Density-based spatial clustering of applications with noise

DSB

Double strand break

dSTORM

Direct stochastic optical reconstruction microscopy

KDE

Kernel density estimation

ROI

Region of interest

SMLM

Single-molecule localization microscopy

SMoLR

Single-molecule localization in R
Background
The revolutionary advancements in super-resolution microscopy techniques make it possible to study subcellular structures at nanoscale, using fluorescence microscopy. Single-molecule localization microscopy (SMLM) provides the highest spatial resolution that can be achieved with light microscopy today, with a lateral resolution between 10 and 20 nm [1, 2]. SMLM relies on detecting single fluorescent emitters, by separating spatially overlapping signals in time. By detecting and determining the position of individual fluorescent molecules, in densely labelled biological samples, with high precision, images can be reconstructed with a resolution an order of magnitude below the diffraction limit of the light microscope.
In many biological samples a multitude of macromolecular assemblies and protein complexes within one cell can be observed, such as DNA double strand break (DSB) foci [3, 4], nuclear pores [5], focal adhesions [6], virus particles [7] or neuronal spines [8]. Super-resolution microscopy is well suited to study those assemblies, since the increased resolution permits to investigate, at the single-molecule level, the internal composition and protein distribution of these nanoscale assemblies, which have typical diameters ranging from 100 nm up to 2 μm.
In contrast to regular microscopy data which consists of intensity values in a digital image format, SMLM data typically consists of Cartesian coordinates with corresponding localization precision. Therefore, regular image analysis tools do not directly apply to SMLM data. Numerous software packages for detection and localization of single-molecules from single-molecule localization data are available (reviewed and benchmarked in [
9
]), that allow reliable image reconstruction for SMLM. Additionally tools have been developed which allow more in-depth (3D) visualization of the localization data (PALMsiever [
10
], ViSP [
11
], PYME [
12
]), clustering (SR-Tesseler [
13
], 3DClusterVisu [
14
]) and extraction of quantitative information (SharpViSu [
15
], LAMA [
16
] and Grafeo [
17
]) (Table 
1
).
Table 1
Comparison of different software packages for visualization and analysis of Single Molecule Localization data
|   | Programming environment | Visualization | Clustering/ segmentation | Quantification | GUI | Batch mode/Scriptable | Reference |
| --- | --- | --- | --- | --- | --- | --- | --- |
| VisP | C++ | + | – | – | + | – | [11] |
| PALMsiever | Matlab | + | – | – | + | + | [10] |
| SR-Tesseler | C++ | + | Voronoi | + | + | – | [13] |
| PYME | Python | + | – | – | + | + | [12] |
| SharpViSu | Matlab | + | Ripley/Voronoi | + | + | – | [15] |
| LAMA | Python | – | Ripley/DBSCAN | + | + | – | [16] |
| 3DClusterViSu | Matlab/Python | + | 3D Voronoi | + | + | + | [14] |
| Grafeo | Matlab | + | Ripley/Voronoi | + | + | + | [17] |
| SMoLR | R | + | KDE/DBSCAN | + | + | + | this paper |
Here, we present a versatile software package named SMoLR (Single Molecule Localization in R), that enables researchers to analyze large sets of single-molecule localization data in a quantitative way. The pointillist nature of the data gives possibilities for alternative types of analysis, for which the resourceful R programming language can be of great value [18]. With SMoLR we complement existing software, with a software package for analyzing larger data sets with localization data at once in the free open-source R environment.
Implementation
SMLM data consist of Cartesian coordinates of molecules and their respective precision along with all possible extra information that is desired in a specific experiment (i.e. time or frame of detection, channel, estimated number of photons detected etc.). The localization data together with these additional parameters can be imported into SMoLR in different formats obtained by different single-molecule localization software: ThunderSTORM [
19
], Zeiss ZEN software, SOSplugin [
20
] or plain text (Fig. 
1
). SMoLR is versatile and can be used in different ways, where one specifically useful way is to define Regions of Interest (ROIs) from the super-resolution images to analyze the organization of proteins in subcellular structures. Subsequently applying a single analysis to each ROI will result in quantitative information describing the distribution of proteins in a large number of structures.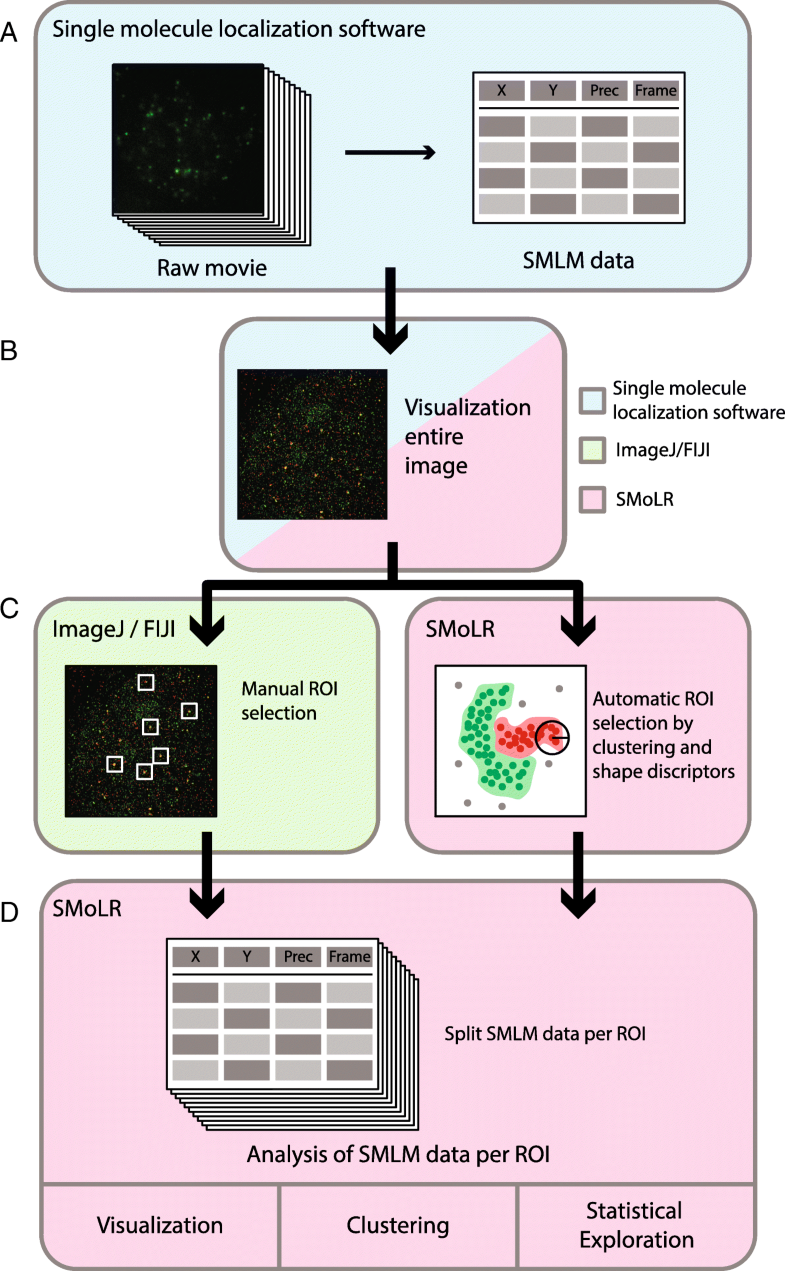 Results
To show the use of SMoLR to analyze single-molecule localization data, we applied the functions of the SMoLR package on a previously published data set with images of proteins involved in DNA double strand break (DSB) repair [4]. Precise determination of spatiotemporal localization and organization of these proteins at the sites of damage and how these relate to specific and general protein functions can help to elucidate the mechanisms by which repair of the DSBs take place. In this example we examined two essential DSB repair proteins, the recombinase RAD51 and the tumor suppressor BRCA2. γ-Irradiated cells were immunostained for RAD51 and BRCA2 and imaged using direct stochastic optical reconstruction microscopy (dSTORM) [4]. Single foci were segmented and visualized using the three visualization techniques available in SMoLR (Fig. 2a-c). Subsequent clustering using KDE, DBSCAN and Voronoi tesselation (spatstat) (Fig. 2d-f) allowed for quantitative analysis of multiple foci including number of clusters per protein, per focus and cluster size versus number of localizations (Fig. 2g-h). These analyses can be extended using e.g. cluster shape, co-localization or relative distance between clusters.
In order to gain insight in the relative distribution of RAD51 and BRCA2 in DSBs we averaged their signal after alignment (centered and rotated) based on the elongated shape of the RAD51 clusters (Fig. 2i). This revealed a distinct pattern of protein distributions during DNA repair (explained in more detail in Sánchez et al., 2017).
Conclusions
Visualization and quantitative analysis of the localization of multiple proteins, below the diffraction limit, within macromolecular assemblies or small organelles, under different conditions and at multiple time points, provides the possibility to gain insight in the spatiotemporal organization of protein function during biological processes. In many situations, multiple similar structures are present within a cell and the recorded super-resolution image. By combining the presented methods and work flow to extract relevant features from the localization data, together with the powerful statistics available in R, it is possible to explore the variation in structures, determine common features describing the structures while at the same time comparing different conditions or proteins. Using feature-based alignment and rotational analysis these observed structural organizations can be verified, visualized and combined with simulations to get more insight. Altogether, the workflow presented in our SMoLR package allows researchers to delve deeper into their single-molecule localization data, beyond conventional image analysis.
Availability and requirements
Project name: SMoLR
Project home page: https://github.com/ErasmusOIC/SMoLR
Operating system(s): Platform independent
Programming language: R
Other requirements: R 3.4.0 or higher
License: LGPLv3
Any restrictions to use by non-academics: no.
Notes
Acknowledgements
We would like to thank prof. dr. Claire Wyman and dr. Ihor Smal for helpful discussions.
Funding
This work has been supported by NWO-CW ECHO 104126 and STW Nanoscopy program.
Authors' contributions
MWP, JAS and HMG developed the software. MWP, JAS, HMG, ZL, WMB, WAC, ABH gave input for software. JAS and ABH supervised the project. All authors read and approved the final manuscript.
Ethics approval and consent to participate
Not applicable.
Consent for publication
Not applicable.
Competing interests
The authors declare that they have no competing interests.
Publisher's Note
Springer Nature remains neutral with regard to jurisdictional claims in published maps and institutional affiliations.
Copyright information
© The Author(s). 2019
Open AccessThis article is distributed under the terms of the Creative Commons Attribution 4.0 International License (http://creativecommons.org/licenses/by/4.0/), which permits unrestricted use, distribution, and reproduction in any medium, provided you give appropriate credit to the original author(s) and the source, provide a link to the Creative Commons license, and indicate if changes were made. The Creative Commons Public Domain Dedication waiver (http://creativecommons.org/publicdomain/zero/1.0/) applies to the data made available in this article, unless otherwise stated.