Infrastructures of systems biology that facilitate functional genomic study in rice
Abstract
Rice (Oryza sativa L.) is both a major staple food for the worldwide population and a model crop plant for studying the mode of action of agronomically valuable traits, providing information that can be applied to other crop plants. Due to the development of high-throughput technologies such as next generation sequencing and mass spectrometry, a huge mass of multi-omics data in rice has been accumulated. Through the integration of those data, systems biology in rice is becoming more advanced.
To facilitate such systemic approaches, we have summarized current resources, such as databases and tools, for systems biology in rice. In this review, we categorize the resources using six omics levels: genomics, transcriptomics, proteomics, metabolomics, integrated omics, and functional genomics. We provide the names, websites, references, working states, and number of citations for each individual database or tool and discuss future prospects for the integrated understanding of rice gene functions.
Keywords
Bioinformatics 
Database 
Rice 
Systems biology 
Functional genomics 
Abbreviations
ceRNA

Competing endogenous RNA

circRNA

Circular RNA

CREP

Collections of rice expression profiling database

CRISPR/Cas9

clustered regularly interspaced short palindromic repeats-associated nuclease 9

DIPOS

Database of interacting proteins in Oryza sativa

FST

Flanking sequence tag

GO

Gene ontology

GSEA

Gene set enrichment analysis

GUI

Graphic user interface

GWAS

Genome-wide association studies

HDRA

High-density rice array

isomiRs

Isoforms of miRNAs

KEGG

Kyoto Encyclopedia of Genes and Genomes

lncRNA

Long non-coding RNA

MCDRP

Manually curated database of rice proteins

miRNA

microRNA

MSU

Michigan State University

ncRNA

Non-coding RNA

NGS

Next generation sequencing

OGRO

Overview of functionally characterized genes in rice online

PceRBase

Plant ceRNA database

PheWAS

Phenome-Wide Associated Study

PLACE

Plant cis-acting regulatory DNA elements

PlantcircBase

Plant circular RNA database

Plant-PrAS

Plant protein annotation suit database

PlexDB

Plant expression database

PMN

Plant metabolic network

PNRD

Plant non-coding RNA database

PPDB

Plant promoter database

PPIs

Protein–protein interactions

PRIN

Predicted rice interactome network

QTL

Quantitative traits loci

RGAP

Rice genome annotation project

RiceGE

Rice functional genomics express database

RIGW

Rice information gateway

RIV

Rice interactions viewer

ROAD

Rice oligonucleotide array database

RPAN

Rice pan-genome browser

SNP

Single nucleotide polymorphism

SSR

Simple sequence repeats

STIF

Stress-responsive transcription factor

STIFDB

Stress responsive transcription factor database

T-DNA

Transfer DNA

TF

Transcription factor

UniVIO

Uniformed viewer for integrated omics
Background
Systems biology is a research field that analyzes large amounts of omics data bioinformatically, constructs models for biological systems, and confirms model-driven hypotheses using biological experiments (Kitano 2002; Sauer et al. 2007). This approach provides a general biological view that is difficult to build using a single approach (Fang and Casadevall 2011). It is also a field of multi-disciplinary research that cannot be distinguished from the definition of bioinformation (Vincent and Charette 2015).
Systems biology expedites understanding of human cancer, diabetes, and Parkinson's disease (Du and Elemento 2015; Bakar et al. 2015; Michel et al. 2016), reconstructs the metabolism pathways of microbes and algae to make cell factories (De Bhowmick et al. 2015; Nielsen and Keasling 2016), and explores synthetic biology (Andrianantoandro et al. 2006; Barrett et al. 2006; Cameron et al. 2014). In plant research, high-throughput technologies have been introduced (Yin and Struik, 2010; Glinski and Weckwerth 2006; Egan et al. 2012) and facilitate a large amount of research (Yuan et al. 2008; Fernie 2012). For example, plant systems biology has produced new understandings of metabolism (Schauer and Fernie 2006; Last et al. 2007; Sweetlove et al. 2014), stress responses (Cramer et al. 2011; Jung et al. 2013; Nakabayashi and Saito 2015), and integrative omics research (Rajasundaram and Selbig 2016). Also, together with CRISPR/Cas9 genome editing technology, plant synthetic biology has been established (Liu and Stewart Jr 2015; Baltes and Voytas 2015).
The world demand for staple crops is expected to increase by 60% from 2010 to 2050 (Fischer et al. 2014). Rice, wheat, and maize are the big three global cereals that together account for ~ 87% of all grain production worldwide. Rice is a model crop plant; it was the first plant whose whole genome information was sequenced among cereal crops (Goff et al. 2002; International Rice Genome Sequencing Project 2005), and extensive genetic studies and technological platforms have been established for functional genomic research in rice. Major goals of rice research are to identify the functional diversity of every gene and improve the crop's agronomic traits (Zhang 2007; Zhang et al. 2008). To that end, multi-omics data have been developed using new technologies, including next generation sequencing (NGS), and many gene-indexed mutants mediated by T-DNA or transposable element insertion have been constructed (Wei et al. 2013). These resources facilitate functional genomics; as of 2017, around 3000 genes in rice had been functionally identified (Jiang et al. 2012; Yao et al. 2018). Along with ever-increasing information about wheat and maize, advancing systematic approaches in rice will help to improve the agronomic traits of other crop plants. For instance, NGS based genome-wide association studies (GWAS) have improved the resolution of quantitative trait loci (QTL) mapping in progenies of biparental crosses (Han and Huang 2013; Wang et al. 2016), systemic breeding is being based on modeling (Hammer et al. 2006; Lavarenne et al. 2018), and synthetic biology is being used for crop improvement (de Lange et al. 2018).
The data underlying systems biology are growing explosively (Stephens et al. 2015). To manage those big data efficiently, around 4800 databases have been generated (Wren et al. 2017). Many systems biology resources and well-reviewed research in rice are available (Chandran and Jung 2014; Garg and Jaiswal 2016; Li et al. 2018). However, given the proliferation, development, and updates of databases (Ősz et al. 2017; Imker 2018), an up-to-date review of the research infrastructure is essential. In this review, we report the development of tools and databases and classify them according to their major contributions to systems biology in rice. We also discuss the use of the resources and directions for further breeding and applications.
Conclusions
Improving rice yield largely depends on functional analyses of genes that contribute to important agronomic traits, such as grain yield and stress tolerance. Recently generated datasets will facilitate rapid gene discovery and provide the evolutionary insights needed to feed the future. The targeted gene editing and indexed mutant libraries made possible by CRISPR technology will accelerate high-throughput, forward genetic screening for desired traits and crop improvement. In spite of tremendous efforts to create a genome-wide mutant population, determining the relationship between the genotype and phenotype of a mutant remains a bottleneck for functional genomics. Genes with redundant functions in a gene family, genes that are functional only under some specific conditions such as stress or tissues, and critical genes that cause lethality are all challenges that need to be met. Therefore, systematic characterization tools that include phenomics are needed to establish a platform of mutant resources. An integrative omics platform or functional network providing access to all bioinformatics data, including tools, knowledge, and resources, will enable researchers and breeders to adopt new tools and resources for forward/reverse genetics and breeding approaches (Fig. 
1
).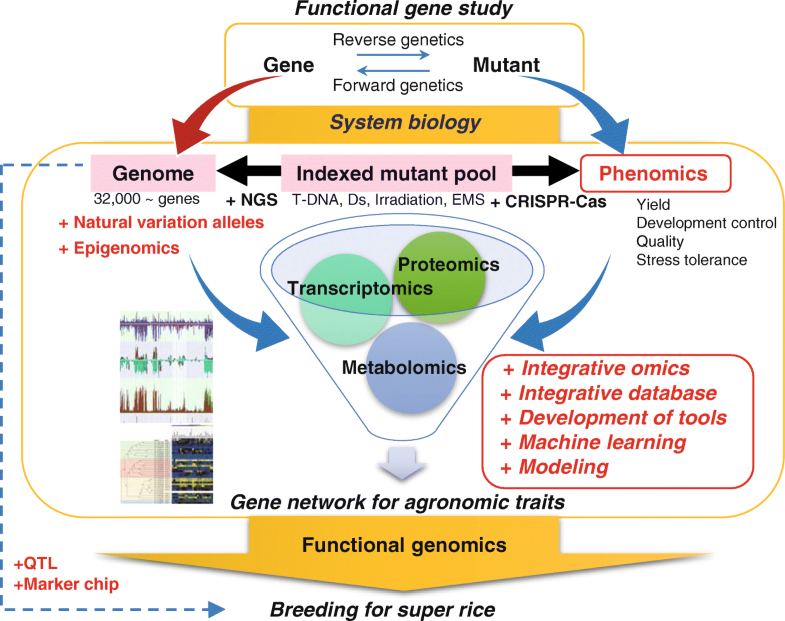 Notes
Acknowledgements
We thank Prof. Gynheung An for providing valuable advice all the time.
Author contributions
KHJ designed the research. WJH, AKNC, and YJK generated content. WJH, AKNC, YJK and KHJ wrote the manuscript. All authors revised the manuscript and approved the final draft.
Funding
This work was supported by grants from the Next-Generation BioGreen 21 Program (PJ01325901 and PJ01366401 to KHJ), Basic Science Research Program from the National Research Foundation (NRF), Ministry of Education, Science and Technology (NRF-2018R1A4A1025158 to YJK) and a Global Ph.D. Fellowship Program supported by the NRF (NRF-2018H1A2A1060336 to WJH).
Availability of data and materials
Not applicable.
Ethics approval and consent to participate
Not applicable.
Consent for publication
Not applicable.
Competing interests
We have no conflict of interest to declare.
Publisher's Note
Springer Nature remains neutral with regard to jurisdictional claims in published maps and institutional affiliations.
Copyright information
© The Author(s). 2019
Open AccessThis article is distributed under the terms of the Creative Commons Attribution 4.0 International License (http://creativecommons.org/licenses/by/4.0/), which permits unrestricted use, distribution, and reproduction in any medium, provided you give appropriate credit to the original author(s) and the source, provide a link to the Creative Commons license, and indicate if changes were made.