Biomarkers of cereal food intake
Part of the following topical collections:
Abstract
Background/objectives
Cereal foods are major contributors to the daily energy, protein, and dietary fiber intake all over the world. The role of cereals in human health is dependent on whether they are consumed as refined or whole grain and on cereal species. To unravel the underlying mechanisms of health effects attributed to specific cereal foods and to provide more precise dietary advice, there is a need for improved dietary assessment of whole-grain intake. Dietary biomarkers of specific cereals, different fractions or cereal-containing foods could offer such a possibility. The aim of this review was to summarize the current status on biomarkers of different cereals, fractions, and specific cereal foods.
Subjects and methods
A literature review was conducted and putative biomarkers of different cereals and pseudo-cereals (wheat, oats, rye, barley, rice, and quinoa) as well as for different grain fractions (whole grain, refined grain, bran) and foods were summarized and discussed.
Results
Several putative biomarkers have been suggested for different cereals, due to their unique presence in these grains. Among the biomarkers, odd-numbered alkylresorcinols are the most well-studied and -evaluated biomarkers and reflect whole-grain wheat and rye intake. Even-numbered alkylresorcinols have been suggested to reflect quinoa intake. Recent studies have also highlighted the potential of avenanthramides and avenacosides as specific biomarkers of oat intake, and a set of biomarkers have been suggested to reflect rice bran intake. However, there are yet no specific biomarkers of refined grains. Most biomarker candidates remain to be evaluated in controlled interventions and free-living populations before applied as biomarkers of intake in food and health studies.
Conclusion
Several putative biomarkers of different cereals have been suggested and should be validated in human studies using recently developed food intake biomarker validation criteria.
Keywords
Cereals 
Biomarkers 
Whole grain 
Alkylresorcinols 
Cinnamic acids 
Phenolic acids 
Benzoxazinoids 
Avenanthramides 
Avenacosides 
Abbreviations
AR

Alkylresorcinols

CEAD

Coulometric electrode array detection

DHBA glycine

2-(3,5-dihydroxybenzamido)acetic acid

DHBA

3,5-dihydroxy-benzoic acid

DHFA

Dihydroferulic acid

DHPPA

3-(3,5-dihydroxyphenyl)-1-propanoic acid

DHPPTA

5-(3,5-dihydroxyphenyl)pentanoic acid

FIE

Flow infusion electrospray-ionization

GC

Gas chromatography

GCxGC

Two-dimensional GC

GlcA

Glucuronide

HBOA

2-Hydroxy-1,4-benzoxazin-3-one

HHPAA

2-hydroxy-N-(2-hydroxyphenyl) acetamide

HPAA

N-(2-hydroxyphenyl) acetamide

HPLC

High-performance liquid chromatography

LC

Liquid chromatography

MS

Mass spectrometry

MS/MS

Tandem mass spectrometry

NS

Not specified

q-TOF

Quadrupole time-of-flight

RG

Refined-grain

Slf

Sulfate

TRFIA

Time-resolved fluoroimmunoassay

WG

Whole-grain
Background
Cereal foods constitute a major food group, and they are one of the main contributors to energy and dietary fiber intake in the diet all over the world [1]. Today, cereals are mostly consumed as refined grains, i.e., the nutrient-rich bran and germ have been removed. However, whole grain-based foods, i.e., where all parts of the grain kernel are present in cracked, intact, or milled form, is reaching wider acceptance among consumers. Whole-grain foods are advocated by governmental authorities in many countries due to beneficial health effects [2]. Whole-grain food intake has been consistently associated with lower risk of non-communicable diseases such as obesity, cardiovascular disease, type 2 diabetes, and colorectal cancer in different populations [3, 4, 5, 6, 7], whereas a high intake of refined grains has been associated with no or even adverse health outcomes [4, 8, 9]. Whole grains are rich in dietary fiber, vitamins, minerals, unsaturated fatty acids, and phytochemicals, all of which may contribute to protective effects [10]. Moreover, the native structure of the food raw material as well as process induced structural changes that might encapsulate nutrients, slow digestion, and absorption could also play a role for health especially in the gut [11]. Specific dietary fibers, such as β-glucans, the fructans, and resistant starches, including process-induced resistant starch commonly found in whole grains, could induce gut microbiota fermentation in the large intestine, which has been linked to beneficial health effects [12, 13].
While observational studies [3, 4, 5, 14, 15] have provided consistent evidence for a beneficial effect of high whole-grain intake in chronic disease prevention, the outcomes from short- to long-term randomized controlled trials are less consistent [16, 17]. Yet, randomized controlled trials investigating the role of whole-grain intake for primary prevention of non-communicable disease have not been reported, due to large challenges related to costs of such trials and problems to ensure compliance over long periods of time. Instead, short-term dietary interventions to address effects on established biomarkers or risk markers for non-communicable diseases have been conducted to investigate the role of separate grains and mixed whole grains on cardiometabolic risk factors, but also short- to intermediate-term studies have been shown to have problems with compliance [17, 18, 19].
A problem in observational studies is that whole-grain intake is associated with an overall healthy lifestyle and dietary pattern, and it is difficult to study the impact of whole grains per se on health outcomes, despite adjustment for confounding factors [20]. Moreover, and probably more importantly, the dietary instruments typically used to assess whole-grain intake in observational studies lack the precision required to accurately measure the intake of different grains separately. Various cereals differ in the content and composition of constituents thought to exert health effects, but this has typically not been accounted for in observational studies [21, 22, 23]. Another challenge for accurate assessment of the habitual whole-grain intake with common self-reporting techniques such as food frequency questionnaires, dietary recalls, or food records is that consumers may have difficulties in distinguishing/identifying different grains and to understand portion sizes, in addition to well-known effects of under- and over-reporting. Furthermore, whole-grain products have a large variation in whole-grain content, which affects the precision of estimates [24]. Moreover, no uniform definition of whole-grain products or serving size has been used across studies [25, 26, 27]. This may lead to misclassification, which is likely to attenuate the association between whole grain and disease towards null and preventing existing associations with disease outcomes to be revealed or cause underestimation of associations that may be stronger than observed [28].
Using dietary biomarkers that reflect the intake of specific whole grains, grain fractions, and refined grains could be a strategy to improve whole-grain intake ranking in observational studies as well as to address compliance in dietary intervention studies [29, 30, 31, 32]. Dietary biomarkers may also be combined with traditional methods to improve the accuracy of intake estimations [33]. However, only a few dietary biomarkers that reflect specific whole-grain intakes have been suggested [34] whereas no biomarkers of refined grains have been described.
The aim of the present review is to provide an updated overview of potential biomarkers of different cereals, including different species, whole grains, refined grains as well as specific grain fractions.
Literature search
The reviewing process conducted made use of all elements of the PRISMA statement [
35
] that were relevant for a search for literature on cereal biomarkers. In brief, original research papers and reviews were searched in at least two databases, such as CAB Abstracts, Scopus, and ISI Web of Knowledge using combinations of the grouped search terms (biomarker* OR marker* OR metabolite* OR biokinetics OR biotransformation OR metabolism) AND (trial OR experiment OR study OR intervention) AND (human* OR men OR women OR patient* OR volunteer* OR participant) AND (urine OR plasma OR serum OR blood OR excretion) AND (intake OR meal or diet OR ingestion OR consumption OR eating OR drink* OR administration) AND (wheat* OR rye OR oat* OR barley OR rice OR sorghum OR corn OR maize OR germ OR endosperm OR bran OR wholegrain OR whole-grain OR "whole grain" OR bread* OR cereal* OR flour* OR pasta*). The research was limited to papers in the English language, while no restriction was applied for the publication date. The research papers with identification or use of potential biomarkers of cereal intake were selected by one or more skilled researchers from the list of retrieved references in a process outlined in Fig.
1
. Additional papers were identified from reference lists in these papers and from reviews or book chapters identified through the search. For each potential biomarker identified an additional search was conducted with ("the name and synonyms of the compound" OR "the name and synonyms of any parent compound") AND (biomarker* OR marker* OR metabolite* OR biokinetics OR biotransformation) in order to identify potential other foods containing the biomarker or its precursor. In this second step, PubMed, Scifinder, and Google Scholar were also used as search platforms, along with the databases listed above. This second search was used to evaluate the apparent specificity of proposed biomarkers. The literature search was conducted in 2016 and papers published until the end of 2016 were included. A complementary search was conducted in a similar way and additional papers published until June 2018 were added to the literature list.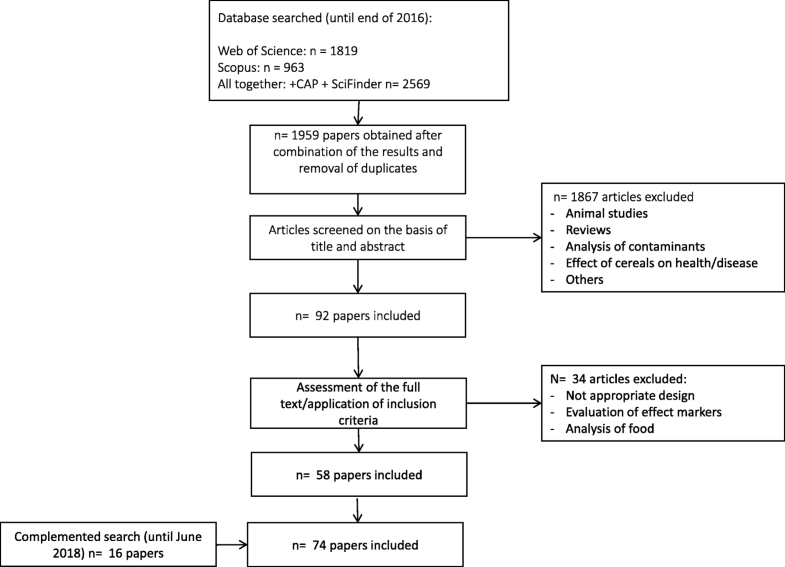 Conclusion
Several biomarker candidates for whole-grain wheat, rye, and oats have been discovered as well as biomarker candidates of fermented rye bread. These biomarker molecules are uniquely found in biological samples from humans after consumption and can be traced down to actual compounds in the food. However, their validity and reliability, which will affect their usefulness as biomarker candidates in epidemiological studies, typically remains to be evaluated under controlled and free-living conditions in humans. Moreover, factors that explain within- and between-person variability in putative biomarkers need to be studied in order to understand their potential and limitations as specific food intake biomarkers. Collection of comprehensive data on lifestyle, health parameters, and OMICs-data including gut microbiota will facilitate the dissection of sources of inter-personal variation and improve the understanding of what factors contribute to inter-individual variation in the ADME of dietary biomarkers.
Metabolomics has enabled simultaneous (semi)quantitation of several biomarkers at the same time in a large number of samples. This allows multi-biomarker signatures to be used as biomarkers rather than single molecules. This approach may have a larger potential to improve specificity and should be further evaluated for different grain intakes. Future studies should evaluate the most suitable matrix (plasma, erythrocytes, urine, hair, nails, or adipose tissue) for determination of specific biomarkers that reflect long-term intake, which is of highest relevance in most diet and health studies.
Notes
Acknowledgement
We would like to acknowledge Professor Lars Dragsted for valuable comments on this manuscript and we acknowledge the JPI-FOODBALL consortium for setting the framework for this and other reviews on dietary biomarkers.
Authors' contributions
RL, KH, MGA, LB, and MK designed the study. RL, KH, MGA, IB, XY, LB, and MK conducted literature search, extracted information, and compiled results in a master Table according to jointly defined criteria. RL drafted the paper with section contributions from KH, MGA, XY, IB, and KT. All authors contributed with critical intellectual inputs. All authors have read and approved the final manuscript.
Funding
The work published here was part of the FoodBAll project which is a project funded by the BioNH call (grant number 529051002) under the Joint Programming Initiative "A Healthy Diet for a Healthy Life." The project is funded nationally by the respective research councils; the work was funded in part by a grant from the Spanish National Grants from the Ministry of Economy and Competitiveness (MINECO) (PCIN-2014-133), an award of 2014SGR1566 644 from the Generalitat de Catalunya's Agency AGAUR, and funds from CIBERFES (co-funded by the FEDER program from the EU) to MGA. Project grants from the Swedish Research Council and FORMAS supported the salary of RL. KH was supported by Academy of Finland and Lantmännen Research Foundation. The source of funding has not affected the way data was collected, analyzed, interpreted, or reported.
Ethics approval and consent to participate
This is a review article and does not include original data on humans. Therefore, no ethical approvals have been obtained.
Consent for publication
This is a review article and does not include original data on humans. Therefore, no consents have been obtained or are required.
Competing interests
The authors declare that they have no competing interests.
Copyright information
© The Author(s) 2019
Open AccessThis article is distributed under the terms of the Creative Commons Attribution 4.0 International License (http://creativecommons.org/licenses/by/4.0/), which permits unrestricted use, distribution, and reproduction in any medium, provided you give appropriate credit to the original author(s) and the source, provide a link to the Creative Commons license, and indicate if changes were made. The Creative Commons Public Domain Dedication waiver (http://creativecommons.org/publicdomain/zero/1.0/) applies to the data made available in this article, unless otherwise stated.