Particle radiotherapy with carbon ion beams
Part of the following topical collections:
Abstract
Carbon ion radiotherapy offers superior dose conformity in the treatment of deep-seated malignant tumours compared with conventional X-ray therapy. In addition, carbon ion beams have a higher relative biological effectiveness compared with protons or X-ray beams. The algorithm of treatment planning and beam delivery system is tailored to the individual parameters of the patient. The present article reviews the available literatures for various disease sites including the head and neck, skull base, lung, liver, prostate, bone and soft tissues and pelvic recurrence of rectal cancer as well as physical and biological properties.
Keywords
Carbon ion radiotherapy 
Cancer treatment 
High LET 
Particle radiotherapy 
Personalised medicine 
Review
History
Since the discovery of X-rays by Röntgen in 1895, X-rays, γ-rays and electron beams have been widely used in the management of malignant tumours as a conventional radiotherapy (RT). In 1946, Wilson R. firstly proposed the medical use of proton for cancer therapy, and the first patient was treated at the Lawrence Berkeley National Laboratory (LBNL) in the USA in 1954 [1]. The efficacy of heavy ions for clinical use had been investigated at LBNL between 1977 and 1992, in which most patients were treated with helium and neon ions [1]. In 1994, clinical trial on carbon ion RT (C-ion RT) was launched at the National Institute of Radiological Sciences (NIRS) in Japan. At present, particle beams with protons or carbon ions have been applied gradually in clinics. More than 96,000 patients have been treated with particle beams around the world, of which about 10% were treated with C-ion RT.
Characteristics of carbon ions
Physical aspects
The application of RT is based on the fundamental principle of achieving precise dose localisation in the target lesion while causing minimal damage to surrounding normal tissues. Energy deposition of carbon ion beams increases with penetration depth up to the sharp maximum at the end of their range, known as the Bragg peak. Because the original peak is too narrow and sharp to completely cover the target lesion, broadening of the narrow peak (spread-out Bragg peak (SOBP)) according to the size of the lesion is used in cancer treatment [
1
,
2
]. This results in carbon ion beams allowing a highly localised deposition of energy that can be utilised for increasing radiation doses to tumours while minimising irradiation to adjacent normal tissues (personalised cancer treatment). Proton therapy also possesses this property. However, the lateral fall-off around the target is steeper with carbon ion beams than proton beams. In the region beyond the distal end of the peak, almost no dose is deposited with protons, while a small dose is deposited with carbon ions. This is because primary carbon ions undergo nuclear interactions and fragment into particles with a lower atomic number, producing a fragmentation tail beyond the peak [
1
]. Figure
1
shows the difference of dose distribution by one port between carbon ion beams and X-rays. The algorithm of treatment planning and beam delivery system is tailored to the individual parameters of the patient.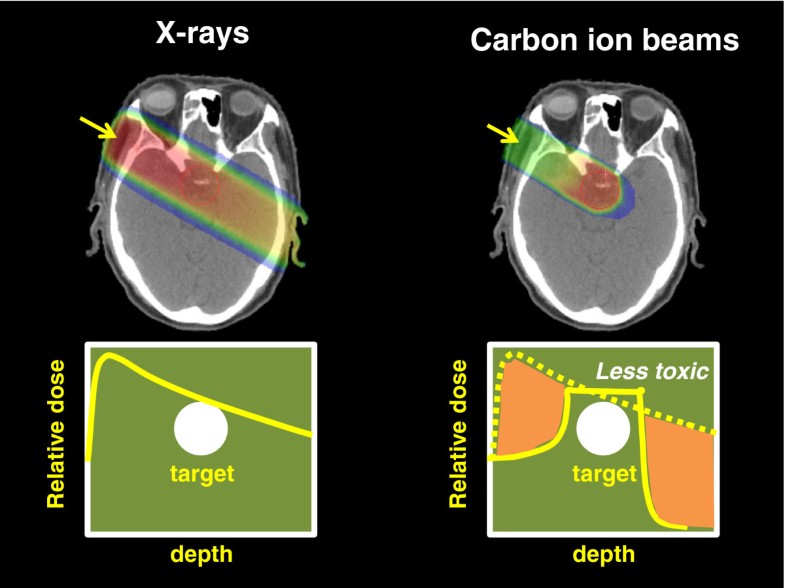 Biological aspects
RT works by damaging the DNA of cancer cells. X-rays commonly cause single-strand DNA break, and double-strand DNA break by two hits is essential for cancer cell death. However, cells have mechanisms for repairing single-strand DNA damage, and some of them may survive even after treatment. Carbon ion beams deliver a larger mean energy per unit length (linear energy transfer (LET)) of their trajectory in the body compared with low-LET radiations such as protons or photons. As a result, carbon ion beams, which are high-LET radiation, commonly cause double-strand DNA break by one hit, resulting in the most significant event for cancer cell death [3].
LET has been used to evaluate the biological effects of radiations based on the fact that, as LET increases to 100 keV/μm, the larger relative biological effectiveness (RBE) also increases [4]. LET of neutron beams remains uniform at any depth in the body. In contrast, LET of carbon ion beams increases steadily from the point of incidence in the body with increasing depth to reach a maximum in the peak region. This property becomes a therapeutic advantage when carbon ion beams are used as cancer therapy for deep-seated tumours. In Japan, where a beam-scattering method with a passive beam delivery system is used, RBE of three is assumed at the distal part of the SOBP [5]. In the present review, the dose of carbon ion RT (C-ion RT) is expressed as 'Gy(RBE)' (physical carbon ion dose (Gy) × RBE).
High-LET heavy ions also have various biological advantages compared with protons or X-ray beams: decreased oxygen enhancement ratio, diminished capacity for sublethal and potentially lethal damage repairs, reduced cell cycle-dependent radiosensitivity, potential suppression of metastases and efficacy for cancer stem-like cells [6, 7, 8]. These characteristics offer theoretical advantage for tumours such as adenocarcinoma, adenoid cystic carcinoma, malignant melanoma and sarcoma that are highly resistant to low-LET irradiation and that sometimes cannot be controlled even with simple dose escalation.
Clinical results of carbon ion radiotherapy
Recommendations
Based on the clinical trials conducted at NIRS and GSI, C-ion RT has the following characteristics: (1) By location, C-ion RT is effective in tumours of the head and neck, skull base, lung, liver, prostate, bone and soft tissue sarcoma, etc. (2) By pathological type, it is effective against non-squamous cell types of tumours for which photon therapy has little effectiveness, including adenocarcinoma, adenoid cystic carcinoma, malignant melanoma, sarcoma, etc. (3) Compared with photon therapy, small-fraction regimens (from a single fraction to 16 fractions) can be performed within a short treatment period.
Outlook
Since the tailor-made treatment planning and beam delivery systems are still developing in the field of C-ion RT, personalised cancer treatment will be further improved in the next decade. Especially, the management of organ motion, tumour shrinkage and deformation and image-guided adaptive treatment strategy will enhance the high precision of beam delivery. Unfortunately, due to the limited number of facilities, most clinical data have been reported from a single institution. In order to increase the impact of evidence level, multi-institutional clinical trials on seeking optimal dose and fractionation of C-ion RT, combined treatments of C-ion RT with existing or developing cancer therapy, and socio-economical impact of small-fraction regimens of C-ion RT will be warranted.
Conclusions
Based on the unique biophysical characteristics of carbon ion beams, the algorithm of treatment planning and beam delivery system is tailored to the individual parameters of the patient. The biological benefits of C-ion RT have been demonstrated in inoperable cases with various types of sarcoma, adenocarcinoma, adenoid cystic carcinoma and malignant melanoma arising from various sites that are well known as photon-resistant tumours. For non-small cell lung cancer (stage I) and hepatocellular carcinoma, short-course C-ion RT using small fraction resulted in high local control. The potential benefit exists in larger tumour (>3 cm) because low-dose irradiated volume of normal tissues is lower compared with stereotactic body RT and because higher dose with high-LET beams can be given. In intermediate- and high-risk groups of prostate cancer, the regimen with 16 fractions for 4 weeks attained excellent biochemical relapse-free rate without severe late toxicities. On the other hand, definite proportions of the patient population who receive C-ion RT develop distant metastasis even after excellent local control. Further clinical trials consisting of C-ion RT with existing or developing cancer therapy will be required in order to investigate survival benefit.
Notes
Acknowledgements
The author thanks Dr. Kanai, Dr. Yamada, and Dr. Nakano of Gunma University for providing scientific suggestions. This work was supported by the Heavy Ion project of Gunma University.
Copyright information
© Ohno; licensee BioMed Central Ltd. 2013
This article is published under license to BioMed Central Ltd. This is an Open Access article distributed under the terms of the Creative Commons Attribution License (http://creativecommons.org/licenses/by/2.0), which permits unrestricted use, distribution, and reproduction in any medium, provided the original work is properly cited.