Abstract
We aim to move beyond the idea of art as a tool for communicating science, towards a truly interdisciplinary practice where art and public engagement are a fundamental part of the way that science is carried out as promoted by the FuturICT project. Artistic exploration can have a scientific impact when artists act as designers, catalyzers and coordinators of experiments, which scientists interpret and respond to. We propose the creation of a travelling show, consisting of a set of core exhibits and 'living experiments': interactive, evolving pieces which blend artistic experience and scientific research. We also propose the creation of a new production oriented, distributed, inter-institutional research centre, focused on developing parallel relations between artistic practice and diverse fields of science. All these initiatives will be aligned with different areas of the FuturICT project, using different aspects of the Living Earth Simulator, Planetary Nervous System, and Knowledge Accelerator to support the creation of rich, interactive, collaborative experiences and in close contact with the educational and participatory platforms of FuturICT.
Graphical abstract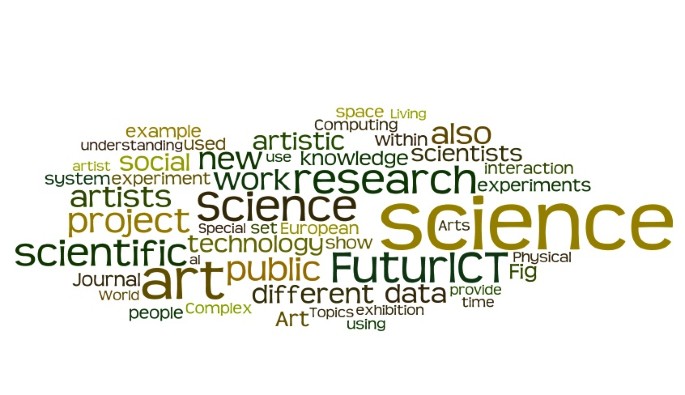 Access options
Buy single article
Instant access to the full article PDF.
USD 39.95
Price excludes VAT (USA)
Tax calculation will be finalised during checkout.
References
The Rocard Report, Science Education Now - A New Pedagogy for the Future of Europe (Office for Official Publications of the European Communities, 2007)

Masis Report, Challenging Futures of Science in Society – Emerging trends and cutting-edge issues (European Commission, 2009)

N1 FuturICT New Science and Technology to Manage Our Complex, Strongly Connected World, Dirk Helbing et al.

N 11 Socio-Inspired ICT, Alois Ferscha et al.

A.I. Miller, Insights of a Genius. Imagery and Creativity in Science and Art (MIT Press, London, 2000)

P. Ball, I'm going to try to be like an arts critic, but for science (The Guardian 2 December, 2011)

M. Kemp, Leonardo. Revised Edition (Oxford University Press, Oxford, 2011)

D. Edwards, The Lab: Creativity and Culture (Harvard University Press, Boston, 2010)

D. Dixon, H. Hawkins, M. Ingram, Nature 472, 417 (2011)

N24-25 Policy Issues of Big Science, Janet Smart et al.

Ars Electronica, Origin: How it all begins (Hatje Cantz, Linz, 2011)

E. Shanken, Gemini Rising, Moon in Apollo: Attitudes on the Relationship Between Art and Technology in the US, 1966-71, Leonardo Electronic Almanac 6:12 (1999)

E. Shanken, Art and Electronic Media (Phaidon Press, London, 2009)

A.I. Miller, Einstein, Picasso. Space, Time and the Beauty that Causes Havoc (Basic Books, New York, 2001)

G. Holton, Leonardo 34, 127 (2001)

R.R. Shearer, S.J. Gould, Science 286, 1093 (1999)

R.R. Shearer, S.J. Gould, Science 287, Iss. 5450, 41 (2000)

G. Parkinson, Surrealism, Art and Modern Science (Yale University Press, 2008)

B. Latour, Science 280, Iss. 5361, 208 (1998)

H. Nowotny, P. Scott, M. Gibbons, Re-thinking science: knowledge and the public in an age of uncertainty (Polity, 2011)

G. Born, A. Barry, J. Cult. Econom. 3, 103 (2010)

A. Barry, G. BornG. Weszkalnys, Logics of interdisciplinarity, Econom. Soc. 37, Iss. 1, 20 (2008)

N4-5 Democratising Big Data, Complexity Modelling and Collective Intelligence, Simon Buckingham Shum et al.

N14 Manifesto of Computational Social Science, Rosaria Conte et al.

J. Scott (ed.), Artists-in-Labs: Processes of Inquiry (Springer-Verlag, Wien, 2006)

J. Scott (ed.), Artists-in-Labs: Networking the Margins (Springer-Verlag, Wien, 2010)

Y. Yoshimura, F. Girardin, J.P. Carrascal, C. Ratti, J. Blat, New tools for studying visitor behaviors in museums: a case study at the Louvre(ENTER2012 eTourism Present and Future Services and Applications 2012, Helsingborg, Sweden)

N12 Challenges in Complex Systems Science, Maxi San Miguel et al.

N 7 Exploratory of Society L.E. Cederman et al.

C. Gracia-Lázaro, A. Ferrer, G. Ruiz, A. Tarancón, J.A. Cuesta, A. Sánchez, Y. Moreno, Proceedings of the National Academy of the USA 109, 12922 (2012)

N15 A complex systems approach to constructing better models for managing financial markets and the economy, J. Doyne Farmer, et al.

N 8-19 A European Economic and Financial Exploratory, Silvano Cincotti (UNIGE) et al.

N20 Theoretical and Technological Building Block for an Innovation Accelerator, Frank van Harmelen et al.

N2-6 The Living Earth Simulator and the Exploratories, Donald Kossman et al.

N3 A Planetary Nervous System Jim Crowley et al.

N27 Accelerating Scientific Discovery by Posing Hilbert Problems, Dirk Helbing et al.

D. McCorquodale, D. Hebdige, D. Hollier, L. Saltzman, Krzysztof Wodiczko (Black Dog Publishing, London, 2010)

A. Wasilkowska, A. Nowak (eds.), Warsaw as Emergent Structure (Fundacja Bec Zmiana, Warsaw, 2009)

G. Ascione, C. Massip, J. Perelló (eds.), Cultures of Change. Social atoms and Electronic Lives (Actar-Birkhauser, Barcelona, 2009)

B. Gaver, Designing for Homo Ludens (I3 Magazine, 2002). Retrieved from: http://www.itu.dk/courses/MUEP/E2011/literature/gaver08.pdf

D. Murray-Rust, Musical Acts and Musical Agents: theory, implementation and practice, Ph.D. thesis, 2007

D. Murray-Rust, A. Smaill, Artificial Intell. 175, Iss 9-10, 1697 (2011)

M. Edwards, Comm. ACM 54, Iss. 7, 58 (2011)

G. Mazzola, G. Milmeister, Functors for Music: The Rubato Composer System, Proceedings of the ICMC (San Francisco: International Computer Music Association, 2006), p. 83

F. Pachet, The MusES system: An environment for experimenting with knowledge representation techniques in tonal harmony, Proc. 1st Brazilian Symp. Computer Music (Caxambu, Minas Gerais, Brazil, 1994), p. 195

E. Chew, A. Sawchuk, C. TanoueR. Zimmermann, Segmental Tempo Analysis of Performances in User-Centered Experiments in the Distributed Immersive Performance Project, Proceedings of the Sound and Music Computing Conference (Salerno, Italy, 2005)

G. Widmer, W. Goebl, J. New Music Res. 33, 203 (2004)

C. Small, Musicking: a ritual in social space. On the sociology of music education (on the sociology of music education 1997), p. 1

D. Elliott, Int. J. Music Educ. 1, 3 (1995)

I. Cross, Ann. New York Acad. Sci. 999, 106 (2003)

K.R. Coventry, T. Blackwell, Pragmatics in language and music, edited by M. Smith, A. Smaill, G.A. Wiggins, Music Education: An Artificial Intelligence Approach (Workshops in Computing, Springer, 1994), p. 123

J. Searle, Speech Acts (Cambridge University Press, 1969)

W. Somerville, Quarterly J. Royal Astrono. Soc. 13, 40 (1972)

R. Whitaker, Amer. J. Phys. 69, 162 (2001)

C. Sommerer, L. Mignonneau, G. Stocker, Christa Sommerer and Laurent Mignonneau: Interactive Art Research (Springer Verlag, Vienna/New York, 2009)

J. Perelló (ed.), Christa Sommerer & Laurent Mignonneau. Living Systems (Actar-Birkhauser, Barcelona, 2011)

K. Börner, S. Penumarthy, Social Diffusion Patterns in Three-Dimensional Virtual Worlds, Inf. Visualiz. J. 2, 182 (2003)

K. Börner, J. Maru, R. Goldstone, The Simultaneous Evolution of Author and Paper Networks, PNAS 101(Suppl 1), 5266 (2004)

M.A. Porter, Science 331, 676 (2011)

B. Shneiderman, Nature 468, 1037 (2010)

W.J. Rankin, Amer. Scien. 99, 254 (2011)

D. Mosher, Data as Art: 10 Striking Science Maps (Wired Science, 8 March, 2011)

J. Markoff, Digging Deeper, Seeing Farther: Supercomputers Alter Science (New York Times, 25 April, 2011)

P. Ball, Nature 418, Issue 6893, 11 (2002)

M. Lima, Complexity. Mapping Patterns of Information (Princeton Architectural Press, New York, 2011)

M. Weiser, J.S. Brown, PowerGrid J. 1, 1 (1996)

Y. Rogers, Moving on from Weiser's Vision of Calm Computing: Engaging UbiComp experiences (UbiComp 2006: Ubiquitous Computing: 8th International Conference, 2006)

C. Wisneski, H. Ishii, A. Dahley, M. Gorbet, S. Brave, b. Ullmer, P. Yarin, Ambient displays: Turning architectural space into an interface between people and digital information. In: Cooperative buildings: Integrating information, organization, and architecture (Springer, 1998), p. 22

C. Abt, Serious games (Viking Press, 1970)

M. Zyda, From visual simulation to virtual reality to games. Computer (2005)

N21 FuturICT The Road towards Ethical ICT, Jeroen van den Hoven et al.

N24-25 Policy Issues of Big Science, Janet Smart et al.

Institute for the Future, World Without Oil, http://worldwithoutoil.org (2007)

E. Huhtamo, J. Parikka (eds.), Media Archaelogy (UC Press, 2011)

N22 The FuturICT Education Accelerator, Jeffrey Johnson et al.

N22 The FuturICT Education Accelerator, Jeffrey Johnson et al.
About this article
Cite this article
Perelló, J., Murray-Rust, D., Nowak, A. et al. Linking science and arts: Intimate science, shared spaces and living experiments. Eur. Phys. J. Spec. Top. 214, 597–634 (2012). https://doi.org/10.1140/epjst/e2012-01707-y
Received:

Revised:

Published:

Issue Date:

DOI: https://doi.org/10.1140/epjst/e2012-01707-y
Keywords