Abstract
We investigate the Su-Schrieffer-Heeger model in presence of an injection and removal of particles, introduced via a master equation in Lindblad form. It is shown that the dynamics of the density matrix follows the predictions of calculations in which the gain and loss are modeled by complex PT-symmetric potentials. In particular it is found that there is a clear distinction in the dynamics between the topologically different cases known from the stationary eigenstates.
Graphical abstract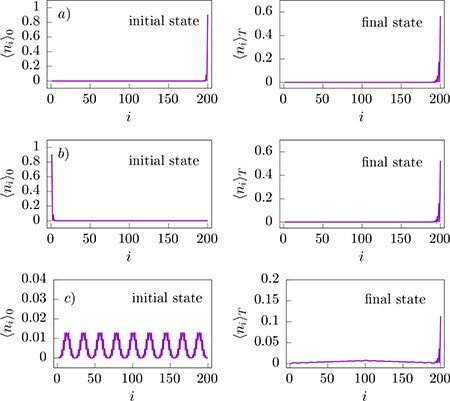 This is a preview of subscription content, log in to check access.
Access options
Buy single article
Instant access to the full article PDF.
US$ 39.95
Price includes VAT for USA
Subscribe to journal
Immediate online access to all issues from 2019. Subscription will auto renew annually.
US$ 199
This is the net price. Taxes to be calculated in checkout.
References
1.

M.Z. Hasan, C.L. Kane, Rev. Mod. Phys. 82, 3045 (2010)

2.

J. Alicea, Rep. Prog. Phys. 75, 076501 (2012)

3.

A. Altland, M.R. Zirnbauer, Phys. Rev. B 55, 1142 (1997)

4.

A.P. Schnyder, S. Ryu, A. Furusaki, A.W.W. Ludwig, Phys. Rev. B 78, 195125 (2008)

5.

M. Leijnse, K, Flensberg, Semicond. Sci. Technol. 27, 124003 (2012)

6.

K.v. Klitzing, G. Dorda, M. Pepper, Phys. Rev. Lett. 45, 494 (1980)

7.

K.v. Klitzing, Rev. Mod. Phys. 58, 519 (1986)

8.

D.J. Thouless, M. Kohmoto, M.P. Nightingale, M.d. Nijs, Phys. Rev. Lett. 49, 405 (1982)

9.

V. Mourik, K. Zuo, S.M. Frolov, S.R. Plissard, E.P.A.M. Bakkers, L.P. Kouwenhoven. Science 336, 1003 (2012)

10.

T.D. Stanescu, S. Tewari, J. Phys.: Condens. Matter 25, 233201 (2013)

11.

S.R. Elliott, M. Franz, Rev. Mod. Phys. 87, 137 (2015)

12.

A. Carmele, M. Heyl, C. Kraus, M. Dalmonte, Phys. Rev. B 92, 195107 (2015)

13.

Y.C. Hu, T.L. Hughes, Phys. Rev. B 84, 153101 (2011)

14.

K. Esaki, M. Sato, K. Hasebe, M. Kohmoto, Phys. Rev. B 84, 205128 (2011)

15.

P.K. Ghosh, J. Phys.: Condens. Matter 24, 145302 (2012)

16.

O. Viyuela, A. Rivas, M.A. Martin-Delgado, Phys. Rev. B 86, 155140 (2012)

17.

H. Schomerus, Opt. Lett. 38, 1912 2013

18.

A. Rivas, O. Viyuela, M.A. Martin-Delgado, Phys. Rev. B 88, 155141 (2013)

19.

J.M. Zeuner, M.C. Rechtsman, Y. Plotnik, Y. Lumer, S. Nolte, M.S. Rudner, M. Segev, A. Szameit, Phys. Rev. Lett. 115, 040402 (2015)

20.

C. Yuce, Phys. Lett. A 379, 1213 (2015)

21.

B. Zhu, R. Lü, S. Chen, Phys. Rev. A 89, 062102 (2014)

22.

C. Yuce, Eur. Phys. J. D 69, 184 (2015)

23.

X. Wang, T. Liu, Y. Xiong, P. Tong, Phys. Rev. A 92, 012116 (2015)

24.

C. Yuce, Phys. Rev. A 93, 062130 (2016)

25.

M. Benito, M. Niklas, G. Platero, S. Kohler, Phys. Rev. B 93, 115432 (2016)

26.

M. Niklas, M. Benito, S. Kohler, G. Platero, Nanotechnology 27, 454002 (2016)

27.

N. Sedlmayr, M. Fleischhauer, J. Sirker, Phys. Rev. B 97, 045147 (2018)

28.

N. Sedlmayr, P. Jaeger, M. Maiti, J. Sirker, Phys. Rev. B 97, 064304 (2018)

29.

C.-E. Bardyn, M.A. Baranov, C.V. Kraus, E. Rico, A. Imamoglu, P. Zoller, S. Diehl, New J. Phys. 15, 085001 (2013)

30.

P. San-Jose, J. Cayao, E. Prada, R. Aguado, Sci. Rep. 6, 21427 (2016)

31.

N. Moiseyev, Non-Hermitian Quantum Mechanics (Cambridge University Press, Cambridge, 2011)

32.

S. Klaiman, U. Günther, N. Moiseyev, Phys. Rev. Lett. 101, 080402 (2008)

33.

J. Wiersig, Phys. Rev. Lett. 112, 203901 (2014)

34.

S. Bittner, B. Dietz, H. L. Harney, M. Miski-Oglu, A. Richter, F. Schäfer, Phys. Rev. E 89, 032909 (2014)

35.

J. Doppler, A.A. Mailybaev, J. Böhm, U. Kuhl, A. Girschik, F. Libisch, T.J. Milburn, P. Rabl, N. Moiseyev, S. Rotter, Nature 537, 76 (2016)

36.

T. Stehmann, W.D. Heiss, F.G. Scholtz, J. Phys. A 37, 7813 (2004)

37.

H. Xu, D. Mason, L. Jiang, J.G.E. Harris, Nature 537, 80 (2016)

38.

W.D. Heiss, Eur. Phys. J. D 7, 1 (1999)

39.

A.I. Magunov, I. Rotter, S.I. Strakhova, J. Phys. B 34, 29 (2001)

40.

O. Latinne, N.J. Kylstra, M. Dörr, J. Purvis, M. Terao-Dunseath, C.J. Joachain, P.G. Burke, C.J. Noble. Phys. Rev. Lett. 74, 46 (1995)

41.

E Hernández, A Jáuregui, and A Mondragán, J. Phys. A 39, 10087 (2006)

42.

E.-M. Graefe, H. Korsch, A. E. Niederle. Phys. Rev. A 82, 013629 (2010)

43.

R. Lefebvre, O. Atabek, M. Šindelka, N. Moiseyev, Phys. Rev. Lett. 103, 123003 (2009)

44.

H. Cartarius, N. Moiseyev, Phys. Rev. A 84, 013419 (2011)

45.

W.D. Heiss, H. Cartarius, G. Wunner, J. Main, J. Phys. A 46, 275307 (2013)

46.

T. Gao, E. Estrecho, K.Y. Bliokh, T.C.H. Liew, M.D. Fraser, S. Brodbeck, M. Kamp, C. Schneider, S. Hofling, Y. Yamamoto, F. Nori, Y.S. Kivshar, A.G. Truscott, R.G. Dall, E.A. Ostrovskaya, Nature 526, 554 (2015)

47.

H. Menke, M. Klett, H. Cartarius, J. Main, G. Wunner, Phys. Rev. A 93, 013401 (2016)

48.

L. Schwarz, H. Cartarius, G. Wunner, W.D. Heiss, J. Main, Eur. Phys. J. D 69, 196 (2015)

49.

N. Abt, H. Cartarius, G. Wunner, Int. J. Theor. Phys. 54, 4054 (2015)

50.

C.M. Bender, Rep. Progr. Phys. 70, 947 (2007)

51.

C.E. Rüter, K.G. Makris, R. El-Ganainy, D.N. Christodoulides, M. Segev, D. Kip, Nat. Phys. 6, 192 (2010)

52.

B. Peng, S.K. Ozdemir, F. Lei, F. Monifi, M. Gianfreda, G.L. Long, S. Fan, F. Nori, C.M. Bender, L. Yang, Nat. Phys. 10, 394 (2014)

53.

A. Guo, G.J. Salamo, D. Duchesne, R. Morandotti, M. Volatier-Ravat, V. Aimez, G.A. Siviloglou, D.N. Christodoulides, Phys. Rev. Lett. 103, 093902 (2009)

54.

E.-M. Graefe, J. Phys. A 45, 444015 (2012)

55.

F. Single, H. Cartarius, G. Wunner, J. Main, Phys. Rev. A 90, 042123 (2014)

56.

M. Kreibich, J. Main, H. Cartarius, G. Wunner, Phys. Rev. A 90, 033630 (2014)

57.

R. Gutöhrlein, J. Schnabel, I. Iskandarov, H. Cartarius, J. Main, G. Wunner, J. Phys. A 48, 335302 (2015)

58.

A. Yu. Kitaev, Sov. Phys.-Usp. 44, 131 (2001)

59.

W.P. Su, J.R. Schrieffer, A.J. Heeger, Phys. Rev. Lett. 42, 1698 (1979)

60.

M. Klett, H. Cartarius, D. Dast, J. Main, G. Wunner, Phys. Rev. A 95, 053626 (2017)

61.

S. Weimann, M. Kremer, Y. Plotnik, Y. Lumer, S. Nolte, K.G. Makris, M. Segev, M.C. Rechtsman, A. Szameit, Nat. Mater. 16, 433, (2017)

62.

H.-P. Breuer, F. Petruccione, The Theory of Open Quantum Systems (Oxford University Press, Oxford, 2002)

63.

D. Dast, D. Haag, H. Cartarius, G. Wunner, Phys. Rev. A 90, 052120 (2014)

64.

O. Viyuela, A. Rivas, M.A. Martin-Delgado, Phys. Rev. Lett. 112, 130401 (2014)

65.

D. Linzner, L. Wawer, F. Grusdt, M. Fleischhauer, Phys. Rev. B 94, 201105 (2016)

66.

H. Schomerus, Phys. Rev. Lett. 104, 233601 (2010)

67.

K. Mølmer, Y. Castin, J. Dalibard, J. Opt. Soc. Am. B 10, 524 (1993)

68.

J. Zak, Phys. Rev. Lett. 62, 2747 (1989)

69.

D. Dast, D. Haag, H. Cartarius, J. Main, G. Wunner, Phys. Rev. A 96, 023625 (2017)

70.

S. Lieu, Phys. Rev. B 97, 045106 (2018)

71.

M. Wagner, F. Dangel, H. Cartarius, G. Wunner, J. Main, Acta Polytech. 57, 470 (2017)
About this article
Cite this article
Klett, M., Cartarius, H., Dast, D. et al. Topological edge states in the Su-Schrieffer-Heeger model subject to balanced particle gain and loss. Eur. Phys. J. D 72, 214 (2018). https://doi.org/10.1140/epjd/e2018-90502-3
Keywords