Abstract
The atmospheric-pressure CF4 plasma has the high application potential in the field of semiconductor fabrication since it can combine the excellent capability for the CF4 plasma etching with the easy atmospheric-pressure operation. In this work, the fluid model has been carried out to numerically research evolution features of the atmospheric-pressure CF4 plasma generated by the pulsed dielectric barrier discharge. The computational results show that the averaged electron temperature dramatically increases during the rising and the falling phases of the applied voltage pulse, and then swiftly decreases. The discharge current density has the waveform of two bipolar short pulses. The electrons and CF3 + ions form the cathode sheath at the discharge duration. However, the CF3 - and F− negative ions take the place of the electrons to sustain the cathode sheath of the CF4 discharge plasma at the time interval between the two bipolar discharge pulses. During the time interval of the two adjacent applied voltage pulses the discharge region is the quasi-neutral plasma region, and meanwhile CF2 + and CF3 - are the dominated charged species. Moreover, F and CF3 maintain the relatively stable high densities and uniform axial distributions during the whole period of the applied voltage.
Graphical abstract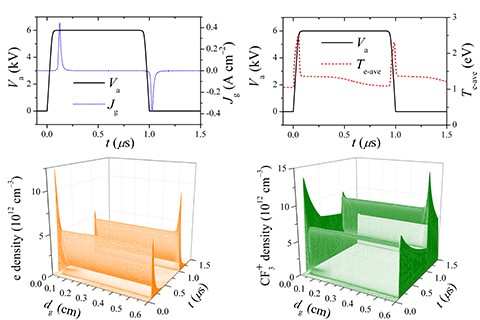 Access options
Buy single article
Instant access to the full article PDF.
USD 39.95
Price includes VAT (USA)
Tax calculation will be finalised during checkout.
References
1.

T. Takeuchi, K. Ishikawa, Y. Setsuhara, K. Takeda, H. Kondo, M. Sekine, M. Hori, J. Phys. D 46, 102001 (2013)

2.

R. Di Mundo, M. Troia, F. Palumbo, M. Trotta, R. d'Agostino, Plasma Process. Polym. 9, 947 (2012)

3.

V. Georgieva, A. Bogaerts, R. Gijbels, J. Appl. Phys. 93, 2369 (2003)

4.

S. Wang, X. Xu, Y. Wang, Phys. Plasmas 19, 113506 (2012)

5.

H. Singh, D.B. Graves, J. Appl. Phys. 87, 4098 (2000)

6.

A. Mishra, T.H. Kim, K.N. Kim, G.Y. Yeom, J. Phys. D 45, 475201 (2012)

7.

S. Wang, X. Xu, Y. Wang, Phys. Plasmas 19, 023506 (2012)

8.

S.-X. Zhao, F. Gao, Y.-N. Wang, A. Bogaerts, Plasma Sources Sci. Technol. 22, 015017 (2013)

9.

D.J. Economou, J. Phys. D 47, 303001 (2014)

10.

N. Mutsukura, M. Shimada, J. Vac. Sci. Technol. A 15, 1828 (1997)

11.

T. Martens, A. Bogaerts, J. van Dijk, Appl. Phys. Lett. 96, 131503 (2010)

12.

J.L. Walsh, D.X. Liu, F. Iza, M.Z. Rong, M.G. Kong, J. Phys. D 43, 032001 (2010)

13.

M. Bogaczyk, G.B. Sretenoviæ, H.-E. Wagner, Eur. Phys. J. D 67, 212 (2013)

14.

L. Jia, D.-Z. Yang, H.-C. Shi, W.-C. Wang, S. Wang, Eur. Phys. J. D 68, 113 (2014)

15.

J. Pan, Z. Tan, X. Wang, L. Nie, C. Sha, X. Chen, IEEE Trans. Plasma Sci. 43, 557 (2015)

16.

J.L. Walsh, F. Iza, M.G. Kong, Eur. Phys. J. D 60, 523 (2010)

17.

O. Gabriel, S. Stepanov, J. Meichsner, J. Phys. D 40, 7383 (2007)

18.

X. Lu, Q. Xiong, Z. Xiong, Y. Xian, F. Zhou, J. Hu, W. Gong, C. Zhou, Z. Tang, Z. Jiang, Y. Pan, IEEE Trans. Plasma Sci. 37, 647 (2009)

19.

Z.-H. Bi, Z.-L. Dai, X. Xu, Z.-C. Li, Y.-N. Wang, Phys. Plasmas 16, 043510 (2009)

20.

S.R. Hunter, L.G. Christophorou, J. Chem. Phys. 80, 6150 (1984)

21.

N.V. Mantzaris, A. Boudouvis, E. Gogolides, J. Appl. Phys. 77, 6169 (1995)

22.

Y.-R. Zhang, A. Bogaerts, Y.-N. Wang, J. Phys. D 45, 485204 (2012)

23.

S.-X. Zhao, F. Gao, Y.-N. Wang, A. Bogaerts, Plasma Sources Sci. Technol. 21, 025008 (2012)

24.

S.-Y. So, A. Oda, H. Sugawara, Y. Sakai, J. Phys. D 34, 1919 (2001)

25.

A.A. Kulikovsky, J. Comput. Phys. 119, 149 (1995)
About this article
Cite this article
Pan, J., Li, L., Chen, B. et al. Numerical simulation of evolution features of the atmospheric-pressure CF4 plasma generated by the pulsed dielectric barrier discharge. Eur. Phys. J. D 70, 136 (2016). https://doi.org/10.1140/epjd/e2016-70081-1
Received:

Revised:

Published:
Keywords