Abstract
We present the results of a study on an optical-resonant cell filled by a vapor of the Rb atoms and coated with a non-stick polydimethylsiloxane (PDMS) polymer. We show that it is possible to define correctly the diffusion coefficient of the atoms in the coating using the geometric parameters of the cell and the vapor density in the cell volume only. The dependence of the diffusion coefficient on the cell curing time is presented. It is shown that the mysterious cell curing process can be explained in terms of the polymerization of the polymer coating by alkali atoms. The anomalous long dwell time of the Rb atoms on the PDMS coating is discussed as well.
Graphical abstract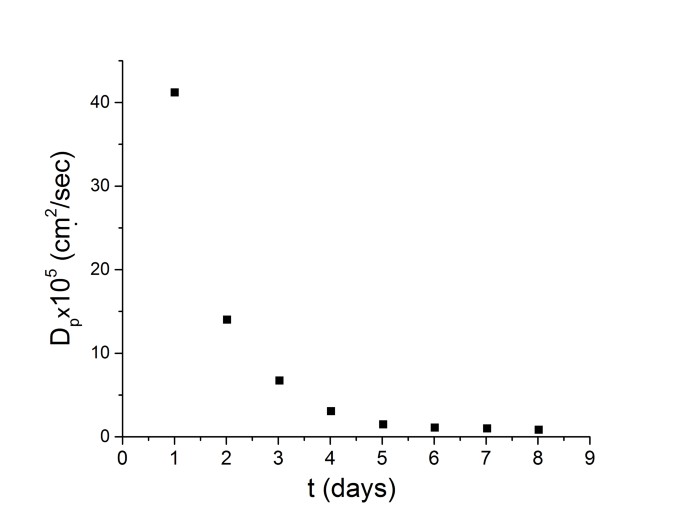 Access options
Buy single article
Instant access to the full article PDF.
US$ 39.95
Tax calculation will be finalised during checkout.
Subscribe to journal
Immediate online access to all issues from 2019. Subscription will auto renew annually.
US$ 119
Tax calculation will be finalised during checkout.
References
1.

Z.T. Lu, K.L. Corwin, K.R. Vogel, C.E. Wieman, T.P. Dinneen, J. Maddi, H. Gould, Phys. Rev. Lett. 79, 994 (1997)

2.

M. Stephens, R. Rhodes, C. Wieman, J. Appl. Phys. 76, 3479 (1994)

3.

H.G. Robinson, C.E. Johnson, Appl. Phys. Lett. 40, 771 (1982)

4.

M.V. Balabas, D. Budker, J. Kitching, P.D.D. Schwindt, J.E. Stalnaker, J. Opt. Soc. Am. B 23, 1001 (2006).

5.

D. Budker, V. Yashchuk, M. Zolotorev, Phys. Rev. Lett. 81, 5788 (1998)

6.

W. Wasilewski, K. Jensen, H. Krauter, J.J. Renema, M.V. Balabas, E. S. Polzik, Phys. Rev. Lett. 104, 133601 (2010)

7.

W.C. Griffith, M.D. Swallows, T.H. Loftus, M.V. Romalis, B.R. Heckel, E.N. Fortson, Phys. Rev. Lett. 102, 101601 (2009)

8.

M. Klein, I. Novikova, D.F. Phillips, R.L. Walsworth, J. Mod. Opt. 53, 2583 (2006)

9.

A. Kuzmich, L. Mandel, N.P. Bigelow, Phys. Rev. Lett. 85, 1594 (2000)

10.

B. Julsgaard, A. Kozhekin, E.S. Polzik, Nature 413, 400 (2001)

11.

B. Julsgaard, J. Sherson, J.I. Cirac, J. Fiurasek, E.S. Polzik, Nature 432, 482 (2004)

12.

H. Robinson, E. Ensberg, H. Dehmelt, Bull. Am. Phys. Soc. 3, 9 (1958)

13.

M.A. Bouchiat, Ph.D. thesis, Université de Paris, 1964

14.

M.A. Bouchiat, J. Brossel, Phys. Rev. 147, 41 (1966)

15.

V. Balabas, T. Karaulanov, M.P. Ledbetter, D. Budker, Phys. Rev. Lett. 105, 070801 (2010)

16.

M.V. Balabas, K. Jensen, W. Wasilewski, H. Krauter, L.S. Madsen, J.H. Müller, T. Fernholz, E.S. Polzik, Opt. Express 18, 6 (2010)

17.

A.M. Hibberd, et al., J. Appl. Phys. 114, 094513 (2013)

18.

A.N. Nesmeyanov, Vapor Pressure of the Chemical Elements (Elsevier, Amsterdam, 1963)

19.

S.N. Atutov, F.A. Benimetskiy, A.I. Plekhanov, Eur. Phys. J. D 69 (2015)

20.

. M.J. Kasprowicz, T. Dohnalik, L. Jozefowski, K. Rubahn, H.-G. Rubahn, Chem. Phys. Lett. 391, 191 (2004)

21.

S.J. Clarson, J.A. Semlyen, Siloxane Polymer (Prentice-Hall, Englewood Cliffs, NJ, 1993)

22.

C.C. George, S. Thomas, Prog. Polymer Sci. 26, 985 (2001)

23.

Catalytic Process Development for Renewable Materials, edited by P. Imhof, J. Cornelis van der Waal (Science, 2013)
About this article
Cite this article
Atutov, S., Benimetskiy, F., Plekhanov, A. et al. Study of Rb-vapor coated cells — Atomic diffusion and cell curing process. Eur. Phys. J. D 70, 40 (2016). https://doi.org/10.1140/epjd/e2016-60496-y
Received:

Revised:

Published:
Keywords