Abstract
We derive a generalized Gross-Pitaevski (GP) equation for a Bose Einstein Condensate (BEC) immersed in a weak gravitational field starting from the covariant Complex Klein-Gordon field in a curved space-time. We compare it with the traditional GP equation where the gravitational field is added by hand as an external potential. We show that there is a small difference of order gz/c 2 between them that could be measured in the future using Bose-Einstein Condensates. This represents the next order correction to the Newtonian gravity in a curved space-time.
Graphical abstract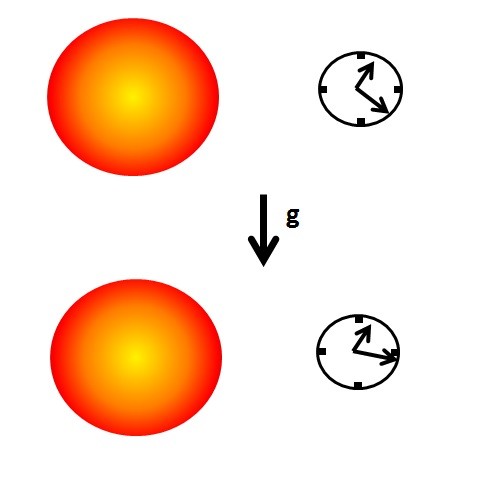 This is a preview of subscription content, log in to check access.
Access options
Buy single article
Instant access to the full article PDF.
US$ 39.95
Price includes VAT for USA
Subscribe to journal
Immediate online access to all issues from 2019. Subscription will auto renew annually.
US$ 199
This is the net price. Taxes to be calculated in checkout.
References
1.

P.J. Mohr, B.N. Taylor, D.B. Newell, Rev. Mod. Phys. 84, 1527 (2012)

2.

M. Kasevich, S. Chu, Phys. Rev. Lett. 67, 181 (1991)

3.

S. Dimopoulos, P.W. Graham, J.M. Hogan, M.A. Kasevich, S. Rajendran, Phys. Rev. D 78, 122002 (2008)

4.

S. Dimopoulos, P.W. Graham, J.M. Hogan, M.A. Kasevich, Phys. Rev. Lett. 98, 111102 (2007)

5.

G. Ferrari, N. Poli, F. Sorrentino, G.M. Tino, Phys. Rev. Lett. 97, 060402 (2006)

6.

B. Lamine, R. Hervé, A. Lambrecht, S. Reynaud, Phys. Rev. Lett. 96, 050405 (2006)

7.

S.M. Dickerson, J.M. Hogan, A. Sugarbaker, D.M.S. Johnson, M.A. Kasevich, Phys. Rev. Lett. 111, 083001 (2013)

8.

T.V. Zoest et al., Science 328, 1540 (2010)

9.

R. Geiger et al., Nat. Commun. 2, 474 (2011)

10.

G.M. Tino et al., Nucl. Phys. B Proc. Suppl. 243-244, 203 (2013)

11.

C. Lämmerzahl, Phys. Lett. A 203, 12 (1995)

12.

A. Suarez, T. Matos, Mon. Not. Roy. Astron. Soc. 416, 87 (2011)

13.

T. Matos, A. Suarez, Europhys. Lett. 96, 56005 (2011)

14.

A. Suárez, T. Matos, Class. Quantum Grav. 31, 045015 (2014)

15.

U. Leonhardt, Phys. Rev. A 62, 012111 (2000)

16.

C. Sabín, D.E. Bruschi, M. Ahmedi, I. Fuentes, New J. Phys. 16, 085003 (2014)

17.

D. Berttoni, M. Colombo, S. Liberati, J. Cosmol. Astropart. Phys. 02, 004 (2014)

18.

C. Ma, E. Bertschinger, Astrophys. J. 455, 7 (1995)

19.

L.A. Ureña-Lopez, Phys. Rev. D 90, 027306 (2014)

20.

A. Aviles, J.L. Cervantes-Cota, Phys. Rev. D 84, 083515 (2011) [Erratum-Phys. Rev. D 84, 089905 (2011)]

21.

R.V. Pound, G.A. Rebka, Phys. Rev. Lett. 4, 337 (1960)

22.

C.W. Chou, D.B. Hume, T. Rosenband, D.J. Wineland, Science 329, 1630 (2010)

23.

P. Cladé, E. de Mirandes, M. Cadoret, S. Guellati-Khélifa, C. Schwob, F. Nez, L. Julien, F. Biraben, Phys. Rev. A 74, 052109 (2006)

24.

T. Matos, E. Castellanos, arXiv:1207.4416 [physics. gen-ph] (2012)
About this article
Cite this article
Matos, T., Gomez, E. Space-time curvature signatures in Bose-Einstein condensates. Eur. Phys. J. D 69, 125 (2015). https://doi.org/10.1140/epjd/e2015-60062-3
Received:

Revised:

Published:
Keywords
Cold Matter and Quantum Gas