Abstract
We study the nonlinear response of a driven cavity QED system in the extreme strong coupling regime where the saturation photon number is below one by many orders of magnitude. In this regime, multi-photon resonances within the Jaynes-Cummings spectrum up to high order can be resolved. We identify an intensity and frequency range of the external coherent drive for which the system exhibits bistability instead of resonant multi-photon transitions. The cavity field evolves into a mixture of the vacuum and another quasi-classical state well separated in phase space. The corresponding time evolution of the outgoing intensity is a telegraph signal alternating between two attractors.
Graphical abstract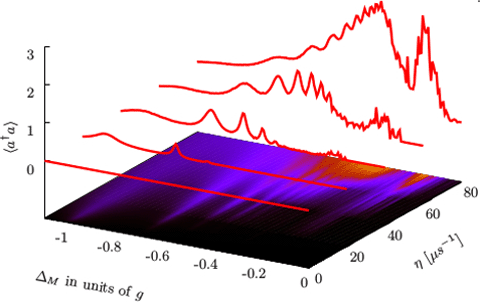 Access options
Buy single article
Instant access to the full article PDF.
USD 39.95
Price includes VAT (USA)
Tax calculation will be finalised during checkout.
References
1.

L.A. Lugiato, in Progress in Optics: II Theory of Optical Bistability, edited by E. Wolf (Elsevier, Amsterdam, 1984), Vol. 21, p. 69

2.

G. Rempe, R.J. Thompson, R.J. Brecha, W.D. Lee, H.J. Kimble, Phys. Rev. Lett. 67, 1727 (1991)

3.

J.A. Sauer, K.M. Fortier, M.S. Chang, C.D. Hamley, M.S. Chapman, Phys. Rev. A 69, 051804 (2004)

4.

R.J. Brecha, P.R. Rice, M. Xiao, Phys. Rev. A 59, 2392 (1999)

5.

M.A. Armen, H. Mabuchi, Phys. Rev. A 73, 063801 (2006)

6.

J. Kerckhoff, M.A. Armen, H. Mabuchi, Opt. Express 19, 24468 (2011)

7.

I. Schuster, A. Kubanek, A. Fuhrmanek, T. Puppe, P.W.H. Pinkse, K. Murr, G. Rempe, Nat. Phys. 4, 382 (2008)

8.

A. Imamoglu, H. Schmidt, G. Woods, M. Deutsch, Phys. Rev. Lett. 79, 1467 (1997)

9.

K.M. Birnbaum, A. Boca, R. Miller, A.D. Boozer, T.E. Northup, H.J. Kimble, Nature 436, 87 (2005)

10.

A. Kubanek, A. Ourjoumtsev, I. Schuster, M. Koch, P.W.H. Pinkse, K. Murr, G. Rempe, Phys. Rev. Lett. 101, 203602 (2008)

11.

C. Lang et al., Phys. Rev. Lett. 106, 243601 (2011)

12.

A. Ourjoumtsev, A. Kubanek, M. Koch, C. Sames, P.W. Pinkse, G. Rempe, K. Murr, Nature 474, 623 (2011)

13.

Y.T. Chough, H.J. Moon, H. Nha, K. An, Phys. Rev. A 63, 013804 (2000)

14.

T. Pellizzari, H. Ritsch, Phys. Rev. Lett. 72, 3973 (1994)

15.

A. Blais, R.S. Huang, A. Wallraff, S.M. Girvin, R.J. Schoelkopf, Phys. Rev. A 69, 062320 (2004)

16.

M. Boissonneault, J.M. Gambetta, A. Blais, Phys. Rev. A 77, 060305 (2008)

17.

L.S. Bishop, E. Ginossar, S. Girvin, Phys. Rev. Lett. 105, 100505 (2010)

18.

M. Boissonneault, J.M. Gambetta, A. Blais, Phys. Rev. Lett. 105, 100504 (2010)

19.

V. Peano, M. Thorwart, Europhys. Lett. 89, 17008 (2010)

20.

M.D. Reed, L. DiCarlo, B.R. Johnson, L. Sun, D.I. Schuster, L. Frunzio, R.J. Schoelkopf, Phys. Rev. Lett. 105, 173601 (2010)

21.

B.G.U. Englert, G. Mangano, M. Mariantoni, R. Gross, J. Siewert, E. Solano, Phys. Rev. B 81, 134514 (2010)

22.

J.M. Fink, R. Bianchetti, M. Baur, M. Göppl, L. Steffen, S. Filipp, P.J. Leek, A. Blais, A. Wallraff, Phys. Rev. Lett. 103, 083601 (2009)

23.

F. Nissen, J.M. Fink, J.A. Mlynek, A. Wallraff, J. Keeling, Phys. Rev. Lett. 110, 203602 (2013)

24.

J. Dalibard, Y. Castin, K. Mølmer, Phys. Rev. Lett. 68, 580 (1992)

25.

A. Vukics, H. Ritsch, Eur. Phys. J. D 44, 585 (2007)

26.

A. Vukics, Comput. Phys. Commun. 183, 1381 (2012)

27.

R. Sandner, A. Vukics, Comput. Phys. Commun. 185, 2380 (2014)

28.

A. Dombi, A. Vukics, P. Domokos, J. Phys. B 46, 224010 (2013)

29.

C. Sames, H. Chibani, C. Hamsen, P.A. Altin, T. Wilk, G. Rempe, Phys. Rev. Lett. 112, 043601 (2014)

30.

J. Gripp, S.L. Mielke, L.A. Orozco, H.J. Carmichael, Phys. Rev. A 54, R3746 (1996)

31.

S. Shamailov, A. Parkins, M. Collett, H. Carmichael, Opt. Commun. 283, 766 (2010)

32.

F. Deppe et al., Nat. Phys. 4, 686 (2008)

33.

L.S. Bishop, J. Chow, J. Koch, A. Houck, M. Devoret, E. Thuneberg, S. Girvin, R. Schoelkopf, Nat. Phys. 5, 105 (2009)

34.

A.F. Kockum, M. Sandberg, M.R. Vissers, J. Gao, G. Johansson, D.P. Pappas, J. Phys. B 46, 224014 (2013)

35.

J. Fink, M. Göppl, M. Baur, R. Bianchetti, P. Leek, A. Blais, A. Wallraff, Nature 454, 315 (2008)

36.

P. Alsing, D.S. Guo, H. Carmichael, Phys. Rev. A 45, 5135 (1992)

37.

V. Peano, M. Thorwart, Phys. Rev. B 82, 155129 (2010)

38.

P. Alsing, H. Carmichael, Quantum Opt. 3, 13 (1991)

39.

A.N. Soklakov, R. Schack, Phys. Rev. A 65, 013804 (2001)
About this article
Cite this article
Dombi, A., Vukics, A. & Domokos, P. Bistability effect in the extreme strong coupling regime of the Jaynes-Cummings model. Eur. Phys. J. D 69, 60 (2015). https://doi.org/10.1140/epjd/e2015-50861-9
Keywords