Abstract
We study chimera states, which are partial synchronization patterns consisting of spatially coexisting domains of coherent (synchronized) and incoherent (desynchronized) dynamics, in ring networks of FitzHugh-Nagumo oscillators with fractal connectivities. In particular, we focus on the interplay of time delay in the coupling term and the network topology. In the parameter plane of coupling strength and delay time we find tongue-like regions of existence of chimera states alternating with regions of coherent dynamics. We show analytically and numerically that the period of the synchronized dynamics as a function of delay is characterized by a sequence of piecewise linear branches. In between these branches various chimera states and other partial synchronization patterns are induced by the time delay. By varying the time delay one can deliberately choose and stabilize desired spatio-temporal patterns.
Graphical abstract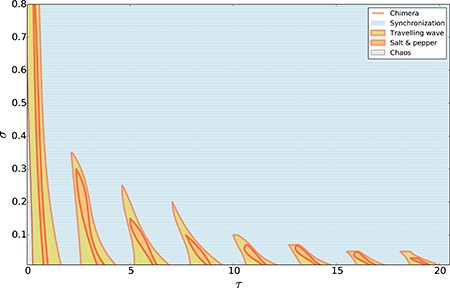 This is a preview of subscription content, log in to check access.
Access options
Buy single article
Instant access to the full article PDF.
US$ 39.95
Price includes VAT for USA
Subscribe to journal
Immediate online access to all issues from 2019. Subscription will auto renew annually.
US$ 199
This is the net price. Taxes to be calculated in checkout.
References
1.

A. Pikovsky, M.G. Rosenblum, J. Kurths, Synchronization: a universal concept in nonlinear sciences (Cambridge University Press, Cambridge, 2001)

2.

S. Boccaletti, V. Latora, Y. Moreno, M. Chavez, D.U. Hwang, Phys. Rep. 424, 175 (2006)

3.

S. Stein, S. Luther, U. Parlitz, New J. Phys. 19, 063040 (2017)

4.

M.J. Panaggio, D.M. Abrams, Nonlinearity 28, R67 (2015)

5.

E. Schöll, Eur. Phys. J. Special Topics 225, 891 (2016)

6.

Y. Kuramoto, D. Battogtokh, Nonlin. Phen. Complex Syst. 5, 380 (2002)

7.

D.M. Abrams, S.H. Strogatz, Phys. Rev. Lett. 93, 174102 (2004)

8.

I. Omelchenko, Y. Maistrenko, P. Hövel, E. Schöll, Phys. Rev. Lett. 106, 234102 (2011)

9.

N. Semenova, A. Zakharova, E. Schöll, V.S. Anishchenko, Europhys. Lett. 112, 40002 (2015)

10.

T.E. Vadivasova, G. Strelkova, S.A. Bogomolov, V.S. Anishchenko, Chaos 26, 093108 (2016)

11.

S. Bogomolov, A. Slepnev, G. Strelkova, E. Schöll, V.S. Anishchenko, Commun. Nonlinear Sci. Numer. Simul. 43, 25 (2017)

12.

A. Bukh, E. Rybalova, N. Semenova, G. Strelkova, V. Anishchenko, Chaos 27, 111102 (2017)

13.

N. Semenova, G. Strelkova, V.S. Anishchenko, A. Zakharova, Chaos 27, 061102 (2017)

14.

I. Omelchenko, B. Riemenschneider, P. Hövel, Y. Maistrenko, E. Schöll, Phys. Rev. E 85, 026212 (2012)

15.

I. Omelchenko, O.E. Omel'chenko, P. Hövel, E. Schöll, Phys. Rev. Lett. 110, 224101 (2013)

16.

J. Hizanidis, V. Kanas, A. Bezerianos, T. Bountis, Int. J. Bifurcat. Chaos 24, 1450030 (2014)

17.

A. Vüllings, J. Hizanidis, I. Omelchenko, P. Hövel, New J. Phys. 16, 123039 (2014)

18.

I. Omelchenko, A. Provata, J. Hizanidis, E. Schöll, P. Hövel, Phys. Rev. E 91, 022917 (2015)

19.

N.D. Tsigkri-DeSmedt, J. Hizanidis, P. Hövel, A. Provata, Eur. Phys. J. Special Topics 225, 1149 (2016)

20.

N.D. Tsigkri-DeSmedt, J. Hizanidis, E. Schöll, P. Hövel, A. Provata, Eur. Phys. J. B 90, 139 (2017)

21.

T. Chouzouris, I. Omelchenko, A. Zakharova, J. Hlinka, P. Jiruska, E. Schöll, Chaos 28, 045112 (2018)

22.

D.P. Rosin, D. Rontani, D.J. Gauthier, Phys. Rev. E 89, 042907 (2014)

23.

A. Buscarino, M. Frasca, L.V. Gambuzza, P. Hövel, Phys. Rev. E 91, 022817 (2015)

24.

J. Hizanidis, E. Panagakou, I. Omelchenko, E. Schöll, P. Hövel, A. Provata, Phys. Rev. E 92, 012915 (2015)

25.

T. Banerjee, P.S. Dutta, A. Zakharova, E. Schöll, Phys. Rev. E 94, 032206 (2016)

26.

V.M. Bastidas, I. Omelchenko, A. Zakharova, E. Schöll, T. Brandes, Phys. Rev. E 92, 062924 (2015)

27.

O.E. Omel'chenko, M. Wolfrum, S. Yanchuk, Y. Maistrenko, O. Sudakov, Phys. Rev. E 85, 036210 (2012)

28.

S. Shima, Y. Kuramoto, Phys. Rev. E 69, 036213 (2004)

29.

Y. Maistrenko, O. Sudakov, O. Osiv, V.L. Maistrenko, New J. Phys. 17, 073037 (2015)

30.

J. Xie, E. Knobloch, H.C. Kao, Phys. Rev. E 92, 042921 (2015)

31.

J.F. Totz, J. Rode, M.R. Tinsley, K. Showalter, H. Engel, Nat. Phys. 14, 282 (2017)

32.

D. Brunner, B. Penkovsky, R. Levchenko, E. Schöll, L. Larger, Y. Maistrenko, Chaos 28, 103106 (2018)

33.

S.W. Haugland, L. Schmidt, K. Krischer, Sci. Rep. 5, 9883 (2015)

34.

G.C. Sethia, A. Sen, G.L. Johnston, Phys. Rev. E 88, 042917 (2013)

35.

G.C. Sethia, A. Sen, Phys. Rev. Lett. 112, 144101 (2014)

36.

A. Zakharova, M. Kapeller, E. Schöll, Phys. Rev. Lett. 112, 154101 (2014)

37.

A. Zakharova, M. Kapeller, E. Schöll, J. Phys. Conf. Ser. 727, 012018 (2016)

38.

T. Banerjee, Europhys. Lett. 110, 60003 (2015)

39.

F.P. Kemeth, S.W. Haugland, L. Schmidt, Y.G. Kevrekidis, K. Krischer, Chaos 26, 094815 (2016)

40.

N.C. Rattenborg, C.J. Amlaner, S.L. Lima, Neurosci. Biobehav. Rev. 24, 817 (2000)

41.

N.C. Rattenborg, B. Voirin, S.M. Cruz, R. Tisdale, G. Dell'Omo, H.P. Lipp, M. Wikelski, A.L. Vyssotski, Nat. Commun. 7, 12468 (2016)

42.

C.R. Laing, C.C. Chow, Neural Comput. 13, 1473 (2001)

43.

H. Sakaguchi, Phys. Rev. E 73, 031907 (2006)

44.

A. Rothkegel, K. Lehnertz, New J. Phys. 16, 055006 (2014)

45.

R.G. Andrzejak, C. Rummel, F. Mormann, K. Schindler, Sci. Rep. 6, 23000 (2016)

46.

A.E. Motter, S.A. Myers, M. Anghel, T. Nishikawa, Nat. Phys. 9, 191 (2013)

47.

J.C. Gonzalez-Avella, M.G. Cosenza, M.S. Miguel, Physica A 399, 24 (2014)

48.

A.M. Hagerstrom, T.E. Murphy, R. Roy, P. Hövel, I. Omelchenko, E. Schöll, Nat. Phys. 8, 658 (2012)

49.

M.R. Tinsley, S. Nkomo, K. Showalter, Nat. Phys. 8, 662 (2012)

50.

S. Nkomo, M.R. Tinsley, K. Showalter, Phys. Rev. Lett. 110, 244102 (2013)

51.

E.A. Martens, S. Thutupalli, A. Fourriere, O. Hallatschek, Proc. Natl. Acad. Sci. U.S.A. 110, 10563 (2013)

52.

T. Kapitaniak, P. Kuzma, J. Wojewoda, K. Czolczynski, Y. Maistrenko, Sci. Rep. 4, 6379 (2014)

53.

L. Larger, B. Penkovsky, Y. Maistrenko, Phys. Rev. Lett. 111, 054103 (2013)

54.

L.V. Gambuzza, A. Buscarino, S. Chessari, L. Fortuna, R. Meucci, M. Frasca, Phys. Rev. E 90, 032905 (2014)

55.

L. Larger, B. Penkovsky, Y. Maistrenko, Nat. Commun. 6, 7752 (2015)

56.

M. Wickramasinghe, I.Z. Kiss, PLoS ONE 8, e80586 (2013)

57.

L. Schmidt, K. Schönleber, K. Krischer, V. García-Morales, Chaos 24, 013102 (2014)

58.

E.A. Viktorov, T. Habruseva, S.P. Hegarty, G. Huyet, B. Kelleher, Phys. Rev. Lett. 112, 224101 (2014)

59.

S. Loos, J.C. Claussen, E. Schöll, A. Zakharova, Phys. Rev. E 93, 012209 (2016)

60.

V. Semenov, A. Zakharova, Y. Maistrenko, E. Schöll, Europhys. Lett. 115, 10005 (2016)

61.

N. Semenova, A. Zakharova, V.S. Anishchenko, E. Schöll, Phys. Rev. Lett. 117, 014102 (2016)

62.

A. Zakharova, N. Semenova, V.S. Anishchenko, E. Schöll, Patterns of Dynamics, in Springer Proceedings in Mathematics & Statistics, edited by P. Gurevich, J. Hell, B. Sandstede (Springer, 2018), Vol. 205, p. 44

63.

A. Yeldesbay, A. Pikovsky, M. Rosenblum, Phys. Rev. Lett. 112, 144103 (2014)

64.

F. Böhm, A. Zakharova, E. Schöll, K. Lüdge, Phys. Rev. E 91, 040901 (R) (2015)

65.

L. Schmidt, K. Krischer, Phys. Rev. Lett. 114, 034101 (2015)

66.

L. Schmidt, K. Krischer, Chaos 25, 064401 (2015)

67.

P. Katsaloulis, D.A. Verganelakis, A. Provata, Fractals 17, 181 (2009)

68.

P. Expert, T.S. Evans, V.D. Blondel, R. Lambiotte, Proc. Natl. Acad. Sci. U.S.A. 108, 7663 (2011)

69.

P. Katsaloulis, A. Ghosh, A.C. Philippe, A. Provata, R. Deriche, Eur. Phys. J. B 85, 1 (2012)

70.

P. Katsaloulis, J. Hizanidis, D.A. Verganelakis, A. Provata, Fluct. Noise Lett. 11, 1250032 (2012)

71.

A. Provata, P. Katsaloulis, D.A. Verganelakis, Chaos S 45, 174 (2012)

72.

S. Ulonska, I. Omelchenko, A. Zakharova, E. Schöll, Chaos 26, 094825 (2016)

73.

A. zur Bonsen, I. Omelchenko, A. Zakharova, E. Schöll, Eur. Phys. J. B 91, 65 (2018)

74.

J. Sieber, O.E. Omel'chenko, M. Wolfrum, Phys. Rev. Lett. 112, 054102 (2014)

75.

C. Bick, E.A. Martens, New J. Phys. 17, 033030 (2015)

76.

I. Omelchenko, O.E. Omel'chenko, A. Zakharova, M. Wolfrum, E. Schöll, Phys. Rev. Lett. 116, 114101 (2016)

77.

I. Omelchenko, O.E. Omel'chenko, A. Zakharova, E. Schöll, Phys. Rev. E 97, 012216 (2018)

78.

A. Ahlborn, U. Parlitz, Phys. Rev. Lett. 93, 264101 (2004)

79.

V. Flunkert, I. Fischer, E. Schöll, Philo. Trans. R. Soc. A 371, 20120465 (2013)

80.

A. Saha, U. Feudel, Phys. Rev. E 95, 062219 (2017)

81.

A. Gjurchinovski, E. Schöll, A. Zakharova, Phys. Rev. E 95, 042218 (2017)

82.

A. Zakharova, N. Semenova, V.S. Anishchenko, E. Schöll, Chaos 27, 114320 (2017)

83.

J. Sawicki, I. Omelchenko, A. Zakharova, E. Schöll, Eur. Phys. J. Special Topics 226, 1883 (2017)

84.

R. FitzHugh, Biophys. J. 1, 445 (1961)

85.

J. Nagumo, S. Arimoto, S. Yoshizawa, Proc. IRE 50, 2061 (1962)

86.

D.P. Rosin, K.E. Callan, D.J. Gauthier, E. Schöll, Europhys. Lett. 96, 34001 (2011)

87.

M. Heinrich, T. Dahms, V. Flunkert, S.W. Teitsworth, E. Schöll, New J. Phys. 12, 113030 (2010)

88.

B.B. Mandelbrot, The fractal geometry of nature, 3rd ed. (W.H. Freeman and Comp., New York, 1983)

89.

J. Feder, Fractals (Plenum Press, New York, 1988)

90.

I. Omelchenko, A. Zakharova, P. Hövel, J. Siebert, E. Schöll, Chaos 25, 083104 (2015)

91.

D.J. Watts, S.H. Strogatz, Nature 393, 440 (1998)

92.

C.A. Bachmair, E. Schöll, Eur. Phys. J. B 87, 276 (2014)

93.

P. Hövel, E. Schöll, Phys. Rev. E 72, 046203 (2005)

94.

S. Yanchuk, M. Wolfrum, P. Hövel, E. Schöll, Phys. Rev. E 74, 026201 (2006)

95.

S.A. Brandstetter, M.A. Dahlem, E. Schöll, Philos. Trans. Roy. Soc. A 368, 391 (2010)

96.

S. Yanchuk, P. Perlikowski, Phys. Rev. E 79, 046221 (2009)

97.

W. Just, T. Bernard, M. Ostheimer, E. Reibold, H. Benner, Phys. Rev. Lett. 78, 203 (1997)

98.

W. Just, E. Reibold, K. Kacperski, P. Fronczak, J.A. Holyst, H. Benner, Phys. Rev. E 61, 5045 (2000)

99.

W. Just, H. Benner, C.V. Loewenich, Physica D 199, 33 (2004)
About this article
Cite this article
Sawicki, J., Omelchenko, I., Zakharova, A. et al. Delay-induced chimeras in neural networks with fractal topology. Eur. Phys. J. B 92, 54 (2019). https://doi.org/10.1140/epjb/e2019-90309-6
Keywords
Statistical and Nonlinear Physics