Abstract
As one of the fundamental concepts of quantum mechanics, electrons in atoms and molecules are assigned to respective orbitals. The geometric distribution of these orbitals is immediately connected to many chemical and physical properties of the system. Consequently, measuring electron orbitals directly has been highly desired. In this study, we demonstrate how a combination of a photoemission electron microscope with a synchrotron UV-light source can be utilised to record a three-dimensional set of tomographic data and present a detailed procedure to reconstruct the orbitals under investigation in real space.
Graphical abstract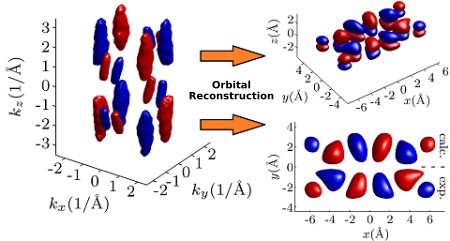 Access options
Buy single article
Instant access to the full article PDF.
USD 39.95
Price excludes VAT (USA)
Tax calculation will be finalised during checkout.
References
J. Itatani, J. Levesque, D. Zeidler, H. Niikura, H. Pépin, J.-C. Kieffer, P.B. Corkum, D.M. Villeneuve, Nature 432, 867 (2004)

J. Pascual, J. Gómez-Herrero, C. Rogero, A. Baró, D. Sánchez-Portal, E. Artacho, P. Ordejón, J. Soler, Chem. Phys. Lett. 321, 78 (2000)

J. Repp, G. Meyer, S.M. Stojković, A. Gourdon, C. Joachim, Phys. Rev. Lett. 94, 026803 (2005)

W.-H. Soe, C. Manzano, A. De Sarkar, N. Chandrasekhar, C. Joachim, Phys. Rev. Lett. 102, 176102 (2009)

L. Gross, N. Moll, F. Mohn, A. Curioni, G. Meyer, F. Hanke, M. Persson, Phys. Rev. Lett. 107, 086101 (2011)

G. Koller, S. Berkebile, M. Oehzelt, P. Puschnig, C. Ambrosch-Draxl, F. Netzer, M. Ramsey, Science 317, 351 (2007)

M. Wießner, J. Ziroff, F. Forster, M. Arita, K. Shimada, P. Puschnig, A. Schöll, F. Reinert, Nat. Commun. 4, 1514 (2013)

P. Puschnig, S. Berkebile, A.J. Fleming, G. Koller, K. Emtsev, T. Seyller, J.D. Riley, C. Ambrosch-Draxl, F.P. Netzer, M.G. Ramsey, Science 326, 702 (2009)

S. Weiß, D. Lüftner, T. Ules, E. Reinisch, H. Kaser, A. Gottwald, M. Richter, S. Soubatch, G. Koller, M. Ramsey et al., Nat. Commun. 6, 8287 (2015)

S. Kera, S. Tanaka, H. Yamane, D. Yoshimura, K. Okudaira, K. Seki, N. Ueno, Chem. Phys. 325, 113 (2006)

P. Puschnig, E.-M. Reinisch, T. Ules, G. Koller, S. Soubatch, M. Ostler, L. Romaner, F.S. Tautz, C. Ambrosch-Draxl, M.G. Ramsey, Phys. Rev. B 84, 235427 (2011)

M. Dauth, T. Körzdörfer, S. Kümmel, J. Ziroff, M. Wiessner, A. Schöll, F. Reinert, M. Arita, K. Shimada, Phys. Rev. Lett. 107, 193002 (2011)

M. Wießner, N.R. Lastra, J. Ziroff, F. Forster, P. Puschnig, L. Dössel, K. Müllen, A. Schöll, F. Reinert, New J. Phys. 14, 113008 (2012)

B. Stadtmüller, M. Willenbockel, E. Reinisch, T. Ules, F. Bocquet, S. Soubatch, P. Puschnig, G. Koller, M. Ramsey, F. Tautz et al., EPL 100, 26008 (2012)

M. Willenbockel, B. Stadtmüller, K. Schönauer, F. Bocquet, D. Lüftner, E. Reinisch, T. Ules, G. Koller, C. Kumpf, S. Soubatch et al., New J. Phys. 15, 033017 (2013)

X. Gonze, J.-M. Beuken, R. Caracas, F. Detraux, M. Fuchs, G.-M. Rignanese, L. Sindic, M. Verstraete, G. Zerah, F. Jollet et al., Comput. Mater. Sci. 25, 478 (2002)

N. Richardson, Chem. Phys. Lett. 102, 390 (1983)

A.M. Bradshaw, D.P. Woodruff, New J. Phys. 17, 013033 (2015)

M. Dauth, M. Graus, I. Schelter, M. Wießner, A. Schöll, F. Reinert, S. Kümmel, Phys. Rev. Lett. 117, 183001 (2016)

D. Lüftner, T. Ules, E.M. Reinisch, G. Koller, S. Soubatch, F.S. Tautz, M.G. Ramsey, P. Puschnig, Proc. Natl. Acad. Sci. 111, 605 (2014)

M. Escher, N. Weber, M. Merkel, C. Ziethen, P. Bernhard, G. Schönhense, S. Schmidt, F. Forster, F. Reinert, B. Krömker et al., J. Phys.: Condens. Matter 17, S1329 (2005)

M. Escher, K. Winkler, O. Renault, N. Barrett, J. Electron Spectrosc. Relat. Phenom. 178, 303 (2010)

C. Wiemann, M. Patt, I.P. Krug, N.B. Weber, M. Escher, M. Merkel, C.M. Schneider, e-J. Surf. Sci. Nanotechnol. 9, 395 (2011)

B. Krömker, M. Escher, D. Funnemann, D. Hartung, H. Engelhard, J. Kirschner, Rev. Sci. Instrum. 79, 053702 (2008)

N. Barrett, K. Winkler, B. Krömker, E. Conrad, Ultramicroscopy 130, 94 (2013)

M. Wießner, D. Hauschild, A. Schöll, F. Reinert, V. Feyer, K. Winkler, B. Krömker, Phys. Rev. B 86, 045417 (2012)

C. Seidel, C. Awater, X. Liu, R. Ellerbrake, H. Fuchs, Surf. Sci. 371, 123 (1997)

K. Glöckler, C. Seidel, A. Soukopp, M. Sokolowski, E. Umbach, M. Böhringer, R. Berndt, W.-D. Schneider, Surf. Sci. 405, 1 (1998)

C. Schneider, C. Wiemann, M. Patt, V. Feyer, L. Plucinski, I. Krug, M. Escher, N. Weber, M. Merkel, O. Renault et al., J. Electron Spectrosc. Relat. Phenom. 185, 330 (2012)

R. Ritchie, F. Garber, M. Nakai, R. Birkhoff, Adv. Radiat. Biol. 3, 1 (1969)

A. Owens, S. Bayliss, G. Fraser, S. Gurman, Nucl. Instrum. Methods Phys. Res. Sect. A 385, 556 (1997)

H.-J. Hagemann, W. Gudat, C. Kunz, JOSA 65, 742 (1975)

A. Gerlach, G. Meister, R. Matzdorf, A. Goldmann, Surf. Sci. 443, 221 (1999)

M. Wießner, D. Hauschild, C. Sauer, V. Feyer, A. Schöll, F. Reinert, Nat. Commun. 5, 4156 (2014)
About this article
Cite this article
Graus, M., Metzger, C., Grimm, M. et al. Three-dimensional tomographic imaging of molecular orbitals by photoelectron momentum microscopy. Eur. Phys. J. B 92, 80 (2019). https://doi.org/10.1140/epjb/e2019-100015-x
Received:

Revised:

Published:

DOI: https://doi.org/10.1140/epjb/e2019-100015-x
Keywords
Solid State and Materials