Erratum
The result for \(E_n^{(2,\pi )}(t)\) in (50) contains mistakes in the terms that multiply the low-energy constants \(c_2\) and \(c_3\). The corrected version of this equation reads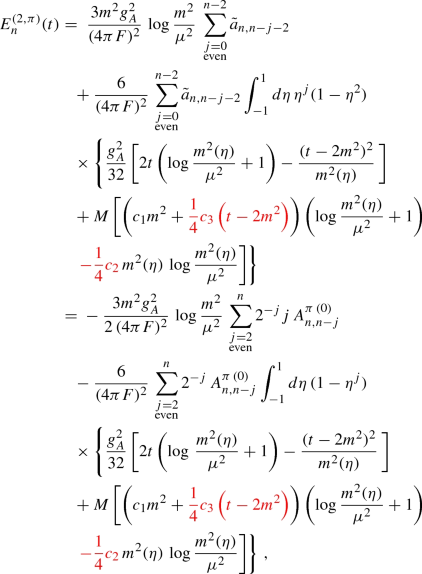 where the terms that have changed are marked in red. The corresponding corrections in equations (52) and (54) read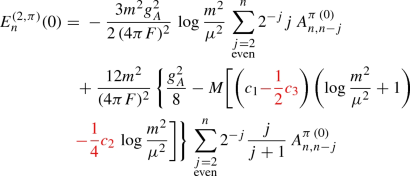 and

respectively. With the parameter estimates \(c_1\approx -0.9\text { GeV}^{-1}\), \(c_2\approx 3.3\text { GeV}^{-1}\), \(c_3\approx -4.7\text { GeV}^{-1}\) given below (52), one obtains corrected numerical values

After the above corrections, we agree with the results obtained in [1]. We thank M. Polyakov for pointing us to the difference between the calculation in that paper and the published version of our work.
Reference
1.

H. Alharazin, D. Djukanovic, J. Gegelia, M. Polyakov,. arXiv:2006.05890 [hep-ph]
Additional information
Communicated by Ulf Meissner.
About this article
Cite this article
Diehl, M., Manashov, A. & Schäfer, A. Erratum to: Chiral perturbation theory for nucleon generalized parton distributions. Eur. Phys. J. A 56, 220 (2020). https://doi.org/10.1140/epja/s10050-020-00193-x
Received:

Accepted:

Published: