Abstract
A study of the residual activation of the Front-End system structure of the SPES (Selective Production of Exotic Species) facility, currently under construction at the Legnaro National Laboratories of INFN, Italy, is performed. The study provides useful information for the planning of inspections, maintenance operations and decommissioning of the facility as well as for the assessment of radiological conditions and safety requirements in the design and operation of any accelerator-driven radioactive ion beam facility. To better assess the obtained results, two Monte Carlo codes were independently used: MCNPX combined with CINDER'90 and FLUKA. The results of the two calculation procedures are compared at each step: fissions, fluxes, activation, dose rate. Since the energy range considered does not represent a typical application for any of the two codes, the comparison of the collected results can provide useful inputs for the developers. In particular, the agreement of the two codes on the global quantities is good, being of the order of 20–40% on average, and never larger than a factor 2. Nevertheless, the comparative study shows that, in this energy range, FLUKA seems to underestimate the angular straggling of protons and to overestimate the proton interaction cross-sections, with respect to MCNPX.
Access options
Buy single article
Instant access to the full article PDF.
US$ 39.95
Tax calculation will be finalised during checkout.
Subscribe to journal
Immediate online access to all issues from 2019. Subscription will auto renew annually.
US$ 119
Tax calculation will be finalised during checkout.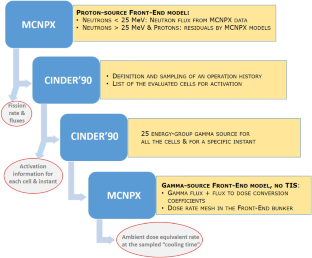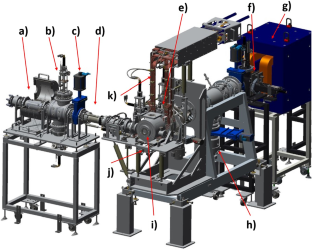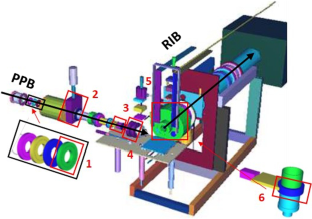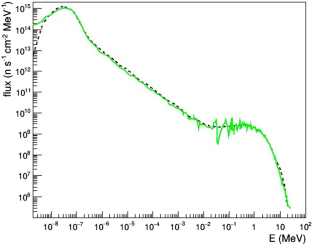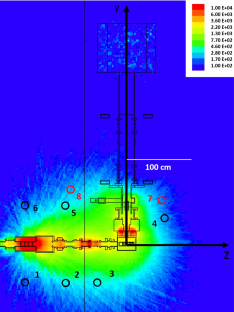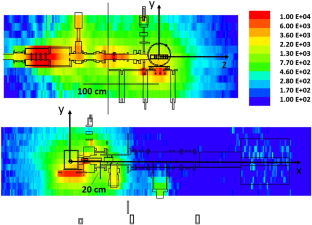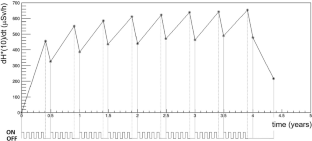 Data Availability Statement
This manuscript has no associated data or the data will not be deposited. [Authors' comment: The data produced in the present work are not deposited in a public repository. However, the authors are available to share the data on request.]
References
1.

Y. Blumenfeld et al., Phys. Scr. T152, 014023 (2013)

2.

T. Nilsson, Nucl. Instrum. Methods Phys. Res. B 317, 194 (2013)

3.

L. Popescu et al., Nucl. Instrum. Methods Phys. Res. B 463, 262 (2020)

4.

A. Andrighetto et al., Eur. Phys. J. A 25, 41 (2005)

5.

A. Andrighetto et al., Eur. Phys. J. A 30, 591 (2006)

6.

G. Prete et al., Eur. Phys. J. Web Conf. 66, 11030 (2014)

7.

A. Monetti et al., Eur. Phys. J. A 51, 128 (2015)

8.

A. Monetti et al., Eur. Phys. J. A 52, 168 (2016)

9.

A. Andrighetto et al., J. Phys. Conf. Ser. 966, 012028 (2018)

10.

S. Corradetti et al., Ceram. Int. 43, 10824 (2017)

11.

A. Andrighetto et al., ENEA contribution to the design of the thin target for the SPES project, FIN-P815-020 (2006)

12.

A. Donzella et al., Nucl. Instrum. Methods Phys. Res. B 463, 169 (2020)

13.

L. Sarchiapone, D. Zafiropoulos, Int. J. Mod. Phys. Conf. Ser. 44, 1660238 (2016)

14.

D.B. Pelowitz, MCNPX User's Manual, Version 2.7.0, LA-CP-11-00438 (2011)

15.

W.B. Wilson, A Manual for CINDER'90, Version 07.4 Codes and Data, LA-UR-07-8412 (2008)

16.

A. Fassò et al., FLUKA: a multi-particle transport code, CERN-2005-10, INFN/TC05/11, SLAC-R-733 (2005)

17.

G. Battistoni et al., AIP Conf. Proc. 896, 31 (2007)

18.

E. Mauro, M. Silari, Nucl. Instrum. Methods Phys. Res. A 605, 249 (2009)

19.

R.J. Sheu et al., Nucl. Instrum. Methods Phys. Res. B 280, 10 (2012)

20.

Y. Romanets et al., Radiat. Prot. Dosim. 155(3), 351 (2013)

21.

B. Sarer et al., Ann. Nucl. Energy 62, 382 (2013)

22.

G. Ottaviano et al., Radiat. Phys. Chem. 95, 236 (2014)

23.

A. Infantino et al., Radiat. Phys. Chem. 116, 231 (2015)

24.

A. Infantino et al., Nucl. Instrum. Methods Phys. Res. B 366, 117 (2016)

26.

H.W. Bertini, Phys. Rev. 131, 1801 (1963)

27.

J. Barish et al., HETFIS High-Energy Nucleon-Meson Transport Code with Fission, ORNL-TM-7882 (1981)

28.

C. Denise et al., A Los Alamos Multigrouped Activation File, Los Alamos National Laboratory preprint LA-UR-94-1471 (1994)

29.

J. Valentin, The 2007 Recommendations of the International Commission on Radiological Protection, ICRP Publication 103, Annals of ICRP, 37, No. 2/4 (2007)

30.

M. Pelliccioni, Radiat. Prot. Dosim. 88(4), 279 (2000)

31.

International Commission on Radiological Protection, Conversion Coefficients for use in Radiological Protection Against External Radiation, ICRP Publication 74, Annals of ICRP, 26, No. 3/4 (1996)

32.

International Commission on Radiation Units and Measurements, Conversion Coefficients for use in Radiological Protection Against External Radiation, ICRU Report 57 (Bethesda (ICRU Publications), MD, 1998)

33.

G. Battistoni et al., Ann. Nucl. Energy 82, 10 (2015)

34.

A. Ferrari et al., The physics of high energy reactions. In: Gandini, A., Reffo, G. (Eds.), Workshop on Nuclear Reaction Data and Nuclear Reactors Physics, Design and Safety. p. 424 (1998)

35.

G. Battistoni et al., The physics of high energy reactions. In: Gadioli, E. (Ed.), 11th International Conference on Nuclear Reaction Mechanisms. p. 483 (2006)

36.

M. Cavinato et al., Nucl. Phys. A 679, 753 (2001)

37.

M. Cavinato et al., Phys. Lett. B 382, 1 (1996)

38.

P. Andreetto et al., EPJ Web Conf. 214, 07010 (2019)

40.

R. Vivanco, Neutron and gamma damage study of critical SPES Front-End components Report, LNL Legnaro and ESS Bilbao (2014)

41.

M. Ferrari et al., A residual activation study on the SPES Front-End: dosimetry and radiation protection calculations, SPES-Note-WPB06\_04\_0004 (2017)

42.

M. Ferrari et al., RadJ. 3(2), 98 (2018)
Additional information
Communicated by Carlo Broggini
About this article
Cite this article
Donzella, A., Ferrari, M., Zenoni, A. et al. Residual activation of the SPES Front-End system: a comparative study between the MCNPX and FLUKA codes. Eur. Phys. J. A 56, 54 (2020). https://doi.org/10.1140/epja/s10050-020-00068-1
Received:

Accepted:

Published: