Abstract
We apply the new thermodynamical method proposed initially by Hendi et al. (Chin Phys C 43(11):113106, 2019) to revisit the phase structure of the AdS black hole in the massive gravity framework. In comparison to the standard thermodynamical method used in the literature (Xu et al. in Phys Rev D 91(12):124033, 2015), we show that this new technical approach can easily reproduce the critical behavior inherent to this black hole configuration and addresses some of the shortcomings of the standard method. We also show the ability of this new perception to find all possible critical points and regions in which phase transitions occur, an impossible task in the standard method.
This is a preview of subscription content, log in to check access.
Access options
Buy single article
Instant access to the full article PDF.
US$ 39.95
Price includes VAT for USA
Subscribe to journal
Immediate online access to all issues from 2019. Subscription will auto renew annually.
US$ 99
This is the net price. Taxes to be calculated in checkout.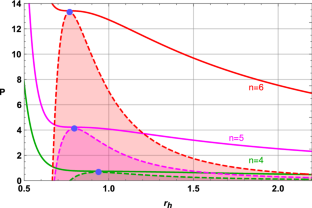 References
1.

S.W. Hawking, D.N. Page, Thermodynamics of black holes in anti-De Sitter space. Commun. Math. Phys. 87, 577 (1983)

2.

B.P. Dolan, Pressure and volume in the first law of black hole thermodynamics. Class. Quant. Grav. 28, 235017 (2011)

3.

D. Kubiznak, R.B. Mann, P–V criticality of charged AdS black holes. J. High Energy Phys. 1207, 033 (2012)

4.

A. Belhaj, M. Chabab, H. El Moumni, M.B. Sedra, On thermodynamics of AdS black holes in arbitrary dimensions. Chin. Phys. Lett. 29, 100401 (2012)

5.

A. Belhaj, M. Chabab, H. El Moumni, K. Masmar, M.B. Sedra, Critical behaviors of 3D black holes with a scalar hair. Int. J. Geom. Meth. Mod. Phys. 12(02), 1550017 (2014)

6.

A. Belhaj, M. Chabab, H.E. Moumni, L. Medari, M.B. Sedra, The thermodynamical behaviors of Kerr–Newman AdS black holes. Chin. Phys. Lett. 30, 090402 (2013)

7.

A. Belhaj, M. Chabab, H. El Moumni, K. Masmar, M.B. Sedra, Maxwell's equal-area law for Gauss–Bonnet–Anti-de Sitter black holes. Eur. Phys. J. C 75(2), 71 (2015)

8.

A. Belhaj, M. Chabab, H. El Moumni, K. Masmar, M.B. Sedra, A. Segui, On heat properties of AdS black holes in higher dimensions. JHEP 1505, 149 (2015)

9.

A. Belhaj, M. Chabab, H. El Moumni, K. Masmar, M.B. Sedra, On thermodynamics of AdS black holes in M-theory. Eur. Phys. J. C 76(2), 73 (2016)

10.

M. Chabab, H. El Moumni, K. Masmar, On thermodynamics of charged AdS black holes in extended phases space via M2-branes background. Eur. Phys. J. C 76(6), 304 (2016)

11.

H. El Moumni, Phase transition of AdS black holes with non linear source in the holographic framework. Int. J. Theor. Phys. 56(2), 554 (2017)

12.

H. El Moumni, Revisiting the phase transition of AdS-Maxwell-power-Yang–Mills black holes via AdS/CFT tools. Phys. Lett. B 776, 124 (2018)

13.

H. El Moumni, Anti-de-Sitter–Maxwell–Yang–Mills black holes thermodynamics from nonlocal observables point of view. Adv. High Energy Phys. 2019, 6870793 (2019)

14.

A. Belhaj, H. El Moumni, Entanglement entropy and phase portrait of f(R)-AdS black holes in the grand canonical ensemble. Nucl. Phys. B 938, 200 (2019)

15.

M. Chabab, H. El Moumni, S. Iraoui, K. Masmar, Behavior of quasinormal modes and high dimension RN-AdS black hole phase transition. Eur. Phys. J. C 76(12), 676 (2016)

16.

M. Chabab, H. El Moumni, S. Iraoui, K. Masmar, Phase transition of charged-AdS black holes and quasinormal modes: a time domain analysis. Astrophys. Space Sci. 362(10), 192 (2017)

17.

D.C. Zou, Y. Liu, R.H. Yue, Behavior of quasinormal modes and Van der Waals-like phase transition of charged AdS black holes in massive gravity. Eur. Phys. J. C 77(6), 365 (2017)

18.

M. Chabab, H. El Moumni, S. Iraoui, K. Masmar, S. Zhizeh, More insight into microscopic properties of RN-AdS black hole surrounded by quintessence via an alternative extended phase space. Int. J. Geom. Meth. Mod. Phys. 15, 1850171 (2018)

19.

M. Chabab, H. El Moumni, S. Iraoui, K. Masmar, S. Zhizeh, Joule–Thomson expansion of RN-AdS black holes in \(f(R)\) gravity. LHEP 02, 05 (2018)

20.

J. Xu, L.M. Cao, Y.P. Hu, P–V criticality in the extended phase space of black holes in massive gravity. Phys. Rev. D 91(12), 124033 (2015)

21.

B. Pourhassan, M. Faizal, Z. Zaz, A. Bhat, Quantum fluctuations of a BTZ black hole in massive gravity. Phys. Lett. B 773, 325 (2017). https://doi.org/10.1016/j.physletb.2017.08.046

22.

J.X. Mo, G.Q. Li, Holographic heat engine within the framework of massive gravity. arXiv:1707.01235 [gr-qc]

23.

S.H. Hendi, B.E. Panah, S. Panahiyan, H. Liu, X.-H. Meng, Black holes in massive gravity as heat engines. arXiv:1707.02231 [hep-th]

24.

M. Zhang, D.C. Zou, R.H. Yue, Reentrant phase transitions and triple points of topological AdS black holes in Born-Infeld-massive gravity. arXiv:1707.04101 [hep-th]

25.

S.H. Hendi, B. Eslam Panah, S. Panahiyan, M.S. Talezadeh, Geometrical thermodynamics and P–V criticality of black holes with power-law Maxwell field. Eur. Phys. J. C 77(2), 133 (2017)

26.

S.H. Hendi, R.B. Mann, S. Panahiyan, B. Eslam Panah, Van der Waals like behavior of topological AdS black holes in massive gravity. Phys. Rev. D 95(2), 021501 (2017)

27.

D.C. Zou, R. Yue, M. Zhang, Reentrant phase transitions of higher-dimensional AdS black holes in dRGT massive gravity. Eur. Phys. J. C 77(4), 256 (2017)

28.

S.H. Hendi, G.H. Bordbar, B. Eslam Panah, S. Panahiyan, Neutron stars structure in the context of massive gravity. JCAP 1707, 004 (2017)

29.

S.H. Hendi, S. Panahiyan, B. Eslam Panah, M. Momennia, Phase transition of charged black holes in massive gravity through new methods. Ann. Phys. 528(11–12), 819 (2016)

30.

B.P. Abbott et al., [LIGO Scientific and Virgo Collaborations], tests of general relativity with GW150914. Phys. Rev. Lett. 116(22), 221101 (2016)

31.

M.A. Vasiliev, Higher spin gauge theories in four-dimensions, three-dimensions, and two-dimensions. Int. J. Mod. Phys. D 5, 763 (1996)

32.

G.R. Dvali, G. Gabadadze, Gravity on a brane in infinite volume extra space. Phys. Rev. D 63, 065007 (2001)

33.

X.X. Zeng, H. Zhang, L.F. Li, Phase transition of holographic entanglement entropy in massive gravity. Phys. Lett. B 756, 170 (2016)

34.

M. Chabab, H. El Moumni, S. Iraoui, K. Masmar, S. Zhizeh, Chaos in charged AdS black hole extended phase space. Phys. Lett. B 781, 316 (2018)

35.

S.H. Hendi, S. Panahiyan, B. Eslam Panah, M. Jamil, A new prescription towards thermodynamic phase transition. Chin. Phys. C 43(11), 113106 (2019)

36.

M.I. Khan, M. Waqas, T. Hayat, A. Alsaedi, A comparative study of Casson fluid with homogeneous-heterogeneous reactions. J. Colloid Interface Sci. 498, 85 (2017)

37.

T. Hayat, M. Ijaz Khan, M. Farooq, A. Alsaedi, M. Waqas, T. Yasmeen, Impact of Cattaneo–Christov heat flux model in flow of variable thermal conductivity fluid over a variable thicked surface. Int. J. Heat Mass Transf. 99, 702 (2016)
About this article
Cite this article
Chabab, M., El Moumni, H., Iraoui, S. et al. Phase transition of AdS black hole in massive gravity revisited via new prescription. Eur. Phys. J. Plus 135, 248 (2020). https://doi.org/10.1140/epjp/s13360-020-00266-2
Received:

Accepted:

Published: