Abstract
On the basis of photon–matter interactions landscape, γ-rays shielding effectiveness of light density polyethylene (LDPE) composites reinforced with different percentages of micro- and nano-PbO, WO3, ZnO, and TiO2 particles was studied. Using voxelization in MCNPX code, metal oxide particles with sizes of 100 nm, 1 µm, and 100 µm and proportions of 10, 25, and 50 wt% were designed inside a LDPE matrix. Narrow beam geometry was simulated to calculate the mass attenuation coefficient of structures against photons in a wide energy region of 0.015–15 MeV. Although the significant role of filler size and proportion in attenuating X- and γ-rays was confirmed, the results indicated that application of PbO and WO3 particles in reinforcing polymeric matrix provides greater photon attenuation compared to those doped with ZnO and TiO2 particles. Besides, it was found that attenuation performance of the LDPE/metal oxide composites is superior in the low energy range.
This is a preview of subscription content, log in to check access.
Access options
Buy single article
Instant access to the full article PDF.
US$ 39.95
Price includes VAT for USA
Subscribe to journal
Immediate online access to all issues from 2019. Subscription will auto renew annually.
US$ 99
This is the net price. Taxes to be calculated in checkout.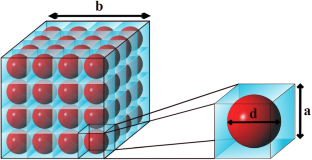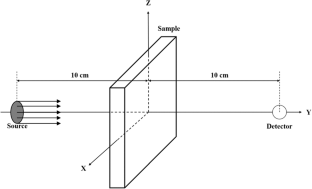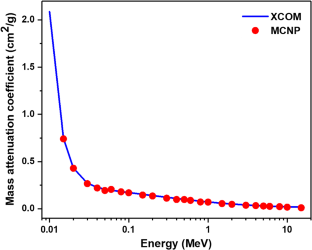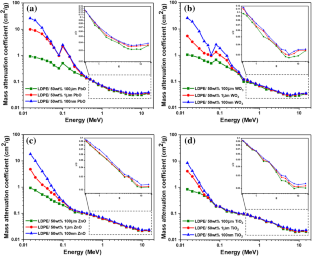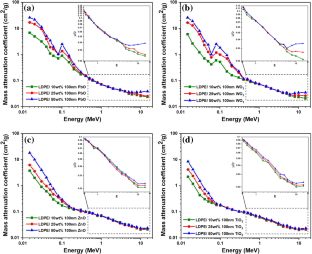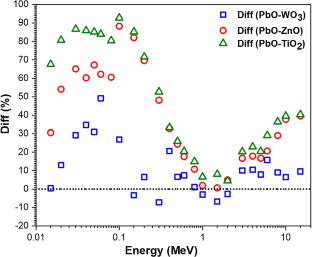 References
1.

N.Z. NoorAzman, N.F.L. Musa, N.N.A.N.A. Razak, R.M. Ramli, I.S. Mustafa, A.A. Rahman, N.Z. Yahay, Appl. Phys. A 122, 818 (2016)

2.

M.E. Mahmoud, A.M. El-Khatib, M.S. Badawi, A.R. Rashed, R.M. El-Sharkawy, A.A. Thabet, Radiat. Phys. Chem. 145, 160 (2018)

3.

S. Nambiar, J.T.W. Yeow, Appl. Mater. Interfaces 4, 5717 (2012)

4.

N. Asari Shik, L. Gholamzadeh, Appl. Radiat. Isot. 139, 61 (2018)

5.

C.C.P. Fontainha, A.T. Baptista-Neto, L.O. Faria, J. Mater. Sci. (2016). https://doi.org/10.4172/2321-6212.1000149

6.

M. Jamil, M.H. Hazlan, M.H. Ramli, N.Z. NoorAzman, Radiat. Phys. Chem. 156, 272 (2019)

7.

W.S. Khan, N.N. Hamadneh, W.A. Khan, Polymer nanocomposites—synthesis techniques, classification and properties, in Science and applications of Tailored Nanostructures, Chapter 4 ed. by P. Di Sia (One Central Press (OCP), 2016), pp. 50–67

8.

M.C.M. Higgins, N.A. Radclife, M. Toro-González, J.V. Rojas, J. Radioanal. Nucl. Chem. (2019). https://doi.org/10.1007/s10967-019-06714-33

9.

Y. Cai, H. Hu, Z. Pan, G. Hu, T. Zhang, Appl. Radiat. Isot. 139, 169 (2018)

10.

M.I. Sayyed, K.M. Kaky, M.H.A. Mhareb, A.H. Abdalsalam, N. Almousa, G. Shkoukani, M.A. Bourham, Radiat. Phys. Chem. 161, 77 (2019)

11.

M.G. Dong, R. El-Mallawany, M.I. Sayyed, H.O. Tekin, Radiat. Phys. Chem. 141, 172 (2017)

12.

V. Harish, N. Nagaiah, H.G.H. Kumar, Indian J. Pure Appl. Phys. 50, 847 (2012)

13.

K. Kaur, K.J. Singh, V. Anand, Nucl. Eng. Des. 285, 31 (2015)

14.

M.E. Mahmoud, A.M. El-Khatib, M.S. Badawi, A.R. Rashed, R.M. El-Sharkawy, A.A. Thabet, Radiat. Phys. Chem. (2017). https://doi.org/10.1016/j.radphyschem.2017.10.0177

15.

T. Özdemir, A. Güngör, I.K. Akbay, H. Uzun, Y. Babucçuoglu, Radiat. Phys. Chem. 144, 248 (2017)

16.

V.I. Pavlenko, N.I. Cherkashina, R.N. Yastrebinsky, Heliyon 5, 01703 (2019)

17.

A. Kumar, Radiat. Phys. Chem. 136, 50 (2017)

18.

S.D. Meshram, R.V. Rupnarayan, S.V. Jagtap, V.G. Mete, V.S. Sangawar, Int. J. Chem. Phys. Sci. 4, 83 (2015)

19.

Lead monoxide safety data sheet, LTS Research Laboratory (2015)

20.

B.N. Rao, A.R.K. Ashwin, C. Parthasarathy, in 12thIEEE International Conference on the Properties and Applications of Dielectric Materials, China (2018)

21.

S. Stankic, S. Suman, F. Haque, J. Vidic, J. Nanobiotechnol. 14, 73 (2016)

22.

S.H. Abdul Kaleel, B.K. Bahuleyan, J. Masihullah, M. Al-Harthi, J. Nanomater. 6, 964353 (2011)

23.

T. Guo, T. Yao, Y.H. Lin, C.W. Nan, CrysEngComm 17, 3551 (2015)

24.

M. Qamar, M.A. Gondal, K. Hayat, Z.H. Yamani, K. Al-Hooshani, J. Hazard. Mater. 170, 584 (2019)

25.

AZoMaterial. https://www.azom.com/. Accessed May 2019

26.

B.D. Agarwal, L.J. Broutman, Analysis and Performance of Fiber Composites, 2nd edn. (Wiley, New York, 1990)

27.

D.B. Pelowitz, MCNPX User's Manual Version 2.6.0. (2008)

28.

H. Alavian, H. Tavakoli-Anbaran, Prog. Nucl. Energy 115, 91 (2019)

29.

C.P. Wong, R.S. Bollampally, J. Appl. Polym. Sci. 74, 3396 (1999)

30.

N. Demir, U.A. Tarim, M.A. Popovici, Z.N. Demirci, O. Gurler, I. Akkurt, J. Radioanal. Nucl. Chem. 298, 1303 (2013)

31.

M.J. Berger, J.H. Hubbell, XCOM: Photon Cross Sections Database, Web Version 1.2 (1999). http://physics.nist.gov/xcom. Accessed Apr 2019

32.

N. Tsoulfanidis, S. Landsberger, Measurement and Detection of Radiation, 3rd edn. (Taylor & Francis, London, 2010)

33.

M. Aminian, M. Bakhshandeh, M. Allahbakhshian-Farsani, E. Bakhshandeh, N. Shakeri, Iran. J. Nucl. Med. 25, 129 (2017)

34.

R. Malekzadeh, P. Mehnati, M.Y. Sooteh, A. Mesbahi, Radiol. Phys. Technol. 12, 325 (2019)

35.

H.S. Husain, N.A. Rasheed Naji, B.M. Mahmood, IOP Conf. Ser. Mater. Sci. Eng. 454, 012131 (2018)

36.

B. Mokhtari, K. Pourabdollah, N. Dallali, J. Radioanal. Nucl. Chem. (2018). https://doi.org/10.1007/s10967-010-0881

37.

R.B.J. Chandra, B. Shivamurthy, S.D. Kulkarni, M.S. Kumar, Mater. Res. Exp. 6, 8 (2011)

38.

S. Rawal, JOM 53, 14 (2001)

39.

S. Nambiar, J.T.W. Yeow, A.C.S. App, Mater. Interfaces (2015). https://doi.org/10.1021/am300783d
About this article
Cite this article
Alavian, H., Tavakoli-Anbaran, H. Comparative study of mass attenuation coefficients for LDPE/metal oxide composites by Monte Carlo simulations. Eur. Phys. J. Plus 135, 82 (2020). https://doi.org/10.1140/epjp/s13360-020-00164-7
Received:

Accepted:

Published: