Abstract
Improving oil recovery and decreasing greenhouse gas emissions are two important attractive features of CO2-enriched water injection into oil reservoirs. Regarding these unique features, the main objective of this study was concentrated to evaluate the swelling behavior of crude oil as a fundamental mechanism of carbonated water (CW) flooding. To achieve these goals, the swelling and Bond number of light and heavy crude oils (namely LCO and HCO, respectively) are measured and compared to each other. The results obtained from the measured swelling factors of crude oil/CW show some complicated behaviors. That is, as temperature increases the swelling factor decreases at low pressure conditions, while at high pressure a reverse trend was observed. In addition, the crossover pressure, which can be contributed to the different swelling behaviors of crude oil for different CO2 contents of water, was shifted to higher pressure for the LCO compared to that for the HCO.
This is a preview of subscription content, log in to check access.
Access options
Buy single article
Instant access to the full article PDF.
US$ 39.95
Price includes VAT for USA
Subscribe to journal
Immediate online access to all issues from 2019. Subscription will auto renew annually.
US$ 99
This is the net price. Taxes to be calculated in checkout.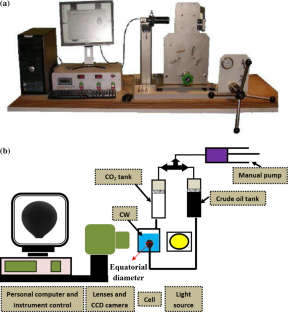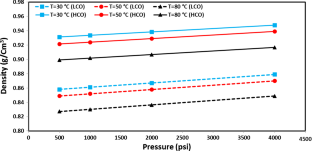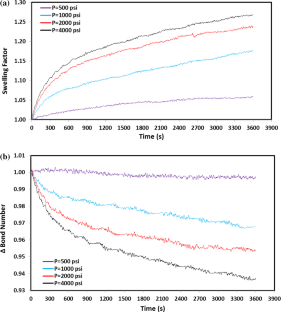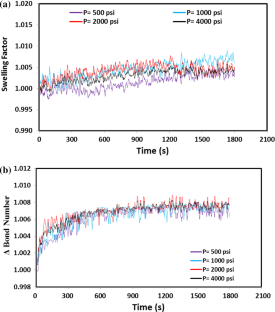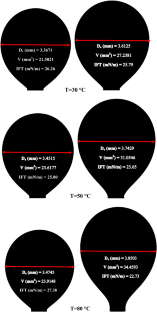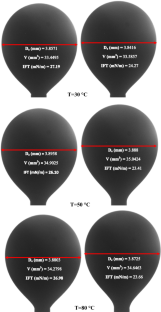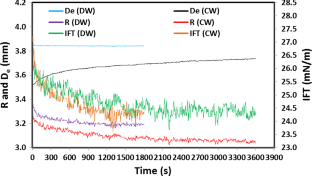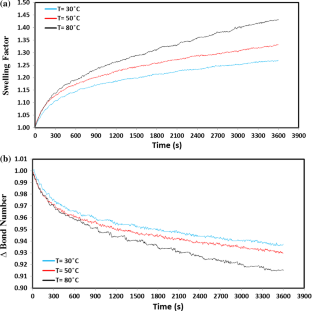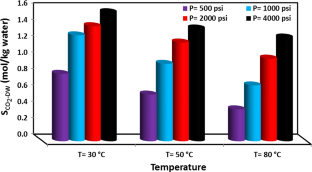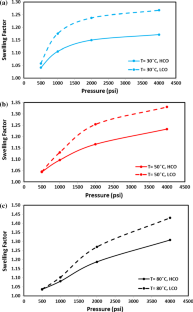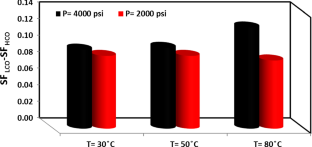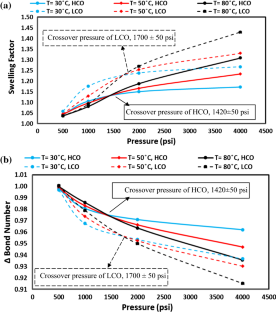 References
1.

M. Seyyedi, P. Mahzari, M. Sohrabi, J. Ind. Eng. Chem. 45, 22 (2017)

2.

M.A. Ahmadi, Eur. Phys. J. Plus 131, 435 (2016)

3.

M.A. Ahmadi, S.R. Shadizadeh, Eur. Phy. J. Plus 132, 246 (2017)

4.

A. Abedini, F. Torabi, Fuel 124, 14 (2014)

5.

M. Bayat, M. Lashkarbolooki, A.Z. Hezave, S. Ayatollahi, J. Nat. Gas Sci. Eng. 29, 37 (2016)

6.

S. Kwon, W. Lee, Korean J. Chem. Eng. 29, 750 (2012)

7.

U. Zahid, Y. Lim, J. Jung, C. Han, Korean J. Chem. Eng. 28, 674 (2011)

8.

A. Tatar, S. Naseri, M. Bahadori, A.Z. Hezave, T. Kashiwao, A. Bahadori, H. Darvish, J. Taiwan Ins. Chem. Eng. 60, 151 (2016)

9.

H. Darvish, N. Hemmati, A. Naghshgar, A. Tabzar, Eur. Phy. J. Plus 134, 40 (2019)

10.

M. Sohrabi, N.I. Kechut, M. Riazi, M. Jamiolahmady, S. Ireland, G. Robertson, Trans. Por. Med. 91, 101 (2012)

11.

G.A. Pope, Soc. Pet. Eng. J. 20, 191 (1980)

12.

M. Riazi, M. Jamiolahmady, M. Sohrabi, J. Pet. Sci. Eng. 75, 312 (2011)

13.

M. Lashkarbolooki, A. Vaezian, A.Z. Hezave, S. Ayatollahi, M. Riazi, J. Supercrit. Fluids 117, 260 (2016)

14.

M. Lashkarbolooki, M.J. Eftekhari, S. Najimi, S. Ayatollahi, J. Supercrit. Fluids 127, 121 (2017)

15.

G. Shu, M. Dong, S. Chen, P. Luo, J. Pet. Sci. Eng. 121, 142 (2014)

16.

A. Alvarez, T. Blom, W. Lambert, J. Bruining, D. Marchesin, J. Pet. Sci. Eng. 22, 505 (2018)

17.

N.A. Menad, Z. Noureddine, J. Taiwan Inst. Chem. Eng. 99, 154 (2019)

18.

J. Martin, Martin J. Additional oil production through flooding with carbonated water: Producers monthly (July) (1951)

19.

J. Saxon Jr, J. Breston, R. Macfarlane, Prod. Monthly 16 (1951)

20.

S.G. Grape, Imbibition flooding with CO2-enriched water (A&M University, College Station, 1990)

21.

L. Holm, Carbon dioxide solvent flooding for increased oil recovery. (1959)

22.

M. Sohrabi, M. Riazi, M. Jamiolahmady, N.I. Kechut, S. Ireland, G. Robertson, Energy Proc. 4, 2192 (2011)

23.

M. Shakiba, S. Ayatollahi, M. Riazi, J. Pet. Sci. Eng. 137, 134 (2016)

24.

N. Mosavat, F. Torabi, Ind. Eng. Chem. Res. 53, 1262 (2013)

25.

M. Seyyedi, M. Sohrabi, A. Farzaneh, Energy Fuels 29, 5544 (2015)

26.

M. Alqam, S.A. Abu-Khamsin, A.S. Sultan, T. Okasha, H.O. Yildiz, Energy Fuels 33, 1983 (2019)

27.

B. Honarvar, A. Azdarpour, M. Karimi, A. Rahimi, M. Afkhami Karaei, H. Hamidi, J. Ing, E. Mohammadian, Energy Fuels 31, 2740 (2017)

28.

J. Foroozesh, M. Jamiolahmady, M. Sohrabi, Fuel 174, 325 (2016)

29.

D. Yang, P. Tontiwachwuthikul, Y. Gu, J. Chem. Eng. Data 50, 1242 (2005)

30.

M. Riazi, A. Golkari, Fuel 178, 1 (2016)

31.

M. Lashkarbolooki, M. Riazi, S. Ayatollahi, J. Pet. Sci. Eng. 170, 576 (2018)

32.

N. Mosavat, F. Torabi, Fuel 123, 274 (2014)

33.

M. Lashkarbolooki, M. Riazi, S. Ayatollahi, Fuel 214, 135 (2018)

34.

M. Lashkarbolooki, A.Z. Hezave, S. Ayatollahi, J. Mol. Liq. 276, 7 (2018)

35.

J. Foroozesh, M. Jamiolahmady, Fuel 184, 581 (2016)

36.

A. Grogan, W. Pinczewski, J. Pet. Technol. 39, 591 (1987)

37.

G. Løvoll, Y. Méheust, K.J. Måløy, E. Aker, J. Schmittbuhl, Energy 30, 861 (2005)

38.

M. Lashkarbolooki, S. Ayatollahi, M. Riazi, J. Ind. Eng. Chem. 35, 408 (2016)

39.

M. Lashkarbolooki, M. Riazi, S. Ayatollahi, Chem. Eng. Res. Design 115, 53 (2016)

40.

M. Lashkarbolooki, S. Ayatollahi, Chin. J. Chem. Eng. 26, 373 (2018)

41.

M. Lashkarbolooki, M. Riazi, S. Ayatollahi, J. Pet. Sci. Eng. 159, 58 (2017)

42.

Z. Duan, R. Sun, C. Zhu, I.-M. Chou, Mar. Chem. 98, 131 (2006)
About this article
Cite this article
Lashkarbolooki, M., Hezave, A.Z., Riazi, M. et al. New insight on dynamic behavior of swelling and bond number of light and heavy crude oil during carbonated water flooding. Eur. Phys. J. Plus 135, 91 (2020). https://doi.org/10.1140/epjp/s13360-020-00104-5
Received:

Accepted:

Published: