Abstract
This work presents the important role played by the spin-orbit interaction in nanostructures such as disk quantum dot when subjected to an external field. Here by using the LLP variational method, the Rashba effect on polaron in this nanostructure with Gaussian confinement potential under electromagnetic field is investigated. The polaron ground, first excited state energy and the electron transition probability are derived. Results show that the external electromagnetic field highly modulates the spin-orbit coupling strength αr, the polaron energies and transition probability. The polaron transition probability splits in two branches due to the splitting of the eigenstates energies. Our study also reveals that DQD properties can be adjusted by the external field. Therefore, the transport and the optical properties of the quantum dot can be controlled by turning the spin-orbit coupling.
This is a preview of subscription content, log in to check access.
Access options
Buy single article
Instant access to the full article PDF.
US$ 39.95
Price includes VAT for USA
Subscribe to journal
Immediate online access to all issues from 2019. Subscription will auto renew annually.
US$ 99
This is the net price. Taxes to be calculated in checkout.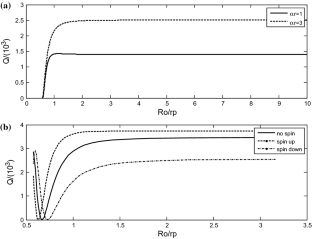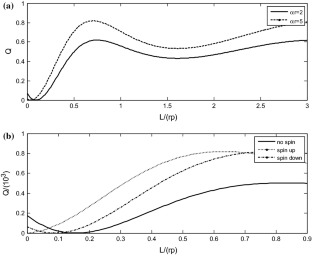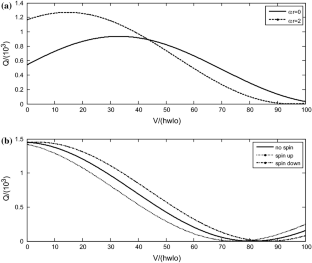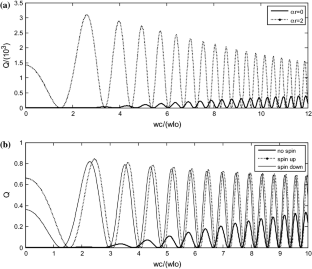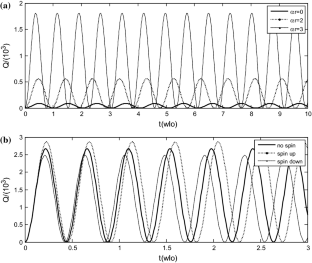 References
1.

H.Y. Wang, D. Su, S. Yang, X.M. Dou, H.J. Zhu, D.S. Jiang, Phys. Lett. 32, 107804 (2015)

2.

A.K. Geim, A.H. MacDonald, Phys. Today. 60, 35 (2007)

3.

A. Manchon, H.C. Koo, J. Nitta, S.M. Frolov, R.A. Duine, Nat. Mater. 14, 871 (2015)

4.

A. Varykhalov, D. Marchenko, M.R. Scholz, E. Rienks, Phys. Rev. B 85, 201413 (2012)

5.

K. Miyamoto, A. Kimura, K. Kudora, Phys. Rev. Lett. 108, 066808 (2014)

6.

M. Tiotsop, A.J. Fotue, H.B. Fotsin, L.C. Fai, Chin. J. Phys. 56, 315 (2018)

7.

W. Wuyunqimuge, W. Xim, G.-S. Wang, J. Low Temp. Phys. 18, 00022 (2017)

8.

X.-J. Ma, J.-L. Xiao, J. At. Mol. Sci. 28, 104208 (2013)

9.

A.J. Fotue, M. Tiotsop, N. Issofa, Am. J. Mod Phys. 04(3), 109 (2015)

10.

N. Issofa, A.J. Fotue, S.C. Kenfack, Am J Mod Phys. 04(4), 1011648 (2015)

11.

M. Tiotsop, A.J. Fotue, S.C. Kenfack, Indian J. Phys. 16, 101007 (2016)

12.

Y. Sun, Z.H. Ding, J.L. Xiao, J. Electron. Mater. 46(1), 439–442 (2017)

13.

L.Q. Feng, J.L. Xiao, IEEE Trans. Electron Devices 70, 39–45 (2014)

14.

Y. Sun, P. Yang, L.J. Wan, Chin. Phys. B 26, 027104 (2017)

15.

J. Adamowski, M. Sobkowicz, B. Szafran, Phys. Rev B. 62, 4234 (2000)

16.

J.M. George, H. Jaffres, R. Mattana, IEEE Trans. Electron Devices 54, 921 (2007)
Acknowledgements
We wish to acknowledge Dr. G. N. BAWE Jr. for the advices given and the microscopic correction of the English language.
About this article
Cite this article
Tedondje, G.T., Fotue, A.J., Kenfack, S.C. et al. Modulation of the spin-orbit interaction and the transition probability of polaron in disk quantum dot under electromagnetic field. Eur. Phys. J. Plus 135, 244 (2020). https://doi.org/10.1140/epjp/s13360-020-00101-8
Received:

Accepted:

Published: