Abstract.
In the study of microscopic flows, self-propulsion has been particularly topical in recent years, with the rise of miniature artificial swimmers as a new tool for flow control, low Reynolds number mixing, micromanipulation or even drug delivery. It is possible to take advantage of interfacial physics to propel these microrobots, as demonstrated by recent experiments using the proximity of an interface, or the interface itself, to generate propulsion at low Reynolds number. This paper discusses how a nearby interface can provide the symmetry breaking necessary for propulsion. An overview of recent experiments illustrates how forces at the interface can be used to generate locomotion. Surface swimmers ranging from the microscopic scale to typically the capillary length are covered. Two systems are then discussed in greater detail. The first is composed of floating ferromagnetic spheres that assemble through capillarity into swimming structures. Two previously studied configurations, triangular and collinear, are discussed and contrasted. A new interpretation for the triangular swimmer is presented. Then, the non-monotonic influence of surface tension and viscosity is evidenced in the collinear case. Finally, a new system is introduced. It is a magnetically powered, centimeter-sized piece that swims similarly to water striders.
Graphical abstract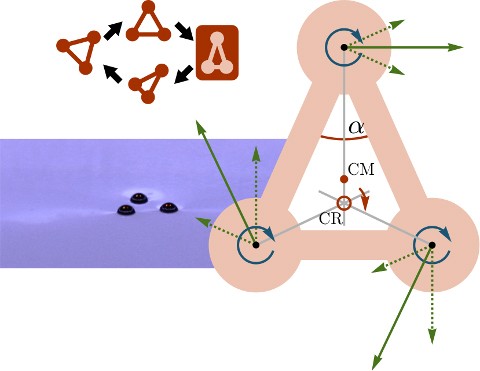 This is a preview of subscription content, log in to check access.
Access options
Buy single article
Instant access to the full article PDF.
US$ 39.95
Price includes VAT for USA
Subscribe to journal
Immediate online access to all issues from 2019. Subscription will auto renew annually.
US$ 199
This is the net price. Taxes to be calculated in checkout.
References
1

G.K. Batchelor, An Introduction to Fluid Dynamics (Cambridge University Press, 2000)

2

G.I. Taylor, Proc. R. Soc. Lond. A 209, 447 (1951)

3

E.M. Purcell, Am. J. Phys. 45, 3 (1977)

4

E. Lauga, T.R. Powers, Rep. Prog. Phys. 72, 096601 (2009)

5

C. Navier, Mem. Acad. R. Sci. (Paris) 6, 389 (1823)

6

G.G. Stokes, Trans. Cambridge Philos. Soc. 8, 287 (1845)

7

G.G. Stokes, Trans. Cambridge Philos. Soc. 9, 8 (1851)

8

O. Reynolds, Philos. Trans. R. Soc. 174, 935 (1884)

9

D. Klotsa, K.A. Baldwin, R.J.A. Hill, R.M. Bowley, M.R. Swift, Phys. Rev. Lett. 115, 248102 (2015)

10

S. Alben, M. Shelley, Proc. Natl. Acad. Sci. U.S.A. 102, 11163 (2005)

11

A. Najafi, R. Golestanian, Phys. Rev. E 69, 062901 (2004)

12

R. Dreyfus, J. Baudry, M.L. Roper, M. Fermigier, H.A. Stone, J. Bibette, Nature 437, 862 (2005)

13

G. Grosjean, G. Lagubeau, A. Darras, M. Hubert, G. Lumay, N. Vandewalle, Sci. Rep. 5, 16035 (2015)

14

R. Trouilloud, S.Y. Tony, A. Hosoi, E. Lauga, Phys. Rev. Lett. 101, 048102 (2008)

15

P. Tierno, R. Golestanian, I. Pagonabarraga, F. Sagués, J. Phys. Chem. B 112, 16525 (2008)

16

F. Martinez-Pedrero, P. Tierno, Phys. Rev. Appl. 3, 051003 (2015)

17

E. Lauga, Phys. Fluids 19, 061703 (2007)

18

D.O. Pushkin, J.M. Yeomans, Phys. Rev. Lett. 111, 188101 (2013)

19

P. Tierno, R. Golestanian, I. Pagonabarraga, F. Sagués, Phys. Rev. Lett. 101, 218304 (2008)

20

A. Farutin, S. Rafaï, D.K. Dysthe, A. Duperray, P. Peyla, C. Misbah, Phys. Rev. Lett. 111, 228102 (2013)

21

R. Golestanian, A. Ajdari, Phys. Rev. E 77, 036308 (2008)

22

R. Zargar, A. Najafi, M. Miri, Phys. Rev. E 80, 026308 (2009)

23

K. Pickl, J. Götz, K. Iglberger, J. Pande, K. Mecke, A.S. Smith, U. Rüde, J. Comput. Sci. 3, 374 (2012)

24

J. Pande, A.S. Smith, Soft Matter 11, 2364 (2015)

25

J. Pande, L. Merchant, T. Krger, J. Harting, A.S. Smith, New J. Phys. 19, 053024 (2017)

26

G. Lumay, N. Obara, F. Weyer, N. Vandewalle, Soft Matter 9, 2420 (2013)

27

E. Lauga, EPL 86, 64001 (2009)

28

T. Qiu, T.C. Lee, A.G. Mark, K.I. Morozov, R. Münster, O. Mierka, S. Turek, A.M. Leshansky, P. Fischer, Nat. Commun. 5, 5119 (2014)

29

E. Lauga, D. Bartolo, Phys. Rev. E 78, 030901 (2008)

30

P. Tierno, O. Güell, F. Sagués, R. Golestanian, I. Pagonabarraga, Phys. Rev. E 81, 011402 (2010)

31

R. Golestanian, T.B. Liverpool, A. Ajdari, New J. Phys. 9, 126 (2007)

32

J.R. Howse, R.A.L. Jones, A.J. Ryan, T. Gough, R. Vafabakhsh, R. Golestanian, Phys. Rev. Lett. 99, 048102 (2007)

33

M.N. Popescu, W.E. Uspal, S. Dietrich, Eur. Phys. J. ST 225, 2189 (2016)

34

S. Michelin, E. Lauga, D. Bartolo, Phys. Fluids 25, 061701 (2013)

35

H.R. Jiang, N. Yoshinaga, M. Sano, Phys. Rev. Lett. 105, 268302 (2010)

36

M. Pumera, Nanoscale 2, 1643 (2010)

37

X. Wang, M. In, C. Blanc, M. Nobili, A. Stocco, Soft Matter 11, 7376 (2015)

38

X. Wang, M. In, C. Blanc, A. Wurger, M. Nobili, A. Stocco, Langmuir 33, 13766 (2017)

39

K. Dietrich, D. Renggli, M. Zanini, G. Volpe, I. Buttinoni, L. Isa, New J. Phys. 19, 065008 (2017)

40

K. Dietrich, G. Volpe, M.N. Sulaiman, D. Renggli, I. Buttinoni, L. Isa, Phys. Rev. Lett. 120, 268004 (2018)

41

P. Malgaretti, M. Popescu, S. Dietrich, Soft Matter 14, 1375 (2018)

42

A. Domínguez, P. Malgaretti, M. Popescu, S. Dietrich, Soft Matter 12, 8398 (2016)

43

A. Domínguez, P. Malgaretti, M.N. Popescu, S. Dietrich, Phys. Rev. Lett. 116, 078301 (2016)

44

S. Nakata, M. Hata, Y.S. Ikura, E. Heisler, A. Awazu, H. Kitahata, H. Nishimori, J. Phys. Chem. C 117, 24490 (2013)

45

Y. Karasawa, S. Oshima, T. Nomoto, T. Toyota, M. Fujinami, Chem. Lett. 43, 1002 (2014)

46

T. Mitsumata, J.P. Gong, Y. Osada, Polym. Adv. Technol. 12, 136 (2001)

47

N. Bassik, B.T. Abebe, D.H. Gracias, Langmuir 24, 12158 (2008)

48

E. Bormashenko, Y. Bormashenko, R. Grynyov, H. Aharoni, G. Whyman, B.P. Binks, J. Phys. Chem. C 119, 9910 (2015)

49

S. Nakata, S. Ichi Hiromatsu, Chem. Phys. Lett. 405, 39 (2005)

50

Z. Izri, M.N. Van Der Linden, S. Michelin, O. Dauchot, Phys. Rev. Lett. 113, 248302 (2014)

51

D. Okawa, S.J. Pastine, A. Zettl, J.M. Fréchet, J. Am. Chem. Soc. 131, 5396 (2009)

52

R.T. Mallea, A. Bolopion, J.C. Beugnot, P. Lambert, M. Gauthier, IEEE/ASME Trans. Mechatron. 22, 693 (2017)

53

H. Ebata, M. Sano, Sci. Rep. 5, 8546 (2015)

54

A. Snezhko, I.S. Aranson, W.K. Kwok, Phys. Rev. E 73, 041306 (2006)

55

A. Snezhko, I.S. Aranson, Nat. Mater. 10, 698 (2011)

56

G. Grosjean, M. Hubert, G. Lagubeau, N. Vandewalle, Phys. Rev. E 94, 021101 (2016)

57

A.S. Basu, S.Y. Yee, Y.B. Gianchandani, Virtual components for droplet control using marangoni flows: size-selective filters, traps, channels, and pumps, in 2007 IEEE 20th International Conference on Micro Electro Mechanical Systems (MEMS) (IEEE, 2007) pp. 401--404

58

Y. Couder, S. Protière, E. Fort, A. Boudaoud, Nature 437, 208 (2005)

59

O.S. Pak, E. Lauga, J. Eng. Math. 88, 1 (2014)

60

M. Hubert, G. Grosjean, Y.E. Corbisier, G. Lumay, F. Weyer, N. Obara, N. Vandewalle, arXiv preprint arXiv:1310.3094 (2013)

61

R. Chinomona, J. Lajeunesse, W.H. Mitchell, Y. Yao, S.E. Spagnolie, Soft Matter 11, 1828 (2015)

62

G. Lagubeau, G. Grosjean, A. Darras, G. Lumay, M. Hubert, N. Vandewalle, Phys. Rev. E 93, 053117 (2016)

63

G. Grosjean, M. Hubert, N. Vandewalle, Adv. Colloid Interface Sci. 255, 84 (2018)

64

P.A. Kralchevsky, K. Nagayama, Langmuir 10, 23 (1994)

65

D. Vella, L. Mahadevan, Am. J. Phys. 73, 817 (2005)

66

D.L. Hu, B. Chan, J.W. Bush, Nature 424, 663 (2003)

67

D.L. Hu, J.W. Bush, Nature 437, 733 (2005)

68

S. Gart, D. Vella, S. Jung, Soft Matter 7, 2444 (2011)

69

R. Suter, O. Rosenberg, S. Loeb, H. Wildman, J. Long, J. Exp. Biol. 200, 2523 (1997)

70

X.Q. Feng, X. Gao, Z. Wu, L. Jiang, Q.S. Zheng, Langmuir 23, 4892 (2007)

71

J.W. Bush, D.L. Hu, M. Prakash, Adv. Insect Physiol. 34, 117 (2007)

72

Y.S. Song, M. Sitti, IEEE Trans. Robot 23, 578 (2007)

73

X. Zhang, J. Zhao, Q. Zhu, N. Chen, M. Zhang, Q. Pan, ACS Appl. Mater. Interfaces 3, 2630 (2011)

74

G.K. Taylor, R.L. Nudds, A.L. Thomas, Nature 425, 707 (2003)

75

C. Eloy, J. Fluids Struct. 30, 205 (2012)
About this article
Cite this article
Grosjean, G., Hubert, M., Collard, Y. et al. Surface swimmers, harnessing the interface to self-propel. Eur. Phys. J. E 41, 137 (2018). https://doi.org/10.1140/epje/i2018-11747-y
Received:

Accepted:

Published:
Keywords
Topical issue: Flowing Matter, Problems and Applications