Abstract.
With the help of molecular dynamics simulations we study an ensemble of active dumbbells in purely repulsive interaction. We derive the phase diagram in the density-activity plane and we characterise the various phases with liquid, hexatic and solid character. The analysis of the structural and dynamical properties, such as enstrophy, mean-square displacement, polarisation, and correlation functions, shows the continuous character of liquid and hexatic phases in the coexisting region when the activity is increased starting from the passive limit.
Graphical abstract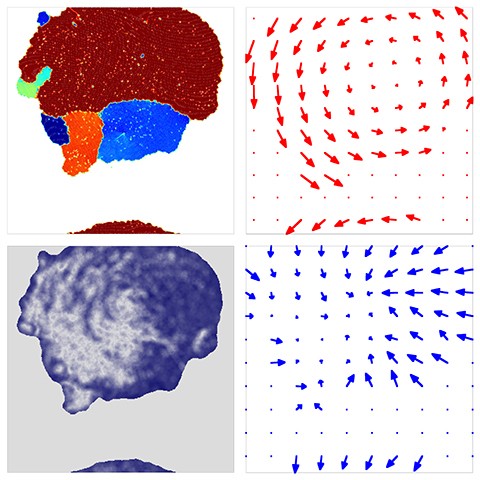 This is a preview of subscription content, log in to check access.
Access options
Buy single article
Instant access to the full article PDF.
US$ 39.95
Price includes VAT for USA
Subscribe to journal
Immediate online access to all issues from 2019. Subscription will auto renew annually.
US$ 199
This is the net price. Taxes to be calculated in checkout.
References
1

J. Palacci, C. Cottin-Bizonne, C. Ybert, L. Bocquet, Phys. Rev. Lett. 105, 088304 (2010)

2

I. Theurkauff, C. Cottin-Bizonne, J. Palacci, C. Ybert, L. Bocquet, Phys. Rev. Lett. 108, 268303 (2012)

3

A. Bricard, J.-B. Caussin, N. Desreumaux, O. Dauchot, D. Bartolo, Nature 503, 95 (2013)

4

I. Buttinoni, J. Bialké, F. Kümmel, H. Löwen, C. Bechinger, T. Speck, Phys. Rev. Lett. 110, 238301 (2013)

5

W.F. Paxton, K.C. Kistler, C.C. Olmeda, A. Sen, S.K.S. Angelo, Y. Cao, T.E. Mallouk, P.E. Lammert, V.H. Crespi, J. Am. Chem. Soc. 126, 13424 (2004)

6

S. Thutupalli, R. Seemann, S. Herminghaus, New J. Phys. 13, 073021 (2011)

7

T. Sanchez, D.T.N. Chen, S.J. DeCamp, M. Heymann, Z. Dogic, Nature 491, 431 (2012)

8

T. Surrey, F. Nédélec, S. Leibler, E. Karsenti, Science 292, 1167 (2001)

9

P.M. Bendix, G.H. Koenderink, D. Cuvelier, Z. Dogic, B.N. Koeleman, W.M. Brieher, C.M. Field, L. Mahadevan, D.A. Weitz, Biophys. J. 94, 3126 (2008)

10

V. Narayan, S. Ramaswamy, N. Menon, Science 317, 105 (2007)

11

A. Kudrolli, G. Lumay, D. Volfson, L.S. Tsimring, Phys. Rev. Lett. 100, 058001 (2008)

12

J. Deseigne, O. Dauchot, H. Chaté, Phys. Rev. Lett. 105, 098001 (2010)

13

C.A. Weber, T. Hanke, J. Deseigne, S. Léonard, O. Dauchot, E. Frey, H. Chaté, Phys. Rev. Lett. 110, 208001 (2013)

14

D.A. Fletcher, P.L. Geissler, Ann. Rev. Phys. Chem. 60, 469 (2009)

15

G.I. Menon, Active matter, in Rheology of Complex Fluids, edited by Abhijit P. Deshpande (Springer, 2010) pp. 193--218

16

S. Ramaswamy, Annu. Rev. Condens. Matter Phys. 1, 323 (2010)

17

T. Vicsek, A. Zafeiris, Phys. Rep. 517, 71 (2012)

18

M.C. Marchetti, J.F. Joanny, S. Ramaswamy, T.B. Liverpool, J. Prost, M. Rao, R.A. Simha, Rev. Mod. Phys. 85, 1143 (2013)

19

M.E. Cates, Rep. Prog. Phys. 75, 042601 (2012)

20

P. Romanczuk, M. Bär, W. Ebeling, B. Lindner, L. Schimansky-Geier, Eur. Phys. J. ST 202, 1 (2012)

21

U.S. Schwarz, S.A. Safran, Rev. Mod. Phys. 85, 1327 (2013)

22

G. de Magistris, D. Marenduzzo, Physica A 418, 65 (2015)

23

J. Elgeti, R. Winkler, G. Gompper, Rep. Prog. Phys. 78, 056601 (2015)

24

G. Gonnella, D. Marenduzzo, A. Suma, A. Tiribocchi, C. R. Phys. 16, 316 (2015)

25

J.A. Park et al., Nat. Mater. 14, 1040 (2015)

26

G. Lambert, A. Bergmann, Q. Zhang, D. Bortz, R. Austin, New J. Phys. 16, 045005 (2014)

27

N. Kumar, H. Soni, S. Ramaswamy, A.K. Sood, Nat. Commun. 5, 4688 (2014)

28

D.E. Koshland Jr., Annu. Rev. Biochem. 50, 765 (1981)

29

N. Mendelson, A. Bourque, K. Wilkening, K. Anderson, J. Watkins, J. Bacteriol. 181, 600 (1999)

30

C. Dombrowski, L. Cisneros, S. Chatkaew, R. Goldstein, J. Kessler, Phys. Rev. Lett. 93, 098103 (2004)

31

L. Cisneros, R. Cortez, C. Dombrowski, R. Goldstein, J. Kessler, Exp. Fluids 43, 737 (2007)

32

A. Sokolov, I. Aranson, J. Kessler, R. Goldstein, Phys. Rev. Lett. 98, 158102 (2007)

33

H. Zhang, A. Be'er, R. Smith, E.-L. Florin, H. Swinney, Europhys. Lett. 87, 48011 (2009)

34

A.L. Thorneywork, J.L. Abbott, D.G.A.L. Aarts, R.P.A. Dullens, Phys. Rev. Lett. 118, 158001 (2017)

35

D. Volfson, S. Cookson, J. Hasty, L.S. Tsimring, Proc. Natl. Acad. Sci. U.S.A. 105, 15346 (2008)

36

I. Riedel, K. Kruse, J. Howard, Science 309, 300 (2005)

37

B. Szabó, G.J. Szöllösi, B. Gönci, Z. Jurányi, D. Selmeczi, T. Vicsek, Phys. Rev. E 74, 061908 (2006)

38

H.H. Wensink, J. Dunkel, S. Heidenreich, K. Drescher, R.E. Goldstein, H. Löwen, J.M. Yeomans, Proc. Natl. Acad. Sci. U.S.A. 109, 14308 (2012)

39

H.H. Wensink, H. Löwen, J. Phys.: Condens. Matter 24, 464130 (2012)

40

D.F. Hinz, A. Panchenko, T.Y. Kim, E. Fried, Comput. Phys. Commun. 196, 45 (2015)

41

C. Tung, J. Harder, C. Valeriani, A. Cacciuto, Soft Matter 12, 555 (2016)

42

J.T. Siebert, J. Letz, T. Speck, P. Virnau, Soft Matter 13, 1020 (2017)

43

L.F. Valadares, Y.-G. Tao, N.S. Zacharia, V. Kitaev, F. Galembeck, R. Kapral, G.A. Ozin, Small 6, 565 (2010)

44

S. Thakur, R. Kapral, Phys. Rev. E 85, 026121 (2012)

45

G. Rückner, R. Kapral, Phys. Rev. Lett. 98, 150603 (2007)

46

P.H. Colberg, R. Kapral, J. Chem. Phys. 147, 064910 (2017)

47

G. Gonnella, A. Lamura, A. Suma, Int. J. Mod. Phys. C 25, 1441004 (2014)

48

A. Suma, D. Marenduzzo, G. Gonnella, E. Orlandini, EPL 108, 56004 (2014)

49

A. Suma, G. Gonnella, G. Laghezza, A. Lamura, A. Mossa, L.F. Cugliandolo, Phys. Rev. E 90, 052130 (2014)

50

L.F. Cugliandolo, G. Gonnella, A. Suma, Phys. Rev. E 91, 062124 (2015)

51

A. Suma, L.F. Cugliandolo, G. Gonnella, Chaos Solitons 81, 556 (2015)

52

A. Suma, L.F. Cugliandolo, G. Gonnella, J. Stat. Mech. 2016, 054029 (2016)

53

L.F. Cugliandolo, P. Digregorio, G. Gonnella, A. Suma, Phys. Rev. Lett. 119, 119 (2017)

54

T. Vicsek, A. Czirók, E. Ben-Jacob, I. Cohen, O. Shochet, Phys. Rev. Lett. 75, 1226 (1995)

55

A. Czirók, H.E. Stanley, T. Vicsek, J. Phys. A: Math. Gen. 30, 1375 (1999)

56

F. Peruani, A. Deutsch, M. Bär, Phys. Rev. E 74, 030904(R) (2006)

57

F. Ginelli, F. Peruani, M. Bär, H. Chaté, Phys. Rev. Lett. 104, 184502 (2010)

58

Y. Yang, V. Marceau, G. Gompper, Phys. Rev. E 82, 031904 (2010)

59

J. Tailleur, M.E. Cates, Phys. Rev. Lett. 100, 218103 (2008)

60

M.E. Cates, D. Marenduzzo, I. Pagonabarraga, J. Tailleur, Proc. Natl. Acad. Sci. U.S.A. 107, 11715 (2010)

61

A.P. Solon, J. Stenhammar, M.E. Cates, Y. Kafri, J. Tailleur, arXiv:1609:03483 (2016)

62

A.P. Solon, J. Stenhammar, M.E. Cates, Y. Kafri, J. Tailleur, arXiv:1803.06159 (2018)

63

Y. Fily, M.C. Marchetti, Phys. Rev. Lett. 108, 235702 (2012)

64

Y. Fily, S. Henkes, M.C. Marchetti, Soft Matter 10, 2132 (2014)

65

G.S. Redner, M.F. Hagan, A. Baskaran, Phys. Rev. Lett. 110, 055701 (2013)

66

T.F.F. Farage, P. Krinninger, J.M. Brader, Phys. Rev. E 91, 042310 (2015)

67

N. Koumakis, C. Maggi, R. Di Leonardo, Soft Matter 10, 5695 (2014)

68

U. Marini Bettolo Marconi, C. Maggi, Soft Matter 11, 8768 (2015)

69

G. Szamel, E. Flenner, L. Berthier, Phys. Rev. E 91, 062304 (2015)

70

E. Fodor, C. Nardini, M.E. Cates, J. Tailleur, P. Visco, F. van Wijland, Phys. Rev. Lett. 117, 038103 (2016)

71

B.J. Alder, T.E. Wainwright, Phys. Rev. 127, 359 (1962)

72

D.R. Nelson, B.I. Halperin, Phys. Rev. B 19, 2457 (1979)

73

A.P. Young, Phys. Rev. B 19, 1855 (1979)

74

J.M. Kosterlitz, D.J. Thouless, J. Phys. C 6, 1181 (1973)

75

V.L. Berezinskii, Zh. Eksp. Teor. Fiz. 59, 907 (1971)

76

H. Weber, D. Marx, K. Binder, Phys. Rev. B 51, 14636 (1995)

77

E. Bernard, W. Krauth, D.B. Wilson, Phys. Rev. E 80, 056704 (2009)

78

E. Bernard, W. Krauth, Phys. Rev. Lett. 107, 155704 (2011)

79

M. Engel, J.A. Anderson, S.C. Glotzer, M. Isobe, E.P. Bernard, W. Krauth, Phys. Rev. E 87, 042134 (2013)

80

S. Kapfer, W. Krauth, Phys. Rev. Lett. 114, 035702 (2015)

81

J. Talbot, D.J. Tildesley, J. Chem. Phys. 83, 6419 (1985)

82

T. Boublik, Mol. Phys. 63, 685 (1988)

83

K.W. Wojciechowski, Phys. Rev. B 46, 26 (1992)

84

C.W. Goulding, M. Rigby, Mol. Phys. 75, 623 (1992)

85

R.D. Diehl, C.G. Shaw, S.C. Fain, M.F. Toney, Low-energy electron diffraction results for physisorbed nitrogen on graphite, in Ordering in Two Dimensions, edited by S.K. Sinha (North-Holland, New York, 1980)

86

J. Bialké, T. Speck, H. Löwen, Phys. Rev. Lett. 108, 168301 (2012)

87

J.U. Klamser, S.C. Kapfer, W. Krauth, arXiv:1802.10021 (2018)

88

P. Digregorio, D. Levis, A. Suma, L.F. Cugliandolo, G. Gonnella, I. Pagonabarraga, Phys. Rev. Lett. 121, 098003 (2018)

89

G. Mie, Ann. Phys. 11, 657 (1903)

90

M.P. Allen, D.J. Tildesley, Computer Simulation of Liquids (Oxford University Press, 1989)

91

H.C. Andersen, J. Comput. Phys. 52, 24 (1983)

92

S. Plimpton, J. Comput. Phys. 117, 1 (1995)

93

L.F. Cugliandolo, J. Phys. A 44, 483001 (2011)

94

D. Loi, S. Mossa, L.F. Cugliandolo, Phys. Rev. E 77, 051111 (2008)

95

L.F. Cugliandolo, J. Kurchan, L. Peliti, Phys. Rev. E 55, 3898 (1997)

96

P. Wang, C. Song, C. Briscoe, H.A. Makse, Phys. Rev. E 77, 061309 (2008)

97

P. Jop, A. Petrosyan, S. Ciliberto, Philos. Mag. 88, 4205 (2008)

98

N. Greinert, T. Wood, P. Bartlett, Phys. Rev. Lett. 97, 265702 (2006)

99

D. Levis, L. Berthier, EPL 111, 60006 (2015)

100

C.H. Rycroft, Chaos 19, 041111 (2009)

101

K.W. Wojciechowski, D. Frenkel, A.C. Brańka, Phys. Rev. Lett. 66, 3168 (1991)

102

C. Valeriani, M. Li, J. Novosel, J. Arlt, D. Marenduzzo, Soft Matter 7, 5228 (2011)

103

M. Ester, H. Kriegel, J. Sander, X. Xu, A density-based algorithm for discovering clusters in large spatial databases with noise, in Proceedings of the Second International Conference on Knowledge Discovery and Data Mining (KDD-96), Portland, Oregon, USA, 1996 (AAAI Press, Menlo Park, CA) 1996, pp. 226--231

104

D. Loi, S. Mossa, L.F. Cugliandolo, Soft Matter 7, 3726 (2011)

105

D. Loi, S. Mossa, L.F. Cugliandolo, Soft Matter 7, 10193 (2011)

106

C. Chamon, L.F. Cugliandolo, J. Stat. Mech. 2007, P07022 (2007)

107

L.F. Cugliandolo, J. Kurchan, J. Phys. Soc. Jpn. Suppl. A 69, 247 (2000)

108

S. Fielding, P. Sollich, Phys. Rev. Lett. 88, 050603 (2002)

109

Z. Preisler, M. Dijkstra, Soft Matter 12, 6043 (2016)

110

E.B. Isaac, E. Fodor, P. Visco, F. van Wijland, N.S. Gov, Phys. Rev. E 92, 012716 (2015)

111

S.K. Nandi, N.S. Gov, arXiv:1804.00219 (2018)

112

J. Tailleur, M.E. Cates, EPL 86, 60002 (2009)

113

S. Wang, P.G. Wolynes, J. Chem. Phys. 135, 051101 (2011)

114

G. Szamel, Phys. Rev. E 90, 012111 (2014)

115

P. Martin, A.J. Hudspeth, F. Jülicher, Proc. Natl. Acad. Sci. U.S.A. 98, 14380 (2001)

116

D. Mizuno, C. Tardin, C.F. Schmidt, F.C. MacKintosh, Science 315, 370 (2007)

117

E. Ben-Isaac, Y.-K. Park, G. Popescu, F.L. Brown, N.S. Gov, Y. Shokef, Phys. Rev. Lett. 106, 238103 (2011)

118

S.-H. Chong, A.J. Moreno, F. Sciortino, W. Kob, Phys. Rev. Lett. 94, 215701 (2005)

119

A.J. Moreno, S.-H. Chong, W. Kob, F. Sciortino, J. Chem. Phys. 123, 204505 (2005)

120

S.-H. Chong, W. Kob, Phys. Rev. Lett. 102, 025702 (2009)

121

R. Mandal, P.J. Bhuyan, P. Chaudhuri, M. Rao, C. Dasgupta, Phys. Rev. E 96, 2 (2017)

122

S.K. Nandi, R. Mandal, P.J. Bhuyan, C. Dasgupta, M. Rao, N.S. Gov, Proc. Natl. Acad. Sci. U.S.A. 115, 7688 (2018)
About this article
Cite this article
Petrelli, I., Digregorio, P., Cugliandolo, L.F. et al. Active dumbbells: Dynamics and morphology in the coexisting region. Eur. Phys. J. E 41, 128 (2018). https://doi.org/10.1140/epje/i2018-11739-y
Received:

Accepted:

Published:
Keywords
Topical issue: Flowing Matter, Problems and Applications