Abstract
By using an optical interferometer composed of a dielectric laser ellipsometer, to change the optical response of transverse electric and magnetic incident radiation, and two polarisers, to trigger the interference pattern induced by the relative Goos-Hänchen phase, we show under which conditions it is possible to optimize the laser power oscillations induced by the relative phase difference between orthogonal polarised states. The Goos-Hänchen interference can then be used to sense rotation, to test optical components, and to simulate quarter and half wave plates.
Graphical abstract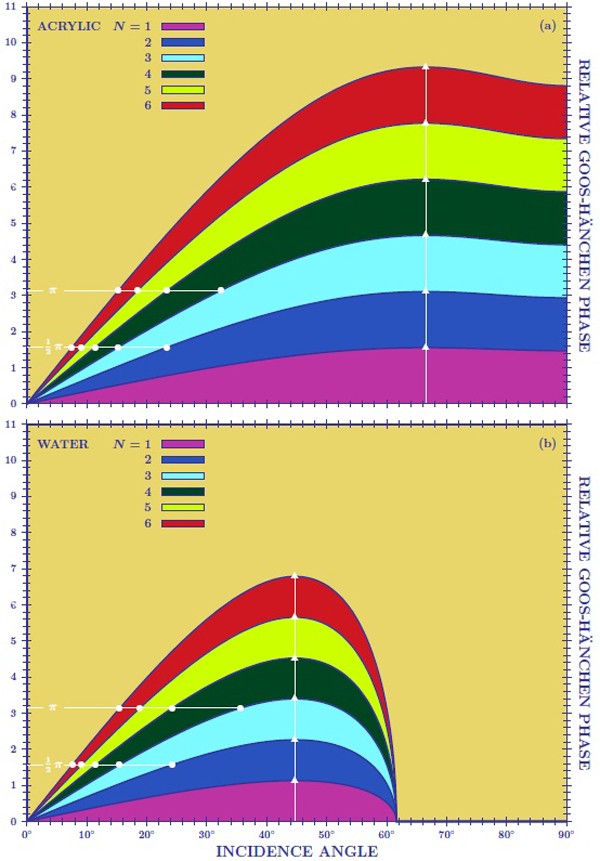 This is a preview of subscription content, log in to check access.
Access options
Buy single article
Instant unlimited access to the full article PDF.
US$ 39.95
Price includes VAT for USA
Subscribe to journal
Immediate online access to all issues from 2019. Subscription will auto renew annually.
US$ 199
This is the net price. Taxes to be calculated in checkout.
References
1.

M. Born, E. Wolf, Principles of Optics (Cambridge University Press, Cambridge, 1999)

2.

B.E.A. Saleh, M.C. Teich, Fundamentals of Photonics (Wiley & Sons, New York, 2007)

3.

D.J. Griffiths, Introduction to Elementary Particles (Wiley-Vch, New York, 2008)

4.

M.C. Gonzalez-Garcia, Y. Nir, Rev. Mod. Phys. 75, 345 (2003)

5.

T. Young, Philos. Trans. R. Soc. London 92, 12 (1802)

6.

P. Hariharan, Basics of Interferometry (Academic Press, 1992)

7.

Y. Aharonov, D.Z. Albert, L. Vaidman, Phys. Rev. Lett. 60, 1351 (1988)

8.

I.M. Duck, P.M. Stevenson, Phys. Rev. D 40, 2112 (1989)

9.

M.P. Araújo, S. De Leo, G.G. Maia, J. Opt. 17, 035608 (2015)

10.

F. Goos, H. Hänchen, Ann. Phys. 436, 333 (1947)

11.

K. Artmann, Ann. Phys. 437, 87 (1948)

12.

F. Goos, H. Hänchen, Ann. Phys. 440, 251 (1949)

13.

G. Jayaswal, G. Mistura, M. Merano, Opt. Lett. 38, 1232 (2013)

14.

O. Santana, S. Carvalho, S. De Leo, L. de Araujo, Opt. Lett. 41, 3884 (2016)

15.

B.R. Horowitz, T. Tamir, J. Opt. Soc. Am. 61, 586 (1971)

16.

C.C. Chan, T. Tamir, J. Opt. Soc. Am. A 4, 655 (1987)

17.

A. Aiello, New J. Phys. 14, 013058 (2012)

18.

K.Y. Bliokh, A. Aiello, J. Opt. 15, 014001 (2013)

19.

M.P. Araújo, S.A. Carvalho, S. De Leo, J. Mod. Opt. 60, 1772 (2013)

20.

M.P. Araújo, S.A. Carvalho, S. De Leo, Phys. Rev. A 90, 033844 (2014)

21.

M.P. Araújo, S.A. Carvalho, S. De Leo, J. Opt. 16, 015702 (2014)

22.

M.P. Araújo, S. De Leo, G.G. Maia, Phys. Rev. A 93, 023801 (2016)
About this article
Cite this article
Araújo, M.P., De Leo, S., Maia, G.G. et al. Power oscillations induced by the relative Goos-Hänchen phase. Eur. Phys. J. D 73, 213 (2019). https://doi.org/10.1140/epjd/e2019-90571-8
Received:

Revised:

Published:
Keywords
Optical Phenomena and Photonics