Abstract
We have studied the time delays of slow electrons scattered by a rectangular in spherical coordinates potential well as function of the well parameters. We have shown that electron interaction with the scattering center qualitatively depends on the presence of discrete levels in the well. While electron retention by the scattering center dominates for the potential well with no discrete levels, the appearance of a level leads to an opposite situation where the incident electron hardly enters the scatterer. Such a behavior of the time delay is universal since it is found not only for the first s-level but also for the subsequent arising s-, p-, and d-levels.
Graphical abstract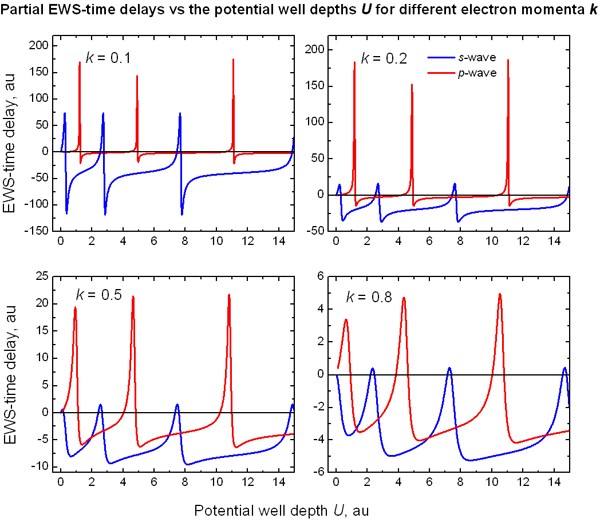 This is a preview of subscription content, log in to check access.
Access options
Buy single article
Instant unlimited access to the full article PDF.
US$ 39.95
Price includes VAT for USA
Subscribe to journal
Immediate online access to all issues from 2019. Subscription will auto renew annually.
US$ 199
This is the net price. Taxes to be calculated in checkout.
References
1.

M.J. Rosker, M. Dantus, A.H. Zewail, J. Chem. Phys. 89, 6113 (1988)

2.

A.H. Zewail, Science 242, 1645 (1988)

3.

A.H. Zewail, Angew. Chem. Int. Ed. Engl. 39, 2586 (2000)

4.

A.H. Zewail, Pure Appl. Chem. 72, 2219 (2000)

5.

A.S. Kheifets, Phys. Rev. A 87, 063404 (2013)

6.

R. Pazourek, S. Nagele, J. Burgdörfer, Rev. Mod. Phys. 87, 765 (2015)

7.

P. Hockett, E. Frumker, D.M. Villeneuve, P.B. Corkum, J. Phys. B 49, 095602 (2016)

8.

L.E. Eisenbud, Ph.D. thesis, Princeton University, 1948

9.

E.P. Wigner, Phys. Rev. 98, 145 (1955)

10.

F.T. Smith, Phys. Rev. 118, 349 (1960)

11.

U. Heinzmann, Attosecond physics, in Springer Series in Optical Sciences, edited by L. Plaja, R. Torres, A. Zar (Springer, Berlin/Heidelberg, 2013), Vol. 177, p. 231

12.

M.Ya Amusia, A.S. Baltenkov, J. Phys. B 52, 015101 (2019)

13.

L.L. Lohr, S.M. Blinder, Chem. Phys. Lett. 198, 100 (1992)

14.

M.Ya Amusia, A.S. Baltenkov, JETP Lett. 109, 507 (2019)

15.

M. Abramowitz, I.A. Stegun, Handbook of Mathematical Functions (Dover, New York, 1965)

16.

L.I. Schiff, Quantum Mechanics. 3rd edn.(McGraw-Hill, 1968)

17.

E.P. Wigner, Phys. Rev. 73, 1002 (1948)

18.

M. Wellner, Am. J. Phys. 32, 787 (1964)
About this article
Cite this article
Amusia, M.Y., Baltenkov, A.S. & Woiciechowski, I. Partial time delays in elastic electron scattering by rectangular potential well with arising discrete levels. Eur. Phys. J. D 73, 265 (2019) doi:10.1140/epjd/e2019-100395-3
Received:

Revised:

Published:
Keywords
Atomic and Molecular Collisions