Abstract
The effect of vibrational excitation on reaction C+SH (v = 0–20, j = 0) → S+CH, H+CS is investigated on the excited potential energy surface of HCS(A2A″) by the quasi-classical trajectory method. The obtained reaction probability, total integral cross section (ICS), and the impact parameter show that the influence of vibration excitation presents different characteristics on different reaction channels. The vibrational state-resolved ICSs, differential cross sections as well as two-angle distribution functions P(θr), P(ϕr) of products for different vibrational quantum numbers of reactant are investigated. These results show that (i) the products have obvious forward–backward scattering feature; (ii) for different reactions, the distribution P(θr) varies with vibrational quantum number of reactant; (iii) at high vibrational excitations of the reactant, the insertion mechanism becomes apparent in this reaction, so the product molecules are more positively oriented along the positive direction of the scattering plane.
Graphical abstract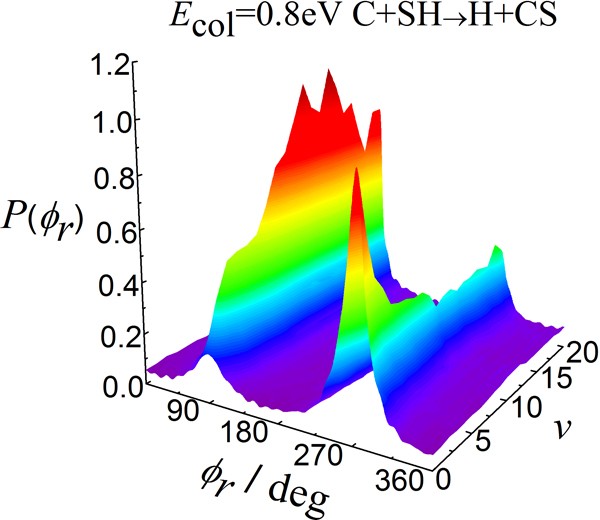 This is a preview of subscription content, log in to check access.
Access options
Buy single article
Instant unlimited access to the full article PDF.
US$ 39.95
Price includes VAT for USA
Subscribe to journal
Immediate online access to all issues from 2019. Subscription will auto renew annually.
US$ 199
This is the net price. Taxes to be calculated in checkout.
References
1.

R.I. Kaiser, W. Sun, A.G. Suits, J. Chem. Phys. 106, 5288 (1997)

2.

H.H. Lee, R.P.A. Bettens, E. Herbst, Astron. Astrophys. Suppl. Ser. 119, 111 (1996)

3.

H. Habara, S. Yamamoto, C. Ochsenfeld, M. Head-Gordon, R.I. Kaiser, Y.T. Lee, J. Chem. Phys. 108, 8859 (1998)

4.

H. Habara, S. Yamamoto, T. Amano, J. Chem. Phys. 116, 9232 (2002)

5.

H. Habara, S. Yamamoto, J. Chem. Phys. 112, 10905 (2000)

6.

H. Habara, S. Yamamoto, J. Mol. Spectrosc. 219, 30 (2003)

7.

M. Agúndez, N. Marcelino, J. Cernicharo, M. Tafalla, Astron. Astrophys. 611, L1 (2018)

8.

Y.Z. Song, L.L. Zhang, S.B. Gao, Q.T. Meng, Sci. Rep. 6, 37734 (2016)

9.

L.L. Zhang, S.B. Gao, Y.Z. Song, Q.T. Meng, J. Phys. B: At. Mol. Opt. Phys. 51, 065202 (2018)

10.

L.L. Zhang, S.B. Gao, Y.Z. Song, D.G. Yue, G.M. Chen, Q.T. Meng, Can. J. Phys. 95, 1219 (2017)

11.

T. Stoecklin, P. Halvick, J.C. Rayez, J. Mol. Struct. (Theochem.) 163, 267 (1988)

12.

T. Stoecklin, J.C. Rayez, B. Duguay, Chem. Phys. 148, 381 (1990)

13.

T. Stoecklin, J. Rayez, B. Duguay, Chem. Phys. 148, 399 (1990)

14.

A.I. Voronin, Chem. Phys. 297, 49 (2004)

15.

J.C. Yuan, Z.X. Duan, S.F. Wang, J.Y. Liu, K.L. Han, Phys. Chem. Chem. Phys. 20, 20641 (2018)

16.

A. Zanchet, O. Roncero, N. Bulut, Phys. Chem. Chem. Phys. 18, 11391 (2016)

17.

T. Zhang, X.-M. Qian, X.N. Tang, C.Y. Ng, Y. Chiu, D.J. Levandier, J.S. Miller, R.A. Dressler, J. Chem. Phys. 119, 10175 (2003)

18.

R.A. Dressler, Y. Chiu, J. Chem. Phys. 125, 132306 (2006)

19.

P. Gamallo, R. Martinez, J.D. Sierra, M. Gonzalez, Phys. Chem. Chem. Phys. 16, 6641 (2014)

20.

J. Mayneris, J.D. Sierra, M. González, J. Chem. Phys. 128, 194307 (2008)

21.

J. Mayneris-Perxachs, M. González, J. Phys. Chem. A 113, 4105 (2009)

22.

P. Gamallo, P. Defazio, M. González, J. Phys. Chem. 115, 11525 (2011)

23.

P. Gamallo, F. Huarte-Larrañaga, M. González, J. Phys. Chem. A 117, 5393 (2013)

24.

H.W. Song, H. Guo, J. Phys. Chem. A 119, 6188 (2015)

25.

Y.H. Wang, M. Peng, J.Y. Tong, Y.L. Wang, J. Chem. Sci. 127, 1497 (2015)

26.

S.B. Gao, J. Zhang, Y.Z. Song, Q.T. Meng, Eur. Phys. J. D 69, 111 (2015)

27.

S.B. Gao, L.L. Zhang, Y.Z. Song, Q.T. Meng, Chem. Phys. Lett. 651, 233 (2016)

28.

J. Zhang, S.B. Gao, H. Wu, Q.T. Meng, J. Phys. Chem. A 119, 8959 (2015)

29.

X.L. Wang, F. Gao, S.B. Gao, L.L. Zhang, Y.Z. Song, Q.T. Meng, Chin. Phys. B 27, 043104 (2018)

30.

Y.Z. Song, L.L. Zhang, E. Cao, Q.T. Meng, M.Y. Ballester, Theor. Chem. Acc. 136, 38 (2017)

31.

L.L. Zhang, Y.Z. Song, S.B. Gao, Q.T. Meng, J. Phys. Chem. A 122, 4390 (2018)

32.

M. Karplus, R.N. Porter, R.D. Sharma, J. Chem. Phys. 43, 3259 (1965)

33.

G.C. Schatz, M.C. Colton, J.L. Grant, J. Phys. Chem. 88, 2971 (1984)

34.

R. Sayós, J. Hernando, R. Francia, M. González, Phys. Chem. Chem. Phys. 2, 523 (2000)

35.

M. González, I. Miquel, R. Sayós, J. Chem. Phys. 115, 2530 (2001)

36.

K.L. Han, G.Z. He, N.Q. Lou, J. Chem. Phys. 105, 8699 (1996)

37.

K.L. Han, L. Zhang, D.L. Xu, G.Z. He, N.Q. Lou, J. Phys. Chem. A 105, 2956 (2001)

38.

M.D. Chen, K.L. Han, N.Q. Lou, Chem. Phys. Lett. 357, 483 (2002)

39.

J. Davidsson, G. Nyman, J. Chem. Phys. 92, 2407 (1990)

40.

G. Nyman, J. Davidsson, J. Chem. Phys. 92, 2415 (1990)

41.

A.J.C. Varandas, Chem. Phys. Lett. 225, 18 (1994)

42.

A. Karton, J.M.L. Martin, Theor. Chem. Acc. 115, 330 (2006)

43.

A.J.C. Varandas, J. Chem. Phys. 126, 244105 (2007)

44.

A.J.C. Varandas, J. Chem. Phys. 113, 8880 (2000)

45.

Robert J. Le Roy, J. Quant. Spectrosc. Radiat. Transfer 186, 167 (2017)

46.

F.J. Aoiz, L. Banares, V.J. Herrero, J. Phys. Chem. A 110, 12546 (2006)

47.

P.G. Jambrina, I. Montero, F.J. Aoiz, J. Aldegunde, J.M. Alvarino, Phys. Chem. Chem. Phys. 14, 16338 (2012)

48.

R.S. Tan, H.C. Zhai, F. Gao, D.M. Tong, S.Y. Lin, Phys. Chem. Chem. Phys. 18, 15673 (2016)

49.

J.C. Polanyi, Angew. Chem. Int. Ed. 26, 952 (2010)

50.

J. Zhao, Y. Luo, Chin. Phys. B 20, 043402 (2011)

51.

X. Zhang, T.X. Xie, M.Y. Zhao, K.L. Han, Chin. J. Chem. Phys. 15, 169 (2002)
About this article
Cite this article
Yue, D., Zhang, L., Zhao, J. et al. HCS(A2A″)-based insights into the effect of vibrational excitation on the reactions C+SH (v = 0–20, j = 0) → S+CH, H+CS. Eur. Phys. J. D 73, 219 (2019). https://doi.org/10.1140/epjd/e2019-100172-x
Received:

Revised:

Published:
Keywords
Atomic and Molecular Collisions