Abstract
We provide an exact analytical model of the 1D Gross-Pitäevskii equation for a composite trap, which is capable of producing a variety of potentials: a general power-law, harmonic, tunable double-well etc. We derive a family of exact solitary wave solution for condensate density, which can be controlled by tuning the trap parameters. The fact that the minima positions can be controlled and the potential can also be made asymmetric makes it a favorable candidate for quantum information processing. Coherent control of the condensate profile is investigated, where it shows interesting collapse and revival. Moreover, the obtained two-soliton solution follows periodic and bi-periodic trajectories. A numerical study of the condensate dynamics is carried out to verify our result, which is also supported by a numerical stability analysis.
Graphical abstract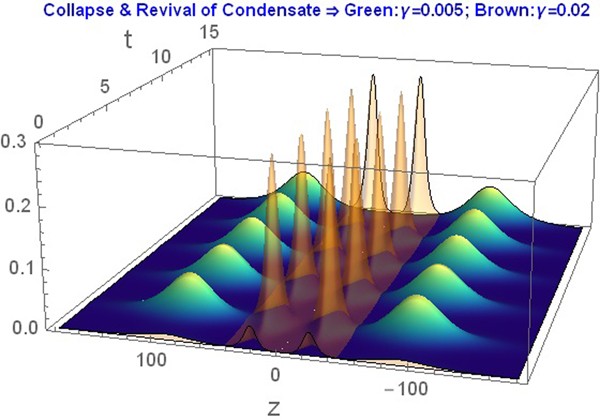 This is a preview of subscription content, log in to check access.
Access options
Buy single article
Instant access to the full article PDF.
US$ 39.95
Price includes VAT for USA
Subscribe to journal
Immediate online access to all issues from 2019. Subscription will auto renew annually.
US$ 199
This is the net price. Taxes to be calculated in checkout.
References
1.

F. Dalfovo, S. Giorgini, L.P. Pitäevskii, S. Stringari, Rev. Mod. Phys. 71, 463 (1999)

2.

Y.V. Kartashov, B.A. Malomed, L. Torner, Rev. Mod. Phys. 83, 247 (2011)

3.

R. Gupta, S. Loomba, C.N. Kumar, IEEE J. Quantum Electron. 48, 847 (2012)

4.

A.D. Cronin, J. Schmiedmayer, D.E. Pritchard, Rev. Mod. Phys. 81, 1051 (2009)

5.

H. Ott, J. Fortagh, G. Schlotterbeck, A. Grossmann, C. Zimmermann, Phys. Rev. Lett. 87, 230401 (2001)

6.

Y. Wang, D.Z. Anderson, V.M. Bright, E.A. Cornell, Q. Diot, T. Kishimoto, M. Prentiss, R.A. Saravanan, S.R. Segal, S. Wu, Phys. Rev. Lett. 94, 090405 (2005)

7.

R. Bücker, J. Grond, S. Manz, T. Berrada, T. Betz, C. Koller, U. Hohenester, T. Schumm, A. Perrin, J. Schmiedmayer, Nat. Phys. 7, 608 (2011)

8.

T. Schumm, S. Hofferberth, L.M. Andersson, S. Wildermuth, S. Groth, I. Bar-Joseph, J. Schmiedmayer, P. Kruger, Nat. Phys. 1, 57 (2005)

9.

Y. Shin, M. Saba, A. Schirotzek, T.A. Pasquini, A.E. Leanhardt, D.E. Pritchard, W. Ketterle, Phys. Rev. Lett. 92, 150405 (2004)

10.

M. Albiez, R. Gati, J. Fölling, S. Hunsmann, M. Cristiani, M.K. Oberthaler, Phys. Rev. Lett. 95, 010402 (2005)

11.

Y. Shin, M. Saba, A. Schirotzek, T.A. Pasquini, A.E. Leanhardt, D.E. Pritchard, W. Ketterle, Phys. Rev. Lett. 92, 150401 (2004)

12.

S. Giovanazzi, R. Shenoy, A. Smerzi, S. Fantoni, Phys. Rev. Lett. 79, 4950 (1997)

13.

S. Inouye, M.R. Andrews, J. Stenger, H.J. Miesner, D.M. Stamper-Kurn, W. Ketterle, Nature 392, 151 (1998)

14.

B. Juliá-Daz, J. Martorell, A. Polls, Phys. Rev. A 81, 063625 (2010)

15.

Z. Yan, D. Jiang, Phys. Rev. E 85, 056608 (2012)

16.

L.P. Pitäevskii, S. Stringari, Bose-Einstein Condensation (Oxford University Press, Oxford, 2003)

17.

P. Zin, E. Infeld, M. Matuszewski, G. Rowlands, M. Trippenbach, Phys. Rev. A 73, 022105 (2006)

18.

D.R. Dounas-Frazer, A.M. Hermundstad, L.D. Carr, Phys. Rev. Lett. 99, 200402 (2007)

19.

U. Roy, B. Shah, K. Abhinav, P.K. Panigrahi, J. Phys. B: At. Mol. Opt. Phys. 44, 035302 (2011)

20.

U. Roy, R. Atre, C. Sudheesh, C.N. Kumar, P.K. Panigrahi, J. Phys. B: At. Mol. Opt. Phys. 43, 025003 (2010)

21.

R. Atre, P.K. Panigrahi, G.S. Agarwal, Phys. Rev. E 73, 056611 (2006)

22.

K. Porsezian, R. Ganapathy, A. Hasegawa, V.N. Serkin, IEEE J. Quantum Electron. 45, 1577 (2009)

23.

J. Belmonte-Beitia, V.M. Pérez-Gar#ia, V. Vekslerchik, V.V. Konotop, Phys. Rev. Lett. 100, 164102 (2008)

24.

A. Nath, U. Roy, Laser Phys. Lett. 11, 115501 (2014)

25.

A. Nath, U. Roy, J. Phys. A: Math. Theor. 47, 415301 (2014)

26.

Y. Kagan, A.E. Muryshev, G.V. Shlyapnikov, Phys. Rev. Lett. 81, 933 (1998)

27.

B. Kneer, T. Wong, K. Vogel, W.P. Schleich, D.F. Walls, Phys. Rev. A 58, 4841 (1998)

28.

S. Wessel, M. Troyer, Phys. Rev. Lett. 95, 127205 (2005)

29.

N. Syassen, D.M. Bauer, M. Lettner, T. Volz, D. Dietze, J.J. Garća-Ripoll,J.I. Cirac, G. Rempe, S. Dürr, Science 320, 1329 (2008)

30.

S. van Frank, A. Negretti, T. Berrada, R. Bücker, S. Montangero, J.F. Schaff, T. Schumm, T. Calarco, J. Schmiedmayer, Nat. Commun. 5, 4009 (2014)

31.

M. Abramowitz, I.A. Stegun, Handbook of Mathematical Functions (Dover, New York, 1964)
About this article
Cite this article
Nath, A., Bera, J., Ghosh, S. et al. Soliton dynamics for an ingenious trap combination in a Bose-Einstein condensate. Eur. Phys. J. D 74, 27 (2020). https://doi.org/10.1140/epjd/e2019-100103-y
Received:

Revised:

Published:
Keywords
Cold Matter and Quantum Gas