Abstract
A lattice system of spinor atoms or molecules experiencing quadratic Zeeman effect is considered. This can be an optical lattice with sufficiently deep wells at lattice sites, so that the system is in an isolating state, where atoms are well localized. But their effective spins can move in the presence of external magnetic fields. The dynamics of spins, starting from an initial nonequilibrium state, is investigated. The system is immersed into a magnetic coil of an electric circuit, creating a magnetic feedback field. Two types of quadratic Zeeman effect are treated, a nonresonant, so-called static-current quadratic Zeeman effect and a quasi-resonant alternating-current quadratic Zeeman effect. Spin dynamics in these conditions is highly nonlinear. Different regimes of spin dynamics, starting from a strongly nonequilibrium state, are studied. Conditions for realizing fast spin reversal are found, which can be used in quantum information processing and spintronics.
Graphical abstract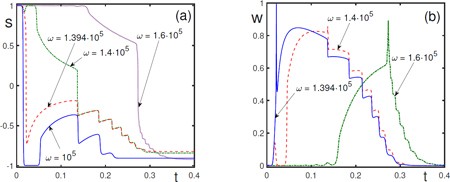 This is a preview of subscription content, log in to check access.
Access options
Buy single article
Instant access to the full article PDF.
US$ 39.95
Price includes VAT for USA
Subscribe to journal
Immediate online access to all issues from 2019. Subscription will auto renew annually.
US$ 199
This is the net price. Taxes to be calculated in checkout.
References
1.

A. Griesmaier, J. Phys. B 40, R91 (2007)

2.

M.A. Baranov, Phys. Rep. 464, 71 (2008)

3.

C.J. Pethick, H. Smith,Bose-Einstein Condensation in Dilute Gases (Cambridge University, Cambridge, 2008)

4.

M. Ueda,Fundamentals and New Frontiers of Bose-Einstein Condensation (World Scientific, Singapore, 2010)

5.

M.A. Baranov, M, Dalmonte, G. Pupillo, P. Zoller, Chem. Rev. 112, 5012 (2012)

6.

B. Gadway, B Yan, J. Phys. B 49, 152002 (2016)

7.

D.M. Stamper-Kurn, M. Ueda, Rev. Mod. Phys. 85, 1191 (2013)

8.

V.I. Yukalov, E.P. Yukalova, Laser Phys. 26, 045501 (2016)

9.

V.I. Yukalov, Laser Phys. 28, 053001 (2018)

10.

F.A. Jenkins, E. Segre, Phys. Rev. 59, 52 (1939)

11.

L.I. Schiff, H. Snyder, Phys. Rev. 59, 59 (1939)

12.

J. Killingbeck, J. Phys. B 12, 25 (1979)

13.

S.L. Coffey, A. Deprit, B. Miller, C.A. Williams, New York Acad. Sci. 497, 22 (1987)

14.

F. Gerbier, A. Widera, S. Folling, O. Mandel, I. Bloch, Phys. Rev. A 73, 041602 (2006)

15.

S.R. Leslie, J. Guzman, M. Vengalattore, J.D. Sau, M.L. Cohen, D.M. Stamper-Kurn, Phys. Rev. A 79, 043631 (2009)

16.

E.M. Bookjans, A. Vinit, C. Raman, Phys. Rev. Lett. 107, 195306 (2011)

17.

C. Cohen-Tannoudji, J. Dupon-Roc, Phys. Rev. A 5, 968 (1972)

18.

L. Santos, M. Fattori, J. Stuhler, T. Pfau, Phys. Rev. A 75, 053606 (2007)

19.

K. Jensen, V.M. Acosta, J.M. Higbie, M.P. Ledbetter, S.M. Rochester, D. Budker, Phys. Rev. A 79, 023406 (2009)

20.

A. de Paz, A. Sharma, A. Chotia, E. Marechal, J. Huckans, P. Pedri, L. Santos, O. Gorceix, L. Vernac, B. Laburthe-Tolra, Phys. Rev. Lett. 111, 185305 (2013)

21.

A.K. Jonscher,Universal Relaxation Rate (Chelsea Dielectrics, London, 1996)

22.

N. Marzari, A.A. Mostofi, J.R. Yates, I. Souza, D. Vanderbilt, Rev. Mod. Phys. 84, 1419 (2012)

23.

V.I. Yukalov, Laser Phys. 12, 1089 (2002)

24.

V.I. Yukalov, E.P. Yukalova, Phys. Part. Nucl. 35, 348 (2004)

25.

V.I. Yukalov, Phys. Rev. B 71, 184432 (2005)

26.

V.I. Yukalov, Laser Phys. 5, 970 (1995)

27.

V.I. Yukalov, Phys. Rev. B 53, 9232 (1996)

28.

V.I. Yukalov, E.P. Yukalova, J. Magn. Magn. Mater. 465, 450 (2018)

29.

N.G. van Kampen,Stochastic Processes in Physics and Chemistry (North-, Amsterdam, 1981)

30.

R. Kubo, M. Toda, N. Hashitsume,Statistical Physics (Springer, Berlin, 1985)

31.

A.S. Mikhailov, Phys. Rep. 184, 307 (1989)

32.

D. ter HaarLectures on Selected Topics in Statistical Mechanics (Pergamon, Oxford, 1977)

33.

A. Abragam, M. Goldman,Nuclear Magnetism: Order and Disorder (Clarendon, Oxford, 1982)

34.

N.N. Bogolubov, Y.A. Mitropolsky,Asymptotic Methods in the Theory of Nonlinear Oscillations (Gordonand Breach, New York, 1961)

35.

M.I. Freidlin, D.A. Wentzell,Random Perturbations of Dynamical Systems (Springer, New York, 1998)

36.

J.A. Morrison, J. McKenna, in Stochastic Differential Equations, edited by J.B. Keller, H.P. McKean (Am. Math. Soc., Providence, 1973), p. 97

37.

C. Frapolli, T. Zibold, A. Invernizzi, K.J. Garcia, J. Dalibard, F. Gerbier, Phys. Rev. Lett. 119, 050404 (2017)

38.

I.S. Grigoriev, E.Z. Meilikhov, eds., Handbook of Physical Quantities (CRC, Boca Raton, 1996)

39.

J.L. Birman, R.G. Nazmitdinov, V.I. Yukalov, Phys. Rep. 526, 1 (2013)

40.

S.J. Prado, C. Trallero-Giner, A.M. Alcalde, V. Lopez-Richard, G.E. Marques, Phys. Rev. B 67, 165306 (2003)
About this article
Cite this article
Yukalov, V.I., Yukalova, E.P. Spin dynamics in lattices of spinor atoms with quadratic Zeeman effect. Eur. Phys. J. D 72, 190 (2018). https://doi.org/10.1140/epjd/e2018-90338-9
Keywords