Abstract
To explore the properties of a two-qubit mixed state, we consider quantum teleportation. The fidelity of a teleported state depends on the resource state purity and entanglement, as characterized by concurrence. Concurrence and purity are functions of state parameters. However, it turns out that a state with larger purity and concurrence, may have comparatively smaller fidelity. By computing teleportation fidelity, concurrence and purity for two-qubit X-states, we show it explicitly. We further show that fidelity changes monotonically with respect to functions of parameters – other than concurrence and purity. A state with smaller concurrence and purity, but larger value of one of these functions has larger fidelity. These functions, thus characterize nonlocal classical and/or quantum properties of the state that are not captured by purity and concurrence alone. In particular, concurrence is not enough to characterize the entanglement properties of a two-qubit mixed state.
Graphical abstract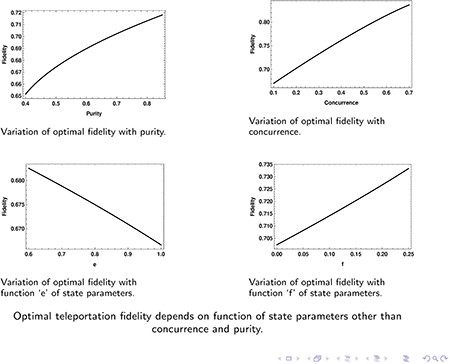 This is a preview of subscription content, log in to check access.
Access options
Buy single article
Instant access to the full article PDF.
US$ 39.95
Price includes VAT for USA
Subscribe to journal
Immediate online access to all issues from 2019. Subscription will auto renew annually.
US$ 199
This is the net price. Taxes to be calculated in checkout.
References
1.

C.H. Bennett, G. Brassard, C. Crépeau, R. Jozsa, A. Peres, W.K. Wootters, Phys. Rev. Lett. 70, 1895 (1993)

2.

A.K. Ekert, Phys. Rev. Lett. 67, 661 (1991)

3.

M. Hillery, V. Buzek, A. Berthiaume, Phys. Rev. A 59, 1829 (1999)

4.

S. Popescu, Phys. Rev. Lett. 72, 797 (1994)

5.

K. Życzkowski, P. Horodecki, A. Sanpera, M. Lewenstein, Phys. Rev. A 58, 883 (1988)

6.

S. Bose, V. Vedral, Phys. Rev. A 61, 040101(R) (2000)

7.

K.G. Paulson, S.V.M Satyanarayana, Phys. Lett. A 381, 1134 (2017)

8.

F. Verstraete, H. Verschelde, Phys. Rev. A 66, 022307 (2002)

9.

W. Wootters, Phys. Rev. Lett. 80, 2245 (1998)

10.

G. Vidal, R.F. Werner, Phys. Rev. A 65, 032314 (2002)

11.

C. Datta, A. Das, S. Nandi, P. Agrawal, in preparation

12.

J.M. Torres, J.Z. Bernád, Phys. Rev. A 94, 052329 (2016)

13.

P.E.M.F. Mendonça, M.A. Marchiolli, D. Galetti, Ann. Phys. 351, 79 (2014)

14.

S. Ishizaka, T. Hiroshima, Phys. Rev. A 62, 022310 (2000)

15.

T. Yu, J.H. Eberly, Quant. Inf. Comput. 7, 459 (2007)

16.

A.R.P. Rau, J. Phys. A Math. Gen.42, 412002 (2009)
About this article
Cite this article
Nandi, S., Datta, C., Das, A. et al. Two-qubit mixed states and teleportation fidelity: purity, concurrence, and beyond. Eur. Phys. J. D 72, 182 (2018). https://doi.org/10.1140/epjd/e2018-90252-2
Received:

Revised:

Published:
Keywords