Abstract
We present two-photon double-electron D-wave excitation in the positronium negative ion by means of demonstration of D-wave autodetaching resonances. An attempt has also been made to locate two new 1De shape resonances in positronium negative ion lying above the Ps(N = 4) threshold. The calculations are based on the framework of complex-coordinate rotation method using correlated exponential wave functions within the framework of complex-coordinate rotation method. We also present the 1De resonance parameters associated with the N = 2, 3, 4 Ps thresholds, and our results are comparable with the available data for the known states in the literature. Seven Feshbach resonances below the N = 4 Ps threshold and two shape resonances above the N = 4 Ps threshold have not been reported until now. In a broad sense, our findings and methods might be useful for the research communities of atomic physics, nuclear physics, and semiconductor quantum dots including excitons.
Graphical abstract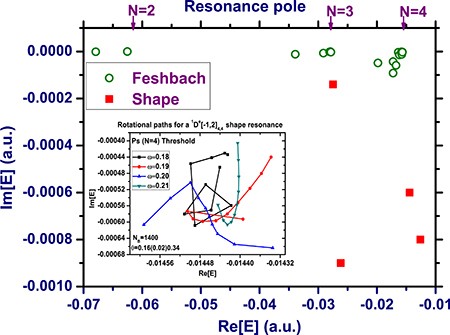 This is a preview of subscription content, log in to check access.
Access options
Buy single article
Instant access to the full article PDF.
US$ 39.95
Price includes VAT for USA
Subscribe to journal
Immediate online access to all issues from 2019. Subscription will auto renew annually.
US$ 199
This is the net price. Taxes to be calculated in checkout.
References
1.

A. Stintz, X.M. Xin, C.E.M. Strauss, W.B. Ingalls, G.A. Kyrala, D.J. Funk, H.C. Bryant, Phys. Rev. Lett. 75, 2924 (1995)

2.

D.C. Rislove, C.E.M. Strauss, H.C. Bryant, M.S. Gulley, D.J. Funk, X. Zhao, W.A. Miller, Phys. Rev. A 58, 1889 (1998)

3.

D. Proulx, R. Shakeshaft, Phys. Rev. A 46, R2221 (1992)

4.

K. Michishio, T. Kanai, S. Kuma, T. Azuma, K. Wada, I. Mochizuki, T. Hyodo, A. Yagishita, Y. Nagashima, Nat. Commun. 7, 11060 (2016)

5.

J.A. Wheeler, Ann. N.Y. Acad. Sci. 48, 221 (1946)

6.

E.A. Hylleraas, Phys. Rev. 71, 491 (1947)

7.

A.P. Mills, Jr., Phys. Rev. Lett. 46, 717 (1981)

8.

A.P. Mills, Jr., Phys. Rev. Lett. 50, 671 (1983)

9.

Y.K. Ho, Phys. Rev. A 48, 4780 (1993)

10.

A.M. Frolov, Phys. Rev. A 60, 2834 (1999)

11.

A.M. Frolov, Phys. Lett. A 342, 430 (2005)

12.

S. Kar, Y. K. Ho, Chem. Phys. Lett. 424, 403 (2006)

13.

M. Puchalski, A. Czarnecki, S.G. Karshenboim, Phys. Rev. Lett. 99, 203401 (2007)

14.

A.M. Frolov, Chem. Phys. Lett. 626, 49 (2015)

15.

B. Saha, T.K. Mukherjee, P.K. Mukherjee, Chem. Phys. Lett. 373, 218 (2003)

16.

G.W.F. Drake, M. Grigorescu, J. Phys. B 38, 3377 (2005)

17.

G.W.F. Drake, M.M. Cassar, R.A. Nistor, Phys. Rev. A 65, 054501 (2002)

18.

M. Barham, J.W. Darewych, J. Phys. B 41, 185001 (2008)

19.

A. Bhatia, R.J. Drachman, Phys. Res. B 143, 195 (1998)

20.

A.K. Bhatia, R.J. Drachman, Phys. Rev. A 32, 3745 (1985)

21.

S.J. Ward, J.W. Humberston, M.R.C. McDowell, J. Phys. B 20, 127 (1987)

22.

S. Kar, Y.K Ho, Few Body Syst. 42, 73 (2008)

23.

A. Igarashi, Few Body Syst. 54, 1561 (2013)

24.

A.P. Mills, Jr., Can J. Phys. 91, 751 (2013)

25.

A.K. Bhatia, R.J. Drachman, Phys. Rev. A 75, 062510 (2007)

26.

S. Kar, Y.K. Ho, Phys. Lett. A 372, 4253 (2008)

27.

S. Kar, H.W. Li, P. Jiang, Phys. Plasma. 20, 083302 (2013)

28.

S. Kar, Y. S. Wang, Y. Wang, Y.K. Ho, Int. J. Quant. Chem. 118, e25515 (2018)

29.

Y. Liang, P.L. McGrath, A. Czarnecki, New J. Phys. 16, 063045 (2014)

30.

Y.K. Ho, Phys. Rev. A 19, 2347 (1979)

31.

C.-Y. Hu, A.A. Kvitsinsky, Phys. Rev. A 50, 1924 (1994)

32.

S. Kar, Y.K. Ho, Phys. Rev. A 71, 052503 (2005)

33.

S. Kar, Y.K. Ho, Phys. Rev. A 73, 032502 (2006)

34.

S. Kar, Y.K. Ho, Eur. Phys. J. D 57, 13 (2010)

35.

S. Kar, Y.K. Ho, Comput. Phys. Commun. 181, 119 (2011)

36.

J. Botero, C.H. Greene, Phys. Rev. Lett. 56, 1366 (1986)

37.

J. Botero, Phys. Rev. A 35, 36 (1987)

38.

J. Botero, Z. Phys. D 8, 77 (1988)

39.

J.M. Rost, D. Wingten, Phys. Rev. Lett. 69, 2499 (1992)

40.

Y. Zhou, C.D. Lin, Phys. Rev. Lett. 75, 2296 (1995)

41.

A. Igarashi, I. Shimamura, J. Phys. B 37, 4221 (2004)

42.

K. Aiba, A. Igarashi, I. Shimamura, J. Phys. B 40, 4221 (2007)

43.

A. Igarashi, I. Shimamura, N. Toshima, New J. Phys. 2, 17 (2000)

44.

A.K. Bhatia, Y.K. Ho, Phys. Rev. A 48, 264 (1993)

45.

I. Ivanov, Y.K. Ho, Phys. Rev. A 60, 1015 (1999)

46.

I. Ivanov, Y.K. Ho, Phys. Rev. A 61, 032501 (2000)

47.

S. Kar, Y.K. Ho, Phys. Rev. A 86, 014501 (2012)

48.

S. Kar, Y.K. Ho, inExcitons, edited by S.L. Pyshkin, (INTECH, London, UK, 2018), Chap. 5, pp. 69–90

49.

S. Kar, Y.K. Ho, Phys. Lett. A 382, 1787 (2018)

50.

L.G. Jiao, Y.K. Ho, Few Body Syst. 54, 1937 (2013)

51.

A. Igarashi, Eur. Phys. J. D 70, 216 (2016)

52.

Y. Nagashima, T. Sakai, New J. Phys. 8, 319 (2006)

53.

Y. Nagashima, T. Hakodate, A. Miyamoto, K. Michishio, New J. Phys. 10, 123029 (2008)

54.

H. Terabe, K. Michishio, T. Tachibana, Y. Nagashima, New J. Phys. 14, 015003 (2012)

55.

Y.K. Ho, inProceedings for Temkin–Drachman Retirement Symposium, edited by A.K. Bhatia (NASA/CP-2006-214146, Goddard Space Flight Center, Greenbelt, MD, USA, 2006), p. 111

56.

Y. Nagashima, Phys. Rep. 545, 95 (2014)

57.

D.B. Cassidy, Eur. Phys. J. D 72, 53 (2018)

58.

S. Kar and Y.K. Ho, Few-Body Syst. 45, 43 (2009)

59.

Y.K. Ho, Phys. Rep. 99, 1 (1983)

60.

M. Shi, J.Y. Guo, Q.L. Liu, Z.U. Niu, T.H. Heng, Phys. Rev. C 92, 054313 (2015)

61.

M. Odsuren, Y. Kikuchi, T. Myo, G. Khuukhenkhuu, H. Masui, K. Kat, Phys. Rev. C 95, 064305 (2017)

62.

L.G. Jiao, Y.K. Ho, Phys. Rev. A 89, 052511 (2014)

63.

C.D. Lin, Phys. Rep. 257, 1 (1995)

64.

A.I. Alekseev, Sov. Phys. JETP 7, 826 (1958)

65.

A.I. Alekseev, Sov. Phys. JEPT 9, 1312 (1959)

66.

Y.K. Ho, Phys. Rev. A 32, 2501 (1985)
About this article
Cite this article
Kar, S., Ho, Y.K. Two-photon double-electron D-wave resonant excitation in the positronium negative ion. Eur. Phys. J. D 72, 193 (2018). https://doi.org/10.1140/epjd/e2018-90250-4
Received:

Revised:

Published:
Keywords