Abstract
Based on phase controlled electromagnetically induced transparency, we propose a scheme for coherent control and storage of a microwave pulse in a linear array of artificial atoms. In particular, we consider the effects of the amplitude and phase of the fields driving the superconducting artificial atoms attached to a one-dimensional transmission line on the storage of a microwave pulse. We show that controlling the relative-phase of the microwave fields coupling the artificial atoms in a three-level Δ-configuration can yield tunable transparency window, which allows the propagation of a microwave pulse. The amplitude-control of the lower-levels coupling field adds a gain signature to the transparency window. Our results show that the absorption of the probe microwave pulse is suppressed and it gets amplified while propagating through an array of artificial atoms. The group velocity of the probe pulse is considerably reduced as a result atoms in a linear array act as coherent microwave memories.
Graphical abstract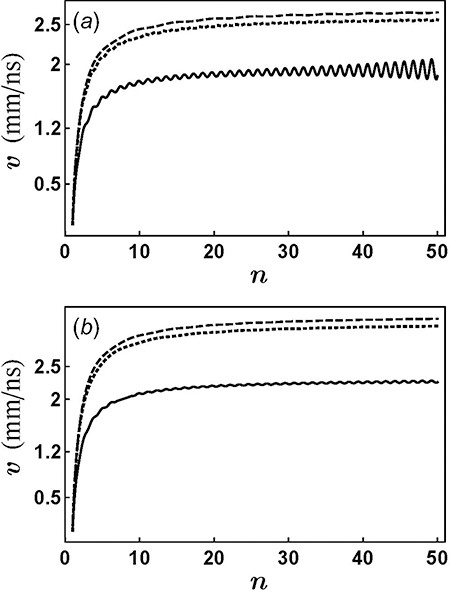 This is a preview of subscription content, log in to check access.
Access options
Buy single article
Instant access to the full article PDF.
US$ 39.95
Price includes VAT for USA
Subscribe to journal
Immediate online access to all issues from 2019. Subscription will auto renew annually.
US$ 199
This is the net price. Taxes to be calculated in checkout.
References
1.

X. Gu, A.F. Kockum, A. Miranowicz, Y. Xi Liu, F. Nori, Phys. Rep. 718-719, 1 (2017)

2.

A.A. Abdumalikov Jr., O. Astafiev, A.M. Zagoskin, Yu. A. Pashkin, Y. Nakamura, J.S. Tsai, Phys. Rev. Lett. 104, 193601 (2010)

3.

M. Marthaler, Y. Utsumi, D.S. Golubev, A. Shnirman, G. Schön, Phys. Rev. Lett. 107, 093901 (2011)

4.

G.L. Cheng, Y.P. Weng, W.X. Zhong, A.X. Chen, Ann. Phys. 353, 64 (2015)

5.

W.R. Kelly, Z. Dutton, J. Schlafer, B. Mookerji, T.A. Ohki, Phys. Rev. Lett. 104, 163601 (2010)

6.

X.Y. Lu, Z.L. Xiang, W. Cui, J.Q. You, F. Nori, Phys. Rev. A 88, 012329 (2013)

7.

M. Reagor et al., Phys. Rev. B 94, 014506 (2016)

8.

A. Megrant et al., Appl. Phys. Lett. 100, 113510 (2012)

9.

P. Rabl et al., Phys. Rev. Lett. 97, 033003 (2006)

10.

D.I. Schuster et al., Phys. Rev. Lett. 105, 140501 (2010)

11.

Y. Kubo, F.R. Ong, P. Bertet, D. Vion, V. Jacques, D. Zheng, A. Dreau, J.F. Roch, A. Auffeves, F. Jelezko, J. Wrachtrup, M.F. Barthe, P. Bergonzo, D. Esteve, Phys. Rev. Lett. 105, 140502 (2010)

12.

J.T. Shen, M.L. Povinelli, S. Sandhu, S. Fan, Phys. Rev. B 75, 035320 (2007)

13.

P.M. Leung , B.C. Sanders, Phys. Rev. Lett. 109, 253603 (2012)

14.

M.Q. Ayaz, M. Waqas, S. Qamar, S. Qamar, Phys. Rev. A 97, 022318 (2018)

15.

J. Joo, J. Bourassa, A. Blais, B.C. Sanders, Phys. Rev. Lett. 105, 073601 (2010)

16.

I. Chiorescu, Y. Nakamura, C.J.P.M. Harmans, J.E. Mooij, Science 299, 1869 (2003)

17.

Y. Nakamura, Yu. A. Pashkin, J.S. Tsai, Nature 398, 786 (1999)

18.

J. Koch, T.M. Yu, J. Gambetta, A.A. Houck, D.I. Schuster, J. Majer, A. Blais, M.H. Devoret, S.M. Girvin, R.J. Schoelkopf, Phys. Rev. A 76, 042319 (2007)

19.

V.E. Manucharyan, J. Koch, L.I. Glazman, M.H. Devoret, Science 326, 113 (2009)

20.

V.E. Manucharyan, Ph.D Thesis, Yale University, 2012

21.

M. Manjappa, S.S. Undurti, A. Karigowda, A. Narayanan, B.C. Sanders, Phys. Rev. A 90, 043859 (2014)

22.

O. Astafiev et al., Science 327, 840 (2010)

23.

H. Lu, X. Liu, D. Mao, Phys. Rev. A 85, 053803 (2012)

24.

P. Lambropoulos, D. Petrosyan,Fundamentals of quantum optics and quantuminformation (Springer-Verlag, Berlin, 2006)

25.

C.M. Wilson et al., Nature (Lond.) 479, 376 (2011)

26.

A. Eilam, A.D. Wilson-Gordon, H. Friedmann, Opt. Lett. 34, 1834 (2009)

27.

H. Li et al., Phys. Rev. A 80, 023820 (2009)

28.

D. Schraft, M. Hain, N. Lorenz, T. Halfmann, Phys. Rev. Lett. 116, 073602 (2016)

29.

V.E. Manucharyan, N A. Masluk, A. Kamal, J. Koch, L.I. Glazman, M.H. Devoret, Phys. Rev. B 85, 024521 (2012)
About this article
Cite this article
Ayaz, M.Q., Qamar, S. & Qamar, S. Phase and amplitude control of microwave pulse in a linear array of superconducting artificial atoms. Eur. Phys. J. D 72, 181 (2018). https://doi.org/10.1140/epjd/e2018-90202-0
Received:

Revised:

Published:
Keywords