Abstract
We report the normal mode splitting in the fermionic displacement spectrum as a single mode light field interacts with a mechanical mode of ultra-cold quantum degenerate Fermi gas trapped inside a Fabry–Pérot cavity in the strong coupling regime. We explain the normal mode splitting in the outgoing field of the cavity field and in the field quadratures as well. As a function of system parameters, such as coupling strength between fermionic mode and field mode, number of fermionic atoms, cavity decay rate and fluctuations associated with the fermionic mode we explain the phenomenon of normal mode splitting. The low-lying fermions ensemble displays a collective density oscillation associated with particle-hole excitations, which interacts with cavity light field and lead to the observation of NMS in the fermion quadratures and light modes. The numerical results based on the present day laboratory experiments agree with the obtained analytical results.
Graphical abstract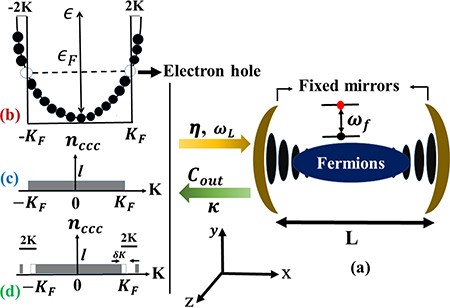 This is a preview of subscription content, log in to check access.
Access options
Buy single article
Instant access to the full article PDF.
US$ 39.95
Price includes VAT for USA
Subscribe to journal
Immediate online access to all issues from 2019. Subscription will auto renew annually.
US$ 199
This is the net price. Taxes to be calculated in checkout.
References
1.

P. Meystre, Ann. Phys. (Berlin) 525, 215 (2013)

2.

A. Aspelmeyer, T.J. Kippenberg, F. Marquardt, Rev. Mod. Phys. 86, 1391 (2014)

3.

F. Saif, J. Russ. Lasers Res. 34, 496 (2013)

4.

M. Khan, J. Akram, M. Paternostro, F. Saif, Phys. Rev. A 94, 063830 (2016)

5.

B. Rogers, N. Lo Gullo, G.D. Chiara, G.M. Palma, M. Paternostro, Quantum Meas. Quantum Metro. 2, 11 (2014)

6.

G. Kurizki, P. Bertet, Y. Kubo, K. Mølmer, D. Palma, D. Petrosyan, P. Rabl, J. Schmiedmayer, PNAS 112, 3866 (2015)

7.

J.I. Cirac, P. Zoller, Nature (London) 404, 579 (2015)

8.

S. ul Haq, F. Saif, Optik 124, 5914 (2013)

9.

S. ul Haq, F. Saif, Optik 125, 6616 (2014)

10.

A.H. Khosa, R. ul Islam, F. Saif, J. Bergou, Q. Info. Proc. 12, 129 (2013)

11.

L. Tiang, P. Zoller, Phys. Rev. Lett. 93, 2666403 (2004)

12.

W.K. Hensinger et al., Phys. Rev. A 72, 041405 (2005)

13.

C. Genes, D. Vitali, P. Tombesi, Phys. Rev. A 77, 050307 (2008)

14.

M.J. Akram, M.M. Khan, F. Saif, Phys. Rev. A 92, 023846 (2015)

15.

F. Bariani, H. Seok, S. Singh, L.F. Buchmann, M. Vengalattore, P. Meystre, Phys. Rev. A 92, 043817 (2015)

16.

F. Bariani, S. Singh, L.F. Buchmann, M. Vengalattore, P. Meystre, Phys. Rev. A 90, 033838 (2014)

17.

L. Tian, Ann. Phys. (Berlin) 527, 1 (2015)

18.

D.E. Chang, C.A. Regal, S.B. Papp, D.J. Wilson, J. Ye, O. Painter, H.J. Kimble, P. Zoller, PNAS 107, 1005 (2010)

19.

O. Romero-Isart, M.L. Juan, R. Quidant, J.I. Cirac, New J. Phys. 12, 033015 (2010)

20.

T. Li, S. Kheifets, M.G. Raizen, Nat. Phys. 7, 527 (2011)

21.

A.A. Geraci, S.B. Papp, J. Kitching, Phys. Rev. Lett. 105, 101101 (2010)

22.

J. Gieseler, B. Deutsch, R. Quidant, L. Novotny, Phys. Rev. Lett. 109, 103603 (2012)

23.

G.A.T. Pender, P.F. Barker, F. Marquardt, J. Millen, T.S. Monteiro, Phys. Rev. A 85, 021802 (2012)

24.

J. Millen, P.Z.G. Fonseca, T. Mavrogordatos, T.S. Montiero, P.F. Barker, Phys. Rev. Lett. 114, 123602 (2015)

25.

T.W. Hansch, A.L. Schawlow, Opt. Commun. 13, 68 (1975)

26.

D.J. Wineland, R.E. Drullinger, F.L. Walls, Phys. Rev. Lett. 40, 1639 (1978)

27.

S. Chu, L. Hollberg, J.E. Bjorkholm, A. Cable, A. Ashkin, Phys. Rev. Lett. 55, 48 (1985)

28.

P.Z.G. Fonseca, E.B. Aranas, J. Millen, T.S. Monteiro, G. Ranjit, C. Montoya, A.A. Geraci, Phys. Rev. A 91, 013416 (2015)

29.

B. Abbott, et al. (LIGO Scientific collaboration), New J. Phys. 11, 073032 (2009)

30.

C.M. Caves, Phys. Rev. Lett. 45, 75 (1980)

31.

V.B. Braginsky, F. Khalili,Quantum Measurement (Cambridge University Press, Cambridge, UK, 1992)

32.

V.B. Braginsky, S.E. Strigin, S.P. Vyatchanin, Phys. Lett. A 287, 331 (2001)

33.

A. Dorsel, J.D. McCullen, P. Meystre, E. Vignes, H. Walther, Phys. Rev. Lett. 51, 1550 (1983)

34.

J.D. McCullen, P. Meystre, E.M. Wright, Opt. Lett. 9, 193 (1984)

35.

P. Meystre, E.M. Wright, J.D. McCullen, E. Vignes, J. Opt. Soc. Am. B 2, 1830 (1985)

36.

J.D. Thompson, B.M. Zwickl, A.M. Jayich, F. Marquardt, S.M. Girvin, J.G.E. Harris, Nature (London) 452, 72 (2008)

37.

P. Treutlein, D. Hunger, S. Camerer, T.W. Hänsch, J. Reichel, Phys. Rev. Lett. 99, 140403 (2007)

38.

H. Seok, L.F. Buchmann, S. Singh, S.K. Steinke, P. Meystre, Phys. Rev. A 85, 033822 (2012)

39.

D.W.C.Brooks, T. Botter, S. Schreppler, T.P. Purdy, N. Brahms, D.M. Stamper-Kurn, Nature 488, 476 (2012)

40.

A.H. Safavi-Naeini, S. Groblacher, J.T. Hill, J. Chan, M. Aspelmeyer, O. Painter, Nature 500, 185 (2013)

41.

T.P. Purdy, P.L. Yu, R.W. Peterson, N.S. Kampel, C.A. Regal, Phys. Rev. X 3, 031012 (2013)

42.

M. Bhattacharya, P.L. Giscard, P. Meystre, Phys. Rev. A 77, 030303 (2008)

43.

M.J. Hartmann, M.B. Plenio, Phys. Rev. Lett. 101, 200503 (2008)

44.

R. ul Islam, A.H. Khosa, F. Saif, J. Phys. B: At. Mol. Opt. Phys. 41, 035505 (2008)

45.

Z.Q. Yin, Y.J. Han, Phys. Rev. A 79, 024301 (2009)

46.

C.L. Zou, X.B. Zou, F.W. Sun, Z.F. Han, G.C. Guo, Phys. Rev. A 84, 032317 (2011)

47.

M. Asjad, F. Saif, Phys. Lett. A 376, 2608 (2012)

48.

C. Joshi, J. Larson, M. Jonson, E. Andersson, P. Ohberg, Phys. Rev. A 85, 033805 (2012)

49.

L. Tian, Phys. Rev. Lett. 110, 233602 (2013)

50.

Y.D. Wang, A.A. Clerk, Phys. Rev. Lett. 110, 253601 (2013)

51.

T.K. Ghosh, K. Machida, Phys. Rev. A 72, 053623 (2005)

52.

S. Huang, G.S. Agarwal, Phys. Rev. A 80, 033807 (2009)

53.

A. Bhattacherjee, J. Phys. B 40, 143 (2007)

54.

S. Shahidani, M.H. Naderi, M. Soltanolkotabi, J. Mod. Optics 62, 114 (2015)

55.

J.M. Dobrindt, I. Wilson-Rae, T.J. Kippenberg, Phys. Rev. Lett. 101, 263602 (2008)

56.

M.S. Groblacher, K. Hammerer, M.R. Aspelmeyer, Nature (London) 460, 724 (2009)

57.

T.J. Kippenberg, H. Rokhsari, T. Carmon, A. Scherer, K.J. Vahala, Phys. Rev. Lett. 95, 033901 (2005)

58.

T. Carmon, H. Rokhsari, L. Yang, T.J. Kippenberg, K.J. Vahala, Phys. Rev. Lett. 94, 223902 (2005)

59.

H. Rokhsari, T.J. Kippenberg, T. Carmon, K.J. Vahala, Opt. Express 13, 5293 (2005)

60.

M.G. Raizen, R.J. Thompson, R.J. Brecha, H.J. Kimble, H.J. Carmichael, Phys. Rev. Lett. 63, 240 (1989)

61.

A. Boca, R. Miller, K.M. Birnbaum, A.D. Boozer, J. McKeever, H.J. Kimble, Phys. Rev. Lett. 93, 233603 (2004)

62.

P. Maunz, T. Puppe, I. Schuster, N. Syassen, P.W.H. Pinkse, G. Rempe, Phys. Rev. Lett. 94, 033002 (2005)

63.

W. Wallraff, D.I. Schuster, A. Blais et al., Nature (London) 431, 162 (2004)

64.

J.P. Reithmaier, G. Sek, A. Loffeler et al., Nature (London) 432, 197 (2004)

65.

M. Asjad, F. Saif, Phys. Rev. A 84, 033606 (2011)

66.

A.B. Bhattacherjee, Phys. Rev. A 80, 043607 (2009)

67.

J.D. Teufel, J.W. Harlow, C.A. Regal, K.W. Lehnert, Phys. Rev. Lett. 101, 197203 (2008)

68.

A. Schliesser et al., Nat. Phys. 4, 415 (2008)

69.

K.W. Murch et al., Nat. Phys. 4, 561 (2008)

70.

F. Brennecke et al., Science 322, 235 (2008)

71.

M. Asjad, F. Saif, Optik 125, 5455 (2014)

72.

R. Kanamoto, P. Meystre, Phys. Rev. Lett. 104, 063601 (2010)

73.

R. Kanamoto, P. Meystre, Phys. Scr. 82, 038111 (2010)

74.

M. Asjad, M.A. Shahzad, F. Saif, Eur. Phys. J. D 67, 198 (2013)

75.

C. Maschler, H. Ritsch, Phys. Rev. Lett. 95, 260401 (2005)

76.

H. Christ, C.P. Search, P. Meystre, Phys. Rev. A 67, 063611 (2003)

77.

D. Meiser, C.P. Search, P. Meystre, Phys. Rev. A 71, 013404 (2005)

78.

A.G. Rojo, J.L. Cohen, P.R. Berman, Phys. Rev. A 60, 1482 (1999)

79.

T. Giamarchi,Quantum Physics in one Dimension (Oxford University Press, Oxford, 2004)

80.

C.W.Gardiner, P. Zoller,Quantum Noise (Springer-Verlag, Berlin, 1991)

81.

D.F. Walls, G.J. Milburn,Quantum Optics (Springer-Verlag, Berlin, 1991)

82.

A. Hurwitz, inSelected papers on mathematical trends in control theory, edited by R. Bellman, R. Kalaba (Dover, New York, 1964)

83.

E.X. Dejesus, C. Kaufman, Phys. Rev. A 35, 5288 (1987)
About this article
Cite this article
Ullah, K., Saif, F. Normal mode splitting in quantum degenerate Fermi gas in nano-cavity. Eur. Phys. J. D 72, 204 (2018). https://doi.org/10.1140/epjd/e2018-90079-9
Received:

Revised:

Published:
Keywords
Cold Matter and Quantum Gas