Abstract
We analyze the effect of a time-dependent synthetic magnetic field on the Mott-Insulating (MI) to superfluid (SF) phase transition of a system of bosons via a site decoupling mean-field approach. The synthetic field is incorporated through Peierls coupling that induces a phase shift in the hopping matrix of the Bose-Hubbard model (BHM). We observe that the behavior of critical hopping strength, Jc, vary differently for different time-dependent synthetic fields. The Mott insulating lobe either stabilizes or contracts depending on the nature of the tuning of the time-dependent synthetic field. Also the inclusion of time in the synthetic field destroys the lattice periodicity, however with proper tuning of the time variation of the gauge field, the periodicity can be restored back. Hence the periodicity of the one-dimensional superfluid order parameter is very sensitive to the variation of the time-dependent field. Further, the order parameter either becomes site dependent or independent depending on the nature of the tuning of the these fields. The time-dependent synthetic magnetic field also induces an asymmetry in the discrete energy spectrum of the system which is also clear from the vanishing 'Butterfly' pattern of the single particle energy spectrum.
Graphical abstract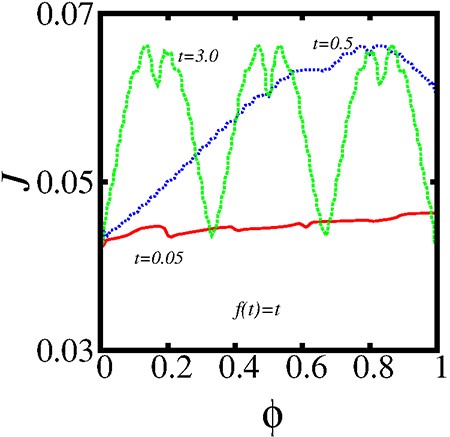 This is a preview of subscription content, log in to check access.
Access options
Buy single article
Instant unlimited access to the full article PDF.
US$ 39.95
Price includes VAT for USA
Subscribe to journal
Immediate online access to all issues from 2019. Subscription will auto renew annually.
US$ 199
This is the net price. Taxes to be calculated in checkout.
References
1.

M. Greiner, O. Mandel, T. Esslinger, T.W. Hansch, I. Bloch, Nature 415, 39 (2002)

2.

O. Mandel, M. Greiner, A. Widera, T. Rom, T.W. Hänsch, I. Bloch, Nature (London) 425, 937 (2003)

3.

W.K. Hensinger, H. Häffner, A. Browaeys, N.R. Heckenberg, K. Helmerson, C. McKenzie, G.J. Milburn, W.D. Phillips, S.L. Rolston, H. Rubinsztein-Dunlop, B. Upcroft, Nature (London) 412, 52 (2001)

4.

C.M. Alves, D. Jaksch, Phys. Rev. Lett. 93, 110501 (2004)

5.

Y.-J. Lin, R.L. Compton, K. Jimenez-Garcia, J.V. Porto, I.B. Spielman, Nature (London) 462, 628 (2009)

6.

M. Aidelsburger, M. Atala, M. Lohse, J.T. Barrerio, B. Paredes, I. Bloch, Phys. Rev. Lett. 111, 185301 (2013)

7.

H. Miyake, G.A. Siviloglou, C.J. Kennedy, W.C. Burton, W. Ketterle, Phys. Rev. Lett. 111, 185302 (2013)

8.

D.R. Hofstadter, Phys. Rev. B 14, 2239 (1976)

9.

R. Banerjee, T.C.H. Liew, O. Kyriienko, Phys. Rev. B 98, 075412 (2018)

10.

D.J. Thouless, M. Kohmoto, M.P. Nightingale, M. den Nijs, Phys. Rev. Lett. 49, 405 (1982)

11.

L.J. LeBlanc, K. Jiménez-García, R.A. Williams, M.C. Beeler, A.R. Perry, W.D. Phillips, I.B. Spielman, Proc. Natl. Acad. Sci. USA 109, 10811 (2012)

12.

J.-R. Li, J. Lee, W. Huang, S. Burchesky, B. Shteynas, F.C. Top, A.O. Jamison, W. Ketterle, Nature (London) 543, 91 (2017)

13.

J. Léonard, A. Morales, P. Zupancic, T. Esslinger, T. Donner, Nature (London) 543, 87 (2017)

14.

M. Iskin, Eur. Phys. J. B 85, 76 (2012)

15.

D.-W. Zhang, Y.-Q. Zhu, Y.X. Zhao, H. Yan, S.-L. Zhu, Adv. Phys. 67, 253 (2019)

16.

S.-L. Zhu, Z.-D. Wang, Y.-H. Chan, L.-M. Duan, Phys. Rev. Lett. 110, 075303 (2013)

17.

W.S. Cole, S. Zhang, A. Paramekanti, N. Trivedi, Phys. Rev. Lett. 109, 085302 (2012)

18.

N. Goldman, J.C. Budich, P. Zoller, Nat. Phys. 12, 639 (2016)

19.

Y.-J. Lin, R.L. Compton, A.R. Perry, W.D. Phillips, J.V. Porto, I.B. Spielman, Phys. Rev. Lett. 102, 130401 (2009)

20.

I. Coddington, P.C. Haljan, P. Engels, V. Schweikhard, S. Tung, E.A. Cornell, Phys. Rev. A 70, 063607 (2004)

21.

D. Jaksch, P. Zoller, New J. Phys. 5, 56 (2003)

22.

S. Tung, V. Schweikhard, E.A. Cornell, Phys. Rev. Lett. 97, 240402 (2006)

23.

T.A. Zaleski, T.P. Polak, Phys. Rev. A 83, 023607 (2011)

24.

J. Dalibard, F. Gerbier, G. Juzeliunas, P. Ohberg, Rev. Mod. Phys. 83, 1523 (2011)

25.

M. Aidelsburger, M. Lohse, C. Schweizer, J.T. Atala, M. Barrerio, S. Nascimbène, N.R. Cooper, I. Bloch, N. Goldman, Nat. Phys. 11, 162 (2015)

26.

A.L. Fetter, Rev. Mod. Phys. 81, 647 (2009)

27.

S. Raghu, F.D.M. Haldane, Phys. Rev. A 78, 033834 (2008)

28.

M. Hafezi, E.A. Demler, M.D. Lukin, J.M. Taylor, Nat. Phys. 7, 907 (2011)

29.

K. Fang, Z. Yu, S. Fan, Nat. Photonics 6, 782 (2012)

30.

S. Mittal, J. Fan, S. Faez, A. Migdall, J.M. Taylor, M. Hafezi, Phys. Rev. Lett. 113, 087403 (2014)

31.

C. Chin, E.J. Mueller, Physics 6, 118 (2013)

32.

R.O. Umucalilar, H. Zhai, M.O. Oktel, Phys. Rev. Lett. 100, 070402 (2008)

33.

M. Aidelsburger, S. Nascimbène, N. Goldman, C.R. Phys. 19, 394 (2018)

34.

F. Yilmaz, M.M.Ö. Oktel, Phys. Rev. A 97, 023612 (2018)

35.

D. Ciampini, O. Morsch, E. Arimondo, Int. J. Quant. Inf. 9, 139 (2011)

36.

T. Oka, H. Aoki, Phys. Rev. B 79, 081406 (2009)

37.

T. Kitagawa, T. Oka, A. Brataas, L. Fu, E. Demler, Phys. Rev. B 84, 235108 (2011)

38.

J. Cayssol, B. Dora, F. Simon, R. Moessner, Phys. Status Solidi RRL 7, 101 (2013)

39.

G. Jotzu, M. Messer, R. Desbuquois, M. Lebrat, T. Uehlinger, D. Greif, T. Esslinger, Nature 515, 237 (2014)

40.

M.C. Rechtsman, J.M. Zeuner, Y. Plotnik, Y. Lumer, D. Podolsky, F. Dreisow, S. Nolte, M. Segev, A. Szameit, Nature 496, 7444 (2013)

41.

F. de Juan, A.G. Grushin, T. Morimoto, J.E. Moore, Nat. Commun. 8, 15995 (2017)

42.

D.T. Tran, A. Dauphin, A.G. Grushin, P. Zoller, N. Goldman, Sci. Adv. 3, e1701207 (2017)

43.

R. Peierls, Z. Phys.80, 763 (1933)

44.

M.Ö. Oktel, M. Niţă, B. Tanatar, Phys. Rev. B 75, 045133 (2007)

45.

Sk Noor Nabi, S. Basu, Europhys. Lett. 116, 46001 (2016)

46.

D. Jaksch, C. Bruder, J.I. Cirac, C.W. Gardiner, P. Zoller, Phys. Rev. Lett. 81, 3108 (1998)

47.

R.V. Pai, K. Sheshadri, R. Pandit, Phys. Rev. B 77, 014503 (2008)
About this article
Cite this article
Nabi, S.N., Dutta, S. & Basu, S. Ultracold gases in presence of time-dependent synthetic gauge field. Eur. Phys. J. B 93, 3 (2020) doi:10.1140/epjb/e2019-100495-6
Received:

Revised:

Published:
Keywords
Solid State and Materials