Abstract
An autonomous Josephson junction (JJ) snap oscillator is designed and investigated in this paper. Depending on DC bias current, the proposed snap oscillator has two or no equilibrium points. The stability analysis of the two equilibrium points shows that one of the equilibrium point is unstable and the existence of Hopf bifurcation is established for the other equilibrium point. During the numerical analysis, some interesting dynamical behaviors such as chaotic self-excited attractors, chaotic hidden attractors, antimonotonicity, chaotic bubble hidden attractors, bistable period-1-bubble and coexistence between periodic and chaotic hidden attractors are found. Finally, the Field Programmable Gate Array (FPGA) of proposed snap oscillator is implemented. The results obtained from the FPGA implementation of proposed snap oscillator are qualitatively the same to the one obtained during the numerical simulations.
Graphical abstract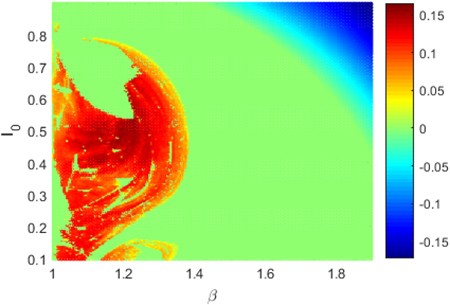 This is a preview of subscription content, log in to check access.
Access options
Buy single article
Instant unlimited access to the full article PDF.
US$ 39.95
Price includes VAT for USA
Subscribe to journal
Immediate online access to all issues from 2019. Subscription will auto renew annually.
US$ 199
This is the net price. Taxes to be calculated in checkout.
References
1.

B. Munmuangsaen, B. Srisuchinwong, Chaos Solitons Fractals 44, 995 (2011)

2.

F.Y. Dalkiran, J.C. Sprott, Int. J. Bifurc. Chaos 26, 1650189 (2016)

3.

S. Vaidyanathan, S. Jafari, V.-T. Pham, A.T. Azar, F.E. Alsaadi, Arch. Control. Sci. 28, 239 (2018)

4.

I. Ahmad, B. Srisuchinwong, W.S. Um, IEEE Access 6, 35449 (2018)

5.

P. Arena, S. Baglio, L. Fortuna, G. Manganaro, Electron. Lett. 31, 250 (1995)

6.

A. Buscarino, L. Fortuna, M. Frasca, Physica D 238, 1917 (2009)

7.

S. Vaidyanathan, A. Sambas, M. Mamat, W.S. Sanjaya, Int. J. Model. Identif. Control 28, 153 (2017)

8.

G.F. Kuiate, K. Rajagopal, S.T. Kingni, V. Kamdoum Tamba, S. Jafari, Int. J. Dyn. Control 6, 1008 (2018)

9.

A.S. Mansingka, M. Affan Zidan, M.L. Barakat, A.G. Radwan, K.N. Salama, Microelectron. J. 447, 44 (2013)

10.

R.A. El-Nabulsi, Int. J. Non-Linear Mech. 93, 65 (2017)

11.

S. Vaidyanathan, A. Akgul, S. Kacar, U. Cavusoglu, Eur. Phys. J. Plus 133, 46 (2018)

12.

K.E. Klouverakis, J.C. Sprott, Chaos Solitons Fractals 28, 739 (2006)

13.

S.J. Linz, Chaos Solitons Fractals 37, 741 (2008)

14.

S. Ren, S. Panahi, K. Rajagopal, A. Akgul, V.-T. Pham, S. Jafari, Z. Naturforsch 73, 239 (2018)

15.

V.-T. Pham, S. Vaidyanathan, C. Volos, S. Jafari, S.T. Kingni, Optik 127, 3259 (2016)

16.

S.T. Kingni, S. Jafari, H. Simo, P. Woafo, Eur. Phys. J. Plus 129, 76 (2014)

17.

S.T. Kingni, V.-T. Pham, S. Jafari, G.R. Kol, P. Woafo, Circuits Syst. Signal Process. 35, 1933 (2016)

18.

S.T. Kingni, V.-T. Pham, S. Jafari, P. Woafo, Chaos Solitons Fractals 99, 209 (2017)

19.

D. Dudkowski, S. Jafari, T. Kapitaniak, N.V. Kuznetsov, G.A. Leonov, A. Prasad, Phys. Rep. 637, 1 (2016)

20.

M.-F. Danca, N. Kuznetsov, G. Chen, Nonlinear Dyn. 88, 791 (2017)

21.

N. Kuznetsov, G. Leonov, M. Yuldashev, R. Yuldashev, Commun. Nonlinear Sci. Numer. Simul. 51, 39 (2017)

22.

N.V. Stankevich, N.V. Kuznetsov, G.A. Leonov, L.O. Chua, Int. J. Bifurc. Chaos 27, 1730038 (2017)

23.

N. Kuznetsov, G. Leonov, T. Mokaev, A. Prasad, M. Shrimali, Nonlinear Dyn. 92, 267 (2018)

24.

B. Soodchomshom, I.-M. Tang, R. Hoonsawat, Solid State Commun. 149, 1012 (2009)

25.

C.B. Whan, C.L. Lobb, Phys. Rev. E 53, 405 (1996)

26.

S.K. Dana, IEEE Trans. Circ. Syst. II 53, 1031 (2006)

27.

M. Canturk, I.N. Askerzade, IEEE Trans. Appl. Supercond. 21, 3541 (2011)

28.

M. Canturk, I. Askerzade, J. Supercond. Novel Magn. 26, 839 (2013)

29.

S.T. Kingni, G.F. Kuiate, V.K. Tamba, A.V. Monwanou, J.B. Chabi, J. Supercond. Novel Magn. 32, 2295 (2019)

30.

M.C. Santos, T. Nikolaidou, Geo-spat. Inf. Sci. 21, 75 (2018)

31.

V.K. Kornev, A.V. Arzumanov, J. Phys. IV 8, 279 (1998)

32.

A. Kanasugi, M. Morisue, H. Noguchi, M. Yamadaya, H. Furukawa, IEICE Trans. Electron. E79-C, 1206 (1996)

33.

J.W. Spargo, IEEE Trans. Appl. Supercond. 13, I (2003)

34.

R.L. Kantz, R. Monaco, Am. J. Phys. 73, 875 (1985)

35.

M. Bier, T.C. Bountis, Phys. Lett. A 104, 239 (1984)

36.

M.I. Kyprianidis, P. Haralabidis, I.N. Stouboulos, T.C. Bountis, Int. J. Bifurc. Chaos 10, 1903 (2000)

37.

S.P. Dawson, C. Grebogi, I. Kan, H. Kocak, J.A. Yorke, Phys. Lett. A 162, 249 (1992)

38.

K. Rajagopal, L. Guessas, A. Karthikeyan, A.K. Srinivasan, G. Adam, Complexity 2017, 1892618 (2017)

39.

S.M. Ismail, L.A. Said, A.A. Rezk et al., AEU Int. J. Electron. Commun. 80, 114 (2017)

40.

K. Rajagopal, A. Karthikeyan, A.K. Srinivasan, Nonlinear Dyn. 87, 2281 (2017)
About this article
Cite this article
Kingni, S.T., Rajagopal, K., Kamdoum Tamba, V. et al. Analysis and FPGA implementation of an autonomous Josephson junction snap oscillator. Eur. Phys. J. B 92, 227 (2019) doi:10.1140/epjb/e2019-100304-x
Received:

Revised:

Published:
Keywords
Statistical and Nonlinear Physics