Abstract
In this work, the dynamics of Duffing-Holmes oscillator with fractional order nonlinearity is explored. Basically, a fractional spatial derivative is introduced to the cubic term, and the order of the derivative  α is varied between zero and two. The evolution of the dynamics of the system from nonlinear behavior to linear behavior is investigated using multiple tools such as phase portraits, Poincare maps, and bifurcation diagrams. We have demonstrated that as α increases the system can alternate between chaotic and periodic states depending on the parameters setting. However, the overall impact transforms the system into simpler dynamics and eventually causes the chaotic regions to fade out regardless of the system settings. The largest α at which the system still exhibits chaotic behavior is estimated to be around 1.17 and for transient chaos is estimated to be 1.25.
Graphical abstract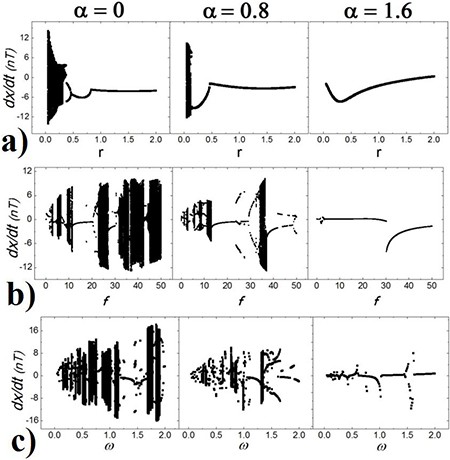 This is a preview of subscription content, log in to check access.
Access options
Buy single article
Instant unlimited access to the full article PDF.
US$ 39.95
Price includes VAT for USA
Subscribe to journal
Immediate online access to all issues from 2019. Subscription will auto renew annually.
US$ 199
This is the net price. Taxes to be calculated in checkout.
References
1.

K. Aledealat, K. Khasawinah, A. Obeidat, M. Gharaibeh, A. Jaradat, M. Hasan, A. Rousan, AIP Adv. 8, 095102 (2018)

2.

V. Martynyuk, M. Fedula, O. Balov, Adv. Sci. Technol. Res. J. 8, 26 (2014)

3.

G. Wang, W. Zheng, S. He, Signal Process. 82, 103 (2002)

4.

W. Zhao, J. Zhao, Z. Huang, Q. Meng, Procedia Eng. 29, 1796 (2012)

5.

M.F. Hassan, Nonlinear Dyn. 83, 2183 (2016)

6.

J. Ma, P. Zhou, B. Ahmad, G. Ren, C. Wang, PLoS ONE 13, e0191120 (2018)

7.

A.M. AbdelAty, A.T. Azar, S. Vaidyanathan, A. Ouannas, A.G. Radwan, inMathematical Techniques of Fractional Order Systems (Elsevier, Amsterdam, 2018), p. 409

8.

L. Glass, Chaos 25, 097603 (2015)

9.

B.J. West,Fractal physiology and chaos in medicine (World Scientific, Singapore, 2012)

10.

W. Ditto, T. Munakata, Commun. ACM 38, 96 (1995)

11.

M. Borowiec, G. Litak, A. Syta, Shock Vib. 14, 29 (2007)

12.

L. Cveticanin,Strong Nonlinear Oscillators (Springer, Cham, 2014)

13.

A.C.-L. Chian, Int. J. Theor. Appl. Finance 3, 601 (2000)

14.

H. Li, X. Liao, S. Ullah, L. Xiao, Nonlinear Anal. 13, 2724 (2012)

15.

W. Patten, S. Sha, C. Mo, J. Sound Vib. 217, 145 (1998)

16.

Q. Zhu, M. Ishitobi, Int. J. Solids Struct. 43, 747 (2006)

17.

D. Younesian, H. Askari, Z. Saadatnia, M. KalamiYazdi, Appl. Anal. 91, 965 (2012)

18.

L. Cveticanin, M. Zukovic, J. Sound Vib. 326, 768 (2009)

19.

M. Rostami, M. Haeri, Signal Process. 107, 361 (2015)

20.

J. Yang, M. Sanjuán, W. Xiang, H. Zhu, Pramana 81, 943 (2013)

21.

A. Syta, G. Litak, S. Lenci, M. Scheffler, Chaos 24, 013107 (2014)

22.

Y. Xu, Y. Li, D. Liu, W. Jia, H. Huang, Nonlinear Dyn. 74, 745 (2013)

23.

N. Van Khang, T.Q. Chien, J. Comput. Nonlinear Dyn. 11, 051018 (2016)

24.

M. El-Beltagy, A. Al-Johani, J. Fract. Calc. Appl. 4, 357 (2013)

25.

M.A. Matlob, Y. Jamali, The concepts and applications of fractional order differential calculus in modelling of viscoelastic systems: a primer, arXiv:1706.06446 (2017)

26.

J. Cao, C. Ma, H. Xie, Z. Jiang, J. Comput. Nonlinear Dyn. 5, 041012 (2010)

27.

Q. Liu, J. Liu, Y. Chen, Chaos Solitons Fractals 98, 216 (2017)

28.

H. Farokhi, M.H. Ghayesh, S. Hussain, J. Vib. Acoust. 138, 011007 (2016)

29.

L. Cveticanin, T. Pogany, J. Appl. Math. 2012, 649050 (2012)

30.

I. Kovacic, Procedia IUTAM 19, 101 (2016)

31.

R.E. Mickens, J. Sound Vib. 246, 375 (2001)

32.

H. Gottlieb, J. Sound Vib. 261, 557 (2003)

33.

V. Marinca, N. Herisanu, Int. J. Phys. Sci. 7, 5407 (2012)

34.

K. Oldham, J. Spanier,The fractional calculus theory and applications of differentiation and integration to arbitrary order (Elsevier, Amsterdam, 1974)

35.

S. Chandra, Comput. Graph. 21, 253 (1997)

36.

T. Tel, J. Phys. A 24, L1359 (1991)

37.

R. Capeáns, J. Sabuco, M.A. Sanjuán, J.A. Yorke, Philos. Trans. R. Soc. A 375, 20160211 (2017)

38.

T. Tél, Chaos 25, 097619 (2015)

39.

G. Wang, Y.-C. Lai, C. Grebogi, Sci. Rep. 6, 35381 (2016)

40.

B. Bo-Cheng, L. Zhong, X. Jian-Ping, Chin. Phys. B 19, 030510 (2010)

41.

G. Licskó, G. Csernák, Chaos and transient chaos in a simple oscillator with Coulomb friction law, inProc. 2012 IEEE 4th International Conference on Nonlinear Science and Complexity (NSC) (IEEE, 2010), p. 121

42.

S. Sabarathinam, K. Thamilmaran, Chaos Solitons Fractals 73, 129 (2015)
About this article
Cite this article
Aledealat, K., Obeidat, A., Gharaibeh, M. et al. Dynamics of Duffing-Holmes oscillator with fractional order nonlinearity. Eur. Phys. J. B 92, 233 (2019). https://doi.org/10.1140/epjb/e2019-100299-8
Received:

Revised:

Published:
Keywords
Statistical and Nonlinear Physics