Abstract
Supercooled liquid and amorphous iron (Fe) was investigated by means of molecular dynamics (MD) simulation. The crystallization was analyzed through pair radial distribution function, bond angle distribution, coordination number and transition to different atom types. Amorphous Fe possesses a large number of icosahedron type atoms which play a role in preventing of transformation into the bcc phase. The structure of amorphous Fe slightly changes during the relaxation time. The crystallization occurred when Fe was annealed at 950 K for 1.6 × 107 steps. It is found that transitions to bcc-type do not happen arbitrarily at any location in the system, but instead, they are concentrated in a non-equilibrium region. Moreover, the crystallization pathway comprises intermediate states between amorphous and crystalline ones. At the early stage, a large cluster of crystal atom formed is located in system. Then, this cluster grows up rapidly. At the final stage, the cluster of crystal atom is located in a well-equilibrium region covered a major part of the system. We found that unlike amorphous Fe, the structure of crystalline Fe is strongly heterogeneous and consists of separate regions with different local microstructure. Heterogeneous dynamics (HD) in the supercooled liquid and amorphous Fe was also examined through the distribution of mobile and immobile atoms. It is found that there is a connection between local structure, crystallization pathway and HD in the system. Mobile and immobile atoms have a tendency to segregate into separate regions.
Graphical abstract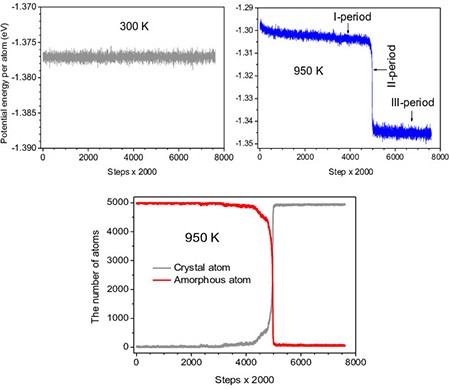 This is a preview of subscription content, log in to check access.
Access options
Buy single article
Instant unlimited access to the full article PDF.
US$ 39.95
Price includes VAT for USA
Subscribe to journal
Immediate online access to all issues from 2019. Subscription will auto renew annually.
US$ 199
This is the net price. Taxes to be calculated in checkout.
References
1.

L. Wang, C. Peng, Y. Wang, Y. Zhang, Phys. Lett. A 350, 69 (2006)

2.

M.D. Ediger, C.A. Angell, S.R. Nagel, J. Phys. Chem. 100, 13200 (1996)

3.

M.I. Mendelev, J. Schmalian, C.Z. Wang, J.R. Morris, K.M. Ho, Phys. Rev. B 74, 104206 (2006)

4.

N. Jakse, J.F. Wax, A. Pasturel, J. Chem. Phys. 126, 234508 (2007)

5.

M. Li, C.Z. Wang, M.I. Mendelev, K.M. Ho, Phys. Rev. B 77, 184202 (2008)

6.

F.F. Chen, H.F. Zhang, F.X. Qin, Z.Q. Hu, J. Chem. Phys. 120, 1826 (2004)

7.

H. Pang, Z.H. Jin, K. Lu, Phys. Rev. B 67, 094113 (2003)

8.

Y. Zhang, L. Wang, W. Wang, J. Phys.: Condens. Matter 19, 196106 (2007)

9.

V. Van Hoang, N.T. Long, D.N. Son, Comput. Mater. Sci. 95, 491 (2014)

10.

Q.L. Cao, D.H. Huang, J.S. Yang, M.J. Wan, F.H. Wang, Physica B 450, 136 (2014)

11.

A. Zhu, G.J. Shiflet, S.J. Poon, Acta Mater. 56, 3550 (2008)

12.

V. Van Hoang, S.K. Oh, Phys. Rev. E 70, 061203 (2004)

13.

G. Diezemann, J. Non-Cryst. Solids 352, 4934 (2006)

14.

U. Tröltzsch, O. Kanoun, H.R. Tränkler, Electrochim. Acta 51, 1664 (2006)

15.

M.J. Jenkins, J.N. Hay, Comput. Theor. Polym. Sci. 11, 283 (2001)

16.

A. Kerrache, V. Teboul, D. Guichaoua, A. Monteil, J. Non-Cryst. Solids 322, 41 (2003)

17.

S. Ozgen, E. Duruk, Mater. Lett. 58, 1071 (2004)

18.

S. An, J. Li, Y. Li, S. Li, Q. Wang, B. Liu, Sci. Rep. 6, 31062 (2016)

19.

L.L. Zhou, R.Y. Yang, Z.A. Tian, Y.F. Mo, R.S. Liu, J. Alloys Compd. 690, 633 (2017)

20.

P.H. Kien, M.T. Lan, N.T. Dung, P.K. Hung, Int. J. Mod. Phys. B 28, 1450155 (2014)

21.

K. Kodama, S. Iikubo, T. Taguchi, S.I. Shamoto, Acta Crystallogr. Sect. A 62, 444 (2006)

22.

V. Van Hoang, N.H. Cuong, Physica B 404, 340 (2009)

23.

J.P. Lauriat, J. Non-Cryst. Solids 55, 77 (1983)

24.

J. Han, C. Wang, X. Liu, Y. Wang, Z.K. Liu, J. Jiang, ChemPhysChem 16, 3916 (2015)

25.

K.S. Suslick, S.B. Choe, A.A. Cichowlas, M.W. Grinstaff, Nature 353, 414 (1991)

26.

D.W. Qi, S. Wang, Phys. Rev. B 44, 884 (1991)

27.

N. Jakse, O. Le Bacq, A. Pasturel, Phys. Rev. B 70, 174203 (2004)

28.

N. Jakse, A. Pasturel, J. Chem. Phys. 120, 6124 (2004)

29.

Y. Zhang, L. Wang, W. Wang, Phys. Lett. A 372, 690 (2008)
About this article
Cite this article
Kien, P.H. Study of crystallization pathway and heterogeneous dynamics in supercooled liquid and amorphous iron. Eur. Phys. J. B 92, 234 (2019). https://doi.org/10.1140/epjb/e2019-100250-7
Received:

Revised:

Published:
Keywords
Solid State and Materials