Abstract
We report the first observation of the low-frequency Raman spectra of 2-propanol from ambient to supercritical condition. Phenomenological analysis is applied to the reduced Raman spectra. The low-frequency component is decomposed into two components: the lowest mode represented by a MRT(multiple random telegraph) model and the 2nd mode represented by a modified Gaussian. Only the characteristic time of the lowest mode sensitively depends on density and decreases with increasing density. The integrated intensity of each mode is proportional to the density.
Graphical abstract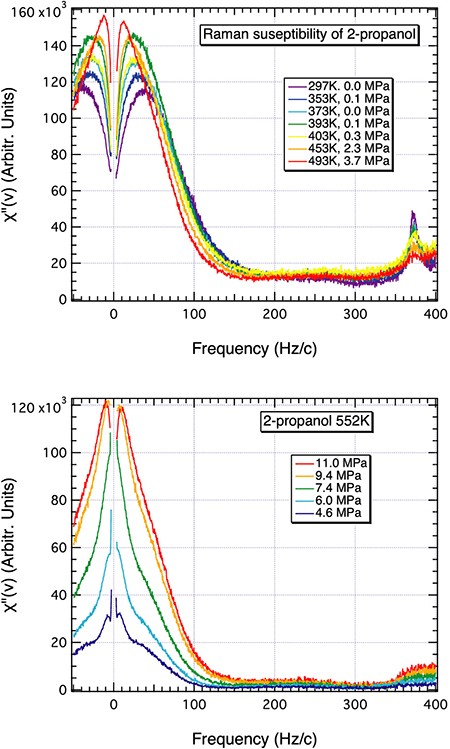 This is a preview of subscription content, log in to check access.
Access options
Buy single article
Instant unlimited access to the full article PDF.
US$ 39.95
Price includes VAT for USA
Subscribe to journal
Immediate online access to all issues from 2019. Subscription will auto renew annually.
US$ 199
This is the net price. Taxes to be calculated in checkout.
References
1.

S. Kinoshita, Y. Kai, M. Yamaguchi, T. Yagi, Phys. Rev. Lett. 75, 148 (1995)

2.

S. Kinoshita, Y. Kai, M. Yamaguchi, T. Yagi, Chem. Phys. Lett. 236, 259 (1995)

3.

G. Brinbaum,Phenomena Induced by Intermolecular Interactions (Plenum Press, New York, 1985)

4.

G.C. Tabisz, M.N. Neuman,Collision- and Interacion-Induced Spectroscopy (Kluwer Academic Pulishers, Dordrecht, 1995)

5.

R. Biswas, A. Das, H. Shirota, J. Chem. Phys. 141, 134506 (2014)

6.

S. Kakinuma, H. Shirota, J. Phys. Chem. B 122, 6033 (2018)

7.

N. Nishi, K. Koga, C. Ohshima, K. Yamamoto, U. Nagashima, K. Nagami, J. Am. Chem. Soc. 110, 5426 (1988)

8.

K. Mizoguchi, Y. Hori, Y. Tominaga, J. Chem. Phys. 97, 1961 (1992)

9.

Y. Amo, Y. Tominaga, J. Chem. Phys. 109, 3994 (1998)

10.

Y. Amo, Y. Tominaga, Physica A 276, 401 (2000)

11.

R. Böhmer, C. Gainaru, R. Richert, Phys. Rep. 125, 545 (2014)

12.

J. Watanabe, Y. Watanabe, S. Kinoshita, Chem. Phys. Lett. 333, 113 (2001)

13.

G.E. Walrafen, Y.C. Chu, G.J. Piermarini, J. Phys. Chem. 100, 10363 (1996)

14.

B.K.P. Scaife,Principles of Dielectrics (Oxford University Press, Oxford, 1989)

15.

F. Shibata, C. Uchiyama, K. Maruyama, Physica A 161, 42 (1989)

16.

Y. Amo, Y. Kameda, T. Usuki, AIP Adv. 6, 055319 (2016)

17.

M. Ban, S. Kitajima, K. Maruyama, F. Shibata, Phys. Lett. A 372, 351 (2008)

18.

M. Ricci, P. Bartolini, R. Chelli, G. Cardini, S. Califano, R. Righini, Phys. Chem. Chem. Phys. 3, 2795 (2001)

19.

F. Palombo, P. Sassi, M. Paolantoni, C. Barontini, A. Morresi, M.G. Giorgini, J. Phys. Chem. B 118, 215 (2014)

20.

S. Kakinuma, S. Ramati, J.F. Wishart, H. Shirota, J. Chem. Phys. 148, 193805 (2018)

21.

B. Schmidtke, N. Petzold, B. Pötzschner, H. Weingärtner, E.A. Rössler, J. Phys. Chem. B 118, 7108 (2014)

22.

Q. Zhong, J.T. Fourkas, J. Phys. Chem. B 112, 15342 (2008)

23.

T. Hasegawa, Y. Tanimura, J. Phys. Chem. B 115, 5545 (2011)

24.

J. Martí, J.A. Padró, E. Guàrdia, J. Mol. Liq. 64, 1 (1995)

25.

M.C.C. Ribeiro, J. Chem. Phys. 134, 244507 (2011)

26.

D. Sidler, M. Meuwly, P. Hamm, J. Chem. Phys. 148, 244504 (2018)

27.

H. Yada, M. Nagai, K. Tanaka, Chem. Phys. Lett. 473, 279 (2009)

28.

M. Hou, A. Yu, R. Lu, J. Raman Spectr. 48, 108 (2016)

29.

Y.J. Chang, E.W. Castner jr., J. Phys. Chem. 100, 3330 (1996)

30.

T. Bancewicz, A. Kamiński, J. Mol. Liq. 146, 35 (2009)

31.

G. Knopp, P. Radi, M. tulej, T. Gerber, P. Beaud, J. Chem. Phys. 118, 8223 (2003)

32.

G.C. Schatz, M.A. Ratner,Quantum Mechanics in Chemistry, (Prentice Hall, USA 1993)

33.

G.-Z. Jia, Q. Jie, W. Feng, J. Mol. Struct. 1100, 354 (2015)

34.

Y. Amo, Y. Tominaga, Physica A 265, 410 (1999)

35.

J. Watanabe, M. Watanabe, S. Kinoshita, Phys. Rev. B 74, 132105 (2006)
About this article
Cite this article
Amo, Y., Sato, T.H., Kameda, Y. et al. Lowest frequency mode in Raman susceptibility: 2-propanol from ambient to supercritical condition. Eur. Phys. J. B 93, 6 (2020) doi:10.1140/epjb/e2019-100145-1
Received:

Revised:

Published:
Keywords
Solid State and Materials