Abstract—The Land Degradation Neutrality (LDN) concept is a result of the development of global experience in assessing land degradation over the past 40 years and is worked out to harmonize different national methods for monitoring and evaluating the implementation of the sustainable development indicator 15.3.1: "proportion of land that is degraded over total land area". The paper reviews the results of land assessment for Russia using LDN concept approaches, first calculated for individual regions (federal subjects) using the Trends.Earth GIS module. This module uses global databases to interpret three main proxy indicators: land cover dynamics, land productivity dynamics, the dynamics of soil organic carbon stocks. Using "one out all out" principle, the Trends.Earth calculation for the entire territory of Russia shows the proportion of 12.3% of degraded lands, which is a very averaged indicator for the country with a high variety of socioeconomic and physical–geographical conditions. The variation in the of degraded lands calculated by this method ranges from about 63-67% in Rostov and Volgograd oblasts to less than 1% in Amur, Kaluga and Ivanovo oblasts. Considering the multidirectional trends in land quality change the "LDN index" is proposed for the development of the concept. It means the difference between the share of "improved" and "degraded" lands within a certain territory. The results of calculations should be considered as indicative, they will be specified as the LDN approach is developed and adapted for the territory of Russia.
Access options
Buy single article
Instant access to the full article PDF.
US$ 39.95
Tax calculation will be finalised during checkout.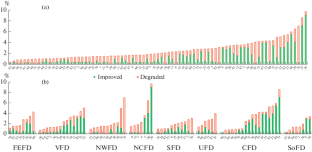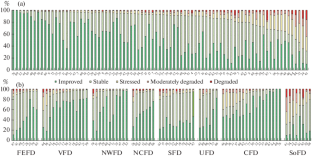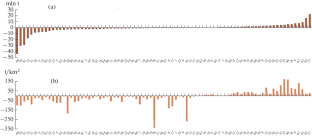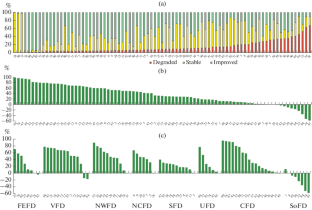 Notes
1.

By 2030, combat desertification, restore degraded land and soil, including land affected by desertification, drought and floods, and strive to achieve a land degradation-neutral world.

2.

According to the latest official data, the proportion of degraded and derelict lands in the Russian Federation is 6.1% of the total area of the country [7, 3]. This value was calculated by the authors of this study using statistical data, which were collected and processed by a method fundamentally different from the Trends.Earth system. In particular, agricultural, forestry, environmental statistics and land registry data were summarized. It is important to note that in the system of state monitoring of Russian lands there are no direct analogs of the concepts of land cover and land productivity, the types of land cover do not correspond to the national land accounting system, and the concept of land degradation is related only to agricultural lands and determined basing on a set of soil and agrochemical indices.
REFERENCES
1

Andreeva, O.V. and Kust, G.S., Cartographic assessment of desertification/degradation of Russian soils, Materialy Mezhdunarodnoi konferentsii "Opustynivanie i degradatsiya pochv," Moskva, 11–15 noyabrya 1999 (Proc. Int. Conf. "Desertification and Degradation of Soils," Moscow, November 11–15, 1999), Kust, G.S., Ed., Moscow, 1999, pp. 364–376.

2

Degradatsiya zemel' i opustynivanie v Rossii: Noveishie podkhody k analizu problemy i poisku putei resheniya (Degradation of Lands and Desertification in Russia: New Approaches to the Problem Analysis and Its Solution), Kust, G.S., Ed., Moscow: Pero, 2019.

3

Voluntary National Review: SDGs reflected in Russia's development goals till 2030, Analytical Center for the Government of the Russian Federation, 2020. https://ac.gov.ru/. Accessed July 20, 2020.

4

Kust, G.S., Andreeva, O.V., and Lobkovskiy, V.A., Land degradation neutrality: new approach for decision making in land use and land policy, Probl. Postsov. Prostranstva, 2018, no. 5 (4), pp. 369–389.

5

Kust, G.S., Andreeva, O.V., and Lobkovskiy, V.A., Land degradation neutrality: the modern approach to research on arid regions at the national level, Arid Ecosyst., 2020, vol. 10, no. 2, pp. 87–92.

6

Kust, G.S., Glazovskiy, N.F., Andreeva, O.V., Shevchenko, B.P., and Dobrynin, D.V., Assessment and cartography of desertification in the Russian Federation, Arid. Ekosist., 2002, no. 16, pp. 7–27.

7

UNCCD Report of Russian Federation on Combat Desertification, 2018. https://prais.unccd.int/unccd/reports. Accessed July 20, 2020.

8

Transforming Our World: the 2030 Agenda for Sustainable Development, Resolution A/RES/70/1 adopted by the UN General Assembly on September 25, 2015. https://unctad.org/meetings/en/SessionalDocuments/ares70d1_en.pdf. Accessed April 27, 2020.

9

Bai, Z., Dent, D., Olsson, L., and Schaepman, M., Proxy global assessment of land degradation, Soil Use Manage., 2008, vol. 24, no. 3, pp. 223–234.

10

Borrelli, P., Robinson, D.A., Fleischer, L.R., Lugato, E., Ballabio, C., Alewell, C., Meusburger, K., Modugno, S., Schutt, B., Ferro, V., Bagarello, V., van Oost, K., Montanarella, L., and Panagos, P., An assessment of the global impact of 21st century land use change on soil erosion, Nat. Commun., 2017, vol. 8, no. 1, pp. 1–13.

11

Cherlet, M., Ivits-Wasser, E., Sommer, S., et al., Land-Productivity Dynamics in Europe—Towards Valuation of Land Degradation in the EU, Rome, 2018. https://doi.org/10.2788/70673

12

Cherlet, M., Hutchinson, C., Reynolds, J., et al., World Atlas of Desertification, Luxembourg: Print. Off. European Union, 2018.

13

Land Cover CCI Product User Guide version 2.0, European Space Agency. https://maps.elie.ucl.ac.be/ CCI/viewer/download/ESACCI-LC-Ph2-PUGv2_2.0.pdf. Accessed July 5, 2020.

14

Global Soil Organic Carbon Map (GSOCmap): Technical Report, Rome: Food Agric. Org., 2018.

15

FAO/IIASA/ISRIC/ISS-CAS/JRC, Harmonized World Soil Database, Rome: Food Agric. Org., 2008.

16

Gio Global Land Component—Lot I "Operation of the Global Land Component," Framework service contract no. 388533 (JRC): product user manual, Leaf area index-Version 1, 2015, no. I1.10. https://land.copernicus.eu/global/sites/cgls.vito.be/files/products/ GIOGL1_PUM_NDVIV1_I1.10.pdf.

17

IPCC Guidelines for National Greenhouse Gas Inventories, Prepared by the National Greenhouse Gas Inventories Programme, Vol. 4: Agriculture, Forestry and Other Land Use, Eggleston, H.S., Buendia, L., Miwa, K., Ngara, T., and Tanabe, K., Eds., Hayama: Inst. Global Environ. Strategies, 2006.

18

Krasilnikov, P., Makarov, O., Alyabina, I., and Nachtergaele, F., Assessing soil degradation in northern Eurasia, Geoderma., 2016, vol. 7, no. 1, pp. 1–10.

19

Le, Q.B., Nkonya, E., and Mirzabaev, A., Biomass productivity-based mapping of global land degradation hotspots, in Economics of Land Degradation and Improvement—A Global Assessment for Sustainable Development, New York: Springer-Verlag, 2015, pp. 55–84.

20

Middleton, N. and Thomas, D., World Atlas of Desertification, London: Arnold, 1997, 2nd ed.

21

Nachtergaele, F.O., Petri, M., Biancalani, R., et al., Global Land Degradation Information System (GLADIS): An Information Database for Land Degradation Assessment at Global Level. Version 1.0, LADA Technical Report No. 17, Rome: Food Agric. Org., 2011.

22

Oldeman, L.R., Hakkeling, R.T.A., and Sombroek, W.G., World Map of the Status of Human-induced Soil Degradation: A Brief Explanatory Note, Wageningen: Int. Soil Ref. Inf. Centre, 1991.

23

Orr, B.J., Cowie, A.L., Castillo Sanchez, V.M., Chasek, P., Crossman, N.D., Erlewein, A., Louwagie, G., Maron, M., Metternicht, G.I., Minelli, S., Tengberg, A.E., Walter, S., and Welton, S., Scientific Conceptual Framework for Land Degradation Neutrality. A Report of the Science-Policy Interface, Bonn: UNCCD, 2017.

24

Sonneveld, B.J.G.S. and Dent, D.L., How good is GLASOD? J. Environ. Manage., 2009, vol. 90, pp. 274–283.

25

SOTER: Soil and Terrain (SOTER) database program, 1986–2016. https://www.isric.org/projects/soil-and-terrain-soter-database-programme. Accessed July 5, 2020.

26

Hengl, T., Mendes de Jesus, J., Heuvelink, G.B.M., Gonzalez, M.R., Kilibarda, M., Blagotić, A., Shangguan, W., Wright, M.N., Geng, X., Bauer-Marschallinger, B., Guevara, M.A., Vargas, R., MacMil-lan, R.A., Batjes, N.H., Leenaars, J.G.B., et al., SoilGrids250m: Global gridded soil information based on machine learning, PLoS One, 2017, vol. 12, no. 2, p. e0169748.

27

Trends, Earth, Conservation International, 2018. http://trends.earth.

28

UNCCD, Land Degradation Neutrality: The Target Setting Programme, Paris, 2016.

29

van Lynden, G.W.J., ISRIC Report 1997/08: Guidelines for the Assessment of Human-Induced Soil Degradation in Central and Eastern Europe (SOVEUR Project), Wageningen: Int. Soil Ref. Inf. Centre, 1997.

30

van Lynden, G.W.J. and Odeman, L.R., The Assessment of the Status of Human-Induced Soil Degradation in South and Southeast Asia, Wageningen: Int. Soil Ref. Inf. Centre, 1997.
Funding
The article was prepared using research materials funded by the Russian Science Foundation (grant no. 18-17-00178 "The development of the novel concept of land degradation neutrality to assess the effectiveness of the approaches for sustainable land use and climate change adaptation").
Ethics declarations
The authors declare that they have no conflict of interest.
About this article
Cite this article
Andreeva, O.V., Kust, G.S. Land Assessment in Russia Based on the Concept of Land Degradation Neutrality. Reg. Res. Russ. 10, 593–602 (2020). https://doi.org/10.1134/S2079970520040127
Received:

Revised:

Accepted:

Published:

Issue Date:
Keywords:
land degradation

desertification

global assessment

monitoring

land degradation assessment

land degradation neutrality

LDN index