Abstract
The place and potential role of groundwater in the Caspian Sea coastal water pollution is predicted for the first time with the use of synthetic analysis and the generalization of literature data on the Azerbaijan national groundwater, pathways, and mechanisms of its pollution and fundamental concepts and principles developed by landscape geochemistry. The findings show that the groundwater, which may absorb a given amount of organic pollutants from the soil surface (including the sites of oil exploration enterprises), can potentially carry them into the Caspian Sea waters, polluting it; consequently, along with the surface runoff of these pollutants, it can have an adverse impact on the ecology of this unique water body.
Access options
Buy single article
Instant access to the full article PDF.
USD 39.95
Price excludes VAT (USA)
Tax calculation will be finalised during checkout.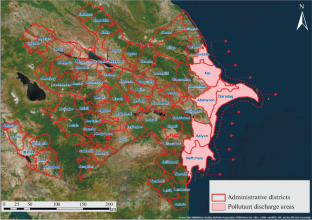 REFERENCES
Benjamin, C.L. and Polak, J., A Study of the Solubility of Oil in Water: Report EPS-4-EC-76-1, Ottawa: Environ. Prot. Service, 1973, pp. 1–25.

Bykov, V.N., Ekologiya nedropol'zovaniya (Ecology of Natural Resources Management), Perm, 2000, book 1.

De Mora, S., Villeneuve, J.-P., Sheikholeslami, M.R., Cattini, C., and Tolosa, I., Organochlorinated compounds in Caspian Sea sediments, Mar. Pollut. Bull., 2004, vol. 48, pp. 30–43.

Dorokhova, M.F. and Solntseva, N.P., Experimental studies of oil migration in soils of Kaliningrad oblast, in Geokhimiya landshaftov i geografiya pochv. K 100-letiyu M.A. Glazovskoi (Geochemistry of Landscapes and Soil Geography: To the 100th Anniversary of M.A. Glazovskaya), Moscow: APR, 2012, pp. 259–276.

Gadzhizade, F., Azizov, B., and Aliev, M., Ecological "call" of Absheron, Prir. Azerb., 2000, nos. 3–4, pp. 1–4.

Glazovskaya, M.A., Geokhimiya prirodnykh i tekhnogennykh landshaftov SSSR (Geochemistry of Nature and Technogenic Landscapes of USSR), Moscow: Vysshaya Shkola, 1988.

Gol'dberg, V.M., Vzaimosvyaz' zagryazneniya podzemnykh vod i prirodnoi sredy (Relationship of Pollution of Underground Waters and Environment), Leningrad: Gidrometeoizdat, 1987.

Gol'dberg, V.M., Mel'kanovitskaya, S.G., and Luk'yanchikov, V.M., Metodicheskie rekomendatsii po vyyavleniyu i otsenke zagryazneniya podzemnykh vod (Practical Manual for Identification and Evaluation of Pollution of Underground Waters), Moscow: Vses. Nauchno-Issled. Inst. Gidroekol. Inzh. Geol., 1988. Gyul', A.K., Problemy zagryazneniya Kaspiya (Problems of Caspian Sea Pollution), Baku, 2003.

Ismailov, N.M., Globalistika i ekologiya Azerbaidzhana (Globalistics and Ecology of Azerbaijan), Baku: Elm, 2006.

Ismailov, N.M., Biotekhnologiya neftedobychi. Printsipy i primenenie (Biotechnology of Oil Production: Principles and Use), Moscow: Infra-M, 2017.

Ismaylov, N.M., Nadjafova, S.I., and Gasimova, A., Absheron industrial region—Environmental stress factors, Arid Ecosyst., 2015, vol. 5, no. 3, pp. 194–200.

Israfilov, G.Yu. and Listengarten, V.A., Gruntovye vody i osvoenie zemel' Apsherona (Ground Waters and Land Exploration of Absheron), Baku: Elm, 1978.

Kasymov, A.G., Ekologiya Kaspiiskogo ozera (Ecology of the Caspian Lake), Baku, 1994.

Kasymov, A.G., Modern ecological problems of the Caspian Sea, Materialy Mezhdunarodnoi konferentsii "Sovremennye problemy biologicheskikh resursov Kaspiiskogo morya," 15–17 sentyabrya 2017 g. (Proc. Int. Conf. "Modern Problems of Biological Resources of the Caspian Sea," September 15–17, 2017), Baku, 2001, pp. 21–23.

Katunin, D.N., Kurochkina, T.F., Nasibulina, B.M., and Popova, O.V., Ecological and toxicological characteristic of Volga-Caspian basin under anthropogenic impact on biological resources and habitat, in Rybokhozyaistvennye issledovaniya na Kaspii: Rezul'taty NIR za 1999 g. (Fishery and Economic Study of the Caspian Sea Region: The Results of the Scientific Research Work in 1999), Astrakhan: Kasp. Nauchno-Issled. Inst. Rybn. Khoz. Okeanogr., 2000, pp. 30–44.

Mamedov, G.Sh., Khalilov, M.Yu., and Mamedova, S.Z., Ekologicheskii atlas Azerbaidzhanskoi Respubliki (Ecological Atlas of Azerbaijan Republic), Baku: Kartograficheskaya Fabrika, 2009.

Mamedov, R.M., Aliev, Ch.S., and Faizullaev, A.A., Role of rivers in pollution of the Caspian Sea, Izv. Akad. Nauk Azerb., Otd. Zemle, 2007, no. 3, pp. 67–74.

Morfogeneticheskie profili pochv Azerbaidzhana (Morphogenetic Profiles of Soils in Azerbaijan), Baku: Elm, 2004.

Museibov, M.A., Fizicheskaya geografiya Azerbaidzhana (Physical Geography of Azerbaijan), Baku: Maarif, 2009.

Oradovskaya, A.E. and Lapshin, N.N., Sanitarnaya okhrana vodozaborov podzemnykh vod (Sanitary Protection of Groundwater Intakes), Moscow: Nedra, 1987.

Panin, G.N., Mamedov, R.M., and Mitrofanov, I.V., Sovremennoe sostoyanie Kaspiiskogo morya (Modern State of the Caspian Sea), Moscow: Nauka, 2005.

Pelican, X., Hydraulic protection of ground waters against oil substances, Mezinár. Symp. o Znečištění Podzemn í ch Vod Ropnými Uhlovod, Prague, 1978, pp. 61–71.

Pikovskii, Yu.I., Differentiation of geochemical systems as a part of landscape-geochemical zonation, in Landshaftno-geokhimicheskoe raionirovanie i okhrana sredy (Landscape and Geochemical Zonation and Environment Protection), Moscow: Mysl', 1983, pp. 109–117.

Pikovskii, Yu.I.., Ismailov, N.M., and Dorokhova, M.F., Osnovy neftegazovoi geoekologii. Uchebnoe posobie (Fundamentals of Oil-Gas Geoecology: Manual), Moscow: Infra-M, 2015.

Salmanov, M.A., Ekologiya i biologicheskaya produktivnost' Kaspiiskogo morya (Ecology and Biological Productivity of the Caspian Sea), Baku, 1999.

Solntseva, N.P., Dobycha nefti i geokhimiya prirodnykh landshaftov (Oil Production and Geochemistry of Nature Landscapes), Moscow: Mosk. Gos. Univ., 1998.

The Caspian Sea has been recognized as most polluted sea of Russia, 2009. http://www.intast.ru/astr/2009/kaspy. shtml. Accessed February 25, 2019.

Ugrekhelidze, D.Sh., Metabolizm ekzogennykh alkanov i aromaticheskikh uglevodorodov v rasteniyakh (Metabolism of Exogenous Alkanes and Aromatic Hydrocarbons in the Plants), Tbilisi: Metsniereba, 1976.

Zhuze, T.P., Migratsiya uglevodorodov v osadochnykh porodakh (Migration of Hydrocarbons in Sediment Rocks), Moscow: Nedra, 1986.

Zonn, I.S., Kaspii: Illyuzii i real'nost' (The Caspian Sea: Illusions and Reality), Moscow: Karkas, 1999.
Ethics declarations
Conflict of interest. The authors declare that they have no conflict of interest. Statement of the welfare of animals. This article does not contain any studies involving animals or human participants performed by any of the authors.
Additional information
Translated by E. Kuznetsova
About this article
Cite this article
Ismailov, N.M., Alieva, S.R. Potential Role of Groundwater in Pollution of Coastal Water of the Caspian Sea by Organic Pollutants. Arid Ecosyst 9, 202–208 (2019). https://doi.org/10.1134/S2079096119030053
Received:

Revised:

Accepted:

Published:

Issue Date:

DOI: https://doi.org/10.1134/S2079096119030053
Keywords: