Abstract
The present study deals with the application of activated carbon for the adsorptive removal of Cu(II) from its aqueous solutions. This paper incorporates the effects of pH, adsorbent dose, contact time, concentration and temperature. Equilibrium adsorption isotherms are usually used to determine the capacity of an adsorbent. The adsorption behavior of the Cu(II) has been studied using Langmuir and Freundlich adsorption isotherm models. The monolayer adsorption capacity determined from the Langmuir adsorption equation has been found as 13.7 mg g–1. Adsorption of Cu(II) on adsorbent was found to increase on decreasing initial concentration, increasing pH up to 7 and increasing temperature. The paper discusses the thermodynamic parameters of the adsorption (the Gibbs free energy, entropy and enthalpy). Our results demonstrate that the adsorption process was spontaneous and endothermic under natural conditions. SPSS software was employed for prediction and investigation of factor importance in determining of reminded Cu(II) after adsorption. According to Beta-value the importance order of factors is: concentration, adsorbent dose, time, pH and temperature respectively. Also, the obtained results from this study show the good adaptation between experimental and prediction values of % Cu(II).
Access options
Buy single article
Instant access to the full article PDF.
USD 39.95
Price excludes VAT (USA)
Tax calculation will be finalised during checkout.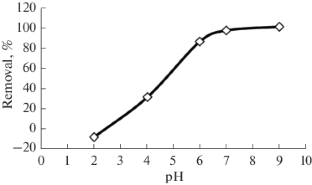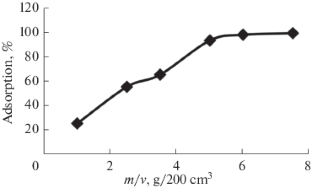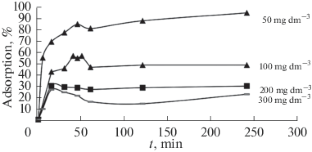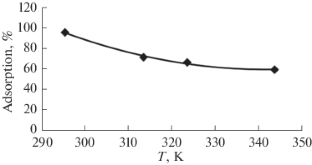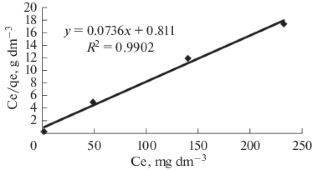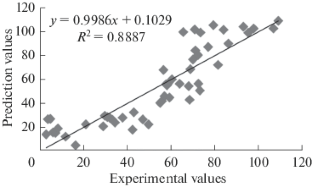 REFERENCES
Kobya, M., Demirbas, E., Senturk, E., and Ince, M., Bioresour. Technol., 2005, vol. 96, p. 1518.

Wu, Y., Zhou, J., Wen, Y., Jiang, L., and Wu, Y.J., Appl. Biochem. Biotechnol., 2012, vol. 168, p. 2079.

Mahmoud, A.M., Ibrahim, F.A., Shaban, S.A., and Youssef, N.A., Egypt. J. Pet., 2015, vol. 24, p. 27.

Mohamed, Z., Abdelkarim, A., Ziat, K., and Mohamed, S., J. Mater. Environ. Sci., 2016, vol. 7, p. 566.

Cay, S., Uyanik, A., and Ozasik, A., Sep. Purif. Technol., 2004, vol. 38, p. 273.

Dang, V.B.H., Doang-Vu, H.D., and Lohi, A., Bioresour. Technol., 2009, vol. 100, p. 211.

Li, N. and Bai, R., Sep. Sci. Technol., 2009, vol. 42, p. 237.

Muzenda, E., Kabuba, J., Ntuli, F., Mollagee, M., and Mulaba-Bafubiandi, A.F., Proc. World Congress on Engineering and Computer Science, San Francisco, CA, 2011, vol. 2, pp. 19–21.

Huang, Y.H., Hsueh, C.L., Cheng, H.P., Su, L.C., and Chen, C.Y., J. Hazard. Mater., 2007, vol. 44, p. 406.

Sudha Rani, K., Srinivas, B., Gouru Naidu, K., and Ramesh, K.V., Mater. Today: Proc., 2016. Sudha Rani, K., Srinivas, B., Gouru Naidu, K., and Ramesh, K.V., Mater. Today: Proc., 2018, vol. 5, no. 1, p. 463.

Rao, M.M., Ramesh, A., Rao, G.P.C., and Seshaiah, K., J. Hazard. Mater., 2006, vol. 129, p. 123.

Amosa, M.K., Environ. Nanotechnol. Monit. Manage., 2015, vol. 4, p. 93.

Lakherwal, D., Rattan, V.K., and Singh, H.P., Can. Chem. Trans., 2016, vol. 4, p. 121.

Machida, M., Yamazaki, R., Aikawa, M., and Tatsumoto, H., Sep. Purif. Technol., 2005, vol. 46, p. 88.

Krishnan, K.A., Sreejalekshmi, K.G., and Varghese, S., Desalination, 2010, vol. 257, p. 46.

Al Othman, Z.A., Habila, M.A., Ali, R., Ghafar, A.A., and El-din Hassouna, M. S., Arabian J. Chem., 2014, vol. 7, p. 1148.

Yang, T. and Lua, A.C., Mater. Chem. Phys., 2006, vol. 100, p. 438.

Saif, M.M.S., Siva Kumar, N., and Prasad, M.N.V., Colloids Surf., B, 2012, vol. 94, p. 73.

Tan, A.L. and Ahmad Hameed, B., J. Hazard. Mater., 2008, vol. 154, p. 337.

Tan, A. and Ahmad Hameed, B., J. Hazard. Mater., 2009, vol. 164, p. 473.
ACKNOWLEDGMENTS
The authors thank the Golestan University for providing financial support of the work described in this paper.
Additional information
The article is published in the original.
About this article
Cite this article
Elaheh Safaei, Langeroodi, N.S. & Baher, E. Investigation of Removal of Cu(II) Ions by Commercial Activated Carbon: Equilibrium and Thermodynamic Studies. Prot Met Phys Chem Surf 55, 28–33 (2019). https://doi.org/10.1134/S2070205119010180
Received:

Revised:

Accepted:

Published:

Issue Date:

DOI: https://doi.org/10.1134/S2070205119010180
Keywords:
adsorption

heavy metals

activated carbon

thermodynamics

statistical analysis