Abstract
The Mongolian culture is unique and attractive for its eco-friendly concept, and the Republic of Buryatia is a typical and representative region of this ethnic culture. Sustainable utilization of Mongolian ethno-cultural tourism resources has great significance on the promising and developing regional market of tourist services. In this study, Mongolian ethno-cultural tourism resources in the Republic of Buryatia were certified and classified in accordance with the Classification, Investigation and Evaluation of tourist resources of the Chinese National Standard GB/T 18972-2017. The spatial pattern of Mongolian ethno-cultural tourism resources in the CEZ BNT (Republic of Buryatia) was also revealed. The results showed that the Mongolian ethno-cultural tourism resources in Republic of Buryatia can be classified into 6 types and 23 subtypes, and the spatial distribution pattern is along the Lake Baikal and the main traffic lines. With the right approach to the organization and classification of ethno-cultural tourism resources, the cultural tourism industry can become the emerging power industry for the green sustainable development of the region and the country. The results will contribute to the protection and development of Mongolian ethno-cultural tourism resources, as well as promote the construction of the China–Mongolia–Russia economic corridor.
Access options
Buy single article
Instant access to the full article PDF.
USD 39.95
Price excludes VAT (USA)
Tax calculation will be finalised during checkout.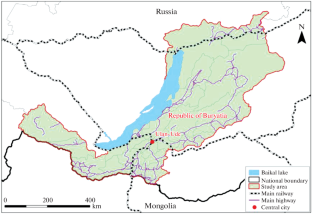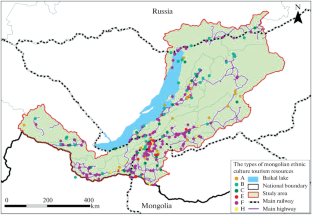 REFERENCES
Berghe, P.L., The Quest for the Other: Ethnic Tourism in San Cristobal, Mexico, Seattle, WA: Univ. of Washington Press, 1994.

King, B., What is ethnic tourism? An Australian perspective, Tourism Manag., 1994, vol. 15, no. 3, pp. 173–176.

Wood, R.E., Ethnic tourism, the state, and cultural change in Southeast Asia, Ann. Tourism Res., 1984, vol. 11, no. 3, pp. 353–374.

Varavina, G.N., Festive heritage of the indigenous peoples of the Arctic as a brand of ethnographic tourism in Yakutia, Arktika: istoriya i sovremennost': Materialy mezhdunarodnoi nauchnoi konferentsii (Arctic: History and Modernity: Proc. Int. Sci. Conf.), Moscow: Nauka, 2016, pp. 125–134.

Ivanova, I.S., Ethno-social policy in a multi-ethnic region as a factor in the development of the sphere of socio-cultural services and tourism, Cand. Sci. (Sotsiol.) Dissertation, Krasnodar: Kuban State Agrarian University named after I.T. Trubilin, 2017.

Kesheva, Z.M., Etnograficheskii turizm kak faktor etnokul'turnogo razvitiya (na primere Kabardino-Balkarskoi Respubliki) (Ethnographic Tourism as a Factor of Ethno-Cultural Development (on the Example of the Kabardino-Balkar Republic), Sotsial'no-Gumanitar. Znaniya, 2017, no. 2, pp. 333–340.

Morudenko, Ju.I. and Hortova, M.V., Promotion of the cultural and aviation heritage of the region through tourism, Vestn. Kemerov. Gos. Univ., 2015, vol. 7, no. 2 (62), pp. 20–24.

Li Yu, Zhao Minyan, Guo Peng, Zheng Ji, Li Zehong, Li Fujia, and Shi Yuanyuan, Comprehensive evaluation of ski resort development conditions in Northern China, Chinese Geogr. Sci., 2016, no 26 (3), pp. 401–409.

Shukhobodsky, A.B., An object of archaeological heritage as a separate phenomenon of cultural values, Obshchestvo. Sreda. Razvitie (Terra Humana), 2011, no. 4, pp. 136–140.

Berlyant, A.M., Geoinformatsionnoye kartirovaniye (Geo-Information Mapping), Moscow: Astreya, 1997.

Li Yu, Li Zehong, Xia Bing, Sun Dongqi, Jin Xueting, et al., The Development Model and Mechanism of the Jingzhang Cultural, Sports and Tourism Industry Zone in Zhangjiakou City, Beijing: Science Press, 2018.

Tsyrempilova, I.S., Objects of cultural heritage in the republic of Buryatia in the contemporary regional humanities, Vlast', 2018, vol. 26, no. 8, pp. 141–147. https://doi.org/10.31171/vlast.v26i8.6059

Bazarov, B.A., Imenokhoev, N.V., Miyagashev, D.A., and Nanzatov, B.Z., Antiquities of Ulan-Ude and its vicinity, Vestn. Buryat. Nauchn. Tsentra Sib. Otdel. Ross. Akad. Nauk, 2016, no. 2 (22), pp. 85–98.
ACKNOWLEDGMENTS
This research was funded by Key Collaborative Research Program of the Alliance of International Science Organizations (Grant number ANSO-CR-KP-2020-06, ANSO-CR-KP-2020-02), A-type strategic leading science and technology project of Chinese Academy of Sciences (Grant number XDA20030203), National Natural Science Foundation of China (Grants numbers 32161143029, 42071282).
Ethics declarations
The authors declare that they have no conflicts of interest.
About this article
Cite this article
Yangutova, A., Dong, S., Cheng, H. et al. Classification and Spatial Pattern of Mongolian Ethno-Cultural Tourism Resources in the Republic of Buryatia (Russia). Geogr. Nat. Resour. 43 (Suppl 1), S109–S115 (2022). https://doi.org/10.1134/S1875372822050195
Received:

Revised:

Accepted:

Published:

Issue Date:

DOI: https://doi.org/10.1134/S1875372822050195
Keywords:
Mongolian ethno-cultural tourism resources

classification

spatial pattern

Republic of Buryatia