Abstract
Sustainable Development Goal 11, titled "sustainable cities and communities" has a target (11a), which is Support positive economic, social and environmental links between urban, peri-urban and rural areas by strengthening national and regional development planning. In this sense, the city is a key factor in creating sustainable development. At a time when urbanization is accelerating with rapid population growth, the social and economic role of urban areas is likely to increase and urban boundaries are expanding. In order to accelerate the development of modern urban areas, the urban cluster method is widely used to plan and develop large cities and their satellite cities, villages and settlements together. The purpose of our study is to identify the socio-economic impact and gravitation cluster area of the State ranked Strategical Central cities (Darkhan, Khovd, Choibalsan, and Dalanzadgad) and to support the development of urban, semi-urban and rural areas in a coordinated manner. According to John Friedman, based on the theory that urban field have a radius of up to 100 km, a radius of 100 km was drawn from the four city centers, after which the real socio-economic impact-gravity framework was determined based on three main indicators: Reilly's law of retail gravitation, road classification and ecological barriers. By correctly defining the scope of socio-economic impact of these State ranked Strategical Central cities, it is possible to increase the development of neighboring localities, indirectly affect the territory outside the cluster area, and become a large complex with health, education, culture and industrial hubs.
Access options
Buy single article
Instant access to the full article PDF.
USD 39.95
Price excludes VAT (USA)
Tax calculation will be finalised during checkout.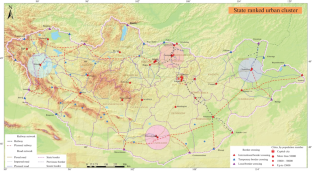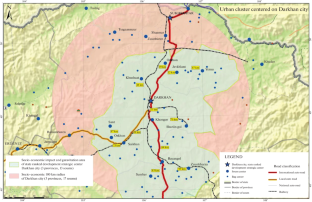 REFERENCES
Porter, M.E., On Competition, Boston: Harvard Business School Press, 1998.

Choe, K. and Laquian, A., City Cluster Development, Mandaluyong: Asian Development Bank, 2008

Jha, Sh., Raghuram, S., and Awasthi, S., Exploring strategies for planned urban cluster development in South Asia, ADB South Asia Working Paper Series, no. 64, 2019.

Choe, K. and Roberts, B., Competitive Cities in the 21st Century, Mandaluyong: Asian Development Bank, 2011.

Bayantur, M., Urban issues of the Mongolian People's Republic, Geogr. Issues of Mongolia, 1970, vol. 10, pp. 44–53.

Law on Autoroads of Mongolia, The parliament of Mongolia, 2017. https://www.legalinfo.mn/law/details/12656

Reilly, W., The Law of Retial Gravitation, New York: Knickerbocker Press, 1931.

United Nations, HABITAT III, New urbanization program, Ulaanbaatar, 2017.

Gungaadash, B., Socio-Economic Geography of the Mongolian People's Republic, Ulaanbaatar, 1986.

Altanbagana, M. and Tseyenkhand, P., Types of urban clusters based on regions and urban areas, and its criteria and evaluation, Geogr.-Geoecol. Issues of Mongolia, 2020, vol. 41, pp. 296-304

NSO, National Statistical Office of Mongolia, 2020. www.1212.mn
ACKNOWLEDGMENTS
This research was supported by "Geographical characteristics of the formation of the framework of the economy, settlement pattern and nature management in Russia (Siberia) and Mongolia in conditions of the landlocked location and an enhancement of Eurasian integration processes" 2021–2023 joint project of Institute of Geography and Geoecology, Mongolian Academy of Sciences and V.B. Sochava Institute of Geography, Siberian branch, Russian Academy of Sciences. I would like to express my deep gratitude to two leaders of project and our colleagues for supporting this study with precious advice, research data and environment.
Ethics declarations
The authors declare that they have no conflicts of interest.
About this article
Cite this article
Tseyenkhand, P., Altanbagana, M. & Bezrukov, L.A. Defining the Socio-Economic Impact and Gravitation Cluster Area of the State Ranked Strategical Central Cities That Play a Leading Role in Mongolia Development. Geogr. Nat. Resour. 43 (Suppl 1), S103–S108 (2022). https://doi.org/10.1134/S1875372822050183
Received:

Revised:

Accepted:

Published:

Issue Date:

DOI: https://doi.org/10.1134/S1875372822050183
Keywords:
urban cluster

state ranked strategical cities

regional development

strategic center

gravitation