Abstract
Studies have been carried out in natural forests on the territory of a large industrial center of Eastern Siberia (the city of Irkutsk). On the selected eight test sites, the concentration of suspended particles in the atmospheric air was measured in the following size range: PM0.3, PM0.5, PM1.0, PM2.5, PM5.0, and PM10.0 and the AQI air quality index is calculated. Forest pollution is assessed by the degree of accumulation of particulate matter (PMx) in pine needles (Pinus sylvestris L.)—the main forest-forming species. Using scanning electron microscopy on the surface of the needles, the concentration, size, and chemical composition of PMx were determined. These particles were found to contain a high proportion of heavy metals. A direct correlation was found between the sum of 20 heavy metals (∑20 HM) adsorbed by needles, the content of PMx in the atmospheric air, and the AQI index (r = 0.52–0.85). It has been found that the adsorption of a solid aerosol results in the formation of metallized accumulations of PMx of different sizes, which actively penetrate into the tissues of the needles through the stomata and cuticle, exerting a toxic effect on the plant organism. It is shown that urban forests are a powerful factor in cleansing the air environment of the city; however, the currently observed significant pollution of the forests themselves requires the optimization of their condition.
Access options
Buy single article
Instant access to the full article PDF.
USD 39.95
Price excludes VAT (USA)
Tax calculation will be finalised during checkout.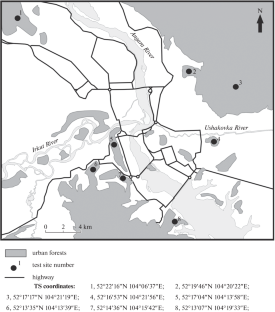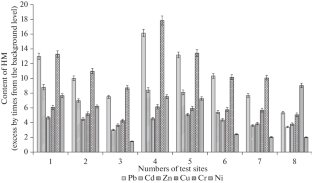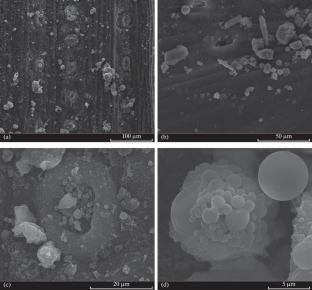 REFERENCES
WHO: Air pollution – a global emergency. https://regnum.ru/news/polit/2674752.html. Cited May 10, 2022.

Zallaghi, E., Goudarzi, G., Sabzalipour, S., and Zarasvandi, A., Effects of long-term exposure to PM2.5 on years of life lost and expected life remaining in Ahvaz city, Iran (2008–2017), Envir. Sci. Pollution Res., 2021, vol. 28, pp. 280–286.

Live Animated Air Quality Map. https://www.iqair. com/ru/air-quality-map. Cited June 12, 2022.

Khosravipour, M., Safari-Faramani, R., Rajati, F., and Omidi, F., The long-term efect of exposure to respirable particulate matter on the incidence of myocardial infarction: a systematic review and meta-analysis study, Envir. Sci. Pollution Res., 2022, vol. 29, pp. 42347–42371.

Xin, L., Wang, J., Sun, J., Zhang, C., Tong, X., Wan, J., Feng, J., Tian, H., and Zhang, Z., Cellular effects of PM2.5 from Suzhou, China: Relationship to chemical composition and endotoxin content, Envir. Sci. Pollution Res., 2021, vol. 28, pp. 287–299.

Usman, F., Zeb, B., Alam, K., Huang, Z., Shah, A., Ahmad, I., and Ullah, S., (PM10, PM2.5 and PM1) and Its Characterization through FTIR, XRD and SEM–EDX Techniques in the Foothills of the Hindu Kush Region of Northern Pakistan, Atmosphere, 2022, vol. 13, p. 124.

Kalugina, O.V., Mikhailova, T.A., and Shergina, O.V., Contamination of Scots pine forests with polycyclic aromatic hydrocarbons on the territory of industrial city of Siberia, Russia, Envir. Sci. Pollution Res., 2018, vol. 25, no. 21, pp. 21176–21184.

Forestry regulation of forest areas located within the boundaries of the municipality "city of Irkutsk." https:// admirk.ru/authority/documents/element/114495/. Cited June 12, 2022.

Gosudarstvennyi doklad "O sostoyanii i ob okhrane okruzhayushchei sredy Irkutskoi oblasti v 2020 godu" (State Report "On the State and Protection of the Environment of the Irkutsk Oblast in 2020"), Irkutsk: Megaprint, 2021.

Nguyen, T., Yu, X., Zhang, Z., Liu, M., and Liu, X., Relationship between types of urban forest and PM2.5 capture at three growth stages of leaves, J. Envir. Sci., 2015, vol. 27, pp. 33–41.

Shi, J., Zhang, G., An, H., Yin, W., Xia, X., Quantifying the particulate matter accumulation on leaf surfaces of urban plants in Beijing, China, Atmos. Pollution Res., 2017, vol. 8, pp. 836–842.
ACKNOWLEDGMENTS
We thank M.M. Maslennikova, leading engineer at the Department of Ultrastructure of the Limnological Institute, Siberian Branch, Russian Academy of Sciences, Irkutsk for her help in the studies using scanning electron microscopy.
Funding
This work was supported by the Russian Science Foundation, project no. 22-24-00140.
About this article
Cite this article
Mikhailova, T.A., Shergina, O.V. Estimation of Urban Forest Pollution in Irkutsk According to the Level of Adsorption of PMx Particles by Scots Pine Needles. Geogr. Nat. Resour. 43 (Suppl 1), S29–S35 (2022). https://doi.org/10.1134/S1875372822050146
Received:

Revised:

Accepted:

Published:

Issue Date:

DOI: https://doi.org/10.1134/S1875372822050146
Keywords:
urban forests

suspended PMx particles

air quality index AQI

heavy metal adsorption of pine needles

scanning electron microscopy