Abstract
The increase in the capacity of aluminum production enterprises poses a threat to environmental safety in a large area. This is especially true in the conditions of the steppes, where the loss of grassy vegetation is not visually traced due to its greater stability when compared to coniferous trees of the taiga zone. In this regard, there is a need for special comprehensive studies of the components of the natural environment and an assessment of their geochemical transformation. Based on the materials of long-term experimental landscape–geochemical studies on the territory exposed to dust and gas emissions from aluminum production plants in Khakassia, the group of the main pollutant elements of geosystems (F, Na, Al, and Ni) has been identified. For all analyzed indicators, including toxicity, fluorine is identified as a priority pollutant. Its forms of presence in natural conditions are established. The characteristics and indices of the total pollution of soluble and poorly soluble substances of snow water by chemical elements are given, which remain quite high at a distance of 5–10 km from the plants. The mapping method shows the territorial distribution of loads of the most active water-soluble form (F–), as well as the levels of its accumulation in soils over a 35-year period and the total content in the green plant mass. The degree of fluorine anomaly in soils and plants in relation to its background values has been established. In order to normalize the loads of the toxicant element, a comparative cartographic method was used, which made it possible to establish the criteria for soil pollution: permissible, critical, and unacceptable, as well as the corresponding loads of fluorine in soluble and slightly soluble form. The potential geoecological situation is assessed as high and dangerous.
Access options
Buy single article
Instant access to the full article PDF.
USD 39.95
Price excludes VAT (USA)
Tax calculation will be finalised during checkout.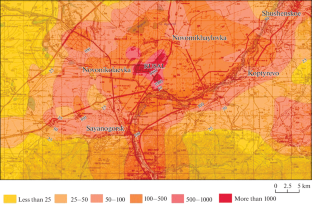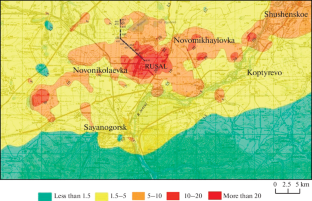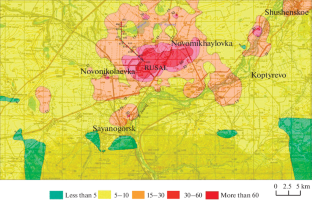 REFERENCES
Izuchenie i otsenka vozdeistviya cheloveka na prirodu (Study and Assessment of Human Impact on Nature), Moscow: TsNIITEIlegproma, 1980.

Tekhnogennye potoki veshchestva v landshaftakh i sostoyanie ekosistem (Technogenic Flows of Matter in Landscapes and the State of Ecosystems), Moscow: Nauka, 1981.

Landshaftno-geokhimicheskie osnovy fonovogo monitoringa prirodnoi sredy (Landscape-Geochemical Foundations of Background Monitoring of the Natural Environment), Moscow: Nauka, 1989.

Kasimov, N.S., Ekogeokhimiya landshaftov (Ecogeochemistry of Landscapes), Moscow: IP Filimonov, 2013.

Liu, W., Armistead, R., Edgerton, E., and Wanga, Y., Atmospheric aerosol over two urban-rural pairs in the Southeastern United States: Chemical composition and possible sources, Atmos. Envir., 2005, vol. 39, pp. 4453–4470.

Norra, S., Umweltgechemische signale urbaner systeme am beispiel von boden, pflanzen und stauben in Karlsruhe, Dissertation doctor der naturwissenschaften, Karlsrihe, 2001.

Kim, E., Hopke, P.K., and Edgerton, E.S., Source identification of Atlanta aerosol by positive matrix factorization, J. Air and Waste Manag. Assoc., 2003, vol. 53, pp. 731–739.

Mikhailova, T.A. and Berezhnaya, N.S., Assessing the state of pine forests under long-term exposure to airborne industrial emissions from the Irkutsk Aluminum Plant, Geogr. Prir. Resur., 2000, no. 1, pp. 43–50.

Davydova, N.D., Transformation of the geochemical environment in a technogenic anomaly, Probl. Biogeokhimi. Geokhim. Ekol., 2012, no. 3 (20), pp. 72–81.

Davydova, N.D. and Znamenskaya, T.I., Tekhnogennoe veshchestvo v stepnykh landshaftakh (Technogenic Substance in Steppe Landscapes), Snytko, V.A., Ed., Novosibirsk: GEO, 2018.

Saraev, V.G., Fluorine in the South Minusinsk Basin and its technogenic sources, Geogr. Prir. Resur., 1994, pp. 49−54.

GOST (State Standard) 17.4.4.02-84-2008: Protection of Nature. Soils. Methods of Selection and Preparation of Samples for Chemical, Bacteriological, Helminthological Analysis, 2008.

Grishina, L.A. and Samoilova, E.M., Uchet biomassy i khimicheskii analiz rastenii (Accounting for Biomass and Chemical Analysis of Plants), Moscow: Mosk. Gos. Univ., 1971.

Ostrikova, K.T., Polevoi opredelitel' pochv Rossii (Field Determinant of Russian Soils), Moscow: Pochv. Inst. im. V.V. Dokuchaeva, 2008.

Shishov, L.L., Tonkonogov, V.D., Lebedeva, I.I., and Gerasimova, M.I., Klassifikatsiya i diagnostika pochv Rossii (Classification and Diagnostics of Russian Soils), Smolensk: Oikumena, 2004, 342 p.

PNDF 14.1:2:4.135-2008: Method for Performing Measurements of the Mass Concentration of Elements in Samples of Drinking, Natural, Waste Water and Atmospheric Precipitation by Atomic Emission Spectrometry with Inductively Coupled Plasma, Moscow: Goskom Ross. Fed. po Okhrane Okr. Sredy, 2008.

PNDF 16.1:2.3:3-11-2005: Method for Performing Measurements of the Content of Metals in Solid Objects by the Method of Atomic Emission Spectrometry with Inductively Coupled Plasma, Moscow: Goskom Ross. Fed. po Okhrane Okr. Sredy, 2005.

RD 52.24.377-2008: Method for Measuring the Mass Concentration of Metals (Al, Ag, Be, Cd, Co, Cr, Cu, Fe, Mn, Mo, Ni, Pb, V, Zn) in Land Surface Waters by Atomic Absorption with Direct Electrothermal Atomization Samples, Rostov-on-Don: Rosgidromet, 2008.

RD 52.24.360-2008: Mass Concentration of Fluorides In Waters. Technique for Performing Measurements by the Potentiometric Method with an Ion-Selective Electrode, Rostov-on-Don: Rosgidromet, 2008.

Saet, Yu.E. and Smirnova, R.S., Geochemical principles for identifying zones of impact of industrial emissions in urban agglomerations, Voprosy Geografii (Issues of Geography), Moscow: Mysl', 1983, Coll. 120, pp. 45−55.
About this article
Cite this article
Davydova, N.D., Znamenskaya, T.I. Comparative-Cartographic Method of Rationing Pollutant Loads on Geosystems Using the Example of Fluorine. Geogr. Nat. Resour. 43 (Suppl 1), S63–S67 (2022). https://doi.org/10.1134/S1875372822050092
Received:

Revised:

Accepted:

Published:

Issue Date:

DOI: https://doi.org/10.1134/S1875372822050092
Keywords:
pollutants

fluorine

load

anomaly

rationing

mapping

pollution assessment criteria