Abstract
This article presents the results of a study of the spatial distribution of microplastic (MP) pollution of urban snow cover conducted on the territory of the Barnaul urban agglomeration. The algorithm of the study involves the following sequential steps: snow sampling, the identification of MP particles, a calculation of the total particle abundance in the sample, and a concentration assessment. In total, 49 snow samples from various parts of the city were taken for the study in the first decade of March 2021. They were stored in 3-L glass containers. MP particles were detected using a scanning electron microscope. MPs are found in all snow samples in concentrations from 27 to 595 items/L, with an average concentration of 125 items/L. The city of Barnaul is located on three natural landscapes: uvals of the Ob Plateau, a dell formed by an ancient river runoff with a ribbon forest, and the Ob Valley. The maximum amount of MP particles is found in the snow cover of the Ob Plateau and the minimum is in the Ob Valley. The next stage involved assessing the level of MP pollution of the city across six functional zones. Assessment results show that the maximum average concentration of MP particles in Barnaul during the winter period is typical for urban green spaces (parks and squares) in all districts of the city. The possible reasons for that are the continuous accumulation of snow in such areas throughout the entire cold weather period and the so-called "comb-out" effect associated with the ability of plants to filter particles of dry atmospheric deposition. The snow cover of Barnaul is found to contain MP particles of all five main shapes: granule, foam, fragment, film, and fiber.
Access options
Buy single article
Instant access to the full article PDF.
USD 39.95
Price excludes VAT (USA)
Tax calculation will be finalised during checkout.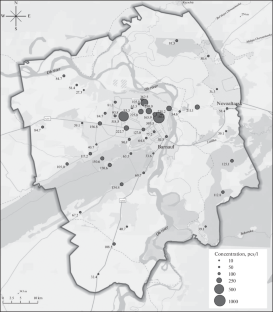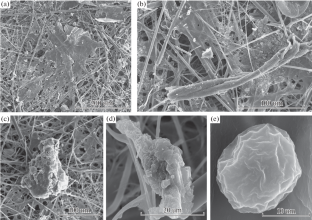 REFERENCES
Horton, A.A., Walton, A., Spurgeon, D.J., Lahive, E., and Svendsen, C., Microplastics in freshwater and terrestrial environments: Evaluating the current understanding to identify the knowledge gaps and future research priorities, Sci. Total Envir., 2017, vol. 586, pp. 127–141.

Shahul Hamid, F., Bhatti, M.S., Anuar, N., Anuar, N., Mohan, P., and Periathamby, A., Worldwide distribution and abundance of microplastic: How dire is the situation?, Waste Manag. Res., 2018, vol. 36, pp. 873–897.

Li, J., Liu, H., and Paul Chen, J., Microplastics in freshwater systems: A review on occurrence, environmental effects, and methods for microplastics detection, Water Res., 2018, vol. 137, pp. 362–374.

World Economic Forum. 2016. The new plastics economy. Rethinking the future of plastics. https://www. weforum.org/reports/the-new-plastics-economyrethinking-the-future-of-plastics.

Horton, A.A. and Dixon, S.J., Microplastics: An introduction to environmental transport processes, Wiley Interdiscipl. Rev., Water, 2018, vol. 5, p. e1268.

Brahney, J., Mahowald, N., Prank, M., Cornwell, G., Klimont, Z., Matsui, H., and Prather, K.A., Constraining the atmospheric limb of the plastic cycle, Proc. National Acad. Sci., 2021, vol. 118, p. e2020719. https://doi.org/10.1073/pnas.2020719118

Jambeck, G.R., Jr., Wilcox, C., Siegler, T.R., Perryman, M., Andrady, A., Narayan, R., and Law, K.L., Plastic waste inputs from land into the ocean, Science, 2015, vol. 347, pp. 768–771.

Scheurer, M. and Bigalke, M., Microplastics in Swiss floodplain soils, Envir. Sci. Technol., 2018, vol. 52, pp. 3591−3598.

Ambrosini, R., Azzoni, R.S., Pittino, F., Diolaiuti, G., Franzetti, A., and Parolini, M., First evidence of microplastic contamination in the supraglacial debris of an alpine glacier, Envir. Pollut., 2019, vol. 253, pp. 297–301.

Aves, A.R., Revell, L.E., Gaw, S., Ruffell, H., Schuddeboom, A., Wotherspoon, N.E., LaRue, M., and McD-onald, A.J., First evidence of microplastics in Antarctic snow, The Cryosphere Discuss, 2022, in review. https://doi.org/10.5194/tc-2021-385

Parolini, M., Antonioli, D., Borgogno, F., Gibellino, M.C., Fresta, J., Albonico, C., De Felice, B., Canuto, S., Concedi, D., and Romani, A., Microplastic contamination in snow from western Italian Alps, Int. J. Envir. Res. Public Health, 2021, vol. 18, no. 2, p. 768. https://doi.org/10.3390/ijerph18020768

Bergmann, M., Mutzel, S., Primpke, S., Tekman, M.B., Trachsel, J., and Gerdts, G., White and wonderful? Microplastics prevail in snow from the Alps to the Arctic, Sci. Adv., 2019, vol. 12, no. 5, pp. 592–599.

Dris, R., Gasperi, J., Rocher, V., Saad, M., Renault, N., et al., Microplastic contamination in an urban area: A case study in greater Paris, Envir. Chem., 2015, vol. 12, no. 5, pp. 592–599.

Klein, M. and Fischer, E.K., Microplastic abundance in atmospheric deposition within the metropolitan area of Hamburg, Germany, Sci. Total Envir., 2019, vol. 685, pp. 96–103.

Malygina, N.S., Biryukov, R.Yu., D'yachenko, A.V., Zolotov, D.V., Kuryatnikova, N.A., Mitrofanova, E.Yu., Pershin, D.K., Yashina, T.V., and Chernykh, D.V., Atmospheric intake of microparticles in the Katunsky Biosphere Reserve according to the data of a microscopic study of the snow cover, in Aerozoli Sibiri (Aerosols of Siberia), Tomsk: Inst. Opt. Atmos. Sib. Otdel. Ross. Akad. Nauk, 2020.

Malygina, N.S., Biryukov, R.Yu., Zolotov, D.V., Kuryatnikova, N.A., Mitrofanova, E.Yu., Pershin, D.K., and Chernykh, D.V., Microplastics in the snow cover of the south of Western Siberia, ENVIROMIS 2020: Izbrannye trudy Mezhdunarodnoi konferentsii i shkoly molodykh uchenykh po izmereniyam, modelirovaniyu i informatsionnym sistemam dlya izucheniya okruzhayushchei (ENVIROMIS 2020: Selected Proceedings of the International Conference and School of Young Scientists on Measurement, Modeling and Information Systems for Environmental Studies) (Tomsk, 2020), Tomsk: Tomsk. Tsentr Nauchno-Tekhn. Inf., 2020, pp. 254–257.

Resident population of the Russian Federation by municipalities as of January 1, 2021. Cited June 5, 2022.

Ask, A., Anker-Nilssen, T., Herzke, D., Trevail, A.M., van Franeker, J.A., and Gabrielsen, G.W., Contaminants in northern fulmars (Fulmarus glacialis) exposed to plastic. Report, Copenhagen K., Nordic Council of Ministers, 2016. http://norden.diva-portal.org/smash/ record.jsf?pid=diva2%3A1010249&dswid=4912. https://doi.org/10.6027/TN2016-543

Gniadek, M. and Dąbrowska, A., The marine nano- and microplastics characterisation by SEM-EDX: The potential of the method in comparison with various physical and chemical approaches, Mar. Pollut. Bull., 2019, vol. 148, pp. 210–216.

Kazmiruk, V.D., Mikroplastik v okruzhayushchei srede: narastayushchaya problema planetarnogo masshtaba (Microplastics in the Environment: A Growing Problem on a Planetary Scale), Moscow: Lenand, 2020.

Dehghani, S., Moore, F., and Akhbarizadeh, R., Microplastic pollution in deposited urban dust, Tehran metropolis, Iran, Envir. Sci. Pollut. Res., 2017, vol. 24, pp. 20360–20371.
Funding
Sampling and interpretation of results including landscape analysis was funded by the Russian Foundation for Basic Research, project no. 19-05-50055. Approbation of the methodology for determining microplastics and their forms was funded by the Russian Science Foundation under grant no. 21-17-00135.
Additional information
Translated by A. Ovchinnikova
About this article
Cite this article
Chernykh, D.V., Biryukov, R.Y., Kuryatnikova, N.A. et al. Microplastics in the Snow Cover of Urban Landscapes: A Case Study of Barnaul. Geogr. Nat. Resour. 43 (Suppl 1), S44–S49 (2022). https://doi.org/10.1134/S1875372822050080
Received:

Revised:

Accepted:

Published:

Issue Date:

DOI: https://doi.org/10.1134/S1875372822050080
Keywords:
microplastics

Barnaul

landscape

snow cover

functional zoning

electron microscope