Abstract
Background: Chemotherapy drugs commonly used for cancer therapy, but chemotherapy has limitation due to side effects. Current studies suggest natural products are reducing the side effects of chemotherapy medicines. In this study, we examined the side effects of doxorubicin (Dox) in esophageal cancer cells (CSCs) derived tumors in vivo. Methods: Esophageal cancer cells (YMI) were treated in vitro with daphnetin (DAP) along with DOX. The MTT assay was used for estimating the cell viability and Annexin/7-AAD was used for the determination of apoptosis. Cell cycle arrest was conducted using the PI-staining method. The potential effect of DAP was evaluated by the estimation of oxidative stress such as total antioxidant capacity (TAC), malondialdehyde (MDA) and superoxide dismutase (SOD) and body weight in the xenograft mice. Results: DAP can protect Dox cell toxicity by suppressing cell apoptosis of ESCC. DAP arrest the cells as S-phase. In vivo experimental study showed that Dox simultaneously with DAP decreases the tumor size along with increased body weight in the nude mice compared to Dox alone treated group mice. Dox along with the DAP exhibited less systemic toxicity and reduced oxidative stress fraction circulation. Conclusion: The result suggests that daphnetin may be used as an adjuvant therapy to reduce the systemic toxicity of chemotherapeutic agents, such as DOX, in stem cell treatment with ESCC cancer.
Access options
Buy single article
Instant access to the full article PDF.
USD 39.95
Price includes VAT (USA)
Tax calculation will be finalised during checkout.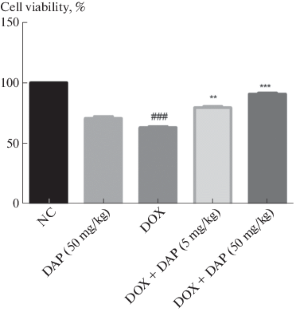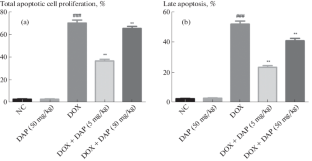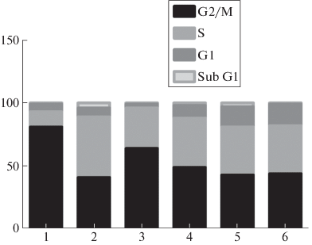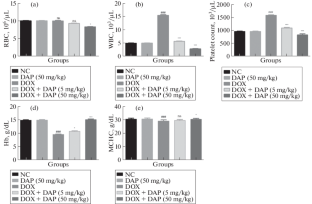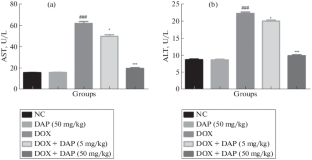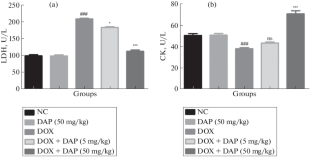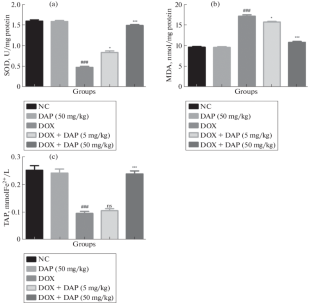 Abbreviations
DOX:

=Doxorubicin

CSCs:

=Esophageal cancer cells

YMI:

=Esophageal cancer cells

DAP:

=Daphnetin

TAC:

=Total antioxidant capacity

MDA:

=Malondialdehyde

SOD:

=Superoxide dismutase

EC:

=Esophageal cancer

TNF-α:

=Tumor necrosis factor-α

IL-1:

=Interleukin-1

DMEM:

=Dulbecco's modified eagle medium

bFGF:

=Basic fibroblast growth factor

XTT:

=2,3-bis (2-methoxy-4-nitro-5-sulfophenyl)−5-[(phenylamino) carbonyl]−2H-tetrazolium hydroxide
REFERENCES
1

Pennathur, A., Gibson, M.K., Jobe, B.A., and Luketich, J.D., Oesophageal carcinoma, Lancet, 2013, pp. 400–412.

2

Smyth, E.C., Lagergren, J., Fitzgerald, R.C., Lordick, F., Shah, M.A., Lagergren, P., et al., Oesophageal cancer, Nat. Rev. Dis. Prim., 2017, vol. 3.

3

Gibbs, S. and Lattimer, C., Oesophageal cancer, in Key Topics in General Surgery, 2002, pp. 203–207.

4

Ciurea, M.E., Georgescu, A.M., Purcaru, S.O., Artene, S.A., Emami, G.H., Boldeanu, M.V., et al., Cancer stem cells: biological functions and therapeutically targeting, Int. J. Mol. Sci., 2014, vol. 15, no. 5, pp. 8169–8185.

5

Tajaldini, M., Samadi, F., Khosravi, A., Ghasemnejad, A., and Asadi, J., Protective and anticancer effects of orange peel extract and naringin in doxorubicin treated esophageal cancer stem cell xenograft tumor mouse model, Biomed. Pharmacother., 2020, vol. 121.

6

Li, L., Yue, G.G.L., Lee, J.K.M., Wong, E.C.W., Fung, K.P., Yu, J., et al., The adjuvant value of Andrographis paniculata in metastatic esophageal cancer treatment—from preclinical perspectives, Sci. Rep., 2017, vol. 7, no. 1.

7

Savarese, D.M.F., Savy, G., Vahdat, L., Wischmeyer, P.E., and Corey, B., Prevention of chemotherapy and radiation toxicity with glutamine, Cancer Treat. Rev., 2003, vol. 29, no. 6, pp. 501–513.

8

Alteri, R., Kalidas, M., and Ogoro, C., How immunotherapy is used to treat cancer, Am. Cancer Soc., 2019.

9

Singhal, S. and Kaiser, L.R., Cancer chemotherapy using suicide genes, Surg. Oncol. Clin. N. Am., 1998, vol. 7, no. 3, pp. 505–536.

10

Tacar, O., Sriamornsak, P., and Dass, C.R., Doxorubicin: an update on anticancer molecular action, toxicity and novel drug delivery systems, J. Pharm. Pharmacol., 2013.

11

Wang, F., Wang, Y.C., Dou, S., Xiong, M.H., Sun,  T.M., and Wang, J., Doxorubicin-tethered responsive gold nanoparticles facilitate intracellular drug delivery for overcoming multidrug resistance in cancer cells, ACS Nano, 2011.

12

Denard, B., Lee, C., and Ye, J., Doxorubicin blocks proliferation of cancer cells through proteolytic activation of CREB3L1, Elife, 2012.

13

Pal, S.K. and Shukla,Y., Herbal medicine: current status and the future, Asian Pacific J. Cancer Prev., 2003, vol. 4, no. 4, pp. 281–288.

14

Safarzadeh, E., Shotorbani, S.S., and Baradaran, B., Herbal medicine as inducers of apoptosis in cancer treatment, Adv. Pharm. Bull., 2014.

15

Molassiotis, A., Fernandez-Ortega, P., Pud, D., Ozden, G., Scott, J.A., Panteli, V., et al., Use of complementary and alternative medicine in cancer patients: a European survey, Ann. Oncol., 2005.

16

Yin, S.Y., Wei, W.C., Jian, F.Y., and Yang, N.S., Therapeutic applications of herbal medicines for cancer patients, Evidence-Based Complement. Altern. Med., 2013.

17

Yang, E.B., Zhao, Y.N., Zhang, K., and Mac, K.P., Daphnetin, one of coumarin derivatives, is a protein kinase inhibitor, Biochem. Biophys. Res. Commun., 1999.

18

Gao, Q., Shan, J., Di, L., Jiang, L., and Xu, H., Therapeutic effects of daphnetin on adjuvant-induced arthritic rats, J. Ethnopharmacol., 2008.

19

Dong, C., Anzellotti, D., Ibrahim, R.K., Huner, N.P.A, and  Sarhan,  F.,  Daphnetin  methylation  by  a  novel o-methyltransferase is associated with cold acclimation and photosystem ii excitation pressure in rye, J. Biol. Chem., 2003.

20

DeVita, V.T. and Chu, E., A history of cancer chemotherapy, Cancer Res., 2008.

21

Lee, Y.K., Bae, K., Yoo, H.S., and Cho, S.H., Benefit of adjuvant traditional herbal medicine with chemotherapy for resectable gastric cancer, Integr. Cancer Ther., 2018.

22

Yang, J., Zhu, L., Wu, Z., and Wang, Y., Chinese herbal medicines for induction of remission in advanced or late gastric cancer, Cochrane Database Syst. Rev., 2013.

23

Zhong, Y., Guan, K., Guo, S., Zhou, C., Wang, D., Ma, W., et al., Spheres derived from the human SK-RC-42 renal cell carcinoma cell line are enriched in cancer stem cells, Cancer Lett., 2010.

24

Eom, Y.W., Kim, M.A., Park, S.S., Goo, M.J., Kwon, H.J., Sohn, S., et al., Two distinct modes of cell death induced by doxorubicin: apoptosis and cell death through mitotic catastrophe accompanied by senescence-like phenotype, Oncogene, 2005.

25

Yang, F., Teves, S.S., Kemp, C.J., and Henikoff, S., Doxorubicin, DNA torsion, and chromatin dynamics, Biochim. Biophys. Acta—Rev. Cancer, 2014.

26

Casares, N., Pequignot, M.O., Tesniere, A., Ghiringhelli, F., Roux, S., Chaput, N., et al., Caspase-dependent immunogenicity of doxorubicin-induced tumor cell death, J. Exp. Med., 2005.

27

Qian, X., Tan, C., Wang, F., Yang, B., Ge, Y., Guan, Z., et al., Esophageal cancer stem cells and implications for future therapeutics, Onco. Targets. Ther., 2016.

28

Messarah, M., Klibet, F., Boumendjel, A., Abdennour, C., Bouzerna, N., Boulakoud, M.S., et al., Hepatoprotective role and antioxidant capacity of selenium on arsenic-induced liver injury in rats, Exp. Toxicol. Pathol., 2012.

29

Hua, F., Li, C.H., Chen, X.G., and Liu, X.P., Daidzein exerts anticancer activity towards SKOV3 human ovarian cancer cells by inducing apoptosis and cell cycle arrest, and inhibiting the Raf/MEK/ERK cascade, Int. J. Mol. Med., 2018.

30

Li, L., Yue, G.G.L., Lau, C.B.S., Sun, H., Fung, K.P., Leung, P.C., et al., Eriocalyxin B induces apoptosis and cell cycle arrest in pancreatic adenocarcinoma cells through caspase- and p53-dependent pathways, Toxicol. Appl. Pharmacol., 2012.
Funding
The project supported by the Foundation of Medical Scientific Research (Grant no. YWJKJJHKYJJ-F116113).
Ethics declarations
The authors declare that they have no conflict of interest.
COMPLIANCE WITH ETHICAL STANDARDS
The whole animal study was approved from the institution on 22 Dec 2019 with approval number SC20190821F.
About this article
Cite this article
Deng, Q., Wu, L., Li, Y. et al. Chemoprotective Effect of Daphnetin in Doxorubicin Treated Esophageal Cancer Stem Cell Xenograft Tumor Mouse. Dokl Biochem Biophys 499, 273–281 (2021). https://doi.org/10.1134/S1607672921040128
Received:

Revised:

Accepted:

Published:

Issue Date:
Keywords:
daphentin

doxorubicin

cancer stem cell

antioxidant

esophageal squamous cell carcinoma