Abstract
The present study investigated Dioscorea deltoidea leaf extract (DDLE) for treatment of cisplatin-induced ovarian injury in rat model. DDLE treatment of the cisplatin-induced ovarian injury rats suppressed Follicle-stimulating hormone (FSH) release and promoted the estrogen E2 level in serum samples. Development of follicles was increased while as damage to ovarian cortex on day 14, 28, and 42 was inhibited in cisplatin-induced ovarian injury rats on treatment with DDLE. In cisplatin-induced ovarian injury rat model oxidative stress showed a significant increase because of reduction in the level of antioxidant enzyme activity. However, DDLE treatment led to a prominent increase in activity of antioxidant enzyme compared to the control group. Moreover, DDLE treatment regulated the expression of Nuclear factor erythroid 2-related factor 2 protein in cisplatin-induced ovarian injury rats. In conclusion, DDLE treatment prevents cisplatin-induced ovarian injury through inhibition of malondialdehyde (MDA) level and upregulation of superoxide dismutase (SOD) and catalase (CAT) activity.
Access options
Buy single article
Instant access to the full article PDF.
USD 39.95
Price includes VAT (USA)
Tax calculation will be finalised during checkout.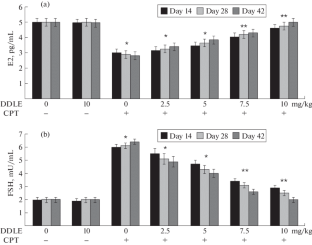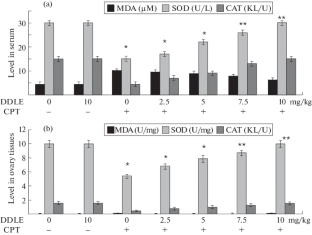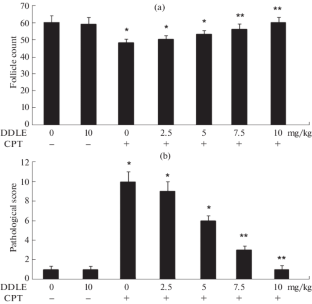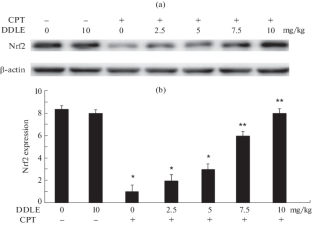 REFERENCES
1

Zhang, Y., Cheng, Y., Ren, X., Zhang, L., Yap, K.L., Wu, H., Patel, R., Liu, D., Qin, Z.H., Shih, I.M., and Yang, J.M., NAC1 modulates sensitivity of ovarian cancer cells to cisplatin by altering the HMGB1-mediated autophagic response, Oncogene, 2012, vol. 31, pp. 1055–1064.

2

Lee, H.J., Selesniemi, K., Niikura, Y., Niikura, T., Klein, R., Dombkowski, D.M., and Tilly, J.L., Bone marrow transplantation generates immature oocytes and rescues long-term fertility in a preclinical mouse model of chemotherapy-induced premature ovarian failure, J. Clin. Oncol., 2007, vol. 25, pp. 3198–3204.

3

Hu, J. and Friedman, E., Depleting Mirk kinase increases cisplatin toxicity in ovarian cancer cells, Genes Cancer, 2010, vol. 1, pp. 803–811.

4

Morgan, S., Lopes, F., Gourley, C., Anderson, R.A., and Spears, N., Cisplatin and doxorubicin induce distinct mechanisms of ovarian follicle loss; imatinib provides selective protection only against cisplatin, PLoS One, 2013, vol. 8, e70117.

5

Anand, P., Uses of some threatened and potential ethno medicinal plants among the tribal's of Uttar Pradesh and Uttarakhand in India, in National Conference on Forest Biodiversity: Earth Living Treasure, Uttar Pradesh State Biodiversity Board, 2011, pp. 93–99.

6

Kumar, S., Das, G., Shin, H.S., and Patra, J.K., Dioscorea spp. (a wild edible tuber): a study on its ethnopharmacological potential and traditional use by the local people of Similipal Biosphere Reserve, India, Front. Pharmacol., 2017, vol. 8, p. 52.

7

Romano, R., Giordano, A., Le Grottaglie, L., Manzo, N., Paduano, A., Sacchi, R., and Santini, A., Volatile compounds in intermittent frying by gas chromatography and nuclear magnetic resonance, Eur. J. Lipid Sci. Tech., 2013, vol. 115, pp. 764–773.

8

Jung, D.H., Park, H.J., Byun, H.E., et al., Diosgenin inhibits macrophage-derived inflammatory mediators through down-regulation of CK2, JNK, NF-kB and AP-1 activation, Int. Immunopharmacol., 2010, vol. 10, no. 9, pp. 1047– 1054.

9

Lin, Y., Jia, R., Liu, Y., et al., Diosgenin inhibits superoxide generation in FMLP-activated mouse neutrophils via multiple pathways, Free Radical Res., 2014, vol. 48, no. 12, pp. 1485–1493.

10

Li, X., Yang, S., Lv, X., Sun, H., Weng, J., Liang, Y., and Zhou, D., The mechanism of mesna in protection from cisplatin induced ovarian damage in female rats, J. Gynecol. Oncol., 2013, vol. 24, pp. 177–185.

11

Belotte, J., Fletcher, N.M., Awonuga, A.O., Alexis, M., Abu Soud, H.M., Saed, M.G., Diamond, M.P., and Saed, G.M., The role of oxidative stress in the development of cisplatin resistance in epithelial ovarian cancer, Reprod. Sci., 2014, vol. 21, pp. 503–508.

12

Li, Y., Li, X., Wong, Y.S., Chen, T., Zhang, H., Liu, C., and Zheng, W., The reversal of cisplatin induced nephrotoxicity by selenium nanoparticles functionalized with 11-mercapto-1-undecanol by inhibition of ROS mediated apoptosis, Biomaterials, 2011, vol. 32, pp. 9068–9076.

13

Qu, J., Li, X., Wang, J., Mi, W., Xie, K., and Qiu, J., Inhalation of hydrogen gas attenuates cisplatin induced ototoxicity via reducing oxidative stress, Int. J. Pediatr. Otorhinolaryngol., 2012, vol. 76, pp. 111–115.

14

Török, A., Belágyi, J., Török, B., Tinneberg, H.R., and Bódis, J., Scavenger capacity of follicular fluid, decidua and culture medium with regard to assisted reproduction: an in vitro study using electron paramagnetic resonance spectroscopy, Gynecol. Obstet. Invest., 2003, vol. 55, pp. 178–182.

15

Cohen, M., Lippman, M., and Chabner, B., Role of pineal gland in aetiology and treatment of breast cancer, Lancet, 1978, vol. 2, pp. 814–816.

16

Nguyen, T., Yang, C.S., and Pickett, C.B., The pathways and molecular mechanisms regulating Nrf2 activation in response to chemical stress, Free Radical Biol. Med., 2004, vol. 37, pp. 433–441.

17

Hu, X., Roberts, J.R., Apopa, P.L., Kan, Y.W., and Ma, Q., Accelerated ovarian failure induced by 4 vinyl cyclohexene diepoxide in Nrf2 null mice, Mol. Cell Biol., 2006, vol. 26, pp. 940–954.
Funding
The study was funded by First-Class Discipline Construction Founded Project of NingXia Medical University and the School of Clinical Medicine (NXYLXK2017A05).
Ethics declarations
The authors declare that they have no conflict of interest.
COMPLIANCE WITH ETHICAL STANDARDS
Animal experimental protocols were approved by the Ethics Committee for Care and Use of experimental animals, Huzhou Central Hospital, Zhejiang (HCH/2019/009). All the experimental protocols on rats were conducted as per the guidelines issued by the National Institutes of Health, USA.
AUTHOR CONTRIBUTIONS
JiaYing Wu and Ying Xiong both are the first authors, they contributed equally.
About this article
Cite this article
Wu, J., Xiong, Y., Xu, B. et al. Dioscorea deltoidea Leaf Extract (DDLE) Attenuates Cisplatin-Induced Ovarian Injury via Regulation of Oxidative Stress. Dokl Biochem Biophys 499, 282–288 (2021). https://doi.org/10.1134/S1607672921040086
Received:

Revised:

Accepted:

Published:

Issue Date:
Keywords:
Dioscorea deltoidea

Ovarian injury

inflammation

antioxidant