Abstract
Using the recombinant second fragment of the extracellular domain (EC2) of human desmoglein type 3 (Dsg3) as an affinity ligand, an immunosorbent was obtained that selectively binds autoreactive antibodies to this domain from the immune sera of patients with pemphigus. The EC2 protein was obtained in the form of a fusion protein with the Fc-fragment of human IgG1. The production was carried out in CHO cells using the method of transient expression.
Access options
Buy single article
Instant access to the full article PDF.
US$ 39.95
Tax calculation will be finalised during checkout.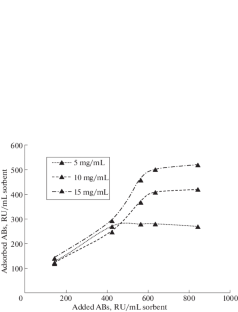 REFERENCES
1

Koga, H., Tsuruta, D., Ohyama, B., Ishii, N., Hamada, T., Ohata, Ch., Furumura, M., and Hashimoto, T., Expert Opin. Ther. Targets, 2013, vol. 3, pp. 293–306.

2

Wan, H. and Choi, S., Encyclopedia of Signaling Molecules, Cham: Springer, 2016. https://doi.org/10.1007/978-1-4614-6438-9_101583-1

3

Futei, Y., Amagai, M., Sekiguchi, M., Nishifuji, K., Fujii, Y., and Nishikawa, T., J. Invest. Dermatol., 2000, vol. 115, pp. 829–834.

4

Sekiguchi, M., Futei, Y., Fujii, Y., Iwasaki, T., Nishikawa, T., and Amagai, M., J. Immunol., 2001, vol. 167, pp. 5439–5448.

5

Gosudarstvennaya Farmakopeya Rossiiskoi Federatsii, FS.3.3.2.0001.15 "Plazma cheloveka dlya fraktsionirovaniya"(Russian Pharmacopoeia. PM.3.3.2.0001.15 Human Plasma for Fractionation), 14th ed., Moscow, 2018, vol. 4.
Funding
This work was supported by the Ministry of Science and Higher Education of the Russian Federation (Agreement no. 075-15-2019-1942, unique project identifier RFMEFI60719X0325).
Ethics declarations
The authors declare that they have no conflict of interest. This article does not contain any studies involving animals or human participants performed by any of the authors.
Additional information
Translated by M. Batrukova
About this article
Cite this article
Larina, E.N., Karasev, V.S., Shpilevaya, M.V. et al. Recombinant Fragment of the Extracellular Domain of Human Desmoglein 3 Fused with the Fc-Fragment of Human IgG1 Selectively Adsorbs Autoreactive Antibodies from the Sera of Pemphigus Patients. Dokl Biochem Biophys 498, 180–183 (2021). https://doi.org/10.1134/S1607672921030054
Received:

Revised:

Accepted:

Published:

Issue Date:
Keywords:
pemphigus

human Dsg3

autoantibody

CHO expression

immunoadsorption